Training - Mix it Up
Saturday 18th January 2020
By Gareth Parry
For many years I competed on the GB Team under the watchful eye of Mike Lea. Mike, an ex GB competitor had been there and done it before. Competitions, hard grit, sport and bouldering Mike had got the tick and the experience. One quote from him that I will always remember is "If you always do what you have always done you will always get what you have always got". In other words, you have the make changes to make progress. The body and many times the mind will hit a plateau. You get bored with doing the same old circuits, the same boulders and the same routes. Shaking it up and bringing a little bit of fun (maybe read interest and challenge here) back into climbing can be a real game-changer. After all, you probably started climbing because it was fun.
Don't forget to enjoy climbing even if it is trees. Gareth Parry on a F7c at Dryanovo, Bulgaria. Photo: Gareth Parry
Sometimes it will only take a small change to make a big difference. I like changes, it's impossible to give 100% effort 100% of the time. Something we seem to strive to do or are expected to achieve in climbing, every weekend we hit the crag hoping for our hardest send. It was a long time ago when I gave up feeling the need to perform every day, I guess that some people can never do this and step out of the limelight completely. Maybe this is why Jerry Moffat moved on, he just couldn't sustain being the best anymore. Then you have the Ben Moon's of this world. After just ticking over for quite a few years, head down and working hard on his Moon brand he has come back to his best and took down the mighty Rainshadow (F9a), along with another lifer, Stu Littlefair who also followed suit on Rainshadow.
McClure, Buys, Moon and Littlefair are all closer to being oldies than young guns but they are certainly goodies. Where are the young ones I ask? Just looking at how hard some of the young guns like Hamish Potokar, James Squire aka The Beastly Squirrel and Aiden Roberts are climbing now they would just rip these things apart if the only tied on and just got on the hard routes. Aiden proved a point recently with his super-fast send of the future classic Freakshow (F8c), a recent addition to the Kilnsey main overhang from Neil Gresham. This killer line cuts a slice across the obvious break to join my route Guns in the Sky and finish up Mandela. Aiden who became a European Boulder Champion showed what a little extra power can do on the routes when he jumped from a previous personal best of F7c-8c. After having climbed with Aiden a few times I think it's time he got on something hard.
Neil Gresham on the hard approach section to the roof on Freakshow (F8c) at Kilnsey. Photo: Lukasz Warzecha
I asked Neil Gresham on what he has changed recently to facilitate his success on his new routes in Yorkshire, including Freakshow (F8c) at Kilnsey and he had this to say: "The thing that's made a massive difference to my climbing in the last three years is switching over to a ketosis diet. By cutting out refined sugar and high-GI complex carbs and relying on quality fats as an energy source, you keep insulin levels down and promote fat-burning. Additionally, you end up eating foods that have a lower inflammatory response which means that you recover way quicker from sessions. I literally climb 2 grades harder on this diet and as soon as I stray from it I start to flounder again! Training-wise I've started doing more pull-ups. This isn't rocket science and it's partly based on what you said to me, Gaz, about all the top Spanish climbers. Put simply, the wads can all do loads of them. The secret is doing them without getting injured but that's another story."
For me I like to have tick-over time, maybe it's just that I love climbing and love movement. I get a huge amount of satisfaction from just coaching people up 6's in Fontainebleau. If you haven't been to Fontainebleau sometimes ticking Font 6a in the forest can be pretty respectable. In fact, it has now been nine months since I was last near the top of my game. My base level for routes is usually around F7b+/7c onsight even if I have been on the pies for a while and if I have a week or two to climb on the rock I can usually expect to onsight F8a without really having to start training. The last time I was really cranking though was the 9th of January. The day I climbed Supersonico (F8c+). In order to get to that level again. My last F8c+ came off the back of a sustained Spanish climbing stint in the hardcore venue of Santa Linya, I basically trained on the routes. That year though I did something I hadn't really done before for routes, I pretty much stopped climbing.
It is not like I need to keep on top of my technique, I can clip bolts, I am not afraid to fall and I knew the moves like the back of my hand. I just needed to be fitter. Fitter to recover easily in the rests. I didn't need to be stronger I could do all the moves easily and make some respectable links. I just had to be fitter. Rather than climb more which is usually rather tiring especially for a route setter. I trained. I took out the climbing and inserted the following elements. Laddering on a campus board, middle rung, feet on 180 moves no shakes. Cycling on a gym bike for 1-1.5hrs, a perfect time to get a good chunk of a film in whilst you cycle. Then some good old and simple sets of 50 push-ups and 20 pull-ups. Within a few weeks with a small change, I had a big change to my power endurance level lost little or no strength and climbed my second F8c+ and what I consider to be my hardest route yet.
The short training sessions were easy to fit in around my work. There were short but intense, high quality rather than quantity. I never felt tired from them in the same way you do after a few hours bouldering and I could recover faster to train again.
Now I am not saying you should step into the same regime as I did. My body has been climbing for 30 years and I have been lucky to never sustain a bad injury. The point I am making is to make a change however small. Below are a few suggestions of things you can do. They will all have an impact on your climbing, they will make you a better climber and your level will improve.
Set your own blocs
If you have your local wall and many people do. You tend to get stuck in a routine. The same wall, same routes, same boulders and the same people all make for a comfortable session but slow progression. Mix it up, a change in venues will have a big impact. Different holds, different angles and a different style of setting will provide a new challenge. You may not like it as it makes you uncomfortable, perfect. We want to be out of our armchair climbing walls and back in the learning and challenged zones. Sometimes it can be hard to get to another wall, time, family and job all keep you tied to the closest venue. If this is the case start setting your own moves, new boulder problems and circuits can be great fun.
Outside or inside
Don't just be an indoor climber, get out more. Get on the rock. Climbing on the rock will improve your footwork, balance and movement no end. Suddenly you will realise those small feet indoors are not that small and your carpet slipper climbing shoes don't really cut the mustard. Upgrade the boots, learn to stand on and get more out of your feet. Take the experience back inside and you will probably move up a grade, you will be more confident when smearing on the volumes and start looking for ways to use the footholds in a better way.
If you only climb on rock a session a week inside will be a great way to up the power. Climbing on some steeper angles will feel hard at first but after a few sessions you will feel more confident on the steeper ground and a little stronger in the upper body.
Routes or boulders
A simple rule here is that route climbers should boulder more and boulderers should climb routes. Mix it. A route climber usually needs to up the power for that crux stopper move. A boulder needs to be fitter. Long sessions bouldering can be intense and verging more on a power endurance work out rather than strength. The fitter you are the easier it will be to recover between blocs, and you will have more in the tank when it comes to those longer problems.
Step away
Step away from the climbing. Like I described above with my Supersonico experience. Maybe a little break from climbing can be good. Get running, get on the bike and get in the gym. All will make you fitter and stinger. A well-constructed gym workout might address all those niggles we have in climbing as we commonly neglect the antagonistic exercises. Mentally this might also give your mind a rest and you will return keen as mustard or heaven forbid you might even buy some lycra shorts and take up road cycling if you are over 40.
Get some help
Get some help from a friend. Climbing with a better climber will be a start, you will be exposed to harder climbs and just start getting involved in experiencing harder moves. Get a coach. Stu Littlefair has been climbing forever. He is fit, he is strong and he can climb. He brought Tom Randall in to give him the next level, it worked. Aidan Roberts has three coaches. Go on a coached climbing holiday with good climbers, qualifications might look good on paper but they won't help the coach demo some moves for you and work through options. Holidays like Adrian Berry's Positive climbing uses me and top female Lucy Creamer. Roc Up has moved up a level to bing in the likes of Magnus Midtboe, Sierra Blair Coyle and Alex Megos alongside a respected English team.
Make a change and warm-up on a board before climbing. Photo: Gaz Parry
Don't just mix it up in your climbing think about how you can change things a little in the gym. The change is not only good for the body but it will also keep up the interest and fun of exercise. Listed below are four regular gym exercises.
Regular exercises
Squat
Works the legs, in particular the front of them (Quadriceps).
• Rest the bar on the meaty part of the shoulders and take a tight wide grip.
• Feet hip-width apart and toes turned slightly out.
• Keep head and chest up and bend legs to lower towards the ground.
• Knees should be over the toes and not go beyond them.
• All weight should be through the heels.
• Keep a natural curve in the back.
• Push upwards to return to start position.
Push Up
Works the chest, front of the shoulders and the triceps.
• Position yourself on your hands and toes facing the floor. Hands about shoulder-width apart, feet about hip-width.
• Lower yourself towards the floor, making sure arms go less than 90 degrees, then push yourself to the start position.
• Ensure a neutral spine throughout the movement.
Single Arm Row
Works the back, rear shoulders and the biceps.
• Position yourself with a solid base of one straight leg on the floor, other knee and hand of that side on a bench or raised surface.
• In the other hand have a dumbbell in a straight, off-lock arm.
• Pull the dumbbell up towards your body. More towards your hip than your chest. Then lower to start position.
• Ensure that your back is in neutral throughout and does not roll.
Sit Up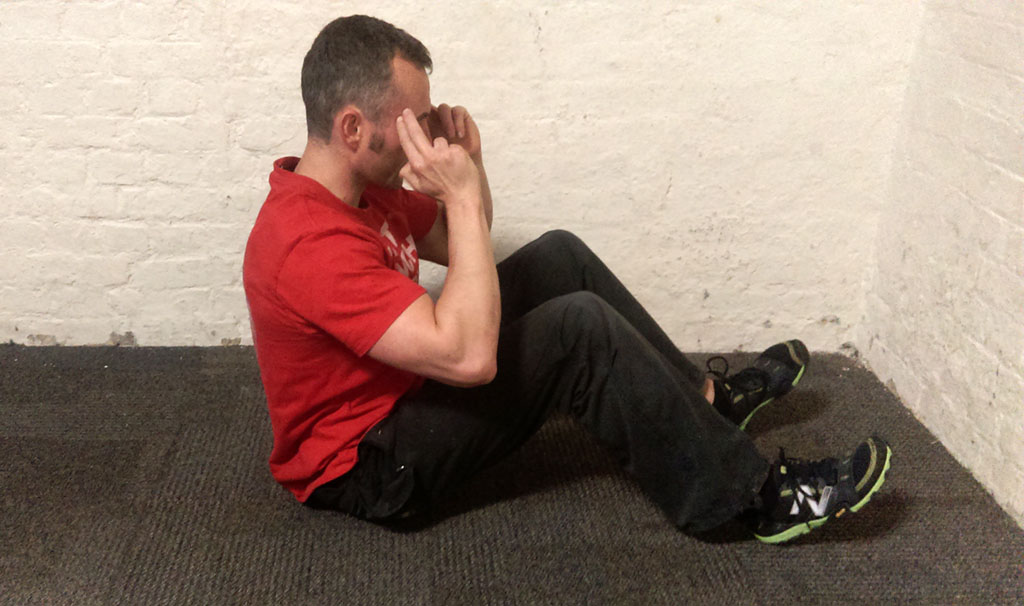 Works the abs and hip flexors, mainly.
• Lie on the floor with hands on chest or side of head and knees bent (to reduce back stress).
• Raise your torso up off the ground towards your knees.
• Lower back to start position.
The exercises with a twist
Box Jumps (Pic 1 Start position and Pic 2 Finish position)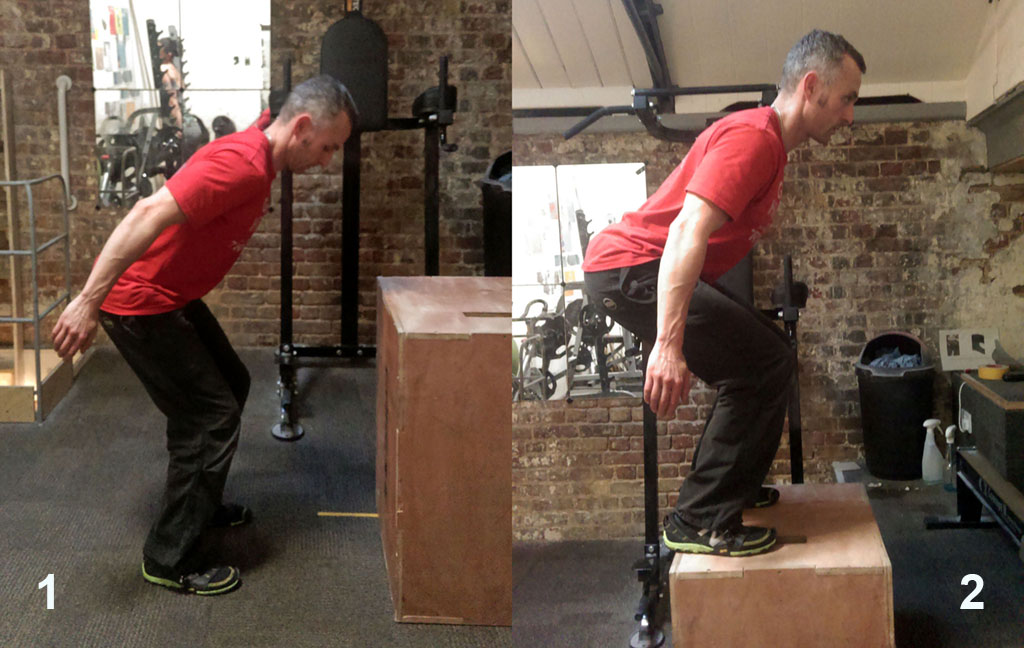 Works almost the same muscles as the squat but in a more explosive manner, and requires agility, balance and co-ordination.
• Stand a distance away from a box or flat, raised surface.
• Sink into a half squat and then jump onto the surface, landing softly before standing up straight.
• Reverse by jumping off and landing softly with bent knees.
N.B. Do not do huge amounts of reps on each set. Quality is key. Also, set yourself before each jump onto the box. I can vouch that a chipped shin bone is very painful, bleeds a lot and takes a long time to heal.
Medicine Ball Push Up
Works the same muscles as the push up but the range of motion on the side with the ball is greater and muscles will work more as they need to stabilise.
• This is the same position as the push up but with one hand on a medicine ball.
• Remember to work both sides and keep the back in neutral.
Renegade Row
Works the same muscles as the single arm row but also adds core stability and the front shoulder stability into the mix.
• Get into a push up position but with your hands in a neutral position on dumbbells.
• As with the single arm row you pull a dumbbell in towards your hip and then lower. This time alternate sides.
• The difference is engaging the core to stop the hips from rolling and keeping that back flat. You may need to take a wider foot stance to do this.
Sit up with a throw
Works the same muscles as a sit up but also an explosive push at the end of the concentric phase and works reactions.
• Get into a position as with the sit-up but hold a medicine to your chest (start with a light one. The movement matters more than the weight)
• As you get to the high point, chest pass the ball at a wall or partner and then, hopefully, catch on the return.
• Lower to yourself to the start position.
Big thanks for Rich Hudson of New Heights Fitness for keeping us fit and inspired with his new twists on regular exercises.