The Climber's Coach - Warming up Part 2
Thursday 6th February 2020
In the second part of 'Warming Up', Gareth Parry continues his theme of 'Warming Up' offering a series of climbing-specific steps to help you get more out of your session, perform at a higher level and reduce the risk of injury. You can catch part 1 here
I am a firm believer that you are constantly in warm up mode in some shape or form until the point you take on your hardest challenge of the day. Whether that be an on-sight, a World Cup Final or a boulder problem you've been trying all week. That is why I have committed two issues to warming up and split the process into two parts. In Warming Up Part 1 we looked at the basics of warming up, a little bit of the textbook stuff that is common to all sports. After looking at the physical aspects of the general warm up we will now switch to the more sport specific part that is so important to such a complex and variable sport such as climbing.
With your warm ups it is easier if you develop a routine, so you always work to some basic guidelines with a little adaptation along the way depending on variables like summer/winter temps, activity prior to going climbing and the type of session to be had i.e. a light technique-based session and an all-out 110% training session. Your personal routine is something that you can adapt and develop for yourself; after all, we are all different. Personally, rather than going for a run I prefer to bounce and jump around to raise my body temp and heart rate, when I am route setting I tend to run around but only in short bursts, sprinting up stairs etc. Some people will prefer to run for exactly five minutes. With a personal set routine that is developed over a little time you will get an idea what you feel comfortable with and what works for you and when your body doesn't feel quite right you will have a better understanding of how to adapt. It will give you the ability to go through a process and tick the boxes giving a climber the structure that we all need in our climbing. Don't forget it can also be very useful to tailor your warm up to a specific goal. If your aim is a boulder problem on slopers then maybe crimps are not the best warm up.
Easy Beginnings
I always begin my sessions with easy climbing, and I mean EASY. Just because a boulder problem has a V0 tag on it and you consider yourself a V4 climber then don't shy from these blocs or consider them below you. On the easy boulders you will have the opportunity to climb slowly and in control and you will be able to develop feeling and understanding. Work on climbing the boulder in the most perfect and easy manner possible. Don't cheat the boulder and skip moves because you are strong enough to do this. You won't learn anything.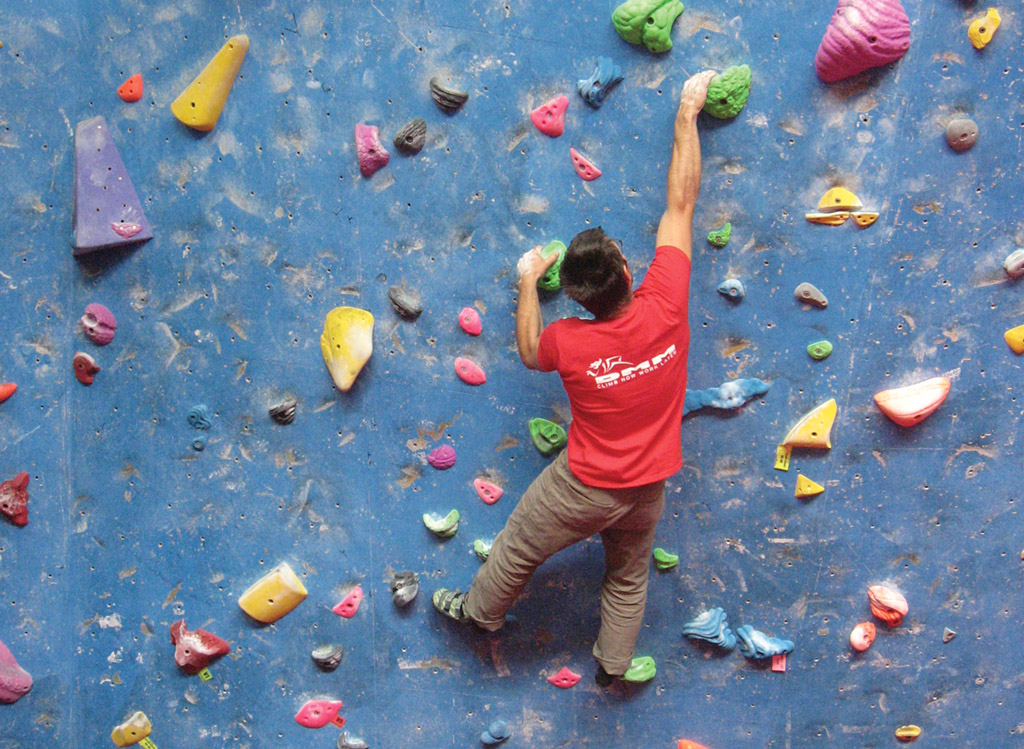 You are not only using these boulders to learn but also to remember. They will allow you to reignite your move repertoire that you have built up from previous experience. The easy boulders should have a nice progression from slabby to steep with all the boulders on big holds. A good and obvious example of a wall that fits a warm up well is The Panels at The Castle Climbing Centre. The wall lends itself to climbing from left to right, from slab to overhang with at least a couple of easy boulders on each section. The boulders are set to climb in different ways by using not only a good hold selection but by employing professional and experienced setters.
Rainbowing
Sometimes a facility structured like this is not available, making warming up not as easy. If the problems or warm up facilities don't work too well for you, you can adapt them. Rainbowing is an obvious way. In climbing walls nowadays where we have lots of colour coded problems rainbowing is sometimes the only way to create suitable boulders to warm up on. This especially useful for children for whom the problems are rarely set. This also allows you to be in total control because you are choosing the holds and footholds and not being led by the setter into pulling on a hold or carrying out a move you are not ready for. It also allows the thought, decision, understanding and move recognition processes to flourish. You are able to choose and create moves, something that is lacking in walls nowadays that don't have fixed hold boards. I was brought up on a fixed hold wall and the quality of the boulders we climbed on was down to our own creativity. So be creative, begin with simple moves on big holds, weight on your feet and finish with complex moves, poor footholds and poor handholds. Don't forget to include heel-hooking, toe-hooking and dynamic/timing movements.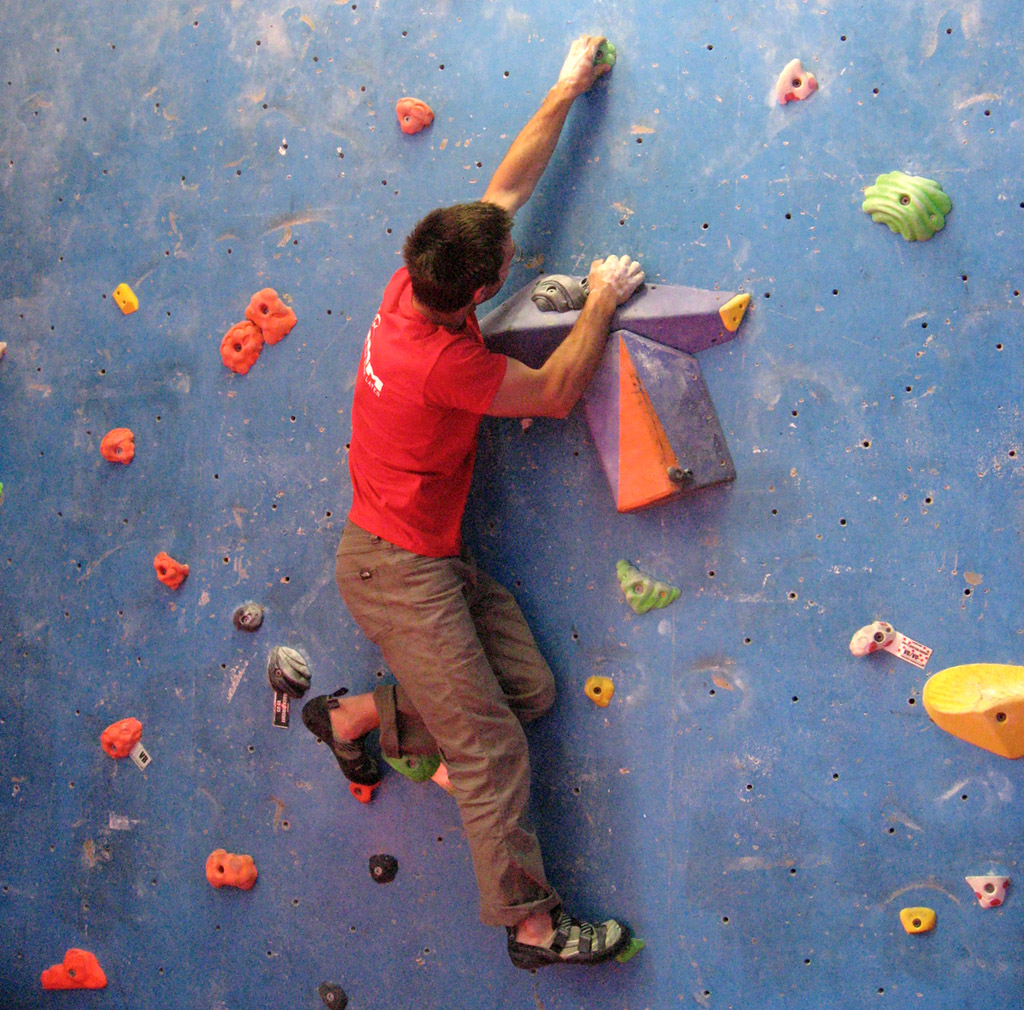 Concentrate on good technique
Boulder walls tend to be steeper creations than their lead wall counterparts again drawing us into climbing on angles that are too steep for a warm up. You see it time and time again as someone arrives in a boulder wall having not climbed at all yet and they make a beeline straight to the steepest boulder problem that contains the largest holds. They struggle and fight their way up, maybe falling off a few times in the process, straining hard, using bad technique and then people wonder why they make slow progress and get injured easily. I am sure many people will say "that's me and my approach in a warm up". The problems with this are numerous. You go from zero effort to 100% effort, muscles are strained and not ready for this exertion. You start your session by falling off, failing in your climbing and gaining no understanding or learning. This approach then becomes the norm, your default technique. When the going gets tough in the future this default technique is what you resort to.
Take a look at a film of a good climber on-sighting a route or in a competition. They show good technique and control right up until the last moment when they fall, and you wonder why they have fallen. This is because their default technique is good technique and even at their limit they can perform without real thought and with automatic decision making. Mistakes are very rare. A great example of this was Adam Ondra on-sighting Mind Control (F8c+) at Oliana. He's made the climb look easy, an example of perfection?