Bouldering Basics - all you need to know
By Gareth Parry
Bouldering is often considered the most simplistic form of climbing. There really is no need for any specialist kit and most of us as children prior to becoming climbers will have scrambled around on the odd rock from time to time. Over the last few years bouldering indoors has changed dramatically. Steeper walls, bigger holds and a dynamic style are commonplace. It is a medium to train, get stronger and have fun. The indoors is also becoming more gym-like, as climbing continues to expand and big names like Shauna Coxsey and Adam Ondra become more mainstream the influx of new people into the sport is huge. On an evening now at an indoor wall, it can easily feel like you are surrounded by newbies. Nothing wrong there though, it's great for the sport, it's great for business but it is not necessarily great for the outdoors.
Indoors and outdoors are completely different worlds and should be treated differently too. Outside, like any natural resource, won't last forever if treated badly by man and woman. Once the rock is damaged it will never grow back. Take it easy on your first day outside, start on little boulders and build your confidence. Get used to the rock, the footholds, the feel and the height.
Respect
The more people that take up climbing means that more people will venture into the outdoors. This means more pressure on our natural resources.
A few simple rules:
Don't chip holds… EVER
Use a boulder pad to protect the ground and you
Use a soft brush, NEVER a wire brush
In the UK use chalk NEVER POF, this is only used in Fontainebleau
Keep the noise down, no stereos on mobile phones with speakers, they break easily when stamped on
Remove your litter and other peoples too
Take the pressure off the popular venues, go and explore somewhere off the beaten track
Remove chalk and tick marks
Respect others, if a boulder is busy, don't make it busier, if you really must try there, then hang back and get all the info
If you need to use a toilet for a number two whilst outside go and find one. If this really is not possible then dig a hole about one foot deep, don't leave your toilet paper, pack it out
Clean your footwear and clean the footholds, dirty shoes will wear the rock much faster than clean ones and clean ones will work better.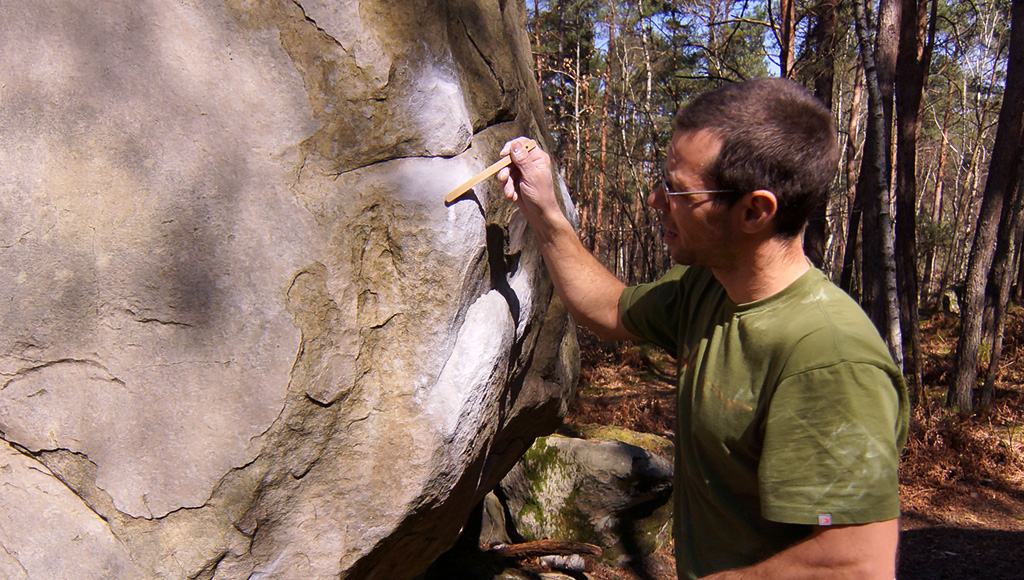 Brushing away excessive chalk and tick marks can also improve the friction of the holds.
Moving outside
Switching from the indoors to the outdoors can be a bit of a shock. It's not easy and it's all a bit weird as all the handholds and footholds are pretty much the same colour. In the first few days it will be a struggle but give it a week of constant daily climbing on rock and your whole world will change. Forget the grades, indoors and outdoors do not compare and you will only get depressed. Seek out what looks fun and simply climb it.
What you need
If you are buying your first mat then get a large one, the higher you go the smaller they look. Make sure your mate gets one too, the more the merrier. Even consider a thin starting pad for low bum starts. The big ones are perfect for sleeping on in the sun too. A boulder bucket is better than a chalk bag around your waist, chalk tends to spill when topping out wearing a chalk bag. Buy a brush, soft ones like a Lapis are perfect, even better when you have a big stick for it that allows you to reach high holds. Take a cloth, this is great for dusting off the holds and footholds with a whack or two. Perfect for cleaning your boots too. A little spit and a squeak of the rubber will make them work better too, remember you paid a lot of money for the rubber on your shoes, climb on it, not dirt or dust.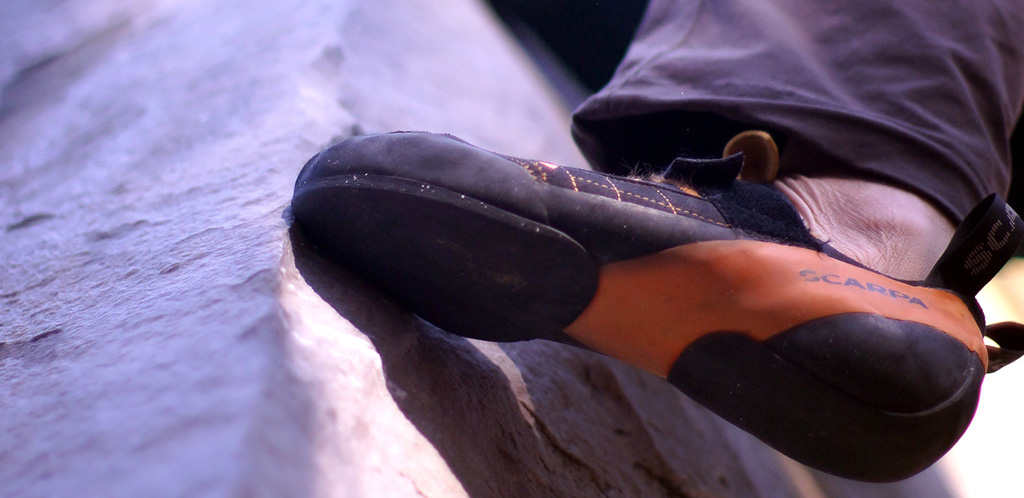 Clean boots will perform better and do less damage.
Reading the climb
It is always to your advantage to take time to look at a boulder and take away some useful information. Let's face it, the boulder will probably be only around 10 moves long. Simply start at the start and try to follow the line of the holds working out in which order they are used. If this is a popular boulder area then they are usually covered in chalk. Go back to the start and look through it again, this time introducing the foot sequence. Feet are usually a little worn and possibly have a covering black with rubber. The more you repeat the better your understanding will be, the more you practise this, the better your route reading will be. If the problem is a traverse you can even feel the holds and the body positions, climbing your way through it with your feet on the ground. Remember most failures are due to mistakes and not being weak.
The Descent
What goes up must come down and so must you. Remember to check out the descent. Some boulders can be BIG and the way you are going up may be the easiest way down too. If you find an easy way down it may be worth going up to check and clean the holds for the top-out. One particularly interesting descent is that from the top of the classic Marie Rose in Fontainebleau. The first 6a climbed in Font is on everyone's hit list and is no pushover, neither is the descent, I will leave you to work it out
The classic Marie Rose, where the descent can be somewhat challenging.
Top it out
A top-out is rarely performed indoors. Even the tops-outs that exist do not really compare to those which you will find outdoors. Usually indoors you will tend to climb down a few moves and then drop off on to a boulder mat. Outside you tend to climb onto the top of the boulder for that summit experience. Confidence when it comes to topping out is a great asset especially when it comes to the more rounded and challenging finishes. When you have the top with two hands, take a moment to relax, look down at your feet to find some footholds. Take a deep breath then use the feet to drive you upwards and over the top. Switching from a pulling to pushing motion is definitely an art and similar to leaving the swimming pool. It is common to observe beginners using the beached whale technique. A full body drag, scratch and fight to the death in order to survive is not a pretty sight.
Sloping lips with steep walls underneath can often be overcome with the use of a heel hook and a good gurn.
Spotting
Spotting has two essential elements and ways to spot. The first is spotting someone around the backside and the second around the shoulders/back. When spotting on higher boulders you are aiming to slow down the climber (not catch) keep them upright and guide them to a safe landing zone. This is done by using the palms of the hands keeping the thumbs in and supporting the climber's weight under their backside. Don't try to catch the climber by their sides, they will just slide straight through your hands.
Notice the spotter is 100% focused and ready to spot the hips of the climber and guide him to a safe and upright landing
When it comes to lower boulders it may not be possible to spot by the hips. The first important point is to have the problem well-padded as a fall onto the back, and then head, on to the ground is not a great idea. In the next image notice a well-padded area with an exposed rock. This may be due to a lack of pads or a very hard to pad out block. The simplest solution is for the spotter to position themselves on the block. They can then just push the falling climber into the safe zone whilst focusing on keeping the climber's shoulders and, therefore, head, away from the boulder.
Spotting a climber off an awkward block.
As the climber is climbing the spotter moves around, don't stay in one place and predict which direction the climber will fall. Laybacking moves leaning to the right will mean that if their hands slip they will eject with force to the right. Try to understand where the climber will fall. Better spotting will improve confidence and the ability for you to push harder outside.
Landing
Landing on the ground can be hard work on the legs, a good spot will help but it is also very important to learn and understand how to fall. Indoors you tend to see people falling off and landing on the floor like a wet kipper. It is very important to use the strength in the legs as much as possible. If you are taking big falls onto pads you land essentially like a paratrooper, dropping into a roll in order to absorb and reduce the impact as possible. DO NOT land with straight legs. Practise as ever makes perfect, build confidence to jump off, low heights at first then getting bigger. Grow the confidence and recruitment in the legs to take the fall. This will also give you more confidence when you are pushing your limit on your project or hard flash.
Good spotting and the confidence in your ability to land safely allows you to try harder outside.
Warm-up
As ever with climbing it is important to warm-up. Don't get dragged into a hard boulder too early. If you are visiting an area for the first time don't go mad and climb everything in sight on the first day. Spend time walking around, orientate yourself and formulate a plan for the week. The clever climber will be doing their hardest and best boulders at the end of a week, whilst the stupid climber will probably have holes in their tips by the end of the first day. Formulate your plan and climb the boulders you want to. Don't get dragged into other peoples' projects, unless you want to make them yours. Take your time to get used to the rock and the style of climbing.
My top 3 places to go bouldering outside of the UK
Fontainebleau, France
Probably the most famous bouldering location on the planet. Font is a very popular Easter venue and rightly so. Great weather, thousands of boulders spread all over a stunning forest just 50km outside of Paris. You can climb in Font all year though, in the cooler months you can have excellent conditions for the harder boulders but even in summer when the wind blows and there is shade from the leafy trees it can still be a wonderful place to explore. Expect sandstone slopers and tiny crimps.
Perfect slopers sandstone slopers in Font.
Magic Wood
Magic Wood is well… pretty magic. Over the last few years, the area has become very busy during the holidays, but you can still find yourself lost and alone in this wonderful forest. On first acquaintance, the multiple levels of boulders seem really complex, but within a few days you get orientated. Every style of boulder can be found, from granite slopers, crimps with lowballs and highballs. The area is nowhere near as extensive as Font but it should certainly be on everyone's list.
South Africa
South Africa just keeps on giving, the sandstone bouldering is as good as anywhere on the planet and it is probably the most extensive bouldering area on the planet, with new areas being opened and documented every year. Rocklands is not called Rocklands for any other reason apart from there being rock as far as the eye can see. Possibly this is the future of bouldering. The potential is huge and if you want an adventure and open some boulders of your own just get your flight booked.
Summary
Wherever you choose to go just remember to respect the rock and the environment you are in. Leave it as you found it, or maybe better than you find it if there is litter to pick up. Just remember to have fun, enjoy yourself and don't get too hung up on the grades, especially in Font.