Matt Helliker Interview
By David Simmonite.
Britain can lay climb to having some of the most talented Alpinists throughout history, a trend that continues with Matt Helliker. He has rightly proved himself as a member of the elite new breed of gifted Alpinists, with hard and stylish ascents around the globe including the UK, Alps, South America, Alaska and Himalaya. He has climbed some of the hardest routes in the Alps, the classic north faces, redpointed F8b sport and on-sighted trad E7, climbed up to E8 and ED4 and M8 on-sight in the mountains plus in the winter on-sighting Scottish grade IX.
Some of his more notable climbs are a list of first ascents including Death or Glory on Huantsan Sur North East Buttress, Peru; There's a Moose Loose about thus Hoose (ED4), East Face of the Moose's Tooth; For Whom the Bell Tolls (ED2), Mount Church, Ruth Gorge and Meltdown (ED3), Mount Grosvenor, Ruth Gorge, all in Alaska. Closer to home there's the first ascent of Rutless (VIII/8), Ben Nevis, Scotland, the second ascent of Babylon (VII/8), Ben Nevis, (with a new direct start) and second ascent of Pistol Grip Pump (F8b), Cheddar Gorge. In addition there's the first winter ascent of Cecchinel-Jager (VIII/8), Point Lachenal, first free ascent of Birthright (V, 6, 4c, A2) on the Grand Charmoz, Chamonix and second ascent of Plein Sud (900m VI, WI4+/5R, M6+), South Face of the Grandes Jorasses, all in France. And not forgetting the first ascent of Eyes Wide Shut (ED1, M6, AO, UIAA IV+) on the North East Face of Mont Rouge de Grouetta and in December last year adding the Supercouloir de Peuterey Integral (TD) to the East North East Face of Mont Noire de Peueterey. One of his most daring ascents was the Cartwright Connection (ED4, M6, AI6, 5.8, A2) on the North Buttress of Mount Hunter in Alaska. Along with Jon Bracey it took six days including a storm, running out of food and a big final 36-hour push which Matt described as the longest and hardest climb of his life.
Matt has spent the last eight years living in Chamonix where he works as a IFMGA mountain guide having set up a small bespoke guiding company, Vertigo Guides with another fellow Brit, Jon Bracey, with whom he has forged a formidable climbing partnership. Matt is a very likeable and outgoing person with a clear love of life and the mountains and all it encompasses plus a love of good coffee. He is also passionate about fitness and training, some say obsessive, apparently he often fits in a couple of hours at the wall after a day out climbing. You can read more about that next month when he talks to Gaz Parry in The Climber's Coach. I caught up with Matt watching the sun set on Mont Blanc on a beautiful early spring evening at the Patagonia Chalet in Chamonix.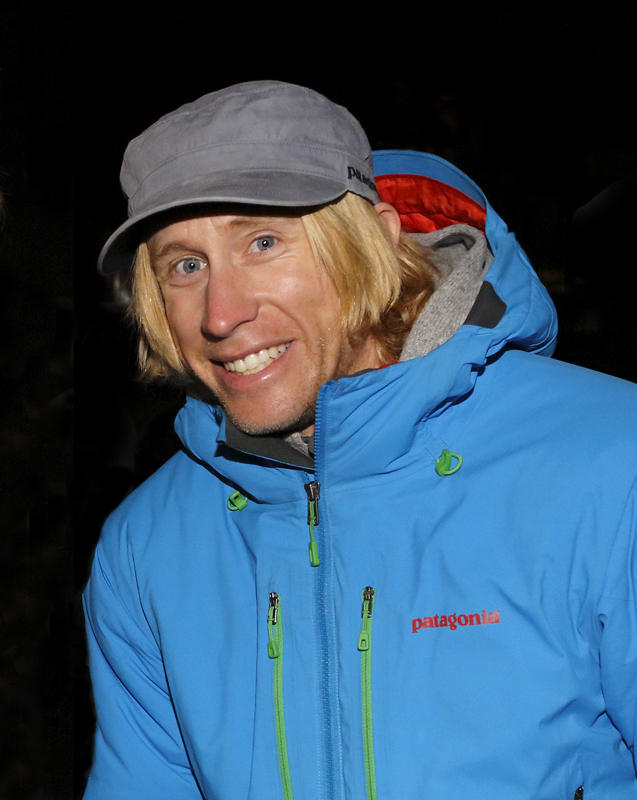 You've come a long way from your first days out, so give everyone some background how it all started?
For me, in the south west of the UK. I was brought up in Wells in Somerset, which is just on the road from Cheddar, so Cheddar Gorge was my local stomping area, as well as Avon Gorge. I spent a lot of time in the Bristol area, heading over towards Pembrokeshire, along the North Devon coast and Dartmoor but I began when I was 12 at a cliff called Split Rock, which is just above my parents' house in Wells and if you haven't been there, it is an amazing crag, the climbing there is unbelievable. I used to camp out there and I managed to convince my dad, who had no climbing experience at all, that I knew what I was on about at 12 years old, to put a harness on, go and tie knots and rig top ropes. I did a huge amount there, grew up there, before a trip to the south of France with my father — him being a non-climber and me being a 14-year old it was just sport climbing at that stage. From that point on, it kind of progressed onwards to doing huge trips all over the UK, France and Spain. Initially my passion was just rock-climbing but I soon progressed into the mountains. Firstly, from trips to the Lake District, again with my father, which were just very mellow, hill-walking up over Helvellyn and a lot around the Langdale Pikes, amazing area, it was fantastic. I found at that point, as I was getting older and progressing more into traditional climbing and more exciting routes in the mountains and on sea cliffs, that actually the long approaches in the mountains and the interest that goes with that — with the weather and everything else going on — it was just a bit more complex and a bit more enjoyable than just turning up at a cliff, roadside, and just going climbing. I guess, also, even from that age, being a bit of a fitness fanatic as well, it was not just about climbing fitness, it was about fitness in the hills. When I was young, I did all the mountain marathons. In fact, I did 12 years of mountain marathons and broke my leg on one — it was quite interesting because I did not know it was broken until the end of the event. I managed to put my leg in a rabbit hole. It was literally about 12k into the first day on the A Class event, so it was a fair old trek and then did another 40k on the leg, swelling, and then I remember being in the tent at the overnight camp and my leg went huge. It swelled up massively. Anyway, I carried on the next day, did another 40k on it the next day, having to go down on my hills on my ass, or face into the slope and go downhill.
So when did you get the bug for winter climbing?
From around 15/16 I really started to get really psyched. I had a friend who was a mentor to me, a guy called John Baker, who was also based in the south west. He still is actually, on Dartmoor, and I still climb with him now. He was a very motivating force for me, because he was very motivated too. We went and did the whole Mick Fowler thing – Mick worked in London and he used to drive to Scotland for weekends for some winter action. One winter, John and I did 14 weekends on the trot from Bristol to Scotland. I was working on a building site at the time. I worked until Friday, we'd drive up Friday night, a nine-hour drive, climb Saturday and Sunday, and drive back Sunday night. Literally got back home at four in the morning and then back on the building site three hours later. Fourteen weekends on the trot, that was commitment, man. And then, as now, I was really overly psyched for that.
And then obviously that progressed into Alpine ranges?
Yes, I would say British alpinists generally, maybe not so much now but it used to be, had a Scottish apprenticeship and for me that was really, really important. Because I remember my first trip out to the Alps was a complete disaster. We ended up trying to get up Mont Blanc when I was 14 or something, but the Bossons Glacier was collapsing around our ears at the time. And five of us on a rope on a really icy glacier, was a complete non-starter, you would not even think about doing it now. So we definitely had lots of close calls and epics to get to the stage I am now. But the thing is that, I was also psyched at that age to be a Mountain Guide as well. That was quite rare, I don't know of many 13-year olds who had in their career book at school, 'What do you want to be when you are older?' and mine was, 'British Mountain Guide'. And that all came from a BMC advert at the time and I remember it now. It was a guide standing there, with his rope round his neck, his crampons on, his axe in his hand. It looked proper sharp and the tagline was, 'This guide has trained for 15 years of his life so you do not have to'. And for me, that was a real motivating thing at that point, I thought, 'I might do that'. So I went through the British guide scheme and I am still the youngest British guide (at 33), which is crazy.
I'm amazed you're still the youngest.
Yes, the youngest British qualified Guide. There are younger aspirants but yes, I am still the youngest qualified Guide. That whole process, for me, was amazing to go through and I was really determined when going through it that I did not want to fail anything, I trained really hard. I spent the whole summer in North Wales with the summer stuff and all winter in Scotland and lots of time in the Alps for the Alpine stuff. I did not fail a thing and that was my main focus but I was actually really quite upset and sad when it finished, because it was a really big goal in my life to become a Guide. When that stopped, I was a bit like, 'hmm, right, okay'.
So how do you find the whole guiding experience and what must be a very diverse selection of clients?
What is important is that you get the balance right, my own personal climbing and skiing will always come before my mountain guiding, I set myself high standards for my own performance but being like this I feel I've attracted the right type of clients for me. A small group of individuals all of whom are good climbers and good skiers that need to maximise their time and have a solid and dependable partner to take them to the routes that are in condition, ski the best snow, and keep things as safe as possible.
In 2001 you received the prestigious 'Denali Pro Mountaineer of the Year Award' after rescuing two sick and frostbitten climbers trapped high on Mount Denali (McKinley) in Alaska. Can you expand on this?
I was at a 5,200m camp on Denali with Dave Hahn, a team of four Belgium climbers had failed to return to the high camp with a full-on storm raging and, concerned for their safety, Dave and I left our tents late that night in the hope of finding the climbers. We faced worsening weather and spotted the Belgium team as we watched them in the storm slip and fall, dragging all four roped-up members down a large snow slope. When it was clear they were in a very bad way, wasted, attitude sick and badly frostbitten and still a long way form camp we dragged and carried the team back to our tent, where we treated their frostbite and adminstered altitude drugs. Hours later once the storm had passed, we then assisted the team back to the 4,000m camp where they where choppered out to the Anchorage Hospital, unfortunately one team member lost two fingers due to frostbite.
You've lived in the Chamonix area for eight years now, so I guess you rate it and is it the best thing you've done?
Yes it's cool, man. The best move I have ever made in my life. I would not want to live anywhere else. You can go and have all these adventures around Chamonix. You have got the rock and the mountains. I spent a lot of time in the Dolomites last year as well, all relatively easy access from here. Even now, we are coming towards the end of our ski season soon and already getting into the climbing. Then at the end of the climbing season, getting quite jaded, a bit injured, a bit tweaky then, 'it's all right now, I am going to be skiing' and you get the balance the other way. That is what is really, really cool.
Over the years has anyone inspired you?
When I was younger, Mark Twight was very inspirational for me. I really loved his book Extreme Alpinism. I really loved his other book, Kiss or Kill, because when I was young I was a bit of a rebel so I kind of liked his whole attitude of 'fuck everything'. I kind of liked that and, for me, Kiss or Kill is the best mountaineering motivational book that you can read. I have read it seven or eight times because it gives you the psych. And whether people like it or not, Alpinism is actually a bit like that. It is a bit hot and cold but yes, certainly Twight for sure. I do not really have heroes, I do not really have idols.
So which are your favourite climbs?
Which are my favourites? Man, do you know what, I think that is a funny question. It is a loaded question. The thing is, I have to say that there are good climbs and there are bad climbs and there are memorable climbs and there are not so memorable climbs. But I think all the big substantial climbs, the new routes, all the new routes in the Alps we have done, new routes in Alaska and South America, they all actually have their place. It is difficult because it is not just about the climbing, it is actually about the experience as well. The person you are climbing with, that is really important. It is not just about the route, so in terms of saying, 'what is your hardest route?' 'What is your best Alpine route?' I have got hundreds of best Alpine routes.
You've said that positivity between partners on the rope is really important. That brings me neatly onto your great partnership with Jon Bracey.
Yes, we are obviously top mates and we get on really well and we are a really good partnership. You might be able to say, certainly in this time period now, we are probably the strongest UK Alpine partnership that there is, in terms of new routes in the Greater Ranges and in the Alps. We have done a lot together and people see us as a team and that is totally cool because we are. But that only comes from climbing with each other a lot, but also just from hanging out with each other and knowing each other really, really well in terms of, if I am having a bad day, Jon knows instantly. If he is having a bad day, I know, and it is not a big deal. When we are climbing there is never any stress. We are very efficient at what we are doing, we have never had a bad word between us and we have been in some pretty stressful situations but we have never lost it with each other. We have always been really cool with each other and that is really important. With Alpine climbing, because I am very motivated, Jon is very motivated, sometimes we can feel some sort of outside pressures to get stuff done but actually we are both very level-headed with all that. And I am a big believer in if you train hard, you will be good. What was it… 'sweat in training so you do not lose blood in battle' and Jon is the same. Recently Jon had kids as well, I do not have kids but I totally get the changes that have happened in his life. But he is a fantastic dad, he works his ass off as a Guide and trains hard. For me, he is really the only person that I will go and do really big things with. Sure, there are other people of equal ability who I know, but actually that is not what it is always about. It is about the person and even though you know someone else who could maybe pull as hard, when it's actually all going really shit, you need that calmness. Both Jon and I are very calm together so that is what is really important. I am very fussy with whom I climb. It is a social thing as well for me, I am not into intense people, I am very chilled. Jon understands that I am shit in the mornings, but I am really good in the evenings and Jon is the other way around. That works, so Jon always takes the first leads in the mornings from bivvies, while I am getting going, but then at night, when it gets dark, I am like a different beast and if Jon is maybe fading, we work really well together like that.
You are amongst the elite new breed of Alpinists coming through and taking all of the techniques once reserved for lower altitude into the higher mountains. Is this transition set to continue with ever harder routes and where do you see it going?
Choosing the right objective is key; I prefer to climb routes that follow natural lines that are technically hard but objectively safe. I don't want to die! Climbing on lower attitude peaks does not detract from the climbing experience, for me it's the length and beauty of a route that attracts me and not the height of the mountain, the lower the altitude and the bigger the face the better. It means less time trying to acclimatise walking around in the snow and more time climbing. High altitude can bring illness and a negative effect on fitness which can result in failure, unless you're lucky. I want to be successful on every trip, folk who are not but then say...'yeah but it was a great experience' are lying. Did you climb it yes or no? If no, the trip sucked and you know it. If an expedition fails after a four-week trip it's not the end of the world, you still come home with a level of fitness, to carry over into the next project, but on high Himalayan objectives you can end up seeing your life pass you by waiting for conditions and not climbing... because that's what it's about, right? I just want go climbing. Two unsuccessful trips to Annapurna III showed me this.
More recently the last first ascent you did was the Super Couloir de Peuterey Integral on the Mont Blanc range with Jon Bracey. A great looking line and right under everyone's nose?
For me the Italian side of Mont Blanc is still very untouched giving a fantastic feel of remoteness that is rarely felt unless climbing in the Greater Ranges. I'm always on the look out for new lines; they are out there if you have an open mind and a good set of binoculars. I had spotted the line skiing on the Toula Glacier, a descent I've done many times before but for some reason I had not clocked it. A beautiful 300m thin, icy runnel flanked by steep rock, opening up into steep névé steps and mixed ground to the col of Aiguille Noire de Peuterey, for me a stand-out line that can easily be seen from Courmayeur. It must have been climbed, but no, the first 300m had been attempted back in the early 90s leaving a further 350m of ground to go to the top. Leaving Chamonix at 4am on a cold December morning we headed up towards the route, up a moraine wall to the foot of the snow slope leading to the line. After a three-hour approach we were getting strapped onto the first pitches. The climbing was on excellent névé giving good sticks but zero protection. Run-outs were huge but with steady heads this was manageable. The line snaked its way up through steep, turfy, mixed ground leading naturally to the col. We then descended the line of ascent, a truly accessible route that needs to be repeated.
What's next?
I really enjoy taking people climbing and skiing, but you have to get the balance right and I am getting the balance better. I think, early doors, when you are quite young and you need to get as much cash around you as possible, you are just grafting. But now, with help from sponsors etc, I am pretty fortunate to be able to get income not through just guiding, so I can actually go climbing and do these big expeditions, which are bloody expensive and time-consuming. So if you do not have the help of sponsors and stuff, it just does not happen.
Yes, I think some people do not always grasp the concept of an expedition. They think you just get on a flight with your mates and….
Yes, there is so much that goes behind it, logistics-wise. You are planning trips like, seven, eight months, a year in advance and it is not as easy as people think to set these things up. There are good agents all over the world who can help on some of the trips we have been on, who are very reliable, but then there is still a lot of behind the scenes stuff that you have to do. And you have got to work out the finances behind it as well and make sure you can afford it and then raise the finance as well. Trips to the Himalaya, for example, are bloody expensive, trips to Alaska, trips to South America, for the Greater Ranges, you are looking at big figures.
Matt is sponsored by Patagonia, adidas Eyewear, Black Diamond, Edelweiss, Maximuscle, Osprey and Scarpa