Hamish MacInnes – A Man of the Mountains
Friday 26th February 2021
Hamish sadly passed away towards the end of 2020 so in his honour, we are reproducing this fascinating article about his life that featured previously in Climber magazine in 2019.
On the back of a film on Hamish by Robbie Fraser called The Final Ascent which explores his life, and recent trials and tribulations with illness, Noel Dawson writes about this remarkable man.
Hamish MacInnes is truly a man of the mountains. He has dedicated his life to exploration and has used the immense knowledge he has gathered to improve both climbing and mountain rescue equipment. He is recognised around the world as an outstanding climber and as a highly respected authority on mountain rescue.
Hamish was born in Gatehouse of Fleet in 1930. He was brought up in Greenock where his father ran an engineering business. At the end of the Second World War he met Bill Hargreaves who introduced him to the Scottish hills and mountains including early climbs on The Cobbler in the Arrochar Alps. By his early 20s he was already a well-known figure in Scottish mountaineering. He completed his National Service in Austria where he shared the limestone walls of Kaisergebirge with young Austrian climbers who introduced him to the mass use of pitons to protect testing routes. On his return to Scotland he quickly gained the nickname 'MacPiton' as he used large numbers of pegs to aid his many challenging ascents. An older generation questioned this style of climbing, but Hamish climbed as Hamish wanted to climb.
In 1951, while making an early attempt on Raven's Gully in Glencoe, Hamish reached a point perhaps 60ft from the top. His rope jammed and his only choices were to stay still or untie and climb on. Hamish climbed on until he reached an iced-up chimney and could go no further. The other climbers with him signalled for help. Eventually more climbers lowered a rope to him and he was rescued.
Hamish met Chris Bonington in 1953. They shared first winter ascents of Agag's Groove, Crowberry Ridge Direct and Raven's Gully on Buachaille Etive Mor. During the same year, Hamish and John Cunningham set sail from New Zealand to attempt to make the first ascent of Everest. Much to their disappointment they found that they had been beaten to the summit by a team led by John Hunt. The two men set their sights on Pumori and ascended to above 22,000ft. In deteriorating weather conditions, the climbers became exhausted and had to retreat.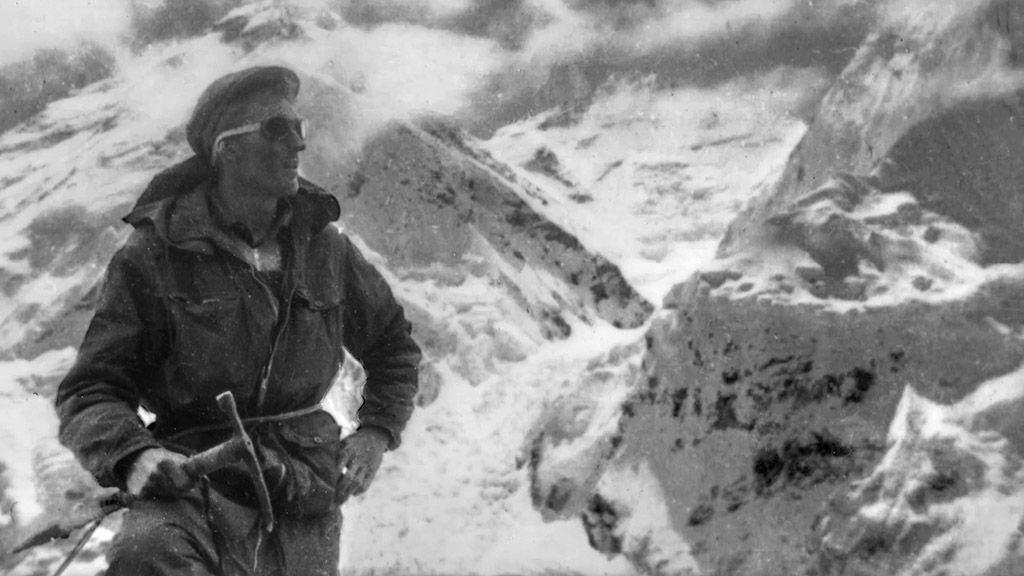 During February 1957, Hamish, Tom Patey and Graeme Nicol made the first winter ascent of Zero Gully on Ben Nevis. Hamish and Tom shared leads overcoming ice overhangs on the lower part of the gully using ice-pegs. Hamish met Chris Bonington again in Switzerland. Hamish wanted to climb the North Face of The Eiger. Chris was a little wary and wondered what he had allowed himself to be talked into. Hamish felt the face was in perfect condition and could not wait to start. A clear morning followed, and the two men worked their way up to a ledge to bivouac. Chris quickly observed that the weather was worsening, and it was best to go down immediately.
Later in 1957, Hamish joined 'The Lahoul Winter Expedition'. The team would search for the yeti and felt that winter was the best time because yeti footprints would be clearly seen in the snow. Hamish found nothing in Lahoul so searched in the Kulu valley. He followed so many stories of sightings but without success. He spotted many bears on their hind legs, but he did not find a yeti. Hamish concluded: "Perhaps in one of the unfrequented valleys of Nepal or Tibet, where only the wild yak and the snow leopard roam, there may be a yeti, looking each day for the elusive human, the skin of which may bring him a fortune."
In 1958 Hamish returned to the Alps and again met his good friend Chris Bonington. They decided to climb the South West Pillar of the Dru (Bonatti Pillar), a route considered at the time as one of the hardest in the world. They were joined by two Austrian climbers, Walter Phillip and Richard Blach, and later by Don Whillans and Paul Ross. The climbers ascended the Dru couloir and started up the pillar until a good bivouac was found for rest. The tired men enjoyed tea and watched a huge stonefall shatter the area they had climbed during the morning. Then a single stone fell from above and Hamish was hit. Blood poured from his head and he became weak and dizzy. Walter and Richard led the following day, Don climbed with Hamish and Chris and Paul removed pegs. Hamish struggled but kept going. The six endured another night on the pillar and summited the next day. Hamish, Chris, Don and Paul had completed the first British ascent of the South West Pillar of the Dru.
Paul Ross comments: "I first met up with Hamish in 1958 where he was bivouacked at the foot of the Dru with Chris Bonington and Walter Philip and Riccardo Blach. It was a pure coincidence that we now had met up to attempt the first British ascent of the Bonatti Pillar, as Whillans and myself had no idea these guys had the same plan. The ascent involved several mishaps and evolved into a bit of an epic. On the first bivouac Hamish took a direct hit on his head and for the next day or so felt a bit unhappy. However, two days later when we had reached the summit he seemed to be completely recovered and during the long descent, partly in a storm, I teamed up with him and he and I brought up the rear retrieving all the abseil ropes, not an easy job after two days without food. For the brief time I have spent time with Hamish, I found him to be a remarkably likeable character, and as tough as old boots." For Ross's account of this climb it is in a book called CLIMB edited by Kerry and Cameron Burns.
During 1959, Hamish, Don Whillans, John Streetly and Les Brown climbed the Walker Spur on the North Face of the Grandes Jorasses. They thought they had made the first British ascent of the route until they descended to Courmayeur where they found Robin Smith and Gunn Clark celebrating as they had just made the first British ascent of the route.
Hamish moved to Glen Coe in the same year. He greatly enjoyed the challenge of the local mountains. He formed the Glencoe School of Winter Climbing and in 1961 founded the Glencoe Mountain Rescue Team which he led for 30 years. Hamish introduced new mountain rescue techniques and equipment and became world-renowned as a rescue expert. Carrying stretchers was one of the most difficult tasks faced by any rescue team. Hamish developed a folding stretcher in the early 1960s which was made from aluminium alloy, weighing only 18kg. This first stretcher has been improved over time and is still a vital piece of rescue equipment used widely around the world.
Hamish travelled to Switzerland to observe the use of dogs in rescues on the mountains. He was hugely impressed and immediately recognised the potential of their use in Scotland. The Search and Rescue Dog Association in Scotland was formed in 1965. Dogs on the hills found lost people very quickly and many more lives were surely saved.
As early as the 1940s Hamish had recognised the need for an all-metal ice-axe. It was not manufactured until the 1960s. Three climbers were killed on Zero Gully and Hamish came across two broken wooden ice-axe shafts that he felt had failed when used as part of a belay. It was time for change. At the end of the 1960s Hamish introduced a new tool called the 'Terrordactyl'. This was a short, all-metal ice tool with an aluminium alloy shaft and pressed steel head in two sections with an adze and a steeply inclined serrated pick. The 'Terrordactyl' was one of the climbing tools that revolutionised ice-climbing around the world.
Rescues on the hills and mountains of Scotland became a significant part of Hamish's life. Hamish writes, 'Only too often it is a fight for life: there is nothing more satisfying than the successful evacuation of a critically injured person on a highly technical rescue, where a single mistake could result in the death of the casualty. It is, on a grand scale, a game of chance in which nature holds most of the cards'.
In 1972 Hamish was a member of both the European Expedition, led by Doctor Karl Herrligkoffer, and the British Expedition, led by Chris Bonington, to the South West Face of Everest. During 1973 he travelled to Guyana with Don Whillans, Mo Anthoine and Joe Brown to trek through dense rain forest and swamp to reach the great wall of Mount Roraima. It was a horribly challenging ascent drenched in almost continuous water and with rare ledges for rest already inhabited by scorpions. The climbers eventually reached a 'fairyland summit'. Hamish comments: "There was always something new of interest. It was a wonderland like nothing on earth. For me, Roraima is still one of the wonders of the world."
When Chris Bonington returned to the South West Face of Everest in 1975 Hamish joined him as deputy leader of the team. Chris described Hamish as the 'ultimate engineer'. An avalanche hit and Hamish was caught in its ferocity. Snow filled his lungs and after some consideration, he decided to leave the team. Chris knew he had lost a very strong climber who had contributed so much with his fine-tuning of the oxygen equipment, his tents designed to withstand the battering that had caused so much devastation in 1972, his bridge-building in the Icefall and Western Cwm and his quiet sense of humour and good judgement.
Doug Scott, a summiteer on the successful 1975 expedition commented: "Hamish was very much at home as engineer working away on the South West Face erecting platforms he had designed, built and brought out from Glen Coe. These were to take the Whillans box-tents. Hamish unfortunately was overcome by a powder snow avalanche that caused breathing difficulties that put him out of the running for the summit. This was most unfortunate, and very sad, since Hamish had put so much effort into the organisation of the expedition."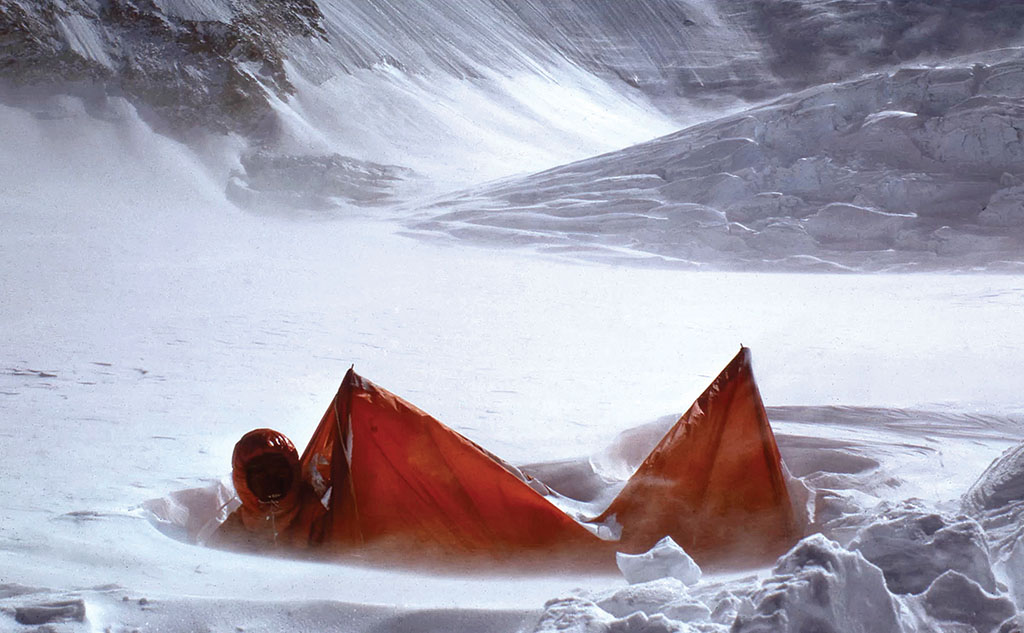 Chris Bonington had this to say about Hamish: "I owe and value Hamish so much for our long and rich friendship. He has been a great mentor, has contributed so much to our success on the South West Face of Everest and most important of all is one of my oldest friends in whose company I always delight."
Hamish climbed with a truly golden generation of British climbers at a time when the great mountains of the world were still isolated and enjoying early ascents. Perhaps it remains as the most rewarding time to have been a young, ambitious, invincible mountaineer.
As well as his achievements on the peaks, Hamish has worked on a massive catalogue of films and documentaries. He was part of the BBC teams that made The Old Man of Hoy and The Matterhorn Centenary Climb and also worked on the film Climb to The Lost World which documented the 1973 climb of Roraima. His safety expertise was also in high demand in the movie industry.
Hamish acted as Safety Officer to Clint Eastwood during the production of The Eiger Sanction in 1975. He had recently had an unusual accident when a stone wall fell on his leg resulting in an emergency operation for gas gangrene. Hamish was left with a wound on the side on his leg. Ever resourceful, he used his workshop to make a perforated aluminium alloy guard to protect the damaged area before travelling to Switzerland.
Clint Eastwood worked on the North Face of The Eiger during the filming. Hamish recalls one scene where Clint hung from a scary overhang with a rope attached to the end of a ladder. A daring cameraman crawled out to film Clint cut the rope. Hamish concluded: "Making this film was a real roller-coaster, and the dice with the mountain continued until we packed our rucksacks. I had a feeling if we were there much longer, the Eiger was going to win."
Hamish also worked on The Mission, Rob Roy and Five Days One Summer. During 2001 he actually played himself as leader of the Glencoe Mountain Rescue Team in a documentary with Michael Palin and Terry Jones called The Quest for The Holy Grail Locations.
Hamish has written more than 20 books including International Mountain Rescue Handbook in 1972, Callout in 1973, Climb to The Lost World 1974, My Scotland 1988 and The Mammoth Book of Mountain Disasters 2003.
He has been recognised in many ways by his peers for his astonishing achievements as both climber and rescuer in the hills and mountains. Hamish was awarded the British Empire Medal in 1965 and the Order of The British Empire for services to mountaineering and mountain rescue in 1980. At the Fort William Mountain Festival in 2008 Hamish became the first winner of the Scottish Award for Excellence in Mountain Culture.
The hills and mountains of the world are truly magnificent and enchanting places that offer many things to many people and it is too easy to lose the perspective that they can be severe and unforgiving environments. At times, they lull us all into a comfortable false sense of security where time escapes and risks and dangers creep up silently and brutally. Hamish MacInnes has become a master of these captivating landscapes. He has loved mountains and has wondered at their intense beauty while experiencing the very worst that they have been able to throw at man. Hamish has worked tirelessly to make these remarkable landscapes a safer place for all. Today we have the relative comfort of knowing that if we are unfortunate and find trouble in the hills and mountains, rescue may not be too far away. Hamish was one of the pioneers who has allowed us that reassurance. Hamish MacInnes is a man who has lived a challenging and rewarding life in the mountains, a man who has helped to make our outdoor playground a safer place to discover and explore.
Bibliography:
Ascent by Chris Bonington
Everest The Hard Way by Chris Bonington
I Chose to Climb by Chris Bonington
Callout by Hamish MacInnes
Biography page – Hamish MacInnes website
Alpine Club Journals 1955, 1956 and 1958