Ben Tibbetts - Adventure Photographer
Tuesday 10th December 2019
Interview by David Simmonite
All photography: ©Ben Tibbetts.
Ben Tibbetts is an adventure photographer, filmmaker, artist and internationally certified mountain guide (IFMGA). Ben grew up on the border of Wales and hiked and biked as a youth before studying art at the University of Edinburgh, where he first discovered climbing, and the Geneva School of Art and Design. His images have won numerous awards and his films have been selected in festivals all over the world. With a passion for wild and remote environments, he has climbed and skied new routes in Greenland, Antarctica, Kyrgyzstan and the Alps and worked as a guide in the most isolated corners of Antarctica. In 2018 Ben became the second British person to climb all 82 of the 4,000m peaks. It was this that gave him the material for his beautifully illustrated new book Alpenglow – The Finest Climbs on the 4000m Peaks of the Alps. Looking forward to seeing the book that describes an ascent of each of the 4,000m peaks and being a professional adventure photographer myself, I was keen to see what inspired him and made him tick.
How did you start out in photography? Was it climbing or photography first?
Both climbing and photography developed simultaneously, in fact. Before university I was most interested in painting, but with the excellent dark room facilities I got quite obsessed with the alchemy of photographic development and large format black and white. In those days most of my photography was landscape based and it was only much later that I got into sports photography.
Do you have any photographers and climbers who inspire you and if so, why?
Seb Montaz is a big inspiration for me. Having spent time in the mountains with him he combines a formidable and intuitive sense of how to move safely and efficiently in the mountains, with a powerful creative vision and handling of narrative. Having all these skills in one person is a very rare thing indeed.
Weight must be an issue when you head up a peak with not only your climbing and bivvy gear, but also your camera equipment. How do you go about saving weight in all these three key areas of equipment?
I tend to use pretty light crampons with alloy heels (Petzl Irvis hybrid, or some other 'Frankenstein' combinations), and axes trimmed back to the essentials. For climbing protection though I'm actually very risk averse so I rarely use extremely skinny ropes, especially on sharp rocky ridges, and often take twin ropes for security when a single might suffice.
Bivouacking wise – sometimes I avoid open bivouacs by starting obscenely early or continuing through the night. It's taken me a lot of years to finally appreciate the experience of bivouacking somewhere exposed. If I do sleep out, then I don't scrimp too much unless the climbing is going to be really hard. A good night's sleep means you can actually enjoy the route, whereas a shiver bivvy means you have a miserable night and a miserable day after.
In terms of camera equipment – I'm a bit of a stickler for a chunky camera. I like to take images in low light at dawn and only a big sensor (and camera) can handle low light really well. I also find smaller cameras fiddly with gloves in cold weather so tend to take a full size DSLR. The only way I lose weight is by taking less lenses, but I almost always have two in any case.
What lenses do you tend to carry for mountain photography?
For mountain photography I usually carry a wide angle zoom (16-35/18-35mm) and a telephoto (70-200 f4). The telephoto is primarily for landscape shots but if the route is hard and weight is really an issue then it gets left behind… though only rarely. When I'm shooting for a commercial assignment I often carry two bodies, ready in holsters on my hips (one body with a wide angle zoom attached and another with a mid range zoom) so I don't need to change lenses on the fly and slow the athletes down too much. The key to carrying all this weight is to keep up a steady level of training.
Maciek Ciesielski climbing the Pointe Médiane of the Arête du Diable, Mont Blanc du Tacul. Photo: Ben Tibbetts
How do you look after your camera equipment in extreme conditions?
The camera lives in a padded holster on my hip so I can access it quickly. They get in the way a bit like this, but I miss less shots and I find there is much less inertia in those split seconds when deciding whether or not it is worth taking a shot. The cameras are pretty solid chunks of metal, so I don't worry too much about them. However, I'm meticulous about keeping the lenses clean and dust free as I often find myself shooting into the sun… and I can't stand dust spots and dirty lens flare.
What are the most challenging conditions you have faced on a route and also during a shoot?
The most challenging conditions are usually mental – when doing a non-stop traverse of the Mont Blanc massif with Colin Haley last spring I was so strung out after 20 hours on the go that I could barely concentrate on keeping going, let alone getting a few images to record the journey. I try and avoid challenging weather conditions by staying at home and getting on with some drawings.
Timing is the key to getting in the right position to take the perfect sunrise and sunset with the complication of having a climber in the right position. How is this achieved?
Sometimes I calculate in advance exactly what shot I want to get on which part of a route (see Aletschhorn at sunrise) and all the timing works towards that moment. Much of the time though we just get up super early so that we will be far up the route by sunrise and then I'll just shoot opportunistically whatever features and angles we encounter.
I bet you study weather patterns more than most? Do you use any apps to help?
For the local (Chamonix area) I tend to look first at the Meteo France professional forecast (pinned up outside the OHM in Chamonix) and then study the wealth of information on the Meteo Suisse app. The Swiss app is especially useful as it has a precipitation radar forecast and a forecast of the winds at altitude. The latter is one of the most significant and often overlooked elements in deciding when to set out.
In terms of the 82 peaks, which was the most challenging to climb and which the most difficult to capture an image?
I guess the most challenging 4,000m Alpine peak to climb is the Aiguille Blanche de Peuterey. I went up this back in 2012 with Ally Swinton via the Peuterey Integral and this was also one of the hardest routes overall that made it into the Alpenglow project. However, at that stage climbing the 4,000m peaks was barely even on my radar as an objective.
Valentine Fabre catching the dawn light on the Cresta Signal, Monte Rosa, Italy. Photo: Ben Tibbetts
Did you intentionally set out to climbs all 4,000ers or was it more by accident?
The idea to make a book of 'finest routes' across the Alps came first, then I narrowed my focus down to the 4,000m peaks. I did set out a long list of routes I wanted to climb for the project, and when I realised 100 routes wouldn't fit in the book with how many photos I wanted to include, I narrowed the project to 50 routes on the 4,000m peaks.
How was it going out with the legendary Liv Sansoz during her round of the 4,000ers over just one year?
It was great doing a bunch of high mountain routes with Liv. From her career as a champion sport climber it is clear that she is a very driven and talented lady. However, what I didn't realise until I did some Alpine routes with her that she has developed exceptional levels of stamina and endurance. It was really impressive to witness her carry on for days on end without break.
The book is a mighty tome; I bet it was difficult to pick the images for this as I suspect you have a fair few? How many have you taken?
Indeed! The images from the book have been selected from over 300,000 images that I have taken during the project. Thankfully over the last few years I have already made several passes over each route's images and selected those that most interested me long before I came to lay up the design of the book.
What was the inspiration for the book?
Gaston Rebuffat's 100 Finest was the obvious inspiration, as were Ken Wilson's Classic/Hard/Extreme Rock and Cold Climbs
What's next?
Oh, I don't know. A rest. I'm exhausted.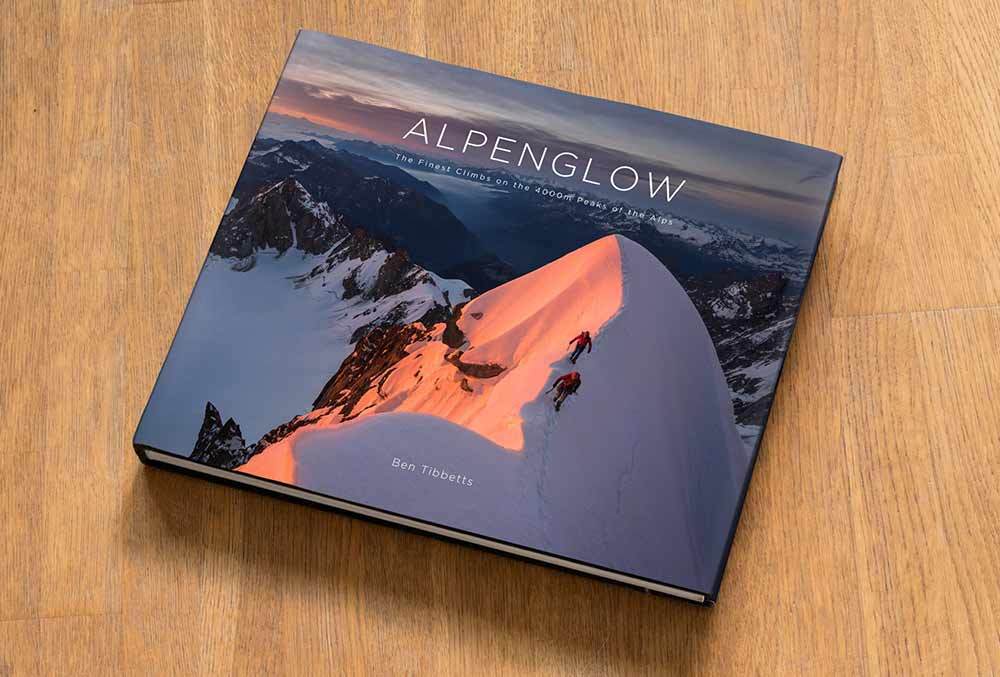 Ben's book Alpenglow is available now in shops and from Ben's website www.bentibbetts.com
A pencil drawing of the Matterhorn, one of many fine illustrations by Ben Tibbetts from the book Alpenglow.
This interview first appeared in Climber July-Aug 2019.