Wynd Cliff – A Crag for all Seasons
by Tony Penning
The Wynd Cliff crags are beautiful, south-facing cliffs of natural limestone. They are trad only and have strong lines up grooves and cracks. When I first visited Wynd Cliff over 30 years ago it was seriously cool but now it's not and that's a shame. Wyndcliff Quarry just down the road with its short bolted climbs is much more popular. A pointer to the future?
Wynd Cliff, the main crag that is, is divided into two by the 365 Steps path and cunningly called Left-Hand Crag and Right-Hand Crag. I once saw a group of walkers on this path all dressed in high-viz. What is going on with high-viz, it's everywhere now. You even see people riding horses and their horses wearing it and if they've got a dog that'll be wearing it too. I could always see horses before high-viz and I never drove into one. You even get workers wearing it when working at height, who the hell is going to crash into them. There was a guy in the pub the other day wearing both jacket and trousers of bright, high-viz yellow. I said with a hint of sarcasm 'at least the barman will be able to see you'. My wit was wasted, "Yeah" he replied, "it looks good too." Well it doesn't. Like Ron Hills and the sunglasses on the head thing, it's seriously uncool. This brings me rather shakily back to Wynd Cliff.
Right-Hand Crag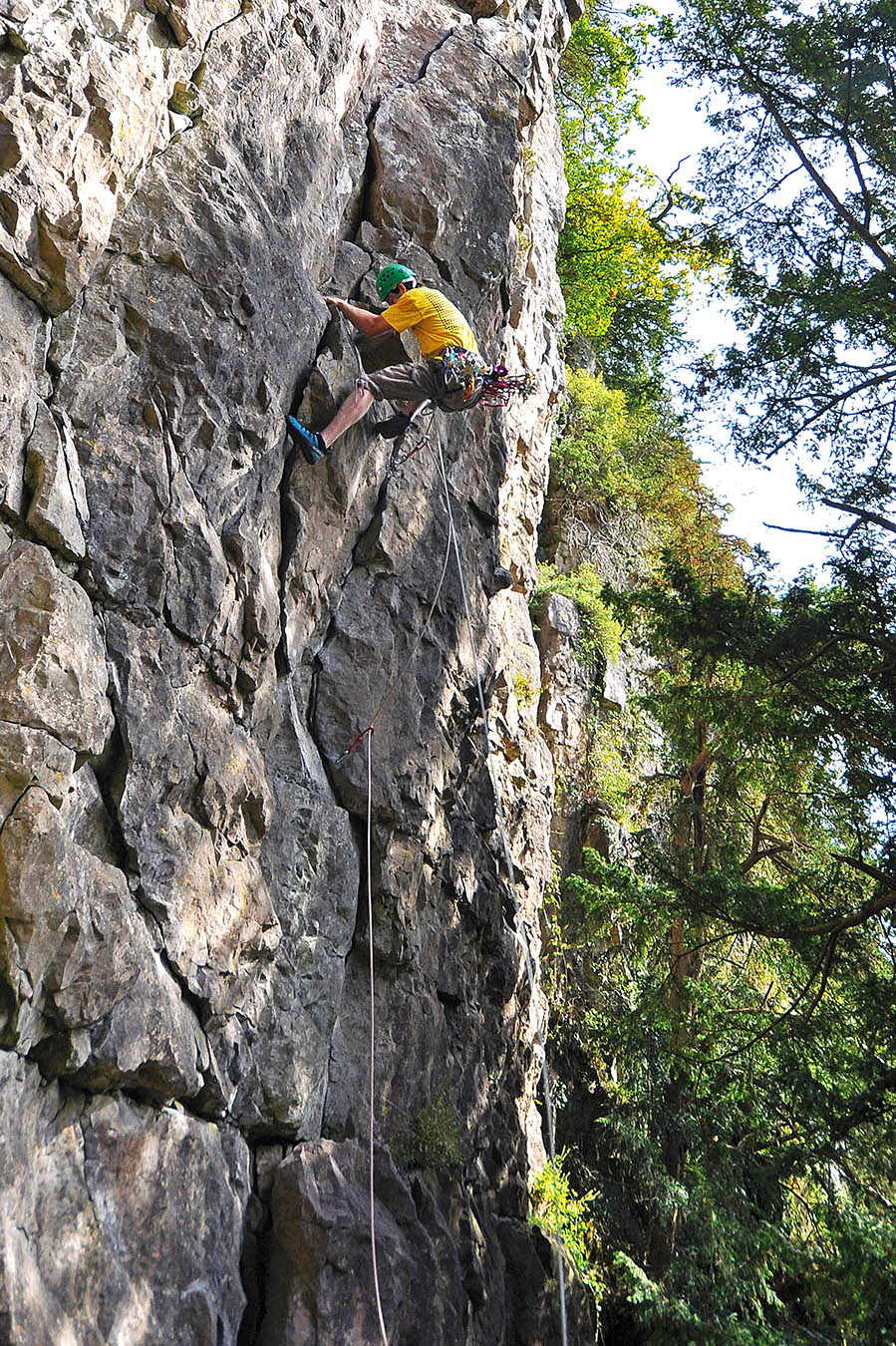 I always thought the climbs were a tad more strenuous than similarly graded climbs at nearby Wintour's Leap. One of my favourite routes from my early visits was Shaft on the right side of the Right-Hand Crag. I used to think it was incredibly exciting pulling into its upper groove at E1 5b; it's now given E2 5c, thank God. Just to the left of Shaft was a detached block. Using a point of aid I leaned over to it, gave it a thump and then swarmed up it before it knew I was there, we called it Collapse Point. A week later we repeated the climb without the aid point and shortly after that it collapsed. Another climb has replaced it but unfortunately, the rock is more solid.
Two other favourites on the Right-Hand Crag are Zulu and The Firebird, but don't get them mixed up. One is E2 5c the other HVS 5a; maybe it's just me that mixes them up. Between these two fine climbs is the seldom if ever repeated Edge of Insanity which sketches up a thin groove between Zulu and The Firebird before launching up the flying fin above at a modest E4. The first ascent of this fine climb involved a bit of air time. As I slapped for the ledge at the top of the fin my foot popped off and there was a wait until my nut below the fin was able to show its worth.
Moving left again (I don't know why I'm going right-to-left from the Right-Hand Crag) is the most popular climb at Wynd Cliff and one of the best VSs in The Wye Valley; Questor. It follows the long groove and crack-line in the centre of the cliff and although it's a bit polished, which makes it seem a bit strenuous, it's a belter. The other three-star route at Wynd Cliff is Questor's near neighbour, Cadillac. It's VS again but feels a bit harder and not as straight, it's not to be missed whatever grade you're climbing at.
In this area whilst a group of us were packing up one evening a dog came flying over the top and, just missing us, landing to one side. I don't know who was most surprised, us or the dog. He survived the fall (over 30m) and we carried him out. We visited several pubs (no, not for drinking) and the police station trying to find the dog's owner but to no avail. In the end Mike decided to keep him and he turned out to be a great companion. For some reason, he was always a bit nervous when Mike took him climbing. Just to the left again there has been a massive rockfall. A lump of rock so big that as it fell it demolished a tree. It's not just the quarried crags that shed its unwanted stone.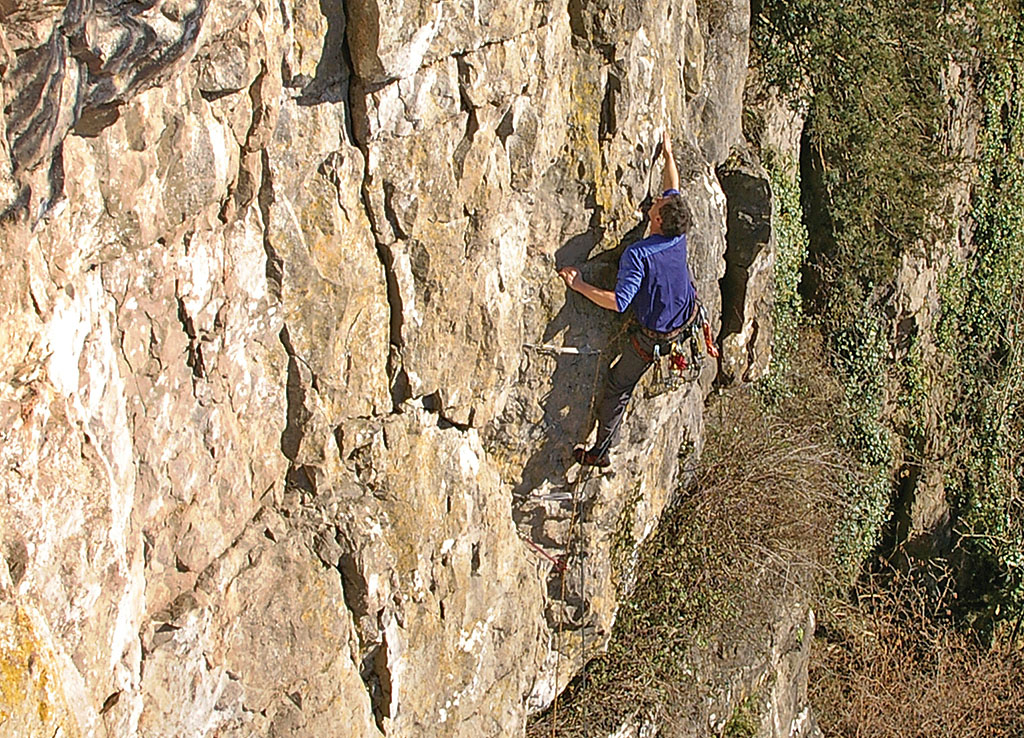 I have to move left again, this time to the mighty Trial (HVS 5a) with tough jamming, tough climbing all the way; grit-like limestone lurks in The Wye. There are other very worthwhile climbs on the Right-Hand Crag but there is one more I have to mention by name, Mecca (E3 6a) is Trial's thinner brother, a tricky devil but well-protected. It was on this climb that I first used chalk. Sorry, but just to confuse I want to go back slightly right again to mention the unstarred Elan (E3 5c). It shouldn't have a star but if you like finger jamming on green, dusty rock Elan is a must.
Left-Hand Crag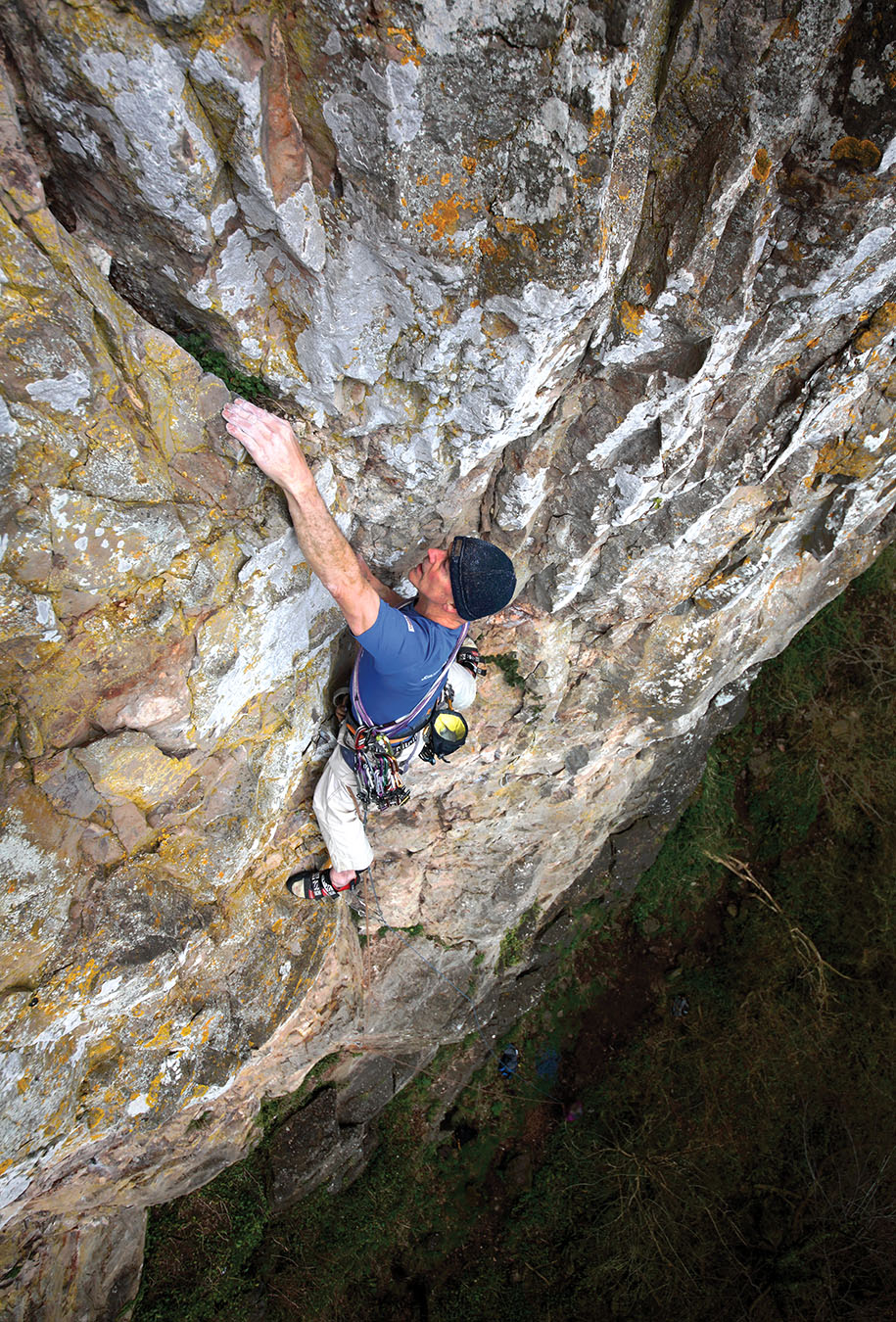 On to the Left-Hand Crag now and although it's the same it is different. The Left isn't as popular as the Right (like politics?) but it's just as good and has some awesome climbs. Belaying at the top of the climbs seems more difficult, more vegetated, but it's worth the effort. I should mention the author of this section of The Lower Wye Valley guidebook, Tim Wilkinson, he really did the crag justice and became a real enthusiast for the style of climbing there.
Taking centre stage on the Left-Hand Crag is The Don (E2 5c) taking the pronounced central groove. It's a genuine two-star route although it was originally graded E1 5b with thin, sustained bridging but with always enough protection. Not meaning to boast but 39 years ago I soloed The Don even though I didn't mean to. My old buddy Pete wanted a photo of it from above so I pretended I was leading it with the rope just trailing but placing gear. I got committed (I should have been) and couldn't reverse, I had to keep on climbing. The black and white grainy picture appeared on the front of a Wynd Cliff supplement and is well worth seeking out. I'm wearing a hideous jumper and sporting big hair or should that read, hideous big hair and sporting a jumper.
To the left of The Don is Mercury, at E4 6a this is the hardest climb at Wynd Cliff. The rock doesn't lend itself to very hard climbs but I said this to someone the other day and they begged to differ. They think they've spotted a line/variation that won't give much change out of E5, we shall see, anyway, back to Mercury. Described in the current guide as, 'sustained and serious, a compelling line, something to aspire to', I told you the author was an enthusiast. To the left of The Don/Mercury are some easier climbs: Strike (HS 4b), Pinnacle Route (VS 4c), The Crack (S 4a) and Papillon (HS 4b). These are not just good climbs they also have a flavour of adventure and some length at 40m.
It's only right and proper that I should now talk about climbs to the right of The Don. Sinew (HVS) should be treated with the greatest respect, another climb that was at one time undergraded at VS. It follows a beautiful curving crack and again it will feel a bit pumpy. Fibre (VS 4c) is the other quality climb thereabouts, steep, strenuous and very satisfying. In between Sinew and Fibre is Aerial Combat. This is a 'difficult to enjoy' climb. It was originally given A3 5a, (isn't that a wonderful grade) but it's free now at E3 5c and is still described as serious.
There are two traverses at Wynd Cliff; Violater is a two-pitch E2 on the Right-Hand Crag. The description in the guide reads, 'hardly a full-blooded girdle'; ouch. The other on the Left-Hand Crag is Left Wing Girdle (VS). It appears that this traverse has not had a second ascent, although with the description reading 'parts may be unclimbable owing to rampant vegetation' it's unlikely to be repeated any time soon. So, if it's traverses you're after, Wintour's Leap, easily visible from Wynd Cliff, is the place to be.
Well, that's it folks. Wynd Cliff is a crag you can climb on all year round and it's worth noting that it has had some notable pioneers knocking at its door such as Frank Cannings, Pat Littlejohn, Paul Donnithorne, Martin Crocker. You know with that sort of pedigree it's got to be a great crag. So come on over for a play and let's bring it back to super cool status.