Lenin Peak – Via the Razdelnaya Route
Words by Richard Haszko
Green light filtered through the roof of the tent and I lay in my sleeping bag, thinking I'm not sure I'm strong enough for this. I was completely shattered on those last 20 minutes to the camp. Do I really want to be here? I'll see how I feel tomorrow but I think I'll probably stay at Camp 1 and support the others, Tom Richardson and his wife, Janet and my work colleague James Salter, when they go for it. 'It' was Lenin Peak, at 7,134m a lot higher than I'd been before and I was in Camp 2 at 5,300m.
Eighteen months before I'd thought I'd like to do something a bit special in my 60th year and I remembered that Andy Cave had once done an 8,000m peak and an F8a rock-climb in the same year. I wasn't that ambitious but maybe 7,000m and F7a wouldn't be beyond me. The problem was where to go. Nepal was out as my job at the time meant I had to take holidays when the schools do. Pakistan was a possibility but was looking decidedly iffy at the time and rather pricey. That didn't seem to leave much but then I remembered reading about Lenin Peak in the Pamir range of Kyrgyzstan.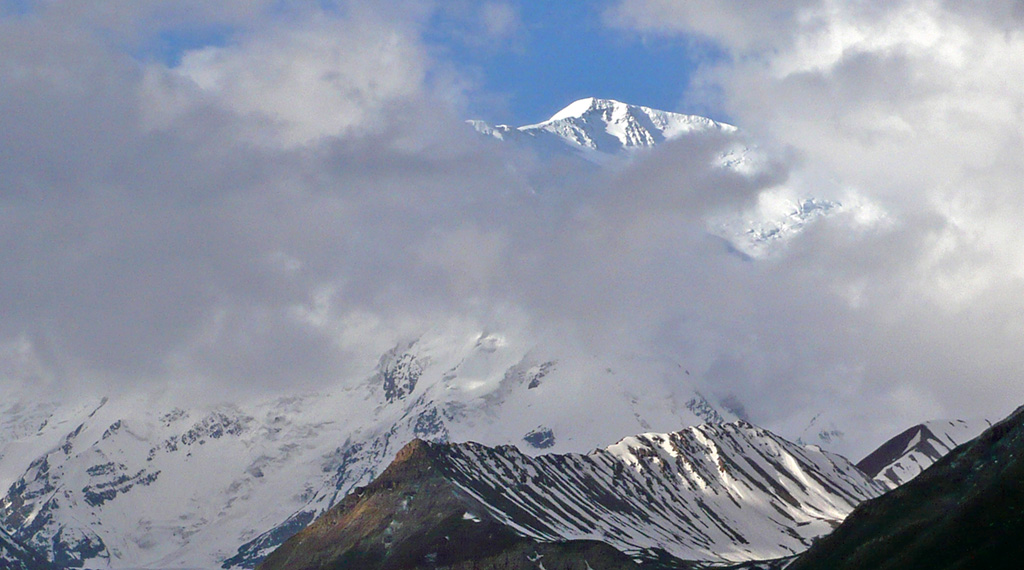 In a flawless sky we had climbed slowly up the wide gully behind the camp, fingers and toes numb from cold. Reaching the ridge above we came into the sun and a spectacular view, the air translucent. My spirits soared, all negative feelings of yesterday dissipating as we stopped on the brow and took in the glorious vista of deep valleys and distant snow-capped peaks. The route to Camp 3 lay ahead but this was it for now, just over 19,000ft and a great acclimatisation climb.
Four days later James and I set off for Camp 1. We'd gone down to Base Camp and had two days of complete rest and feeding up. Tom and Janet had decided to go home so that left just the two of us. I was a little apprehensive: the weather wasn't settled; with storms every afternoon and I was very worried about crossing a particularly alarming section of the walk to Camp 1. I was also concerned that we'd lost Tom's vast experience and would have to rely on mine, which was somewhat less. Still, I couldn't let James down so that was it. Upward we would go.
It was 10km to Camp 1 but we were lightly laden as we'd sent the main gear up on a horse so the walking was pleasant to start; a grassy Alpine valley with marmots playing, then up zigzags to Friendship Pass at 4,100m. Then it was a descent to a track following the hillside above the main Lenin Glacier. This was all easy except for that short, but frightening section of fine, loose scree which we scuttled over, hearts in mouths, reaching the camp at midday, just as snow started to fall.
It snowed all night but by noon the hot sun had melted most of it. Big storm clouds were building over the Base Camp area but they weren't reaching us. We'd decided to hire a porter to give us the best chance of climbing the mountain and when he arrived to weigh the gear, he told us no-one had left Camp 2 yesterday because of the unusually unsettled weather. We knew only two or three people had summitted thus far this season, struggling through thigh-deep snow and 70km winds so we weren't terribly hopeful but arranged to leave Camp 1 at five the next morning.
More snow fell overnight and strong wind flapping the tent woke us, fortunately, as it happened, as we'd missed the alarm. We discussed what to do; go up and risk it or wait it out for a day and hope for an improvement. After a cup of tea, we got out of the tent to a heavy frost, thousands of stars and not a breath of wind. The climb was on. We stashed the gear for the porter and set off, crunching across the glacier. Dawn lit the summit; it looked impossibly far above. The fresh snow had virtually obliterated the track but there was an early-rising team in front so we magnanimously gave them the honour of breaking trail. It was turning into a glorious day, with just a few puffy cumulous clouds playing over the valley.
We climbed steadily, working our way very slowly uphill and casting occasional glances up to the still far-distant summit. The ridge from Camp 3 to the top looked to be an immensely long way and I couldn't help but wonder – would we be up there in a couple of days? How would I do? I'd never been that high and I hadn't forgotten how tired I'd been not long ago. I was almost 60 for goodness sake as well. What on earth did I think I was doing? The heat built up as we crossed a worryingly crevassed section and arrived at Camp 2 to spend the afternoon, drinking, eating and looking nervously at the seracs above, hoping they didn't have our names on them. They'd probably have trouble spelling mine anyway. We were both feeling quite well, and I was confident we would at least get to Camp 3 if the weather held.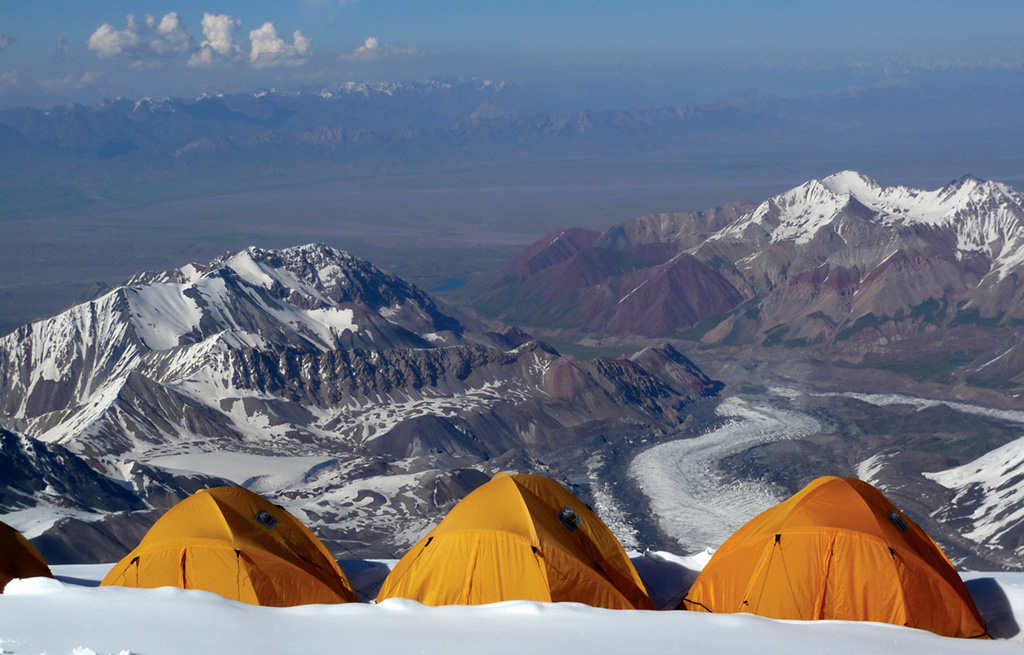 It did hold and we were off before 8am, soon passing our high point and starting the climb up to the camp. It was steep, hot work and I found it desperately hard work, making each marker wand a target to aim for before stopping to gulp in air and gather strength for the next few steps. James was going well but I was utterly spent when I arrived at the camp, perched on the broad summit of Pik Razdelnaya at 6,100m. Looking at Lenin's summit, still 1,000m above and some five kilometres away, I doubted I would recover in time to get there tomorrow, my age beginning to catch up on me. However, once the tent was up and I'd had a cup of tea I felt a bit better. The view from the camp was spectacular and we could see all the way down to Base Camp, 2,500m below. A chap from Azerbaijan came to join us for tea, saying the forecast was good for one or two more days more before storms returned so there was no chance of a rest day, we'd have to go in the morning.
Leaving the tent at 2.30 in the morning there wasn't a breath of wind. Climbing unroped with just walking poles, a small col led to a steep spur of mixed rock and snow with an inky void on our left, suggesting great exposure. Climbing steadily higher we were both feeling tired but neither of us suggested we give up and go back. Finally, at around 6,300m the angle relented and we could begin to move a little more easily. As we emerged onto a gently rising plateau the sun splashed across the mountain, revealing mountain upon mountain stretching to the horizon. Passing a solitary tent in the place where eight Russian women climbers died in a storm in 1974 there was no-one else in sight but the weather was perfect and we were feeling okay which was great as we were both now higher than we'd ever been.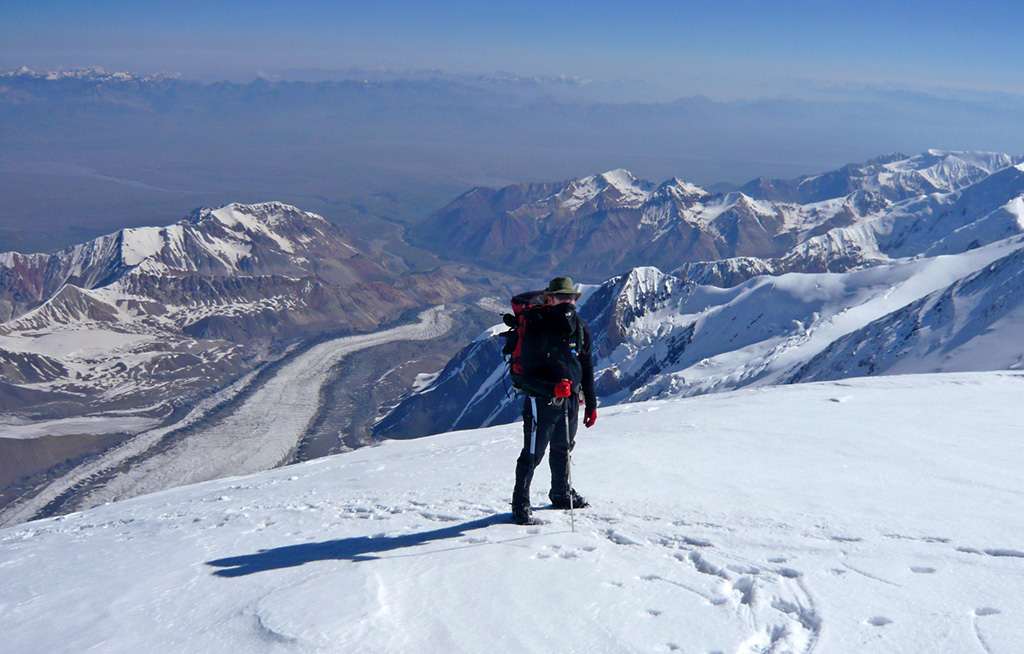 The plateau ended in a steep buttress and we could see two other climbers on this, moving up slowly. A rope fixed in place at the steepest section led to an exposed rising traverse above the North Face and then a huge snow bowl at the far end of which rose the summit plateau. It didn't look at all far and I made a radio call to Camp 1 to say we were about 30 minutes from the top. Passing two Spaniards on the steepening at the base of the plateau an hour later we still couldn't see the summit. Onwards and onwards, passing crest after crest that looked like the top. After another hour I was beginning to feel this mountain was simply toying with us and time was getting on. And then I saw some tattered flags draped over a rock, we'd done it. We were on top of Lenin Peak. It was 12.30 and it had taken us nine and a half hours. I'd expected, in my daydreams, to get here on hands and knees after a grim battle, but I felt absolutely fine, walking around, taking pictures and revelling in the stunning views across the Pamirs, Muztagh Ata and the cloudy Karakoram in the distance. There was only the gentlest of breezes but cloud was starting to build below us so, after 45 minutes, we reluctantly left the summit and started on our way down.
We pressed on, down and down, always wary in the knowledge that accidents happen on the way down when concentration can lapse. Down the spur, being very careful not to trip and then we were back on the col. Suddenly any remaining strength evaporated, and it took me nearly 30 minutes to climb the final 70m to the tent, completely finished. James had made it fairly quickly and I was immensely grateful when he handed me a cup of tea. Too tired to feel much we soon crawled into our sleeping bags after a quick meal and fell asleep.
It didn't take us long to get back to Camp 2, and then on down to Camp 1, scurrying across some very flimsy-looking snow bridges through which someone, later that day, fell and was killed. In the morning we left for Base Camp, crossing the evil scree one last time. By now the weather had broken big time, storms following us down. Back at Base we finally got to celebrate properly with a couple of guides who'd just arrived as storms raged all round. Now, about that F7a.