Building winter climbing experience on Ben Nevis
Monday 30th December 2019
Lessons learnt winter climbing on Britain's highest peak
By Alan Halewood - Glenmore Lodge
'Good judgment is the result of experience and experience the result of bad judgment'. Mulla Nasreddin (Sufi wise man… or fool depending who you ask)
I love living with Ben Nevis on my doorstep. Winter climbing has always captured my imagination in a way that no other aspect of our multi-faceted and endlessly absorbing struggles against gravity ever have.
There's something about Gargoyle Wall. Every time I go to climb this route something goes wrong, forgotten gear, unexpected weather changes, gash conditions and, on one memorable occasion, it was so cold that the usually sweaty flog up to the base of Number 3 Gully saw us wearing our belay jackets and shivering long before we reached the route… only to find another team there before us. Cue a side step to Winter Chimney and after an hour I'm almost hypothermic at the belay. Rich is only halfway up the first pitch where he finds an in situ nut and we join the ranks of those who have learnt the hard way that this is a better route with ice in it and run away. And that's when I really screw up…
Rich hasn't felt his feet for a while so he heads down the Coire at speed but I'm going to climb something today and I'm soon soloing up the short-lived crux of North Gully and standing in the scoop where it breaks right towards the plateau. I'm craning my neck to see the left branch that I know will be much more interesting than the easy finish. I'll just go for a look… I can always come back down. So, of course, it gets steeper and I get committed but there is a spike below the hard bit. But do I place a bit of tat and use my half rope to bail? No that would be far too sensible. I know, I'll pop a sling on the spike and tie a loop of rope from my harness through a krab on the skinny bit of Dyneema and back to my belay device. This tipsy arrangement gives me the Dutch courage to press on. My plan is to feed out some more rope when I reach the limit of the original loop, hopefully with a runner in; then the spindrift comes.
Eyebrows burning, contact lenses swimming in melted snow there have been no runners since the spike and I must be near the limit of my loop if only I could see. Momentary respite from the deluge of powder and I can see that indeed I have gone a little too far. Now I'm soloing half-blind at my limit with a loop of 25ft of rope dangling between my legs and, hanging from that, my useless sling having slumped from its perch on the spike. Breaking through the cornice and wiping my blurry eyes I stagger to the sober realization of near disaster.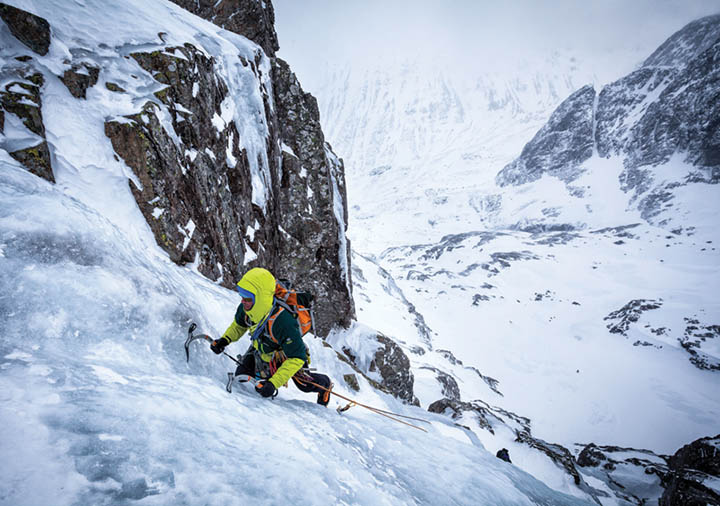 Giles Trussell on the second ice pitch of Jubilation (IV 4), Jubilee Buttress. Photo: Glenmore Lodge/Nadir Khan
The climbs I've done on the biggest mountain on our shores have given me a great deal and 'The Ben' feels like a familiar, crotchety old teacher, much loved but still capable of dealing out hard lessons if I should play the fool and always willing to show me how much I've still got to learn. Some of the lessons Ben Nevis has handed out I've learnt the hard way and some I've learnt by watching and listening to others:
"I'd say know the mountain. Study the layout of the North Face and the plateau before you go, so you don't have to try and figure it all out when it's getting dark and blizzarding on you. Also, understand the importance of going fast. That doesn't mean legging it up the Allt a' Mhuilinn and then lying in a heap at the CIC for half an hour. Start early and maintain a steady work rate through the whole day. Get a guide plate and use the time on belays to get fed and watered and have everything ready for your leader. Epics are born from belay faffs." Dave Macleod
Ben Nevis is big. Look at the route lengths: Number 5 Gully gives 450m of calf-screaming climbing to the novice with poor technique (when it's not shedding snow in an avalanche from one of the half circle of aspects from its head). Tower Ridge with 600m of IV,3, did the Rescue Team really ask for the 'IV' in response to the numbers of those caught unawares by the scale of this route? I don't know, but last winter I climbed it sheathed in so much ice that I was glad of the two screws I had and the wires were a pointless load. As I pulled onto The Great Tower the Team was just retreating back across The Gap having recovered another group who had spent the night enduring the cold stood atop it.
Orion Direct and its 400m of well-trodden fun is nonetheless somewhere I've watched the sunset from, becalmed at the foot of the exit chimney waiting for parties ahead to find wind for their own sails and top out. But that's what you get if you choose to follow three parties up and ice-climb… that and a habit of constantly peering carefully from under your helmet hoping the debris from above won't come directly down your line.
On routes like these Dave's advice is key. Get efficient, make your change-overs seamless. Know that your kit choice will work. Know how you will get off before you top out: Number 4 Gully with no avalanche hazard; Coire Leis from the summit in good visibility; the Red Burn if there's snow and it's on a safe aspect; abseiling off after the fun without poking your nose onto the plateau or the long haul down the pony track if all else fails. All have their place and preparing by knowing how to find them in advance will help. Put all the systems you've nailed down on shorter routes into practice with a trustworthy partner and the extra lessons you learn will be small ones rather than those that feel like six of the best or worse from a Victorian, bullying tutor.
"Wait for good weather. Don't just go to the Ben because it's famous and there are so many routes you want to do. Wait for a wind direction from north-east to south-east and the Ben will be at its wonderful best." Andy Nisbet
I knew there was no excuse for not giving the guys a day out they'd remember for the rest of their climbing lifetimes. The weather was perfect, Carole had cruised up a well-chopped about Vanishing Gully with me the day before and Ian and I had climbed a thin Two Step Corner in the past. The winds were light south-easterlies, the temperature cold and we'd had eight days of stable weather with good ice. Now in April the daylight was long and as we turned the corner into Observatory Gully the road to Orion Direct was clear. Nine pitches of icy interest followed; I knew the belays and how much they resembled Swiss cheese after a barrage of screws over the season but also knew that a little care, digging and choice of stance would help me find enough good anchors. We paused a moment to allow John and Graeme to finish the pitch left of the Second Slab Rib on the Long Climb Finish. Its patina of grey ice showing the single point penetrations of John's crampons and a handful of wires placed with care in frozen earth. Graeme had warned me that if I was in the wrong spot and if his partner came off he'd end up in my lap so we used the brief time to wait and eat until we heard an affirmation from above.
Later we topped out into a cool wind in good time and the brightness of the sun was only matched by the beaming of my partners. Some days you get it all right. Luck counts but Ian had only called because he had been watching the weather like a hawk. I'd only just met Carole but we'd tried things out on a shorter route the day before. I had a good feel for conditions on the line. We'd got an especially early start. Sometimes you can make a lot of your own luck. Like Pat Ament's 'How to be a Master Climber in Six Easy Lessons' points out: 'there can be as much art in 5.5 as 5.14'. You don't have to climb hard to climb well. If you've climbed the right route for the day in good style with the right partner(s), the right gear and the right techniques you've displayed a mastery of climbing beyond a grade bound definition.
"Acquire the crucial two keys... the Ben track and the CIC, everything else is then easy. Oh and don't forget the tea bags." Andy Turner (tongue in cheek but with a good grain of truth)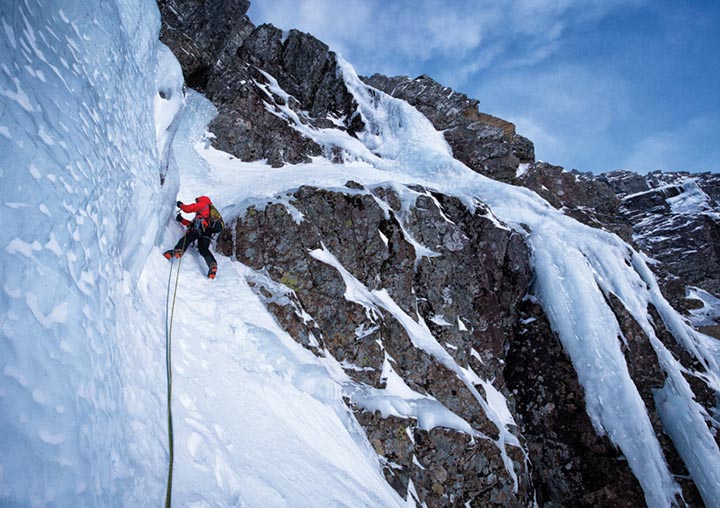 Derek Bain on the second pitch of Nasturtium (IV). Photo: Glenmore Lodge/Nadir Khan
Winter is a frantic time for Mountain Instructor Certificate holders and Guides in the Highlands.If you aren't careful you can fail to take enough time off for your head and your body to recover. Jon is Head of Mountaineering at Glenmore Lodge and has a lot more on his plate than just his own Instruction but we'd booked a couple of days off together mid-season to make sure we had time for a little of our own climbing. Anyone can get a key to the Ben Nevis track if they are prepared to pay the Forestry Commission. For me I'm up and down the track enough times in the year that the wear and tear on my knees makes the price well worthwhile and the time and energy it saves my students helps make the space for more learning. Having said that, the track can close because of snow and I often cycle to Torlundy and sweat up the first section too, if only for the exercise. The equally available CIC Hut can be as controversial as the track to some folk. To me it's a part of the history of the hill, built to give climbers easier access to the North Face and shelter when needed, it has been there long enough that I see it as part of my understanding of what Ben Nevis is about and a night or two there is an experience in itself.
Jon and I were obvious on the walk-in as hut-bound pilgrims by the size of our 'sacks. We arrived to find an international crowd in residence in the warmth of the kitchen with food varying from student pasta and pesto to much more exotic fare being whipped up on the gas cookers by a Frenchman with an enormous handlebar moustache. I've always been more of a red wine than a whisky kind of guy but there was plenty of both in the hut that night. The heavy warmth of the top bunk was much more than an alcoholic glow covering me in a blanket unneeded with my sleeping bag.
Our first day we watched the hordes heading to Observatory Gully and a few going to the west flank of Tower Ridge and Coire na Ciste but no-one going to the area of Carn Dearg or The Castle so we were soon tucked in to the bay at the base of Raeburn's Buttress contemplating the second pitch of Boomer's Requiem. We'd left the hut less than an hour before and were already a pitch up our route as the snake-like stream of the faithful wended their way in on the path beneath us.
Boomer's second pitch would be the steepest pitch of Grade 5 ice in Scotland were it not for the nearby rock on the left wall allowing some respite for the calves (and a few well-worn nut slots too). From the top of this a longer but easier pitch took us to the upper part of the route and eventually the top of Carn Dearg. Dropping down Number 4 Gully we even had time for a quick ascent of Central Gully Right-Hand before the short descent back to the warmth of the CIC.
"If you are ever in doubt about the avalanche risk, turn around. It will always be there another day. I've been in some pretty scary situations on Ben Nevis when I've pushed on through the snow when I really should have turned back." Greg Boswell
Rich and I hoped to get on one of the Minus Gullies but we were already aware that conditions were on a knife-edge. Rare cold but calm conditions had prevailed for long enough that feathery surface hoar crystals, some the size of icy jam jar lids, blanketed the firm snowpack already covering the Highlands. The forecast was for fresh snow and a wind during the morning but as we walked in we knew it had come early. Heading up to the CIC Hut we met Paul who told us of an avalanche already near the foot of Vanishing Gully and climbers licking their wounds at the CIC Hut: "Death on a stick boys." That settled it, no big adventures for us today but I'd never climbed the main Carn Dearg Cascade just near the Hut so we decided that would give us a short but worthwhile day. We crossed the Allt a' Mhuilinn just below the hut and came around the corner on the path that leads up into Coire na Ciste. The icefall was less than a hundred metres away and we stepped onto a low angled snow patch intent on our route. Immediately my feet went from under me and I was bouncing about between coffee table-sized blocks. We stopped almost as soon as we started in a hollow above the river looking at one another bemused. We'd been avalanched 30m down a 20 degree slope on a path at just over 650m and we should have seen it coming. We were lucky that day and inspected the snowpack to confirm what we already knew about its hair trigger nature. Then whilst I led the climb we watched appalled as someone else was seriously injured a few hundred metres away in a similar avalanche but with a far worse run out. He survived badly injured but tragically there were fatalities elsewhere that day.
"If climbing on the Ben's North Face will teach you only one thing then that'll be humility, it's a massive, intimidating, sometimes malevolent place but ultimately it is its beauty that humbles you into silence. I remember summiting in perfect conditions with a good mate after climbing Point Five and none of us needed to speak, no words can better it." Kev Shields
It doesn't matter whether you are the happy low grade mountaineer, a dry tooling honed athlete, the Guide or Instructor wanting the best for their clients, a cunning climber seeking to fill the gaps with a new route or the Cold Climbs ticker wanting to experience the classic routes. Ben Nevis will teach us all something. Practise on shorter routes, preparation in terms of fitness, navigation, eating and hydration, climbing mileage and well-practised climbing and clothing systems will all help keep the lessons manageable. Come with an open mind and a little humility and your past experiences will lead to present good judgment and you'll find that the teacher's not too harsh.
You can find more about Glenmore Lodge and the sourse's they provide by clicking this link Glenmore Lodge