Exmoor: The Reclusive Coast
Words and photographs by Mark Davies
The beautifully wild, windswept and secretive 30-mile long coastline of the Exmoor National Park doesn't ever feature in a top 10 list of UK climbing destinations. Mention Exmoor to almost any climber and they will look at you blankly.
"But there's no climbing on Exmoor!"
"Isn't there some epic traverse along the coast that takes weeks and nobody has ever completed it?"
" Oh yeah, there's loads of death routes on massive crumbling cliffs."
My thoughts exactly. Well, there is some truth in all of that – there certainly is no climbing on Exmoor itself, no succulent, myth-laden, flesh-eating granite tors to seduce you, like on Dartmoor. There is a very rarely completed traverse of the coast and there are apparently a large number of very serious climbs on very serious cliffs, Fowler-esque territory.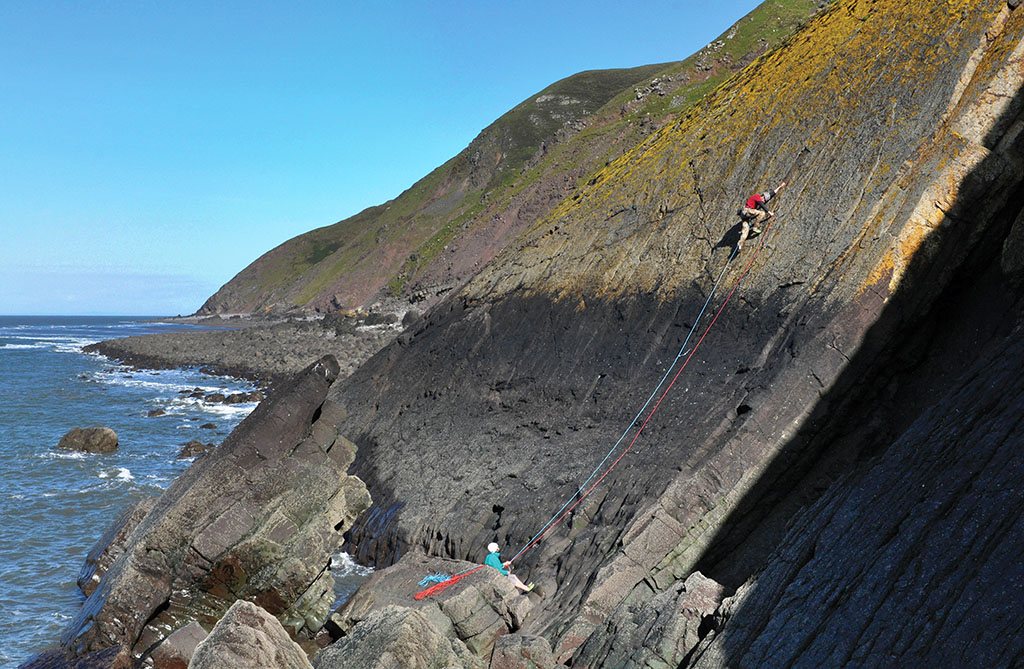 Most of the crags along the Exmoor coastline are not only particularly grave propositions to climb on but just getting to and from them is a major expedition in itself. Without intimate knowledge of the area, unsuccessful attempts can be made trying to locate approach routes down the 300m high convex hog's back cliffs, through dense gorse and woodlands and even then, if you are lucky enough to find the crag and hit the window of opportunity in the massive tidal range of the Bristol Channel, just getting to the beach and back alive is enough of an adventure for many.
There are, however, some chinks in the armour, a more welcoming side to the Exmoor coast experience, one that I only came across by accident; a guidebook project requiring a few action pictures was enough to ignite my interest. You see the main problem with the area is that there had never really been a proper guidebook published; only a small section in The Climber's Club 1988 North Devon and Cornwall book, a miserly 12 pages, in fact. Of course, there's now a little more information in South West Climbs (Volume 2) from The Climbers' Club which has a good selection of the routes including those mentioned in this article but I digress...
From what little information I could gather together it seems that much of the development of the coast was by a group of climbers from the immediate area who kept the details of their work pretty much under wraps. The late Terry Cheek, who was one of the driving forces of the group, did have a web site offering up some basic, rather disjointed information and at one point even had a very limited self-published guidebook but it's as rare as hen's teeth and impossible to get hold of as distribution of it was actively discouraged outside of the locals. This was to prevent it falling into the hands of anyone without any previous experience of the coast and its complexities.
In the 1990s Martin Crocker teamed up with Terry Cheek to bring the coast to maturity with new hard routes covering the acres of untouched and impenetrable cliffs. Even then a guidebook was not forthcoming. So, I managed to persuade a couple of young, super keen trad enthusiasts from Clevedon to join me on a tentative visit to Hurlstone Point. I warned them it was probably not going to be like Baggy and thankfully their youthful innocence dispelled any cynicism, any day out climbing was good in their books.
Hurlstone Point
Baggy Point's delinquent cousin, Hurlstone Point is the place for the low to mid-grade adventure slab seeker, happy to contend with the odd throwaway hold and grassy top-out in return for splendid isolation and wonderfully spirited climbing. Hurlstone is easily approached along the A39 coast road five miles west of the busy seaside resort of Minehead, with its chip shops, promenade, steam railway and holiday camp, and a mile and a half from the quaint village of Porlock with its infamous switchback 1-in-4 hill road. The crags form the east boundary of Porlock Bay's majestic two-mile sweep of shingle beach.
We parked in the National Trust pay-and-display car park at Bossington and took the pleasant bridle path out towards the headland. You can either drop down and join the beach or continue along the rising path towards the disused coastguard lookout that marks the top of the crag. We took the beach approach. The beach ends abruptly at the Bossington Beach Crag, an excellent spot for some nice non-tidal bouldering, picnicking and general chilling out by the sea, but we were there for routes.
Around to the left and facing out to sea are where the first proper routes start; an excellent short wall of lovely clean purple sandstone offers a clutch of steep but well-protected climbs between V Diff and VS (with one E3 thrown in for those adequately equipped). This cliff gets the afternoon and evening sun and is almost completely non-tidal as a good system ledge runs out to it from the beach, only high spring tides or rough seas being a problem.
After some really enjoyable warm-up routes there; Nameless (HS 4b), One Way Street (VD), Munchkin (VS 4c) and Evening Crack (S) we decided to find the main slabs of which I had seen grainy pictures. Beyond there, at low to mid-tide, it is possible to boulder hop past some impressive but deadly serious looking cliffs. We admired the wonderfully contorted strata and wondered exactly where all of Martin Crocker's mysterious hard routes went (the details of which are currently under lock and key in his vault). Then, shortly after passing through the natural arch/tunnel of Gull Hole we ended up at the base of the towering 50m-high Coastguard Wall with the eponymous disused lookout perched at its top. If we had taken the high path on the approach then we would be looking down from the coastguard lookout, an easy zigzagging path down grassy slopes to the left of the wall (looking out) and a short chossy gully reaches the base of the slab.
This is quite a brooding and fairly intimidating piece of north-facing rock; its vegetated and exfoliating appearance doing nothing to settle the nerves and it was still early and out of the sun. But actually the wall is, in fact, a slab and the angle is quite reasonable, it's non-tidal and, especially when the sun eventually hits it, for anyone well versed in the slightly more obscure culm classics such as Wrecker's Slab nothing too untoward will be encountered (although this is certainly not a place for novices). The odd loose hold, some clumps of grass and spaced gear all add to the experience and some totally absorbing climbing on routes from Hard Severe to E1 will reward a confident approach.
We picked Coastguard Slab (VS 4b) to start with, probably the most reliable route on the slab – it takes a series of thin cracks on the right side of the slab and has plenty of protection, with only one short, bold technical section. The crack in the middle of the slab is Nazgul (HS 4a) which gives easier but much bolder climbing (unless you still carry pitons and a hammer) and could possibly be nudging VS.
Between the cracks lies probably the best piece of rock the slab has to offer and is taken by the super Crocker route Severance (E1 5a). This was my lead and even though no moves technically any more demanding than top-end 4c are encountered, the massive run-outs between clusters of fiddly gear and sustained balancey climbing requires a steady head, patience and good route-finding abilities. It's worth pointing out that most routes at Hurlstone top out onto sloping grass with belays consisting of small stakes and the odd small outcrop that will take wires or cams but as long as it's not wet this is all easy to deal with, though needing some care and thoughtfulness.
To the left of Coastguard Wall the crag gradually loses height until it disappears into the sea. It is possible, again at low to mid-tide, to scramble under the central area – an interesting collection of slabs, corners and arêtes – check out Serge Gousseault (HS 4b) a lovely, 40m two-star crack climb demoted to one star because of its chossy final third. Past the central area is Fledgling Slab, the furthest left, the smallest but most solid piece of rock. This triangular slab with its bright yellow lichen-covered top has a whole crop of good routes – very similar to Baggy Point, just shorter, up to about 25m in height. It is the most tidal part of Hurlstone but on a low spring tide, plenty of time will be available. There is even a lovely little stack on which to boulder.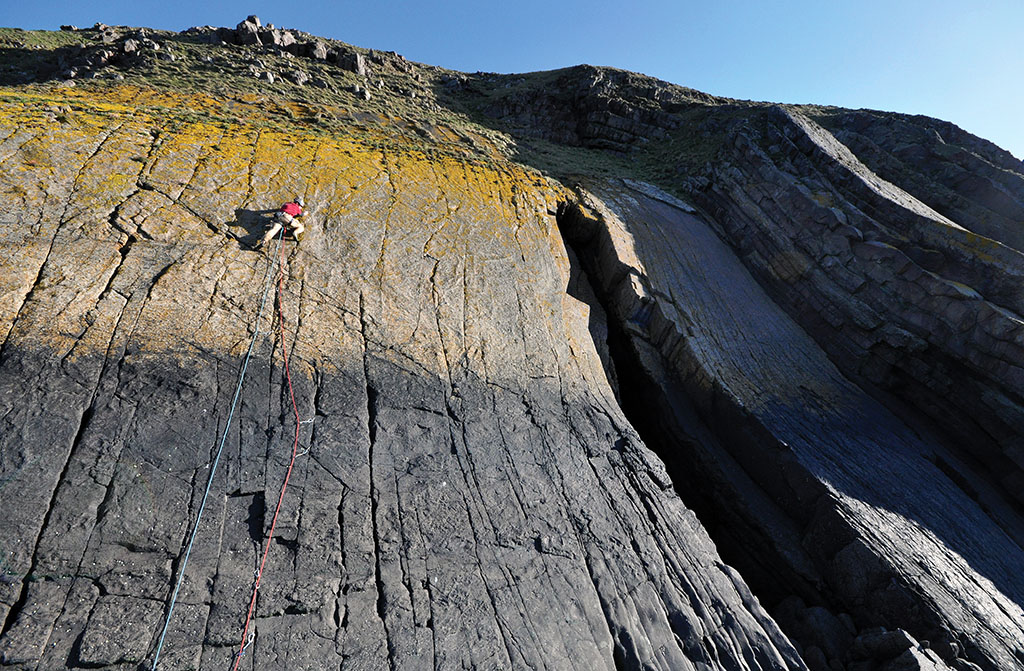 We decided to spend the rest of the day there, the late spring sun was now on us, we'd done a bit of scary stuff and we just wanted a bit of relaxed mileage. We bagged some VSs: Pippin Direct, Parallelogram and Jailbird, all at VS 4c, plus Total Quality Creamery (HVS 5a) and another Crocker delight Touch Our Lives (E1 5c) were all worth stars, then we soloed a few V Diffs. The belay stakes are a bit minimal but it's pretty easy to excavate extra nut placements, just make sure the leader carries a nut key. We climbed until the sea was lapping at our feet and the sun was getting ready to set then we scrambled out on a rising Diff traverse with our packs on and followed a vague and fairly precipitous track back to the coastguard lookout at the top. This track definitely needs a cautious approach if at all wet. Bottles of cider, feet in the water and a glorious sunset ended a great day at Hurlstone.
The Valley of the Rocks
The next day, early rain forced a late start and nowhere tidal was going to be feasible so we decided to go and check out The Valley of Rocks. The car just about made it up Porlock Hill and we savoured the views of both sea and moor from our lofty vantage point as we hurtled along the coast road towards Lynton and Lynmouth. The Valley of Rocks of Lorna Doone fame is one of those places that you were probably dragged along to by your parents whilst on holiday as a teenager. Shuffling around the coastal path, moaning about being bored, before taking the water-powered funicular cliff railway down to Lynmouth and the beach.
The valley itself is a very picturesque place to spend time and relax, perched high above the sea, the views are stunning but to be absolutely honest there's not really that much climbable rock there despite its name, but it's a handy place to pop into if the tides are wrong at Hurlstone or you just want a very uncomplicated day. There's certainly a handful of good routes that could keep you occupied for a short day and the climbing is only minutes away from the car park.
The rock there is not the same sandstone as at Hurlstone, it is, in fact, Lynton Slates which is comprised of 'quartzitic sandstones with interbedded finely laminated slates'. None the wiser? Me neither. We followed the well-made North Walk path from the car park round to where the ground suddenly drops dramatically into the sea (where the serious Crocker/Cheek adventures lie on the tidal cliffs way below you) and scrambled up to the rocky crest to find Icarus (HS 4b). This gives a brilliant pitch as exposed and exhilarating as any Hard Severe on the South West coast, well worth a couple of stars especially if the HVS direct finish is taken.
We then headed over to The Devil's Cheesewring (yes, another one of those) and spent a few hours on this fine 20m-high pinnacle, with the crack climb of Crack of Doone (HS 4b) and the more direct face climb, Olympic Wall (HVS 4c) both giving some excellent sport and well worth stars; the hairy green lichen, although initially a little off-putting, actually only adding to their charm. We finished the afternoon pottering on some short pitches at the prominent flat top outcrop of The Castle, soaking up the panoramic views up and down the whole of the coastline – magical.
Lynmouth Boulders
To round the day off we popped down to Lynmouth for some chips and then a very brief bit of beach bouldering before dark and the drive home to Bristol. Numerous bouldering areas have been developed along the coast and from the small bit we sampled at Lynmouth the rumours of it all being high quality are very probably true.
Fact File
Guidebook
South West Climbs (Volume 2) from The Climbers' Club has a good selection of the routes including those mentioned in this article. Information can be found at: www.climbers-club.co.uk, www.ukclimbing.com and www.javu.co.uk
When to visit
Hurlstone Point, The Valley of Rocks and Lynmouth Boulders are mainly north-facing so any time from spring to autumn will be good. Hurlstone is tidal (apart from Coastguard Slab and the beach bouldering), The Valley of Rocks is non-tidal, Lynmouth boudering is tidal.
Where to stay, where to eat
Lots of campsites, tourist accommodation, shops, cafes and tea rooms in the area.