Babsi Zangerl and Lara Neumeier free climb Muir Blast - El Corazon
Friday 17th November 2023
Barbara Zangerl and Lara Neumeier have free-climbed a link-up of the route Muir Blast and El Corazon (5.13b) on El Capitan in Yosemite, USA.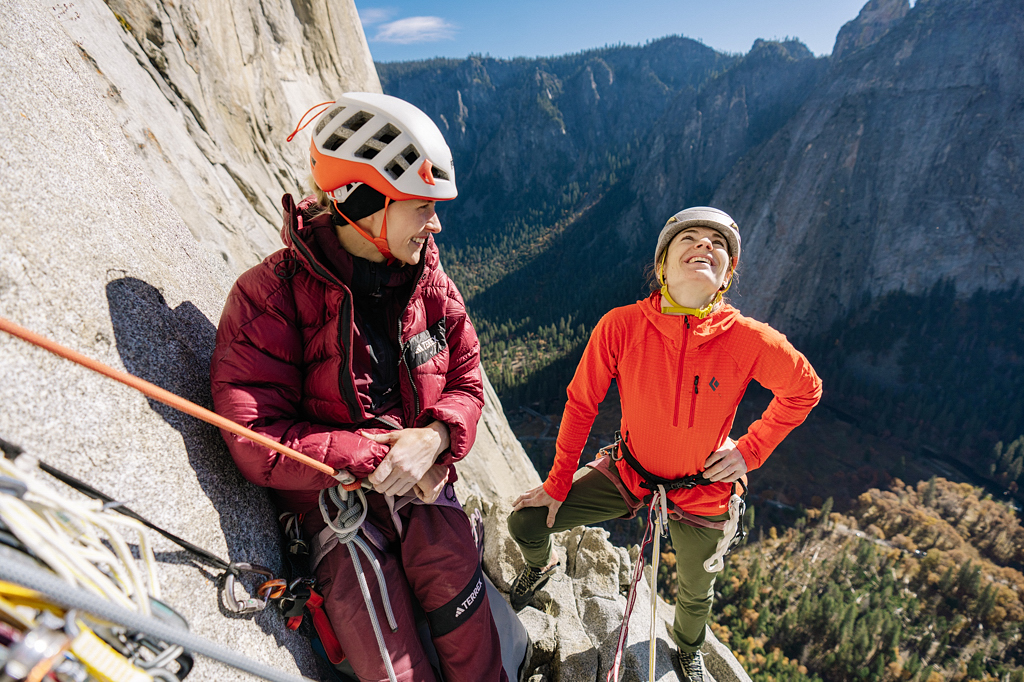 At 3am local time on Wednesday 15th of November, Austrian climber Barbara Zangerl and German climber Lara Neumeier topped out on El Capitan, in Yosemite, having free-climbed a link-up of the routes Muir Blast and El Corazon (5.13b). The pair spent six days on the wall to climb the 35-pitch line, both leading the route's hard 5.13 pitches. The ascent marks Babsi's 6th free climb on El Capitan and Lara's 1st.
Babsi gave an overview of their ascent saying: "We climbed El Corazon via the Muir Blast. Muir Blast includes some challenging 5.12 pitches and one 5.13b pitch on the first ten pitches of the wall. We decided to haul our water for the final push up to Mammoth Terraces. We did this a couple of days before our ground-up push. We also climbed the Muir Blast part of the route once in advance as a training lap, in what was Lara's first ever day on El Cap. Lara did incredibly well from the beginning. So, we decided to take the chance of a good weather window and start our climb Muir-El Corazon in a push. Once the push started, we climbed ground-up."
Babsi has also given a day-by-day account of their ascent:
Day 1
Didn't go very well. I hurt my finger; The haulbag with the heavy portaledge got stuck. Lara dropped one climbing shoe and a Jumar. :-) I slipped off a 5.12 and had a proper fall and had to climb it again. But anyway, we made it both first try and both on lead through the 5.13b pitch and got up to Mammoth terraces, where we spent the first night in our portaledge. We were already pretty tired from the first day, climbing 11 pitches.
Day 2
We climbed up to Bird Beak. Another 5.13b on El Corazon. We first figured out the beta …then we both sent it 2nd go. (I had already done the pitch once before because it is part of Magic Mushroom as well). On day 2 we climbed 6+ pitches. We rapped straight down to Mammoth ledges and hauled everything up to this point again, the day after.
Day 3
This was a loooong day. 3 a.m start hauling everything up to Beak Flake. I led and Lara made quick work of it as well. So now we had the long scary traverse right ahead of us. It is a 50m long traverse on pretty loose rock. Climbing it was not a big deal…But hauling was crazy. Our haulbag got stuck on a small flake. I was not able to haul it anymore. I pulled on the haulbag rope, and Lara pulled from the other side of the rope. No movement at all!!!
A couple of seconds later we recognized that the whole flake is moving 20cm away from the wall and almost breaking off the rock face. That was definitely the scariest/shocking moment of the whole climb. Dropping a big piece of rock on El Cap means a big risk to any other climber below us or even the tourists who are at the base of the wall.
So, we needed to find a solution. We fixed the haulbag! Lara climbed to the haulbag pulled it off the flake and then she tried to fix the loose flake. The flake was too heavy to lift it, so Lara moved the flake back in position and it looked ok to us to keep moving. So, in the end, we luckily didn't drop any rocks. At the end of day 3, we made it to Bobby's Bunny Slope but didn't make it through the last 5.12d pitch.
We were too tired to free-climb that one in the baking sun. And anyway, we still needed proper of time to set up our portaledge on that hanging belay. This day was more about hauling than climbing.
Day 4
Back to the 12d. After warming up I sent it and I had a completely different solution to Lara. She did a dyno move lower to traverse into the crack and I had a crimpy solution a bit higher to get into the right crack. It made it a bit harder to clean that pitch for Lara…she had to climb up to clean my gear and back down to do her Dyno move, which definitely made it harder to climb it second in top rope.
Lara led the next 12c techy slab. She did it on sight, which was impressive. I climbed second and made it through as well. So, then we finally got into the huge dihedral.
We were curious what will await us up there. We could see that the cracks were getting way wider than we were used to. We knew that this was going to will be a hard section for us. There were a couple of easier pitches before we got into the real challenge. Lara did her first self-made Camelot belay which was safer than any belay I have ever seen. We could have pulled up a truck on that one :-)
Then the huge chimney was waiting for us, and it was my turn to lead. I have to say I still feel like a beginner on wide cracks. It is so intimidating to me and always so extremely exhausting to fight up an offwidth or chimney. I didn't take off my helmet which was the dumbest thing I could do on that pitch. Soon I got stuck with my helmet. So, I had to push it down with my free hand and somehow I tried to take it off right after I freed myself from getting stuck and that all whilst being quite a way up, trying to not fall. It worked out. I lowered my helmet down to Lara, didn't fall off and had a hell of a fight to make my way up to the belay. (I knew I hadn't the power for a second go on that one) That was one of my proudest onsights ever!
I felt like throwing up at the belay so exhausted I was. Now it was Lara's turn to follow up…I was impressed how fast she was at the wide part. I hardly heard any noises while she was fighting up that beast. But very close to the belay she fell off. I didn't think she'd ever want to try that thing again after such a heartbreakingly long fight. But all she said was, "please lower me I will try again!!!" That really surprised me, incredible!! And she crushed it on her second go, and we were back in the game!!
I led the next pitch, which was pumpy, but not very hard. Afterwards, I asked Lara if she wanted to lead the next one. I didn't expect that she would be psyched for it after we had both emptied our batteries on the offwidth.
She asked me "is it hard?" I said "well it's a chimney graded 5.10. That should be ok!"
But honestly, I had no idea!!! That 5.10 on a Chimney means nothing. She took the lead and fought her way up this loooong, wide, squeezing, nightmare. She sent and I went second. I swear climbing an 8a sport climb is easier than this thing. Anyway, we made it. It was 1 a.m. in the morning and we had another fight to put up our ledge at a very uncomfortable belay. But you know what, we were right below the final hard crux pitches so it was worth it to choose that spot for our new home on the wall. By 2am we were all set to make dinner.
Day 5
After three hours of sleep, we woke up feeling like we got run over by a truck. No chance to keep on going after 4 days of continuous climbing or hauling, without a break. We checked out the Coffee Corner briefly. But we were so bruised from the fights we had the day before. Lara's fingers and to be honest her whole body looked like she got into a car accident. So we called it a day and took a day off. We both fell asleep.
We woke up because we heard some noises from below. Another team was coming closer and obviously pretty fast. It was Sam Stroh and his friend Will. Sam's goal was to free El Corazon in a day after three weeks of working it. It was impressive to see Sam crushing it. Felt like a real Cinema rest day program for us!
Day 6
Last day before the big Storm. We still had 10 pitches to go to reach the top of the big stone. One pitch 5.13b and three pitches of 5.13a climbing included some tricky 5.12s. So, with our current status of still being exhausted and hurt by the previous climbing days it was hard to imagine that this could work out for us in a single day. Anyway, we were super psyched to give it our all on what we knew would be our last day on the wall. We warmed up on the coffee corner and we both had to spend some time on it to figure out the beta. This one felt hard to us!
I cleaned it and led first. I was lucky enough that my beta worked out and I was able to clip the chains successfully and lower back to the portal edge. It was Lara's turn now! Lara seemed to be a bit nervous before her lead go. On her go, she did well! It was the first time I heard her fight scream!!! She made it. One less on our bucket list.
So now the huge roof pitch was ahead. I went first to check it out. It didn't seem too bad. I was sure we both could send that one fast! I tried to talk Lara into a flash try. Half an hour later she did what I always had the feeling that she was able to. She flashed the roof!!!!! What a moment.
Right after that, I did the roof as well and both of us got back to the portaledge for a proper rest. (we had pre-placed some gear on that pitch because it is just impossible to remove all the gear after every try….it is a 40m horizontal traverse and it is a mission to get back to the belay if both climbers want to lead it.) The sun was out and hot! We both agreed to wait until the sun goes down to get proper conditions for the next cruxy pitches. The break was filled with packing our stuff together. We took down the ledge and hauled our pigs to the bottom of the next pitch the Golden Desert another 5.13a.
I was psyched to give it all on my first go and I was able to onsight it, placing all the gear. I left some gear in for Lara and she have sent it first try as well. So, it turned out to be a real send train. Lara led the A5 traverse - another sporty 5.13 pitch, the last of this grade before it gets easier. She had a heart-breaking fall right at the next belay. She came back to the lower belay and I had my first lead try and was again able to flash it, using Lara's beta. I then lowered back down to Lara and she gave it another lead try. She sent too. Suddenly it looked like we had a proper chance to make it to the top on this day.
We met two nice guys (Tim and Nico. They climbed Golden Gate, which shares some pitches with El Corazon) they let us overtake them, even with the fact that they were also in a rush to get to the top before the storm arrives.
After the last hard pitches, it got easier but not so easy to route-find in the dark, with our headlamp batteries running out. Honestly, it took forever to get to the top. Every move started to hurt. We both had bruises on our back from hauling. Simply we had to pay the bill for what we had put our bodies through the last days.
We reached the top at 3 a.m. Totally destroyed. Feeling shaky and done with big wall climbing but at the same time happy and rewarded that we reached our goal to climb it all free and we really had to suffer for this one as well.
I guess another great adventure that will stay in our memories forever!!! El Cap never gets old!! Lara's first-ever free climb on El Cap and now my 6th free-route up the big stone. It's now a day later and we still can't touch anything because our fingers and toes hurt so badly! But we are happy to sleep in a normal bed, have a shower and go to a normal toilet and don't have to sh*t in zip locks anymore!"