October 2021
Grab a print or digital copy and/or subscribe by clicking here
Contents November/December 2021
6: Exposed
Stunning colours on The Sun (E3 5c) at Rhoscolyn in North Wales.
8: News
E11 for Gresham and repeat for McClure, E9 for MacLeod plus news round up.
Destinations / Crags / Features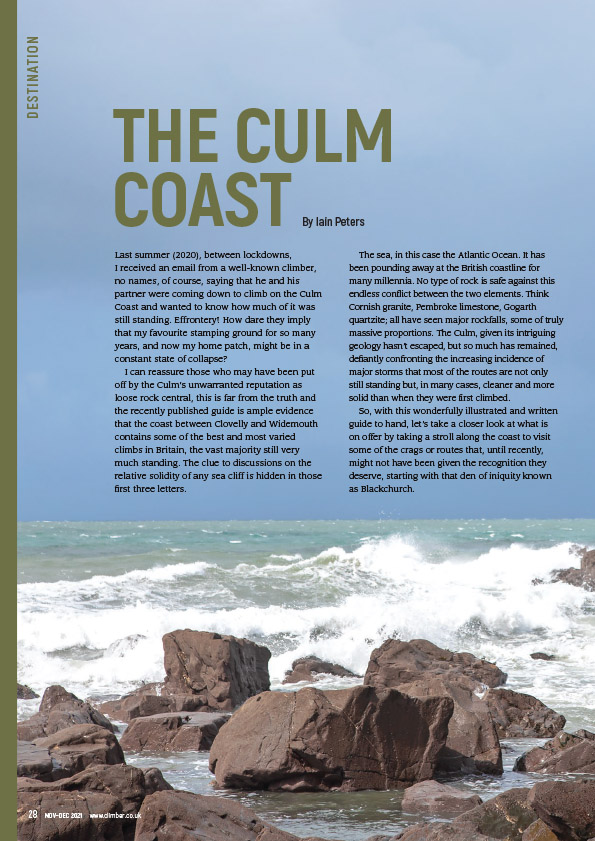 22: Easy Climbs – Craig Pant Ifan Upper Tier, Tremadog
A popular single-pitch crag in North Wales with plenty for low/mid-grade climbers.
28: The Culm Coast
With a new guide out, Iain Peters takes a look at these adventurous north Devon sea cliffs.
34: Trollveggen – Early British Ascents of The Troll Wall
Noel Dawson explores early British ascents of the daunting Troll Wall in Norway.
40: The Lizard – Cornish Climbing
David Hope highlights the excellent climbing on Britain's most southerly point.
54: Donautel – German Rock
Nick Wharton checks out this first-rate location in Germany's Danube Valley.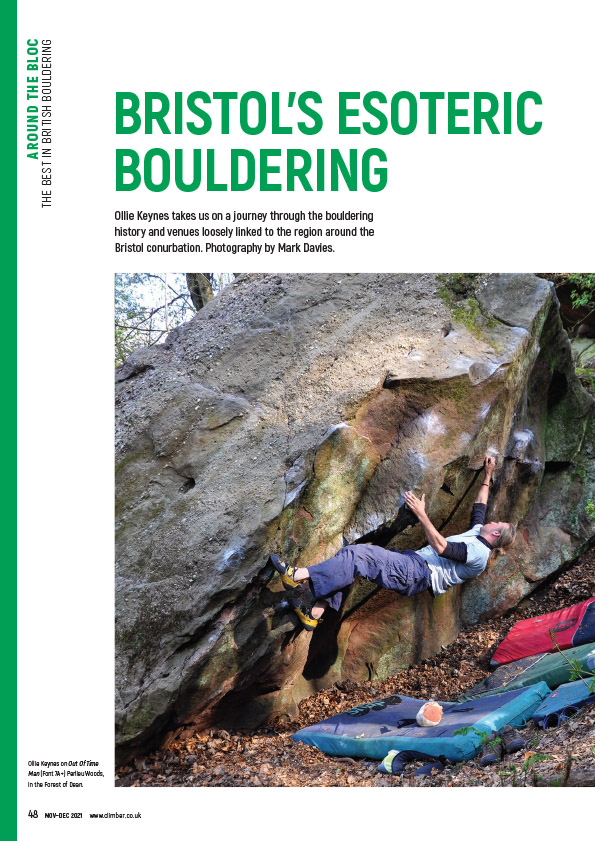 Bouldering
48: Bristol's Esoteric Bouldering
A tour around the esoteric and gem riddled bouldering haunts in the wider Bristol area.
Training & Skills
64: Petzl Skills
Steve McClure gives advice on choosing a climbing harness.
66: The Climber's Coach
A Punter's Paradox – Ian Wyatt writes about what he's learned about training.
Gear
72: Cragging Pants
Bruce Goodlad reviews leg wear for days out at the crag.
78: Mammut Climbax
Keith Sharples looks at this new wearable climbing tracker.
Regulars
14: UK Classics
Pull My Daisy (E2 5c), Llanberis Slate Quarries, North Wales.
16: The Climber's Voice
Chalkmarks on the Bridge – Steve Dean recounts times gone by in Derby.
20: James Pearson and Caroline Ciavaldini
What does climbing bring to your life?
60: Indoor Climber
Tokyo 2020 Olympics report and final thoughts.
70: Book Reviews
North Wales Bouldering Vol 1, Maria Coffey's Fragile Edge and Joe Tasker's Savage Arena.
80: BMC Update
The latest news from the British Mountaineering Council.
82: Climber Legends
Ned Feehally.