June 2023
Grab a print or digital copy and/or subscribe by clicking here
Contents July/Aug 2023
News
6: News
E9 first ascents for Phillips, Taylor and MacLeod. Harila does all 8000ers in record time.
Destinations / Crags / Features
24: Dow Crag: Lake District Mountain Trad
With a new guide out and the centenary of the crag's first guide, we focus on this premier crag full of classic routes.
34: Easy Climbs – Almscliff Low Man, Yorkshire
For lower-grade climbing devotees, we head to West Yorkshire and an iconic gritstone outcrop.
40: Romsdal Rocks – Norway
Tony Howard highlights the superb climbing in this stunning part of Norway, home to a multitude of valley crags, big walls and Troll Wall.
48: Robin Proctor's Scar – Yorkshire Limestone
Against an idyllic backdrop, 'the poster crag for the sport-for-all revolution' hosts sport climbs from F5 to F7a+ with many 'sporting sixes'.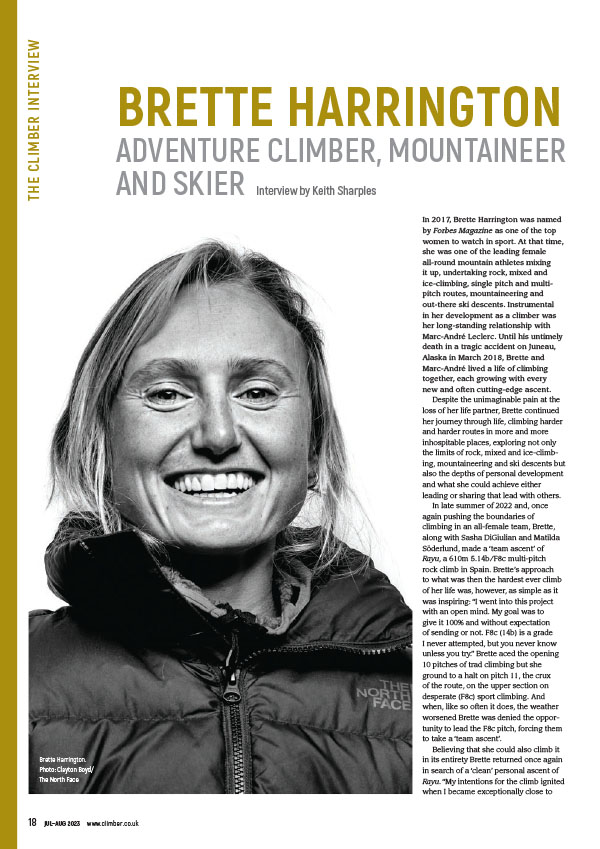 Interview
18: Brette Harrington: Adventure Climber, Mountaineer and Skier
Keith Sharples interviews leading all-round mountain female athlete Brette about life, loss and achievements.
Bouldering
58: Wharncliffe Crags – Peak District (sort of)
John Coefield ventures off the beaten track to a fascinating gritstone crag north of Sheffield.
Training & Skills
64: The Climber's Coach
Mental Strength. Becca Lounds examines the head game.
68: The Climber's Physio
Andy McVittie on autoregulation within your training session.
Gear
72: Gear review – Technical Climbing Clothing
We review a plethora of men's and women's climbing pants/trousers and tops.
79: Competition: Win 1 of 3 Salewa Climb Mate 25 packs worth £90
Regulars
12: The Climber's Voice
Sisterhood on a bivvy, climbing in female-only teams by Fay Manners.
16: UK Classics
Lockwood's Chimney (VD), Clogwyn y Bustach, North Wales.
54: James Pearson and Caroline Ciavaldini
James Pearson talks about eGrader and the grading minefield.
70: Book Reviews
Science of Climbing Training and Native Air reviewed.
80: BMC Update
The latest news from the British Mountaineering Council.
82: Climber Legends
John Earl.