February 2023
Wednesday 1st February 2023
Grab a print or digital copy and/or subscribe by clicking here
Contents March/April 2023
News
6: News
Scotland's hardest winter route for Boswell, news round-up.
Destinations / Crags / Features
24: Way Out West – Ailladie, The Burren, Ireland
With great rock and incredible scenery, this 800m-long limestone cliff is undoubtedly the best trad crag in the Republic of Ireland.
32: Easy Climbs – Screda Point, Devon
A trip to the stunning north Devon coast and the sea cliff slabs of Screda Point.
38: Eternal Flame – Trango Towers
Babsi Zangerl on free climbing this iconic route on Pakistan's Trango Towers with Jacopo Larcher.
46: Cow's Mouth, Summit and Warland Quarries
An overview of three neighbouring grit venues in Lancashire's Littleborough Area near Rochdale.
56: Costa Blanca Adventures
Easy sport climbing, multi-pitch trad and long ridge climbs in southern Spain.
Interview
18: Finding Balance with Pablo Scorza
This celebrated physio talks to Ray Wood about his holistic overview of injury prevention and treatment amongst other things.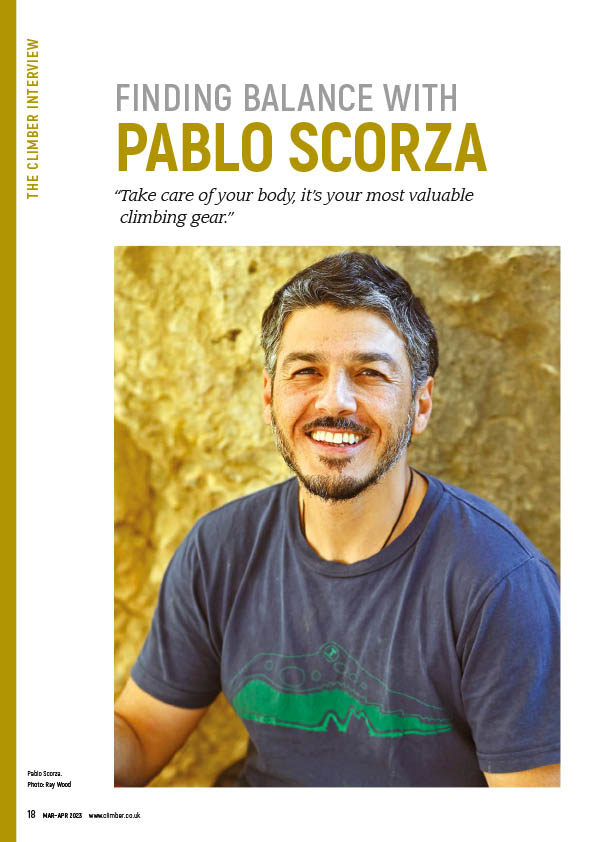 Bouldering
62: Ogmore By Sea, South Wales
Eliot Stephens describes this hidden bouldering gem located on the south Wales coast.
Training & Skills
68: The Climber's Coach
Endurance – how can some people go on and on…
72: The Climber's Physio
Preparing to perform – For injury reduction and performance.
Gear
76: Gear review – Climbing Harnesses
Keith Sharples looks at harnesses from super-lightweight to fully adjustable.
Regulars
12: The Climber's Voice
Chew valley memories… or nostalgia is what it was! by Steve Dean.
16: UK Classics
Saxon (E2 5c), Central Buttress, Scafell Crag, Lake District.
52: James Pearson and Caroline Ciavaldini
James Pearson writes about the process of finding and climbing hard projects.
74: Book Reviews
Scottish Rock Climbs guidebook and Mont Blanc Lines reviewed.
80: BMC Update
The latest news from the British Mountaineering Council.
82: Climber Legends
Dave Birkett.