August 2023
Grab a print or digital copy and/or subscribe by clicking here
Contents September/October 2023
6: Exposed
Mat Wright hanging out on Bohemian (E8 6c), Ardnamurchan Peninsula, Scotland.
8: News
E10 FA for Wright, new Cornish E9 for Helliker and Kille repeats Meltdown (F8c+/9a).
Indoor Climber
14: Roberts wins two World Cup Gold medals plus British Bouldering Championship report.
Destinations / Crags / Features
22: Headstrong: Stennis Head, Pembroke
Steve Quinton describes the routes at this easily accessible Welsh sea cliff with numerous classics and several in the VS to E3 range.
36: Easy Climbs – Sea Walls, Avon Gorge, Bristol
In the latest in the series, David Simmonite heads to Bristol to relive fond memories of the climbs on Sea Walls.
40: Scottish Lowland Outcrops
Fresh on the back of a new guide, a focus on four crags in the Scottish lowlands: Auchinstarry, Balgone Heughs, Craigmaddie and Roslin Glen.
50: The University of the Aiguilles
Noel Dawson writes about a selection of British ascents in the Mont Blanc Massif during the 1950s and 1960s.
Interview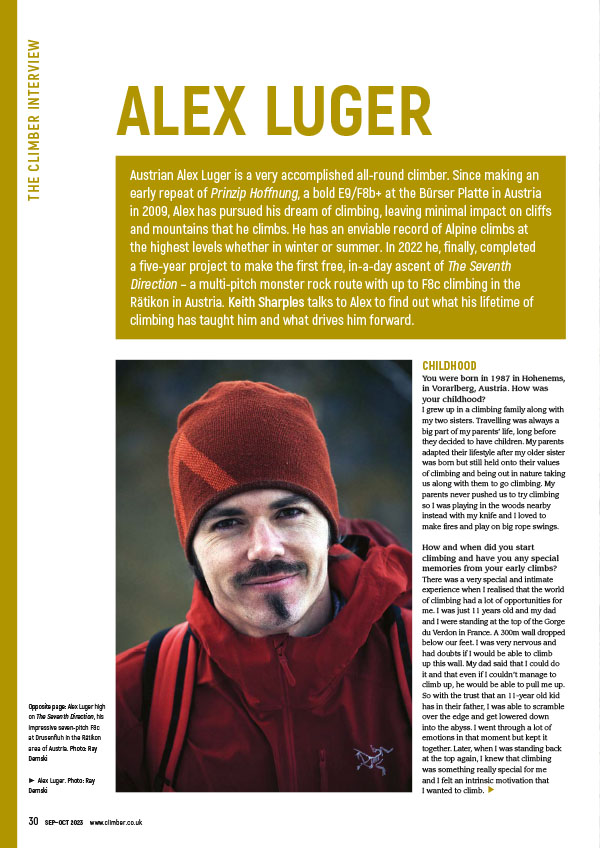 30: Alex Luger
Accomplished all-round Austrian climber Alex Luger has a string of impressive sport and trad ascents to his name. Keith Sharples asks the questions.
Bouldering
60: Farley Woods – Churnett Valley
Stuart Brooks takes a trip around this magical modern-day bouldering venue in Staffordshire.
Training & Skills
66: The Climber's Coach
Flexibility and range of motion: Can you touch your toes?
70: The Climber's Physio
Returning to climbing after injury.
Gear
74: Gear review – Climbing Ropes
We outline what to look for when buying a rope plus a review of some of the best single, triple-rated and half/twin ropes.
Competition
80: Win a Mammut 9.8 Crag Classic 60m Rope worth £130
Regulars
18: UK Classics
Longships Ridge (D), Carn Sperm, Cornwall.
46: The Climber's Voice
Climbing in the Metaverse – The Real Separate Reality? Peter Black writes.
56: James Pearson and Caroline Ciavaldini
Grimpeuses. James Pearson writes about feminism in climbing from his own perspective.
72: Book Reviews
Born to Climb and The Self Rehabbed Climber reviewed.
82: BMC Update
The latest news from the British Mountaineering Council.