April 2023
Grab a print or digital copy and/or subscribe by clicking here
Contents May/June 2023
News
6: News
Pearson's hardest trad route yet, news round-up, CAC 10 years old, Marshall obituary.
Destinations / Crags / Features
28: A Guide to North Wales Limestone
With a new guide out to the North Wales coast, Andy Boorman gives us a run-down on some of the crags in the area.
38: Everest: The Long and Rocky Road to the Roof of the World
Celebrating the 70th anniversary of Everest's first ascent in 1953, Noel Dawson explains how we got to this landmark.
44: Gimmer
Stephen Allen waxes lyrical in poetic verse about this Lake District mountain crag.
46: Cornwall's Hidden Treasure
James Mann picks out the best routes at Pordenack Point, Carn Sperm and Carn Boel.
56: Easy Climbs – Long Rock, Baggy Point.
We are off to Devon and the ever-popular Long Rock area and a mix of slabby classic climbs from VD to HVS.
Indoor Climber
20: Rab CWIF 2023 report.
Interview
22: Alex Moore
Boulderer and trad climber Alex talks about his progress all the way through to repeating Longhope Direct (E10 7a) on Hoy, Scotland.
Bouldering
62: Seathwaite Circuit, Lake District
An assortment of granite boulders in the beautiful Duddon Valley that offers a fine circuit with stunning views.
Training & Skills
68: The Climber's Coach
Strength – is it all about eating spinach and lifting weights?
72: The Climber's Physio
Andy McVittie talks about doing the basics well.
Gear
76: Gear review – Climbing Helmets
Keith Sharples looks at some of the latest and best-established helmets available.
Regulars
14: UK Classics
Chequers Buttress (HVS 5a), Froggatt Edge, Peak District.
16: The Climber's Voice
How cold is too cold? Attempting a sea-level traverse of Carn Gowla by Grant Farquhar.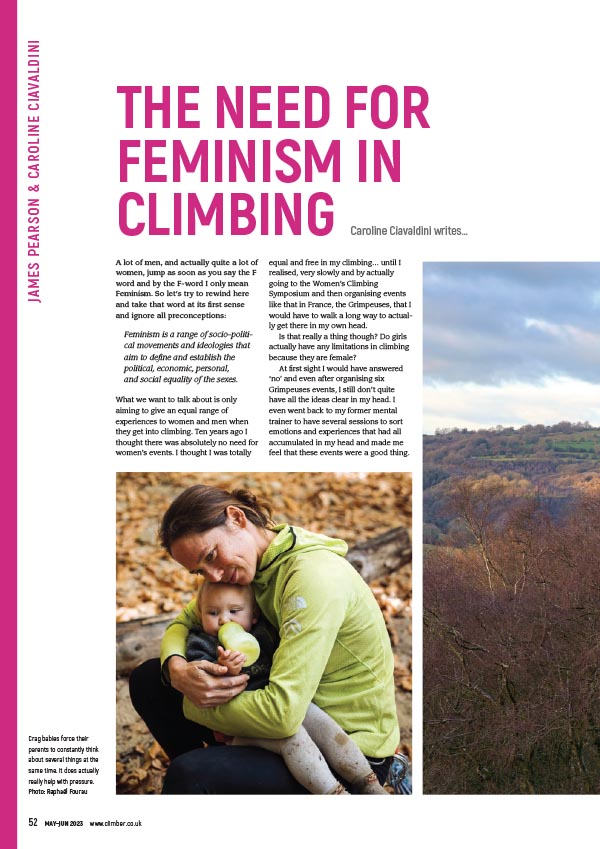 52: James Pearson and Caroline Ciavaldini
Caroline Ciavaldini writes about the need for feminism in climbing.
74: Book Reviews
Hands of a Climber: A Life of Colin Kirkus and One Man's Legacy: Tom Patey reviewed.
80: BMC Update
The latest news from the British Mountaineering Council.
82: Climber Legends
Lynn Hill.