Lowe Alpine Uprise 40:50L Climbing Pack
Reviewed by Mark Reeves
Lowe Alpine has long been associated with outdoor apparel and, of course, rucksacks. With many of their packs featuring some pretty impressive modern design innovations along the way, some of those innovations have stayed whilst a few have dropped by the wayside as if they only formed some kind of temporal gimmick. What this says to me is that Lowe Alpine are keen to stay at the forefront of rucksack design by at least trying out new ideas, whilst all the while sticking to what they know works.
Lowe Alpine describe the Uprise as a "mid-volume Alpine climbing pack… perfect for climbers and mountaineers who value balance of weight, stability and reliability." For most consumers, there is also the question of cost which we will come to later but before I go onto any issues, the function for what they are selling it for really works well.
When compared to its similarly priced neighbours the rucksack does reasonably well in terms of weight, unless you put it up against the best from Mountain Equipment that is priced almost identically. However my previous experience with an ultra-lightweight Crux AK-47 Alpine sack did not go well, the sack still operates and I still use it, but as a 'heavy user' where I daily drive a rucksack at work it lasted six months before started to fall apart from excessive wear. So for me, the cost of lightness is offset by the reduced longevity. If it's lightness you are after then go for the Arc'teryx, at 715 grams as it's the lightest mainstream sack before you head down the specialist country, but it comes with a hefty price tag. As such I think it does not meet its goal of being a mid-range Alpine climbing rucksack.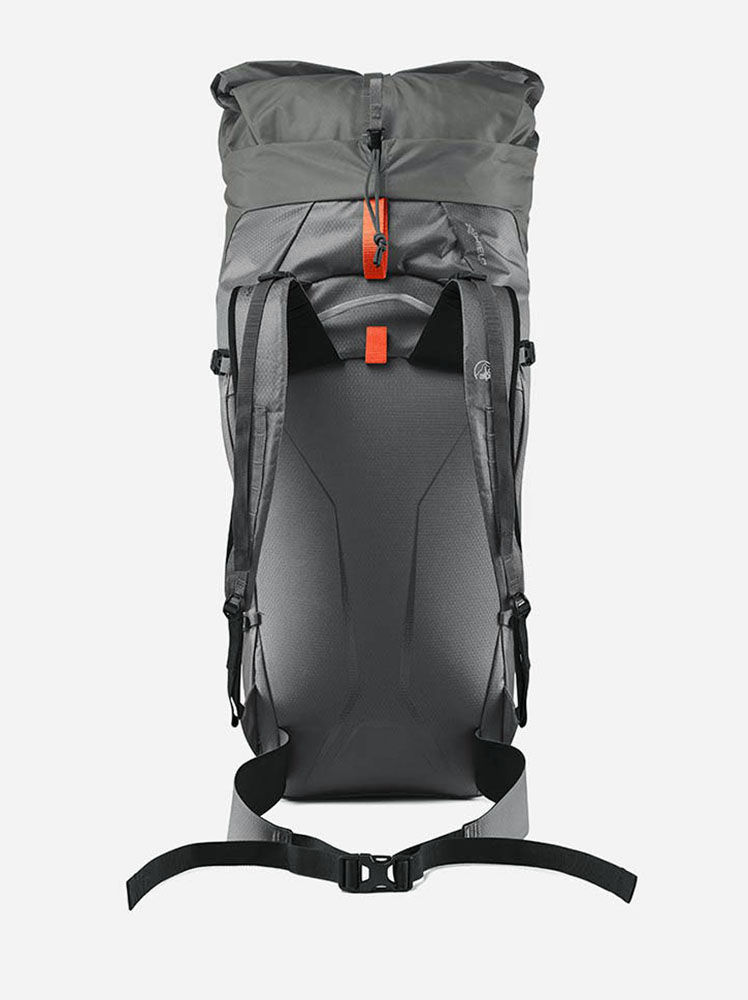 In terms of stability, the Uprise performs reasonably well, however, the design is something of an inverted teardrop, meaning that it is bigger at the top. This means when fully ladened it can feel a little bit more top-heavy than other sacks, but what I have found is when I am actually using the sack in anger when climbing, and the rack and rope is on my harness, this is really not an issue as most of the weight is on my harness.
I have always found that Lowe Alpine stuff has been well made, sadly that has been to their detriment, as the last Lowe Alpine rucksack I had is still going strong from 10 years ago. As such whilst it is impossible to say within the first couple of months of using a sack whether it will last, I have to say that based on looks and feel, the bag really does seem robust for a reasonably lightweight sack.
As well as Alpine climbing the Uprise works really well for UK based scrambling and mountain cragging. Or, if you are like one of my clients who uses his ultra-light alpine rucksack on his daily commute, you might find compared to what you are lugging around right now you could save yourself the weight of a tablet, by just getting a lighter rucksack.
In terms of whether the Uprise 40/50 is value for money, for me it's a big yes and compared for price and weight there is very little that can beat it and it comes in well against similarly price competition.
For a stripped-down 'bare bones' rucksack where weight and 'climability' are key, there are few better options on the market. If you do want a cheaper rucksack, I found it near impossible to find published weights for the budget end of the market, I am guessing because what they show is not too favourable.
If you plan on running away for some short-haul hot rock climbing, then I am not sure whether this bag meets the 'carry on' requirement. If that is a feature you really want out of a rucksack, then Lowe Alpine has the Escape Flight Pro 40 Luggage, which would be a cheaper solution.
The bag doesn't feature a standard closing lid - instead, it features a roll-top just like a dry bag. This allows the extra 10 litres of extension, although in comparison to my last 40-litre sack, this sack seems like a generous 40 litres. Even without the extension, I can easily fit all of the kit that was bursting at the seams of my previous 40-litre sack comfortably into this bag. As it is designed for Alpine climbing it also comes with a haul loop plus the well thought out and easy to use Lowe Alpine Head Locker system for attaching ice axes.
In terms of comfort, this is not the most comfortable rucksack, although to be fair this is mainly due to the restriction of all rucksacks in this lightweight class. Because they are trying to strip down a rucksack to its bare minimum, what you tend to find is they omit any extra padding. This may be an issue for long walk-ins, but really it's not that this sack is uncomfortable by any stretch of the imagination, it is more that if comfort is super important to you, then looking at the Lowe Alpine Halcyon 35:40 mountaineering pack might be a better though slightly heavier solution.
Final Impressions
Overall, I really like the bag and this will probably take over as my go-to rucksack for a while at least. However, remember this is a good upper mid-range lightweight Alpine sack. As a result, there are a few compromises had in terms of robustness of material and comfort. That is very much par for the course with these types of rucksacks.