Steve McClure goes back to the future for Fixation
Saturday 3rd October 2020
Steve McClure has returned to his favourite haunt to add Fixation (F8c+) to the Upper Tier at Malham Cove.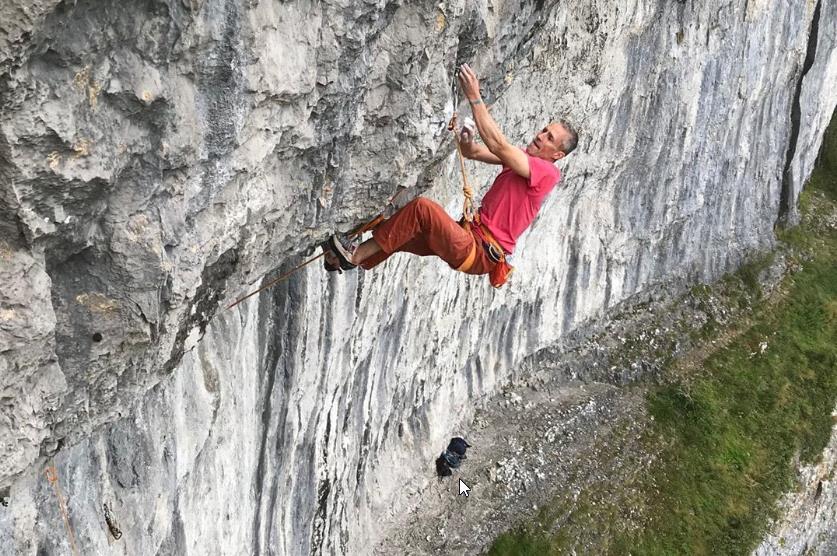 "Absolutely awesome, and a route of contrasts, with a vertical techy lower wall and then super intense bouldery roof, all heel and toe action. One of the best I've done, and without doubt with the most exposure!" is how Steve described his latest addition at Malham.
Perched just right of the top dead centre of Malham Cove is a massive capping roof; beneath, a white wall of pristine stone taken by several routes including L'Obsession (F7c+) which was first climbed by Craig Smith back to the helicon days of the original Malham development in the late 80's. Like a monstrous frozen wave, the top roof hangs over the Cove providing not only a giant umbrella but also a calling card for the strong and able. Thus far, few have risen to the challenge of new routes that it offers. In fact, the capping roof has been the preserve of John Dunne and Steve McClure; between them have added Totally Free (F8b), Breach of the Peace (F8a), Total Eclipse (F8c+) and The Reign is Over (F8c) – click here for our report on that ascent.
Taking a line immediately left of Total Eclipse, Steve's latest addition, Fixation, was originally conceived and bolted by Neil Gresham. Having completed his main wall project Sabotage (F8c+) in autumn of 2016 Neil bolted the line of Fixation and set to work. He describes his thinking, his input and the outcome; "For me this was one of the last significant gaps on an English honeypot sport crag. It's an elegant line in a grand position with all the makings of a classic. I made steady progress on it over the course of half a dozen sessions or so and managed it in three sections on my best go, but then disaster struck. I broke a small edge at the lip and could no longer do the move. The hold disintegrated and there was no chance of a repair."
Neil was clearly gutted and sadly didn't really have many options; "…so with a touch of reluctance at first, I let @bustermartin and Steve [@ste_mcclure ] know that it was up for grabs." In handing it down to two of the strongest climbers ever to grace the Catwalk, surely it was just a matter of time before one or both of them got the tick once they logged on and started work which they duly did September.
Rainman (F9b), Steve's mega route downstairs, had taken him multiple days of effort over several years so having someone alongside him was new and refreshing for Steve; "So good to be working something new with someone else. Makes such a difference having someone else to help figure the moves, even if I can't do them that way!!"
Climber have just caught up with Steve and got him to flesh-out the difficulties on the crucial roof section and the different approaches he and Buster were taking. "There were two moves I'd dismissed totally but Buster encouraged me and eventually I did them using his sequence. One move in particular was very interesting. I was taking a particular hold as a crimp whilst Buster was using it as a pinch and that enabled you to set your feet up in heel hooks to hold the position. Using it as a crimp I couldn't get the body positions to work." Steve speculated on the different approaches; "Buster is really strong using pinches as a board climber and has super strong thumbs whereas my default is to crimp. The crimp method just wasn't working for me though so had to switch to using Buster's method. Basically, I won't have done it without using Buster's sequence."
So did Buster and Steve get in a 'race' for the route? "No way" Steve said, "It was really inspiring to watch Buster smashing out the moves in the top roof, it made me keep persevering and up my game. We were both climbing it differently and yet we were "level pegging" on it."
The weather wasn't really playing ball and one minute it was dry and the next minute a massive shower would storm through and wet the finishing holds. Success nearly came for Steve at the end of the previous week but he was denied when a heavy shower drenched the finishing holds; "Today off at pretty much the last move of this new project again, but this time because it was soaking wet. The Gods are not with me this week. 10 minutes before my effort today it was dry, but the heavens opened and drenched the top. It doesn't want me to do it yet. But on the flip side, it's such good climbing that I'm not remotely disappointed. I get to go again."
Finally, on September 28th, Steve got the briefest of weather windows; "I had to dry the holds off before my actual redpoint and an hour later it was gopping." Steve explained how his ascent went; "I had got the bottom wall of L'Obsession pretty dialled. After the hard move at the start I techie'd my way up the wall. I got to the lower off on that route a bit pumped but it was all controllable. I shook-out and recovered reasonably well, but not totally, and then just blasted the top section. It's pretty hard up there; there's 19 hand moves which are crucial and then another four moves after that which are still droppable."
So what gave Steve the edge did he think? "My real strength is that I can operate at a pretty high levels even when I'm carrying a level of fatigue. I think this is key for many routes - this route especially. There are three moves in particular that are total power moves for me; the rest are all about using strength and optimising my body positions."
And how does Fixation compare with other routes? "Buster did Make it Funky (F8c) recently and he reckons the top roof is very similar to that – although you've got to be able to do that having done a bunch of moves before." Specifically, how does it compare to the other routes through that section of the roof. "Fixation is a better route than The Reign is Over which I did a couple of years ago and the rock is better."
Neil Gresham, fresh from sending Final Score (E10 7a) at Iron Crag the day before (click here for that report), travelled over to Malham and photo'd Steve finishing the job off. He summed up the end of his former project; "Once I'd got over the bereavement it was great fun to follow their progress and almost felt like I climbed the route vicariously through witnessing and hearing about their absurd feats of strength! I'm chuffed to bits that Steve has sent this fantastic line."
What of the grade then – not least given there's been some speculation that the line might be F9a. Interestingly, Steve has gone with F8c+ but explained his thinking to Climber; "I've no idea how I'm climbing at the minute having spent the summer doing lots of family stuff. Having talked to Buster as well as others who have tried it we reckon it's not F8c and it's definitely not F9a+; I figured I'd go with F8c+ and see what happens when others do it!"
Grading of new routes is always difficult and Steve, lest we forget, has a bit of a reputation for stern grading as we reminded him about Mutation which he gave F9a back in the day. Aidan Roberts graded his latest boulder problem "stern Font 8b+" albeit he added the caveat that you have to have Font 8c strength to do it! We put it to Steve that this might be the same here too; it might be F8c+ but you have to be an F9a climber to do it then it's probably really F9a! Unsurprisingly, Steve however won't commit, so Fixation is F8c+ for now but maybe, just maybe… Watch this space as they say!
Finally, when Climber interviewed Steve after his ascent of Rainman we asked what else he wanted to do. "All I want is to just keep up this pace. This sport. It's a gift." It seems that climbing and Malham, Steve's favourite crag, is the gift that just keeps giving for Steve; long shall it remain!
Follow Steve via his Instagram page here; Buster here and Neil here.