Stars and Stripes fly high at WC Boulder in SLC 2
American climbers Natalia Grossman and Sean Bailey defeated strong opposition to take the gold medals in front of an ecstatic home crowd in the second WC Boulder event over the weekend in SLC.
The young Americans were simply on fire in the second of two IFSC WC Boulder events in Salt Lake City over the weekend in what was as close to a tour-du-force as you can get. Remarkably, Team USA had no less than four climbers, two male and two female, in the SLC finals; the last time that happened was back in 2009!
Sean Bailey built on his semi-final appearances at both Meringen and SLC last weekend to make his first finals since Vail 2018 when he took home the silver medal. However, for the 2nd of the two back-to-back SLC WC Bouldering events, Bailey was the only man to top two blocs; his performance edged out strong challenges from Kokoro Fujii, Tomoa Narasaki and Yoshiyuki Ogata who finished 2nd, 3rd and 4th respectively.
Natalia Grossman, last weekend's gold medallist, qualified for the final in last place but came out all guns blazing and dominated the field; especially impressive given that queen-of the-blocs, Janja Garnbret was back on the mats and crushed everything which the setters dished up in both qualification and the semi-finals! Brooke Raboutou also climbed really well this weekend too; for the second WC in a row, she went home with a Bronze medal!
Whether or not there could be some home soil advantage in play in that encouragement from a home crowd can give a tremendous boost, the American climbers - if not the whole of Team USA - certainly appear to be on a roll at the moment! Whatever it is that the USA team are doing, it certainly seems to be working!
So then, let's unpack the detail a little starting with a quick run-down of the competitor changes. To the delight of many, Janja Garnbret and Akiyo Noguchi were both on the starting line-up for this competition. A number of big name-climbers however were out; Jessica Pilz reported during the week that she'd blown an A4 pulley during the previous comp and so was unable to climb this weekend. Another female Olympian was also not climbing again; Julia Chanourdie having damaged her shoulder prior to the comp last weekend had flown home for R'n'R. Adam Ondra also pulled out of the second SLC comp; he too had tweaked a shoulder in the previous comp and decided that competing would be a bad idea. Most of the Austrian team, Jakob Schubert included, were also missing from the starting line-up. Shauna Coxsey was another not on the starting list; she'd returned home to the UK following the first comp.
Speed Competition
Round #2 of the USA competitions kicked off on Friday with the speed climbing event. That was an electrifying competition with the two Indonesian men taking chunks off the previous world record. Read our full report here.
Qualification
Because of Friday's Speed comp, boulder qualification was therefore bumped back to Saturday. Generally, both the men's and women's qualification rounds were high scoring affairs with multiple climbers in both streams all topping the five qualifiers. Kokora Fujii, Tomoa Narasaki and Anze Peharc finish on top of the men's leader board all with 5 tops each. Many of the usual high-performers made the semi-final cut but let's be a little partisan for a moment and talk about our GB lads, Alex Waterhouse and Maximillian Milne both of whom climbing brilliantly! Both topped four blocs each and both made the semi's! It's fair to say that these two young guns gave us Brits something to cheer about; both climbed out of their skins to finish in 7th and 18th place respectively. Solid effort lads!! Try hard as they did, the rest of the GB men finished further down the field and missed the semi's; Nathan Phillips finished in 31st, Billy Ridal in 33rd and Matt Cousins in 39th.
In the women's qualifiers, it was no surprise to see Janja Garnbret take the top slot having nailed all five blocs. Watching the online clips of Janja climbing the qualifiers blocs it's virtually impossible to get any impression of how hard they are. Quite literally, Janja hiked them in her familiar dynamic and effortless style; she appeared to have lost none of her skill-sets during her recent time away from the mats. Miho Nonaka, having picked up a bronze medal in the Speed event the day before,, finished qualification in 2nd with Natalia Grossman in 3rd. Sadly, the GB ladies couldn't emulate the success of their male teammates; Holly Toothill finished in 33rd, Emily Phillips in 35th, Hannah Slaney in 37th, Jen Wood in 39th and Molly Thompson-Smith in 45th.
Semi-Finals
The men's semi-final was an unusually high scoring round; topping three of the four blocs wasn't enough to guarantee progressing to the finals as Manuel Cornu found out when, despite having three tops, he was bumped out of the finals at the last minute when Kokora Fujii topped the final bloc with seconds to spare and leap-frogged over both Milne and Cornu to progress to the finals in 5th place. Fortunately, for Team GB, Maximillian Milne retained his 6th place so made his first-ever final. No less than three Japanese climbers also made the final cut with Tomoa Naraski in top spot, Yoshiyuki Ogata in 4th and Kokora Fujii in 5th. The SLC crowd however were clearly delighted that Sean Bailey and Zach Galla not only progressed into the finals but did so in 2nd and 3rd place respectively. Interestingly the setters served up a short jam crack in one of the men's semi blocs; those that could jammed it well – the rest had to resort to laybacking and opposition moves. You'd think by now that the message would be out there that jamming is a thing even in WC events; seemingly not, however!?
The women's semi blocs were clearly a considerable notch harder than the qualifiers; Garnbret for example 'only' topped three of the four but that was enough to take top spot and secure her place in the finals. Very little separated the next five climbers, all of whom topped two blocks. Miho Nonaka maintained her form and went through in 2nd with Oriane Bertone in 3rd. Brooke Raboutou was the only climber to solve the 'chimney puzzle' that was W3; which placed her in 4th ahead of Stasa Gejo. Surprisingly, given her stellar performance in the preceding SLC event where she took gold, Natalia Grossman went through into the finals in 6th spot!
Finals
The men's final was little short of brutal with few tops getting done. M1 was all about coordination moves onto and then off each of three successive slopey (obviously) volumes. Unusually for a parkour-style boulder success only came when the climbers were able to slow down the dynamic movement mid sequence; the majority of the finalists tried, in vain, to double-hand all three of the volumes. First Kokora Fujii and then Sean Bailey managed to slow down the moves and made it through to the top.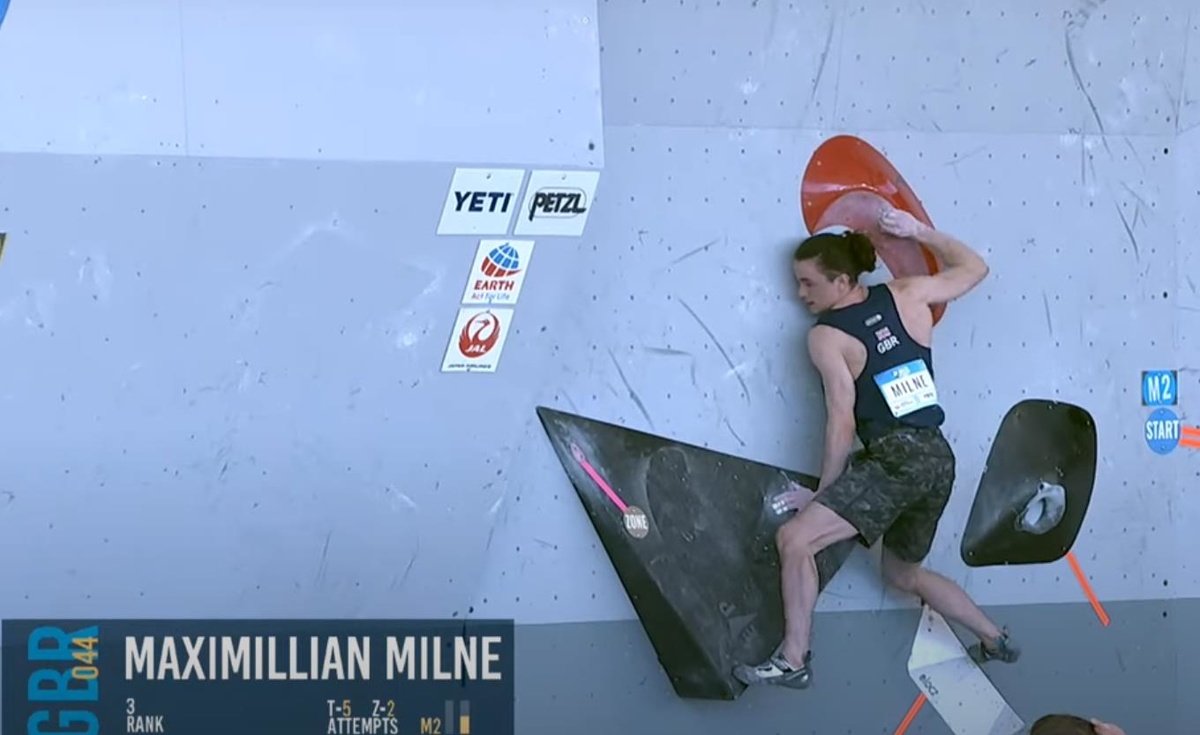 M2, a jump to a 'blocked' crimp on a high volume and M3 a super techie groove-type climb on a super steep slab stopped all the men pretty much dead in their tracks although Zack Galla and Sean Bailey came very close to M2 and M3 respectively.
Going into M4 it was neck-and-neck between Sean Bailey and Kokora Fujii but given they only had one top each their positions at the top of the leader board were precarious. M4 started with a very physical rock-over between two opposing inclined slopey volumes; above however was an almighty jump to a distant jug. Requiring a fusion of strength and dynamic climbing it looked as though M4 would clearly favour both Fujii and Narasaki; surprisingly however Fujii, climbing second, couldn't unlock the final jump which left it wide-open for the others. When Sean Bailey, climbing second to last, latched the final jug to get a second top the crowd, realising he now had an unassailable lead, when wild! His one-armed catch of the crucial jug was quite amazing; stylish and almost casual! Climbing last, Tomoa Narasaki stunned everyone by flashing the problem; it was as if the setters had gifted Narasaki the perfect demonstration bloc to end the comp with! Bailey finished the well-deserved winner with Fujii and Narasaki completing the podium. Ogata, Galla and Milne all battled really hard and in the end, had just four zones between them to show for their efforts! As we said earlier, it was a brutal round!
It total contrast the women's final saw a plethora of tops, so many tops in facts that attempts to tops were the crucial divider. In many ways, it was a perfect show-down between the dynamic style of Janja Garnbret and the slightly more conservative, considered style of Grossman. It was also fascinating to see Natalia Grossman as the very much on-form, 'would-be queen-of-the-blocs' going head-to-head with the established Janja Garbret. Climbing first, as the 6th placed finalist, Grossman promptly flashed W1 – a delicate, foot-intensive steep slab. Tops followed from Gejo, Raboutou and Bertone. Surprisingly, Nonaka didn't top W1 and Garnbret slipped off making an 'unforced' error but topped on her second attempt as Raboutou had done earlier.
W1 somewhat set the scene for the remaining 3 blocs. Both Grossman and Raboutou flashed W2 and Garnbret topped on her second attempt. Taking stock at the halfway stage Grossman led with 2 flashes with Raboutou in 2nd and Garnbret in 3rd; an upset looked like it was unfolding in front of the very excited crowd!
All six finalists topped W3 although only Grossman and Garnbret flashed it. What however was telling was the way in which Grossman and Garnbret approached W3. Grossman took a slow, steady approach in complete contrast to Garnbret's dynamic method. Remarkably, Garnbret caught the finishing hold and then promptly spun through 180degress just managing to hold the swing! By comparison, Grossman carefully weighted both feet and balanced out to statically to the final hold; the difference in style couldn't be more different. Three blocs into the final Grossman had a perfect three flashes from three blocs; a major upset was looking more likely!
W4 was a steeper and more dynamic-looking bloc so perhaps more to Garnbret's strengths? Grossman however held her nerve and flashed it climbing dynamically when required and more slowly when it suits her. Grossman had won irrespective of whatever Garnbret did! Gejo and Berone both topped W4 on their second attempts whereas Raboutou got the zone but not the top. Nonaka and Garbret both got the flash but Nonaka was pushed down into 4th and crucially Garnbret finished in 2nd with Raboutou picking up her second bronze of the week. It was a telling result and a fascinating head-to-head between the young Grossman and the older typically dominant Garnbret; the later on this occasion losing out! Grossman proved the point though that Garnbret can be beaten and that sometimes a slower more studied (slower) approach can pay dividends.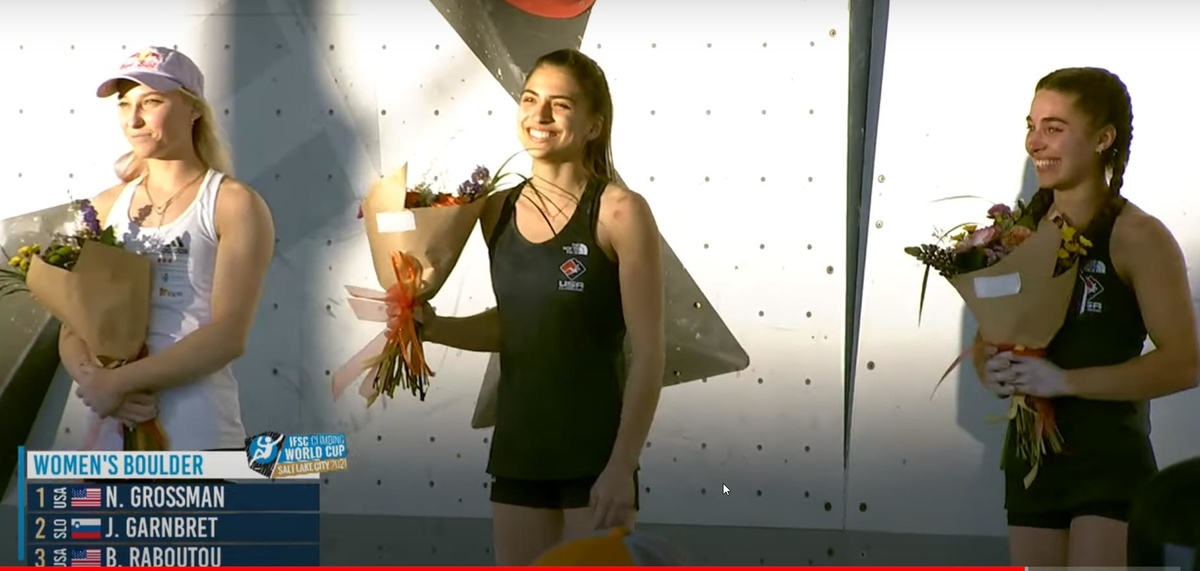 The crowd were delighted that Team USA collected both golds and bronze; collectively they seem to be in the ascendancy!
Watch the finals below...