Men's Speed World Record set in SLC
Indonesian speed climbers, Kiromal Katibin and Veddriq Leonardo dominated the men's speed competition in Salt Lake City, USA with Veddriq Leonardo setting a new blistering world record of 5.208secs.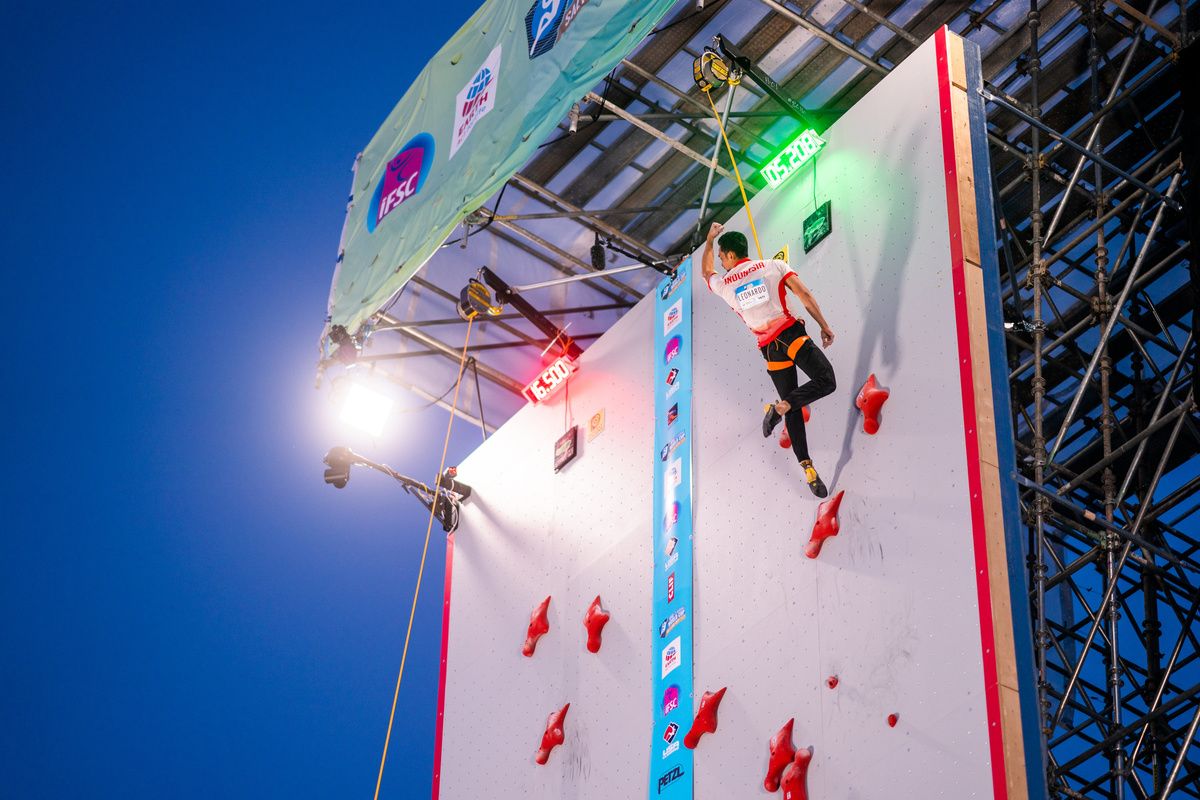 From the very get-go, the two Indonesian Speed climbers blew the men's speed competition apart at the seams in the first WC Speed event of the year in Salt Lake City. Climbing in his first-ever IFSC WC Speed competition, Kiromal Katibin, a 20-year old Indonesian speed climber, stopped the clock at 5.258 seconds in his very first run during qualification smashing 0.222 seconds off the existing world record set by Iran's Reza Alipourshenazandifar in April 2017 in Nanjing, China! Katibin's other qualification run was also inside the previous world record at 5.328secs. Also during qualification Veddriq Leonardo, Katibin's Indonesian teammate also clocked up 5.375secs which was again inside the previous world record.
John Brosle (USA) and Marcin Dzienski (POL) were the only other climbers to go under 6secs during the qualification rounds; their best times were 5.606 and 5.906secs respectively – hardly slow but some way south of the blistering times set by Kiromal Katibin and Veddriq Leonardo.
The super-fast times continued into the finals too. Unsurprisingly – given their qualification runs – Katibin and Leonardo faced off against each other in the big final. Katibin, having set the pace all day and during the various runs in the finals, couldn't sustain the electric pace; Leonardo stepped up to the line and broke Katibin's new world record with a time of just 5.208secs! In the small final, Dzienski broke the dreams of the American spectators stopping the clock at 5.84secs and taking third place ahead of Brosler who finished at 6.89secs; considerably slower than 5.72secs, his faster run earlier in the finals.
A number of Olympians were also in the men's speed competition although only Ludovico Fossali (ITA) and Mickael Mawem (FRA) made it into the finals where they notched up 5.95 and 6.79secs respectively to finish in 9th and 11th. Farther down the speed rankings were Colin Duffy (USA) 6.75secs (20th), Christopher Cosser (RSA) 6.83secs (22nd), Jan Hojer (GER) 6.88secs (25th), Nathaniel Coleman (USA) 6.97secs (27th), Michael Piccolruaz (ITA) 7.15secs (29th) and Sean McColl (CAN) 7.81sces (33rd).
The women's speed event went more to form with the reigning World Champion Aleksandra Miroslaw from Poland setting the running in qualification with 7.201secs ahead of Emma Hunt, the USA speed specialist, who finished in 2nd with 7.525secs. Miroslaw kept her nerve throughout the final runs finishing with 7.382secs to take her 5th WC gold medal. Emma Hunt finished in 2nd with 7.539secs; Hunt's excellent finish earned her and the USA's first every WC speed medal.
However, 3rd place in the women's Speed final went to a delighted Miho Nonaka (JPN) who beat Miroslaw's Polish teammate, Patrycia Chudziak, in the small final. Nonaka's final time of 8.958secs was considerably slower than her fastest earlier time of 8.2secs in the quarter-final but no doubt Nonaka was playing it fairly conservative in an attempt to secure the bronze medal which is one of the best ever results for a non-speed specialist. Remember that last weekend Nonaka finished 4th in the WC Boulder event so she's very definitely on fire at the moment. Previously in 2019, Nonaka finished the Olympic qualification event/World Championships in Hachioji in 5th in the Combined which earned her a ticket to Tokyo. Doubtless, Nonaka will be incredibly psyched by her latest Speed results plus it put the other Olympians on notice too!
As well as Nonaka, several other Olympians also made it through to the women's Speed final including Anouck Jaubert (FRA) who finished in 5th (7.78secs), Brooke Raboutou (USA) 12th (9.55secs), Akiyo Nogouchi (JPN) 13th (10.20secs), Kyria Condie (USA) 14th (10.05secs) and Janja Garnbret (SLO) 15th (14.47secs). More Olympians, Petra Klinger (SUI), Laura Rogora (ITA) and Erin Sterkenburg (RSA), also competed placing 17th, 21st and 22nd repetitively.
Watch Kiromal Katibin and Veddriq Leonardo in their respective World Records runs in the video below…