Seb Bouin send train building up steam (again)!
Monday 10th February 2020
Seb Bouin, man of the moment, is back on the case again with two more impressive sends, Joe Mama and Catxaca – both graded F9a+.
Seb Bouin climbing Joe Mama at Oliana. Photo Toni Mas Buchaca
Seb had a phenomenal year in 2019 adding no less than a dozen routes of F9a or harder to his already considerable CV; no-one else got even close to doing that many hard routes last year! Whether his success, as we speculated when we reported his ascent of The Dream (F9b) in December of last year - click here for that report, is largely down to his non-participation in competitions or not, what is clear is that Seb's output is remarkable.
"I had the chance to be able to climb at my best level all 2019 year. No injuries, a lot of fun, and a lot of projects." is how Seb summed up his achievement at the end of the year. Having finished 2019 on a high Seb stepped back from climbing outside and begin a period of training.
Two days ago, the best part of six weeks since his first ascent of The Dream, Seb posted that he was back in action in Spain and had, alongside Cedric Lachat, redpointed Joe Mama (F9a+) at Oliana. Seb then had a session on La Dura Dura (F9b+); to, as he put it, "check" the holds out. Fortunately for Seb, Chris Sharma was at the crag trying another project and gave Seb the beta - despite which however Seb was unable to unlock the moves. Seb summed up his experiment; 'I had the perfect betas, yet it was not possible to figurate the hard moves (after 30minutes in front of the holds ?). I need to continue my training period to be back stronger ?. This route is really powerful, and if I want to come back on it one day I have to improve my strength. But at the moment, I want to continue in "easier" routes around here. "Catxaca" 9a+ is the next one on the list.'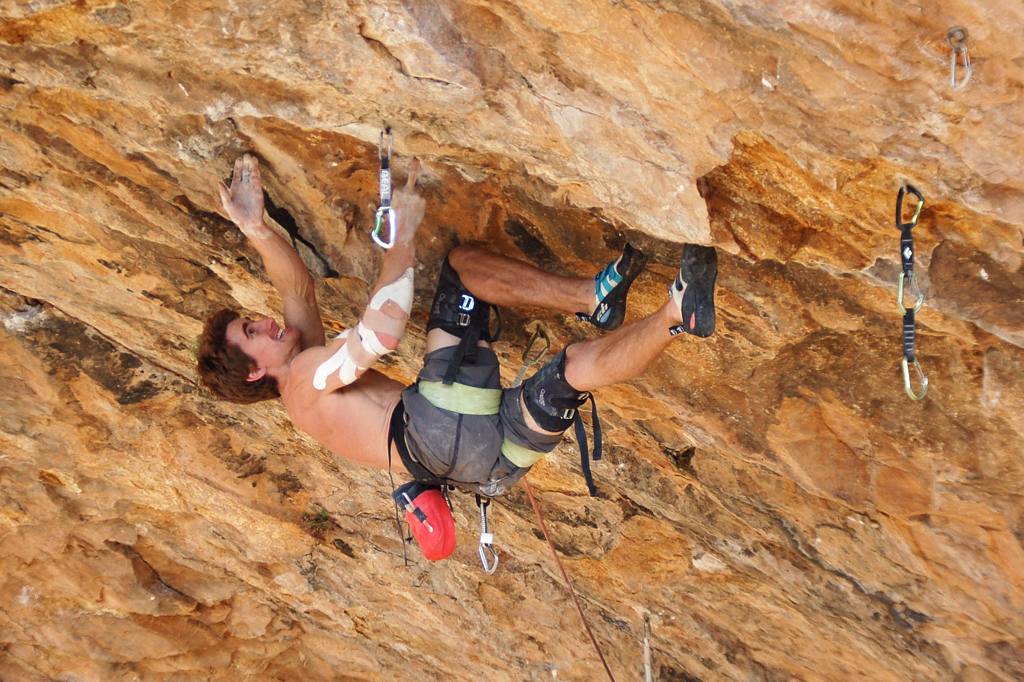 Seb Bouin climbing Catxasa, Santa Linya. Photo Victor Alvarez Rodriguez
Earlier today, and merely two days after sending Joe Mamba, Seb has posted again saying that yesterday he sent Catxaca (F9a+) at Santa Linya. 'Training is working.' was his opening comment. Well, yes, so it seems! 'It's a different style, much more overhanging. I like this style ?. I used kneepads for the link, and I think the route is a bit easier with kneepads.'
Seb has been in touch with Climber and, in his mater-of-fact way, casually mentioned that for him both Joe Mama and Catxaca could in fact be F9a; 'About the grades, it could be easy 9a+ or 9a for me.'
So what are Seb's plans next you might ask; 'It's maybe time to check seriously something harder. Let see how it's going.' Watch this space!