Marin nabs Blue Moon Wi6 in White Peak
Tuesday 16th February 2021
Ramon Marin captured some rare water ice in Derbyshire's White Peak last week to nab the first ascent of Blue Moon (Wi6) at Masson Lees.
As we've previously reported, Masson Lees is ground zero for dry-tooling in the White Peak; Ramon along with his friends, had a very productive autumn adding routes up to M11. Click here for our report about Ramon's first ascent of The Prow. However, with a week of sub-zero temperatures forecast, Ramon was sharpening his tools in anticipation of water ice forming at Masson.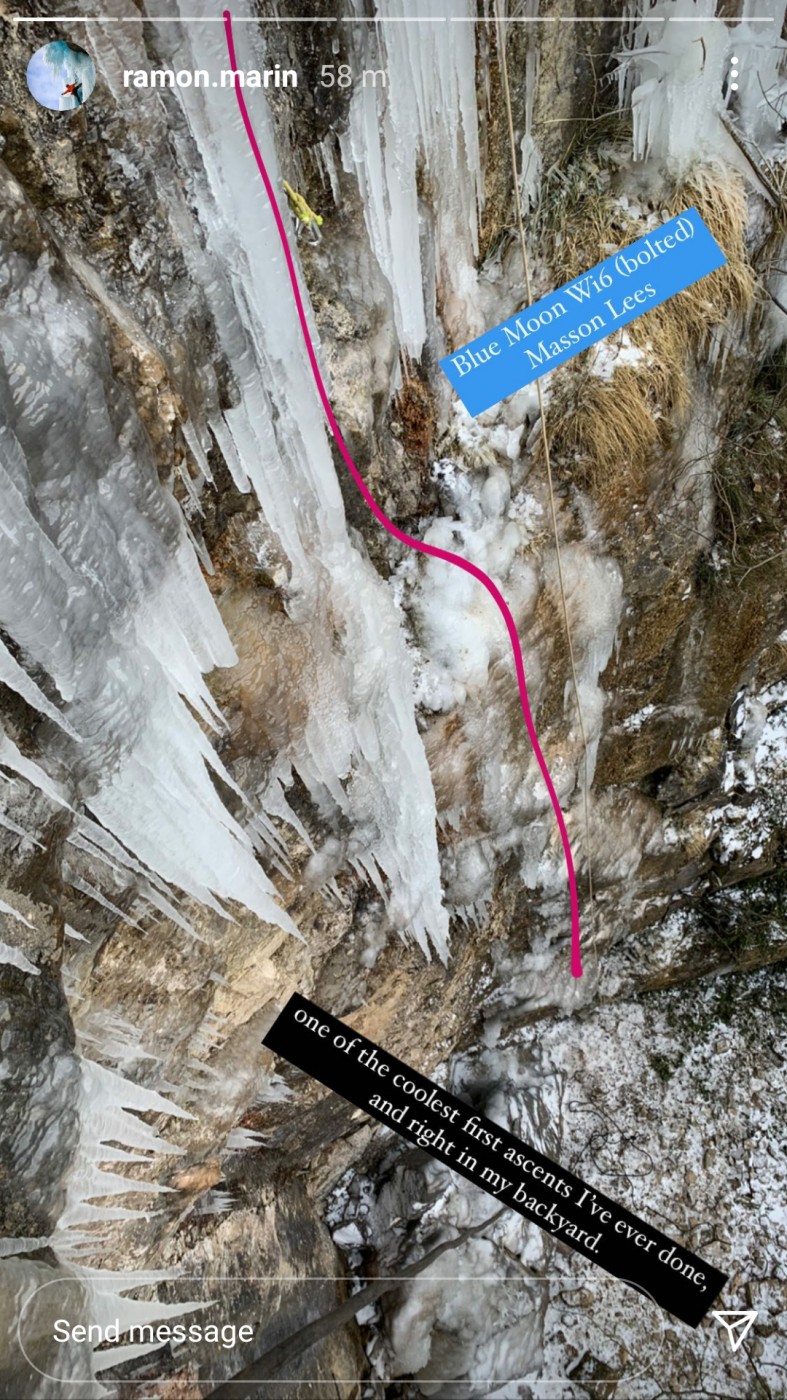 Historically, climbable water ice forms in the Peak at very few venues; traditionally, Kinder Downfall is one of the main venues although in harsh winters Waterfall Swallow near Eyam and Priestcliffe Quarry near Buxton have both iced up too and given some excellent pitches. Ramon was clearly eagerly awaiting developments at Masson Lees: "We've been watching this ice line slowly forming at every visit to Masson, wondering whether it would ever get thick enough to be climbed. Obsessively watching over the forecast I knew Wednesday could be the day."
Ramon continues with the first ascent story: "I went down first thing just to find enough ice smears to attempt a top rope. There was just enough ice to tap my way up the line. I was buzzing! But top-roping it's a bit of a cop-out (as it turns out it had been top-roped before) and so I went into a manic frenzy to try and bolt and lead it that same day. Afraid that it wouldn't last more than about a day I rallied as many bolts I could get and got it led that same day. I was smiling all the way to the top, one of the coolest experiences I've had."
Ramon and his friends have spent ages developing the dry-tooling at Masson so to see it covered in water ice was quite remarkable: "More than anything for the unique and ephemeral nature of the climb, but I also, having spent so many hours down that hole dreaming up new routes, this was like the gift from gods." Having travelled widely over the years in search of water ice routes, that Marin should get such conditions in an old limestone quarry in what he describes as "my backyard" is, as he says, quite remarkable.
As the latter half of the week progressed things continued to develop; the water ice got fatter with the dropping temperatures and others got involved. Originally, Marin gives Blue Moon Wi6 but by the weekend and 20 ascents or so later, he reckoned it had – as is usual for water ice routes – got easier by a couple of grades. Then, given the rapid rise in temperatures at the weekend, Blue Moon was no more…