John Allen: God of Grit, the Legend
Keith Sharples writes.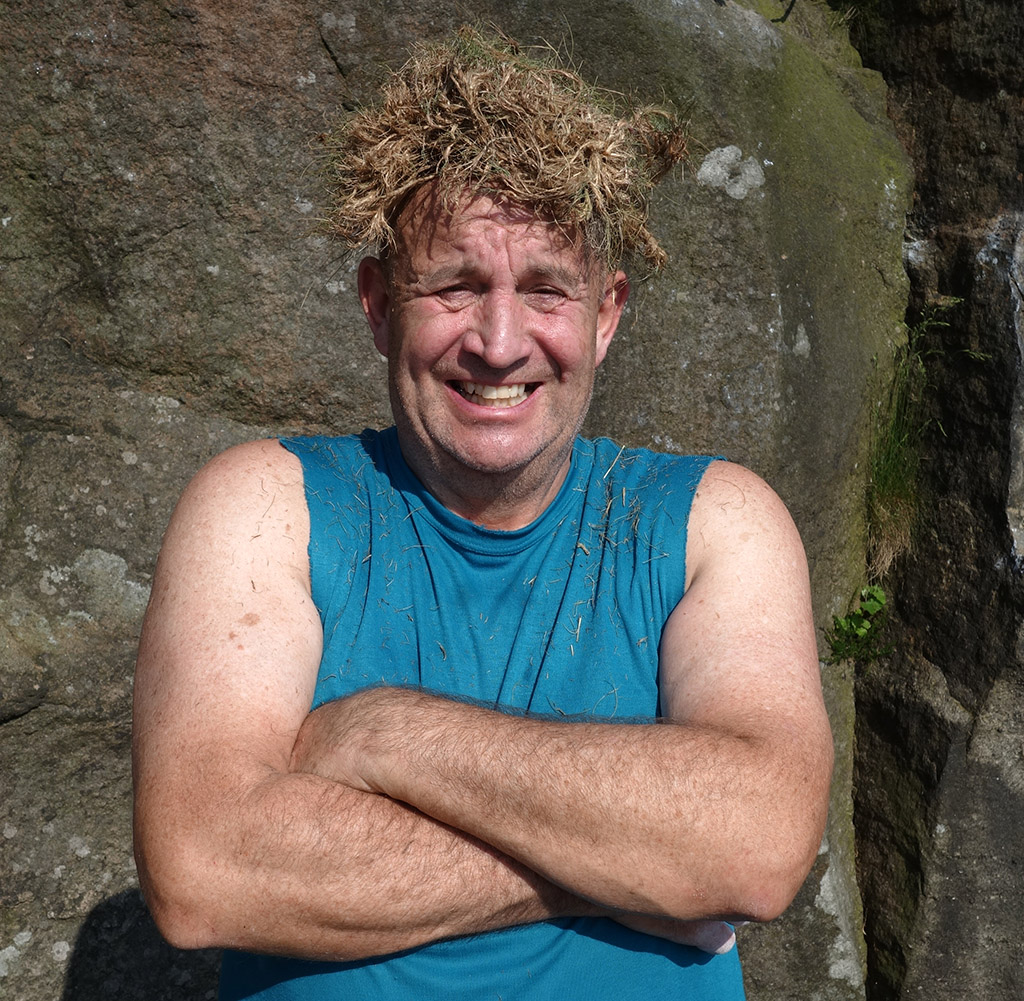 Earlier this week we reported the tragic, premature death of John Allen (here). John died in a climbing fall at Stoney Middleton in the White Peak whilst climbing with family and friends. John's death, coming as climbers across England readjust to climbing outside again following the first stage of easing of the coronavirus restrictions, feels especially poignant. John leaves a legacy of amazing routes many of which date to the early/mid-Seventies when he was the undisputed God of Grit or as some have said, 'The Boss.'
Remarkably, John – having started climbing aged about 10 – was already climbing the classic extremes from the Brown-Whillans era at the incredibly early age of 12; his ascent of The Dangler (E2 5c) at Stanage was one of his first significant leads. Demonstrating a climbing maturely vastly beyond his age, he continued to develop as a climber and soon started adding his own new routes. Premier (HVS) at Stanage and climbed in 1971, was however an inauspicious start to new routing.
His second effort, Stanleyville (E4 5c) – climbed in July 1973, was much more assured. Described in the current Stanage guide as 'a harrowing lead with worrying pro where it matters' it demonstrated a number of key components that featured in this and many of John's subsequent offerings, namely that John had the eye for a line, the technical climbing skills and the ability to deliver even when facing a dearth of protection. His was the classic and formidable amalgam of abilities that underpin the output of true climbing legends. Importantly, Stanleyville was climbed not only with his then usual partner Neil Stokes, but Steve Bancroft joined the party too. Neil was soon to slowly slip away from climbing – the first of many such breaks – but the Allen-Bancroft partnership that was borne on Stanleyville endured for the next four years – right up to John emigrating. It was a formidable partnership and one that is right up there with those of Brown-Whillans, Liversey-Fawcett, et al.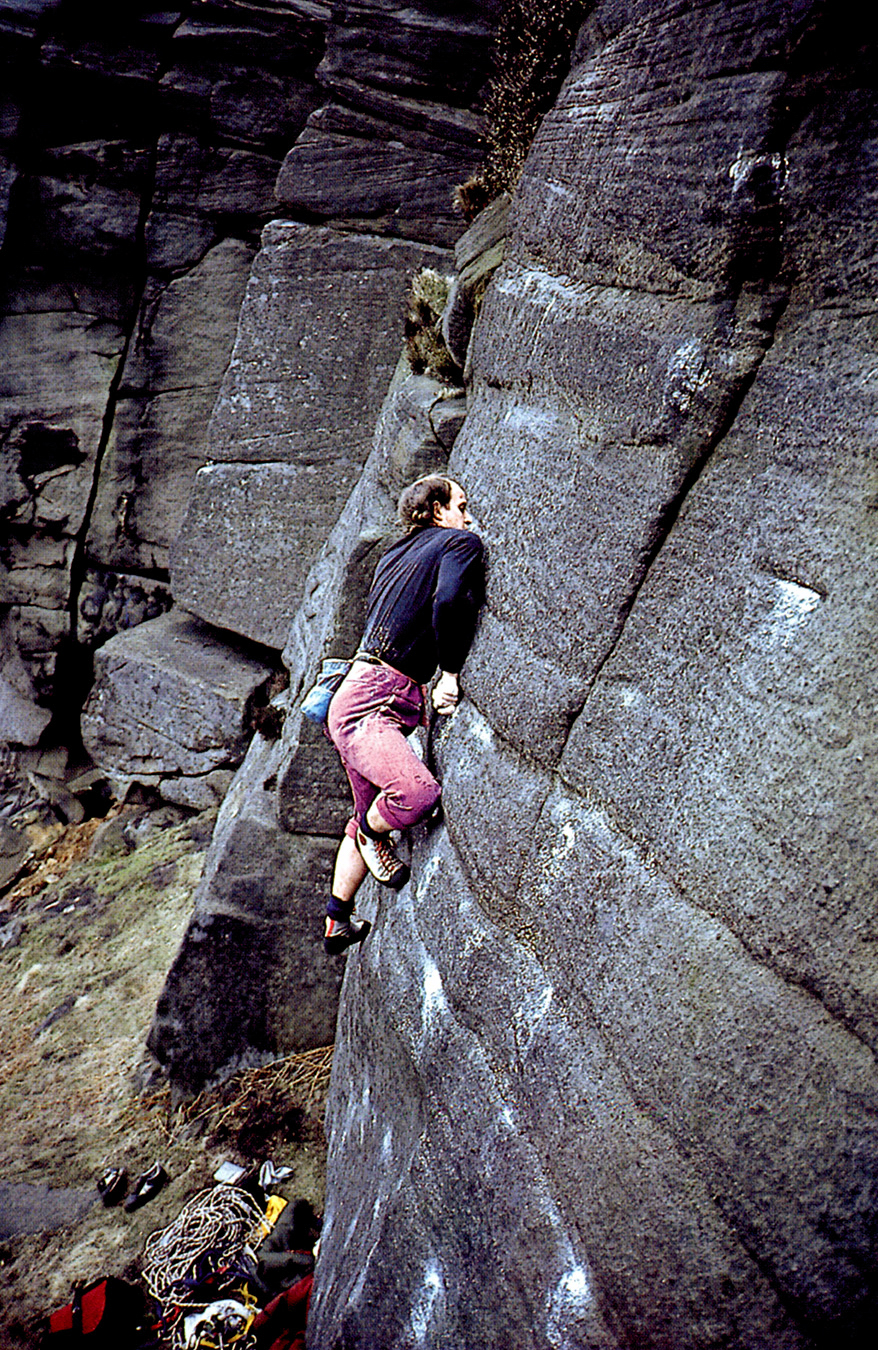 In September 1973, and still only aged 14, John added Old Friends (E4 5c) to High Neb, Stanage. Old Friends was harder than the Brown-Whillans era routes and within an ace of the difficulty of Green Death (E5 5c), then one of the hardest routes on grit which Tom Proctor had climbed in 1969. Remember this pre-dated modern climbing walls so John's development as a young climber is even more remarkable. Think also that the likes of Tom Proctor, Ed Drummond and other leading activities of the day had years of experience and maturity behind them; John, by comparison, had only been leading for two years and was still at school!
Over the next four years, John graduated from a climbing child prodigy to a climbing legend. The quality of his new routes, the lines they took and the overall difficulty of them were remarkable. Typically they were stand-out efforts which have become the true test-piece classics of the era. Most, but not all, were on the eastern gritstone edges such as Stanage, Froggatt, Curbar and Cratcliffe. White Wand (E5 6a), Harvest (E3 6b) and Nectar (E4 6b, 6b) were his Stanage best from this era. White Wand was snatched from under the nose of Ed Drummond whilst Nectar was one of the hardest routes about at the time.
Both Froggatt and Curbar were happy hunting grounds for the Allen new route machine; Hairless Heart (E5 5c), Artless (E5 6b) and Strapadictomy (E5 6a) are certainly amongst the finest routes at Froggatt. All are impossible to climb without leaving a lasting impression. John's Curbar additions are no less impressive; Moon Crack (E5 6b), Moon Walk (E4 6a) and Profit of Doom (E4 6b). All are absolutely top drawer with regards quality and Profit was reckoned to be one of the hardest routes anywhere at the time of its ascent. Steve Bancroft was to grade it 6b in his infamous 1977 supplement – rumour has it because he wasn't able to second John on the first ascent!
John was something of a self-confessed romantic climber but his keen interest in technical difficulty – something which he admitted was at odds to his romantic notions – no doubt drove him to some of the more esoteric places as well as the man-made climbing emporiums such as Millstone. Wherever he went however he applied his eye and technical bent to great effect producing cutting edge routes.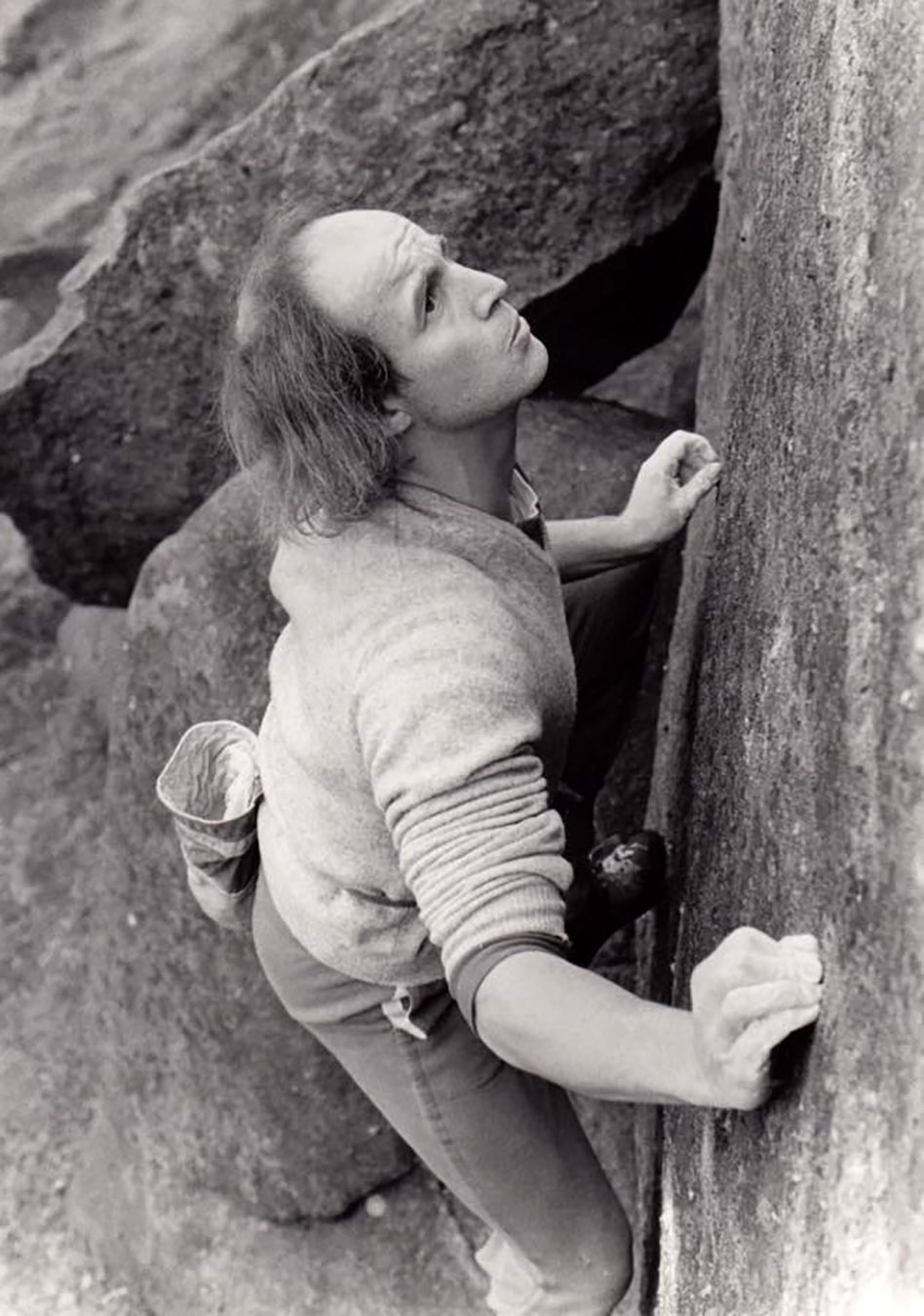 For example, John's Reticent Mass Murderer (E5 6b) at Cratcliffe is well worthy of mention. Climbed in 1976, the year after John freed Requiem (E3 6a), Reticent demonstrates John's depth of talent for all types of climbing, in this case, crack climbing. Pathetically short but desperately hard, Reticent offers almost every aspect of crack climbing in the few moves required to climb it. However, few try and fewer still succeed. John's crack climbing ability shouldn't be doubted however as anyone what has climbed London Wall (E5 6a), John's 1975 uber mega addition at Millstone will attest. Once again, the young Allen succeeded where his elders hadn't; Drummond was said to be astounded at Allen's success!
Finally, it would be remiss not to mention John's Burbage Valley additions. The Knock (E4 5c) and Above and Beyond the Kinaesthetic Barrier (E4 6b) are something of micro-routes but a fall off the top of The Knock would be unthinkable given the grave landing whilst an ascent of Above and Beyond… without a fall would be equally unthinkable given the sheer technical difficulty! They demonstrate the depth of John's abilities yet further. Pebble Mill (E5 6b) is a perhaps the perfect embodiment of both these other routes; harder and higher. Again, not one to fall off.
John also strayed over to the western edges and to Wales where he produced equally powerful lines. At Hen Cloud Steve Bancroft went for the quantity/quality ticks, Comedian (E3 6a), Corinthian (E3 5c) and Chameleon (E4 6a). Allen however, went all guns blazing for the top prize which he (unsurprisingly) reeled in when he did Caricature (E5 6a) to give what the guide correctly describes as 'John Allen's western masterpiece, one of the best E5's on grit, taking a tortuous and sustained line up a big wall.'
Whilst it's undeniably Pennine gritstone that is home to the bulk of Allen's contributions in the Seventies his limited (by comparison) efforts elsewhere produced equally impressive results. First up was a free ascent of The Moon (E3 5a, 5c, 5b) over on Anglesey's Yellow Wall. Climbed in 1974 with Steve Bancroft, the first ascent of this produced not only a classic but a contested first free ascent controversy which remains today. In 1975, climbing with Chris Addy, John did the first free ascent of Pete Crew's Great Wall (E4 6a, 6a) on Cloggy. That ascent caused some degree of controversy too; although climbing ground-up, and hence on-sight, John used chalk and to some that was unforgiveable at the time!
Peak limestone also drew John in – albeit nowhere near to the same degree as his beloved gritstone and he didn't have it all his way either. Apocalypse (originally E6 but now E4), a case in point, wasn't John's finest hour. John, having seconded Steve up the first pitch, failed to lead the top pitch. Later that month (April 1976), the pair dispatched Castellan (E5 6b, 6b) on High Tor to give one of the hardest routes on Peak limestone. Again, Steve Bancroft got the first and arguable the hardest pitch – something which rankled Allen considerably. That pitch consumed so much time and effort that they had to return a second day to allow Allen to lead the top pitch. That barely consoled the miserable Allen however.
In the four years that John rose to the very top of his game, he created a considerable legacy, a legacy that was both remarkable and inspiring in equal measure. By the time he emigrated, his status as a legend was established; leaving behind a glittering array of routes for all of us who dared to try at our leisure he was off, almost as fast as he had risen to prominence.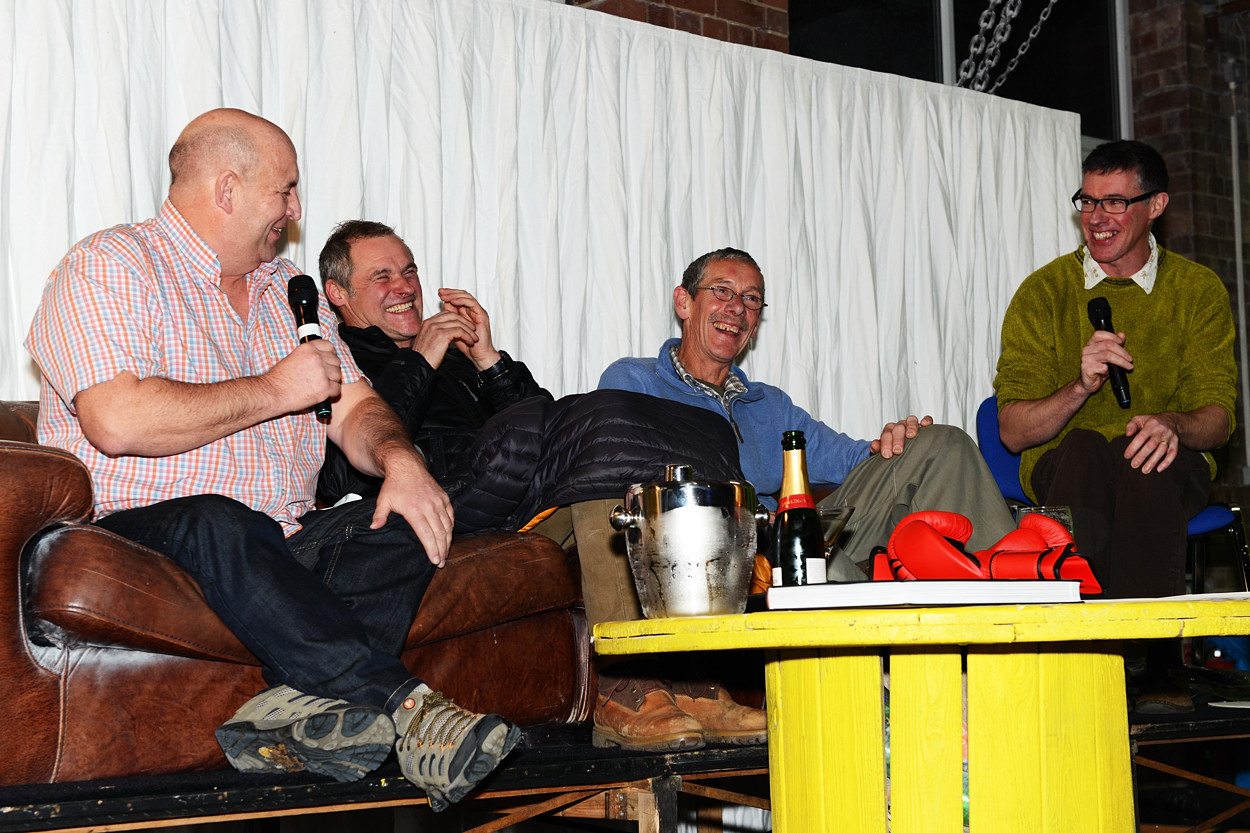 Having emigrated, John continued to pursue his craft whilst living in the southern hemisphere climbing both new and established routes alike in New Zealand and Australia. Unsurprisingly, during his time down-under John impressed the locals with his raw climbing talent. Around the early Eighties, he even had a spell living and climbing in the USA. It was perhaps however destiny that he should return to the UK; when he did so in the early 80's John began adding further to his tally of gritstone new routes. Although the routes he added during his second tranche of gritstone development were (generally) equal in quality to his earlier offerings they weren't quite the stand-out gob-smacking, cutting edge standard that had been typical of his earlier routes. Latterly, John had continued to develop new routes on the quarried limestone of the Peak until the time of his death.
A full tribute, including a more detailed look at his climbing down-under, the gritstone routes he climbed on his return and his views on the climbing scene, his later years exploring the limestone quarries and some tales demonstrating his cutting edge, dry wit will be printed in Climber magazine in due course.