Bailey gets Lead gold whilst Garnbret remains Queen of Villars
In an action-packed final at Villars Sean Bailey got his first-ever Lead gold whilst Janja Garnbret collects her fifth consecutive Villars gold to retain her Queen of Villars crown.
As well as the Lead comp, Villars also featured a Speed event – the second Speed competition of the season. Although a few dropped out at the last minute a dozen or so of the Olympians competed in both the Speed and Lead events at Villars and if you look at those that did both Speed and Lead it gives something of an insight into what might happen at Tokyo. More on this later, however...
Men's Speed
The previous men's Speed competition at SLC had been dominated by the two Indonesian Speed specialists, Kiromal Katibin and Veddriq Leonardo; Veddriq Leonardo in particular had set the event alight setting a new blistering world record of 5.208secs. Click here for our report on that event.
Neither Veddriq Leonardo nor Kiromal Katibin quite matched their SLC speeds at Villars but Leonardo took the Villars Gold with 5.32secs and Katibin the Bronze with 5.30secs with the Russian Timofeev Dmittrii separating the two and taking Silver.
Crucially for the forthcoming Tokyo Games, it's worth briefly looking at where the Olympians doing the Speed/Lead double at Villars finished. Not far down in the Speed standing was Olympian Rishat Khaibullin who finished in 8th place. Lead specialists Alberto Lopez and Colin Duffy finished in 31st and 37th respectively whilst Nathaniel Coleman and Alex Megos finished in 45th and 47th.
Women's Speed
As we reported at the time, the women's Speed competition at SLC had also been an exciting event. The reigning World Champion Aleksandra Miroslaw from Poland had won with 7.382secs to take her 5th WC gold medal with the USA's Speed specialist Emma Hunt finished in 2nd with 7.539secs. Hunt's second-place finish earned her and the USA's first-ever WC speed medal. However, 3rd place at SLC in the women's Speed final had gone to a delighted Miho Nonaka. In that competition, Nonaka's fastest time had been 8.2secs in the quarter-final. Crucially, it was the first time that a non-Speed specialist had taken a bronze medal in a Speed competition so an outstanding result for a non-speed specialist. We'll return to the importance of Nonaka's time shortly.
Like Garnbret in the Lead events at Villars – see later – the French Speed specialist, Anouck Jaubert had won all the preceding Gold medals at Villars. She however finished in 5th after qualification with Iuliia Kaplina taking the top spot with a time of 7.014secs. The aforementioned Emma Hunt was in 8th with 7.723secs but just three places below her in 11th was Janja Garnbret who went under 8secs for the first time in a competition with 7.916secs! Not only was Garnbret sneaking up on the Speed climbers but she'd beaten Miho Nonaka's SLC best of 8.2secs we mentioned earlier. The final, with Garnbret, suddenly took on additional interest!
Once the (calk) dust had settled after the finals, the two Russian's Ekaterina Barashchuk and Iuliia Kaplina took gold and silver with the Polish climber Patrycia Chudziak taking the bronze. The former Villars Queen of Speed, Anouck Jaubert was down in 7th and Garbret had slipped back a couple of places to 13th with a marginally slower time of 8.01secs. From the Olympics perspective, however, Garnbret's sub 8secs speed run is little less than remarkable for a non-speed specialist. Of those going to Tokyo as well as Garnbret, her time was third fastest. See later for more on the significance of this.
Men's Lead
After some tough qualification and semi-final rounds, the men's standing made for an 'interesting' read. Having podiumed last weekend in Innsbruck and topping the quals at Villars it was something of a shock to see Stefan Ghisolfi pushed down into 11th in the semis. Also excluded from the finals were Kokora Fujii, Sascha Lehmann and Doman Skofic; all fared no better placing 9th, 12th and 15th respectively.
With Adam Ondra and Jakob Schubert not competing, Alex Megos was one of the few regular big-hitting Lead climbers to make it through to the final; he placed 3rd. Joining Megos, was a veritable block of young, first-time finalists lead by Alberto Gines Lopez and Sean Bailey who finished in first and second place respectively. Farther down the standings Zento Murasita, Colin Duffy and Paul Jenft also made their first-ever finals. Duffy's finals appearance was especially welcome news; not only buddying-up alongside fellow American Bailey. Duffy's first finals appearance just a month before his appearance at Tokyo would clearly be a massive psychological boost for the 17-year-old. Remarkably, half the final's line-up was 18 years old or less!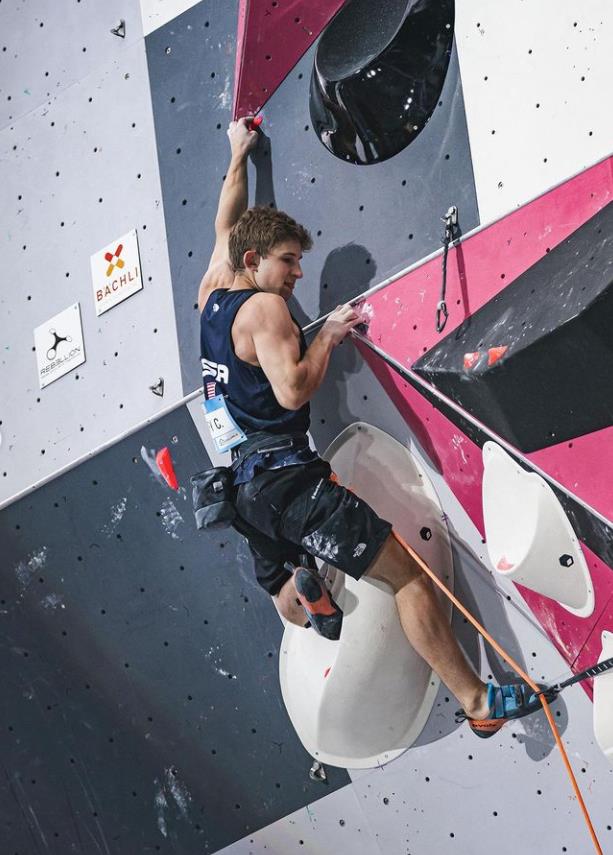 Climbing first, Paul Jenft made good progress until he fell off mid-height on the route. Next up was Colin Duffy who made excellent progress up the route pulling through several super crimpy moves before finally falling off on move 31+. Taking the lead at that point, Duffy climbed well in a conservative yet powerful style. Having made the news a couple of years ago when he on-sighted three hard 5.14 routes in a day at the Red River Gorge Duffy's lead game has matured even further and the year's delay in the Olympics will, it seems, have been to his favour.
A low-down 'press' move caught both the Japanese climbers off guard; seemingly their shared beta in this case being their undoing! Next up was Sebastian Halenke; having taken a few years out from comp climbing the charismatic German was back and climbing with his trademark coloured Mohican haircut; ultimately he fell a shade higher than Jenft.
With Megos, Bailey and Lopez still to climb, it looked highly likely that these three would be the Villars podium. Megos must have fancied his chances of adding another Gold to his WC medal collection but he looked tired and climbed hesitantly low down on the route. Has he gained height he seemed to settle down although, rather shockingly, as Megos climbed the outside climbing wall was engulfed with a swirling mist adding not only to the drama of the situation but no doubt to Megos's concern as the already high humidity escalated. The experienced Megos however held his game together and having taken a contorted 'rest' at the base of the headwall (where Duffy had fallen) Megos pushed onto the headwall for another four moves before slipping off.
With a new high point to aim for – not that he knew that – Sean Bailey climbed next. Climbing in his characteristic smooth yet dynamic confident manner Bailey closed in and then surpassed Megos's high-point only to fall at move 38 whilst setting up for the final few moves!
The question the audience were all asking themselves as Alberto Gines Lopez emerged to climb last was could the young, and very much on-form, Spaniard take his first senior gold? Unlike many of the other Olympian's Lopez is doing as many competitions as possible in the final run-up to the Games at Tokyo. Sadly though, despite climbing well, Lopez fell at the start of the hard crimpy moves and placed mid-table.
Lopez's early exit gifted the Gold to Sean Bailey, the Silver to Alex Megos and the Bronze to Colin Duffy. Understandably Bailey was delighted with his win writing online; "I found my dream in Villars. It's only fitting to complete it here too. I saw my potential for the first time in 2016. Fresh on the circuit, no f**king clue what I was doing. I made my first final and was just off the podium, just a few moves away from the top of it. In that moment I knew it was possible. It's crazy to think that was 5 years ago. Crazier to realize I finally did it. I learned a lot the last 5 years but it's all trumped by what I've learned the last month. Hard work pays off and dreams come true."
Picking up his first Lead Gold Bailey now has two Golds to his credit from his 2021 efforts; in fact, he's the only male climber to have won two Golds from two separate disciplines this year. Duffy's third-place further cements Team America's performance which has been in the ascendance all year and includes a very welcome return to top-flight results for American male climbers who have been absent from the Lead podiums for some considerable time!
Women's Lead
Let's start our coverage of the women's Lead at Villars with a quick recap of Janja Garnbret's form at both previous Villars's World Cups as well as during the 2021 season thus far. Of the four preceding years that the Villars competition has run (2016, 2017, 2018 and 2019) Janja Garnbret has won the women's Lead gold on every occasion. Of the four preceding competitions, Garnbret has entered in 2021 Garbret has won gold in three of them along with a silver at the second SLR Bouldering event when she finished behind Natalia Grossman.
It's fair to say therefore that Garnbret went into Villars as the firm favourite to win. Unsurprisingly Garnbret finished top in both the quals and the semi-final being the only climber to top both qualification routes and the semi route! Accompanying Garnbret into the final was no less than three other Slovenians; Vita Lukan, Lucka Rakovec and Mia Krampl. Alongside them was Laura Roroga, Natalia Grossman, Momoko Abe and Aleksandra Tothova. Like the men's finals, the strength and depth with young, first-time finalists were quite remarkable.
First out, having qualified for finals in 8th place and looking for a Lead medal to go with her Boulder Golds from the year, was Natalia Grossman. Sadly, the live feed dropped out whilst Grossman was climbing but we later found out that she had a storming climb falling off at move 42+; ultimately enough for her to take the Bronze - her first every Lead medal. The experienced Vita Lukan was next out and climbed steadily before falling off move 40+ high on the route just behind Grossman. Also falling off at move 40+ was the diminutive 18-year-old Japanese climber, Momoka Abe. Despite climbing in her first final, and despite her obvious disadvantage being so short, Abe acquitted herself well. Based on her performance at Villars it seems highly likely that we'll see more of her this season.
Like the men's final, the women faced a 'droppable' move low down on the route, in this case, a tricky sideways jump to a 'hidden' jug. The move caused heartache for a few competitors especially Lucka Rukovec who dropped the move having held it initially. The young Bulgarian climber, Alexsandra Totkova, survived the low-down jump but then fell off pulling onto the crimpy headwall at move 33.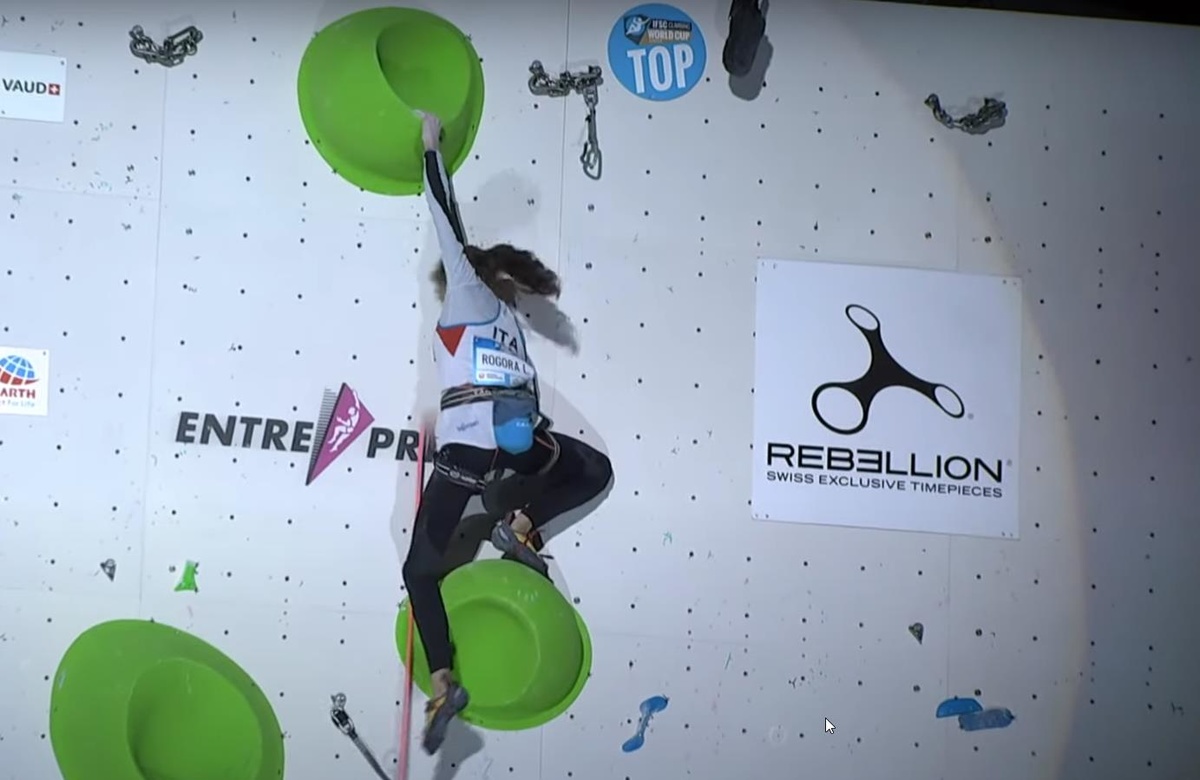 With just Laura Rogora and Janja Garnbret to climb the tension was building nicely. Rogora climbed next as the runner-up and was a little hesitant at first but managed to survive a few foot slips. Nevertheless, Rogora made the big dyno out to the big volumes to set herself up for the final move and hence a top of her first WC Lead finals route. Being fairly short and preferring more static movements Rogora hesitated for some time on the final more trying to position herself to reach the final volume statically. With time running out, however, Rogora finally committed to the jump and to the delight of the crowd held the top with literally seconds left!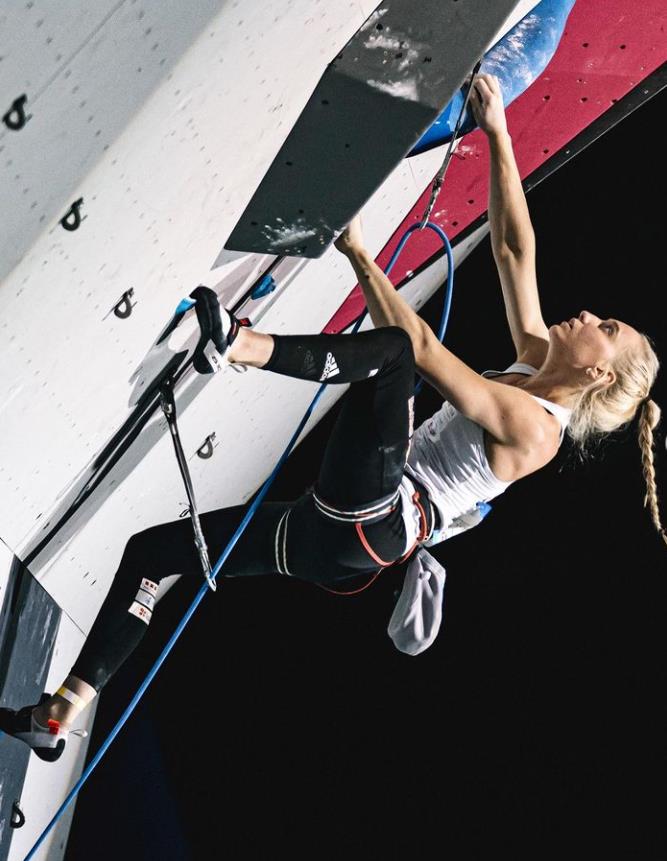 Garnbret would have been well aware that Rogora had either topped the route or taken the lead from the other competitors given the crowd's cheers and how long Rogora was climbing for. When she started to climb Garnbret climbed smoothly and purposefully taking her time and setting her feet onto the volumes to minimise foot-slips. Soon though Garnbret faced the crucial sideways dyno moves out to the penultimate holds; she paused to shake out before committing. In true Garnbret style, she latched the move out to the massive green volume and then quickly committed to the final move to complete the route with 30 secs or so still on the clock. Not only had Garnbret topped the route faster than Rogora she'd placed higher in the semis than Rogora. Garnbret, therefore, took the Gold once again to retain her 'Queen of Villars' status having won five of the five Golds at Villars. Rogora has shown she can top WC Lead routes and Grossman too has demonstrated that she way more than 'just a boulder' Garnbret remains supreme, however. On current form, especially having gone under 8secs on the speed wall earlier in the Speed competition at Villars, Garnbret can only be considered the odds-on favourite to take the Gold at Tokyo providing she remains un-injured and maintains current form! And given how consistent Garnbret is, who would possible bet against her; the Gold at Tokyo can only be her's to lose!
Speed/Lead Combined Scores
Just for fun, we've taken the Speed and Lead scores from Villars for the athletes going to Tokyo and multiplying them together to can calculate a (very) rough and ready pecking order for these Olympians based on these two disciplines at this one event.
Women's Combined Speed/Lead Score/Rank
| | | | |
| --- | --- | --- | --- |
| Climber | Speed Rank | Lead Rank | Combined Score |
| Janja Garnbret | 13th | 1st | 13 |
| Laura Rogora | 40th | 2nd | 80 |
| Mia Krumpl | 33rd | 8th | 264 |
| Julia Chanourdie | 27th | 10th | 270 |
| Anouck Jaubert | 7th | 48th | 336 |
| Kyria Condrie | 26th | 17th | 442 |
Men's Combined Speed/Lead Score/Rank
| | | | |
| --- | --- | --- | --- |
| Climber | Speed Rank | Lead Rank | Combined Score |
| Alex Megos | 49th | 2nd | 98 |
| Colin Duffy | 37th | 3rd | 111 |
| Albert Gines Lopez | 31st | 5th | 155 |
| Rishat Khaibullin | 8th | 31st | 248 |
| Nathanal Coleman | 26th | 22nd | 990 |
| Ludovico Fossali | 25th | 62nd | 1550 |
Watch the Villars Speed highlights below…
Watch the Villars Lead finals below…