Tried & Tested Reviews
Tifosi Tyrant Mountain Sunglasses
By Bruce Goodlad
RRP: £82.50
Weight: 25gg
Features: Polarised Fototec lenses, fit small-medium, adjustable nose and ear pieces
Colours: Available in a range of colours from matte black through to racing orange
Product info: www.tifosioptics.com

Eyewear in the mountains has always a bit of a compromise because no single pair of sunglasses seems to be able to cope with the changing light conditions that the mountains throw at you. For example, if you take a typical high alpine day you leave the hut in the dark and, as you gain height the sun begins to rise. The first rays hit the snow creating enough reflected light that your eyes can feel the strain. You squint a bit so you should really put on your glasses to protect your eyes from long term damage and you get out your normal category 4 glasses (which must reduce the light transmission to less than 8 per cent) but it feels like someone has turned the lights out, so you stick them on your head and keep squinting until the light is strong enough that you can see through your dark lenses.

Having been left with light sensitive eyes after suffering meningitis as a student I always have to wear eye protection in the high mountains so this has been a big problem - I need glasses that I can see through as soon as the sun comes up. The way I have got round this in the past is to carry two pairs of sunglasses one with a dark cat 4 lens and a pair with a cat 3 lens, but it's not an ideal solution with more to carry and a faff to change.

The obvious solution was to try photochromic or reactolite lenses. The lenses in these products are designed to darken in stronger sunlight and lighten in lower light conditions. Out on the hill, however, in spite of the manufacturers offering cat 4 protection, none of these models I have tried were dark enough for me and I ended each day with eye strain.

I had pretty much given up and gone back to my two sunglasses system when a friend gave me some Tifosi Tyrant glasses to try. The glasses come with their brown polarised fototec lenses which, while not a cat 4 lens, do reduce the light transmission to 9 per cent. The polarising on the lens reduces glare and the fototec element adjusts the lens quickly to changing light conditions. All Tifosi lenses cut out 100 per cent of damaging UVA and UVB light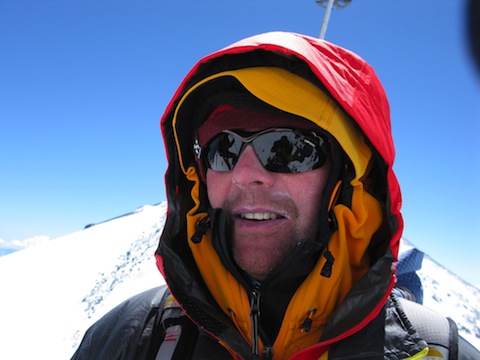 After previous experiences I was sceptical but headed out on the hill with my dark glasses in my bag just in case. But I was amazed and have now stopped carrying a spare dark pair and just take the Tyrants out with me. The lenses have coped with huge range of light conditions from bright sunlight on glaciers all over the Alps to the summit of Mount Elbrus in Russia. Where I have been particularly impressed is their ability to cope with changing conditions. I was climbing the North Pillar on La Pointe d'Amont in the French Ecrins, where the route moves from one side of the pillar to the other so you are constantly moving in and out of light and shade. This would normally result in my glasses getting squashed in a pocket for half the day but I was able to leave the Tifosi sunglasses on my face and let the lenses do the work. Similarly, when rock climbing in Italy in the Val di Mello the sun was coming at us from different angles and the glasses could adapt to different levels of intensity.
Bruce tests the Tifosi Tyrant sunglasses on the summit of Mount Elbrus in Russia. Photo: Bruce Goodlad Collection

The Verdict
The frames on the Tifosi Tyrant are light comfortable and easy to adjust so they stay glued to your face, the venting in the lenses means that they don't steam up when you are working hard and I have had a whole summer with no eye strain. After many years of searching I think I have finally found my pair of glasses for all mountain conditions.

---
About the Author
Bruce Goodlad is an internationally qualified IFMGA guide, running his own guiding company based out in Chamonix. He has just published a new book Alpine Mountaineering (£16.99, Pesda Press, 2011) covering all the essential skills you need to know for climbing in the Alps. www.mountainadventurecompany.com