Tried & Tested Reviews
The North Face Havoc Mid GTX XCR
SRP £140
By Ian Smith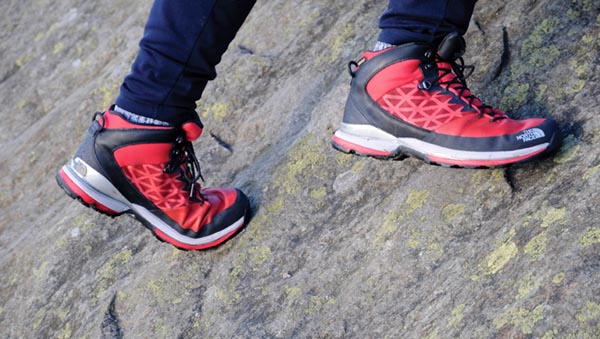 I'll begin with an admission, I have weak ankles, I was born that way and there's nothing to be done about it. So, I've always preferred boots to shoes for the ankle support. Even when just walking up to somewhere like Stanage I've usually worn 'big' boots rather than trainers or approach shoes, since I have tried out, and given up on, lots of lighter shoes over the years. The downside of this need for boots has, for long enough, been the extra weight of them, although admittedly boots have been getting lighter and lighter. So, the Havoc Mid were immediately of interest being a high ankle 'boot' but with the lightness of an approach shoe. They were comfortable straight out of the box, with no 'breaking in' needed. Although very flexible there's enough ankle support to suit me, provided they are laced up tightly all the way. Weighing only 485g per boot (for size 9) they are seriously light for a highly specified boot.
The outer fabric is waterproof so far but these aren't a true bad weather performer as water can ingress through the tongue behind the laces. But then that's not what they are, and I wouldn't expect them to be the footwear for trudging through bogs. As mentioned they are very comfortable and the shaft is a good balance between too soft and too rigid. The Cradle Technology seems to work and they are incredibly stable for footwear so light. As well as trying them on UK crag approaches I also used them for some coastal walks on a rocky Mediterranean island and they coped with the rough, sharp limestone very well. They felt as good as my regular (heavier) boots in terms of the support they gave and it didn't feel like I was losing out in the way I have when I've tried out approach shoes. The soles are very 'grippy' and I really liked that about them, even on polished gritstone they seemed pretty sticky, though perhaps not as much as those shoes equipped with 'climbing-style' rubber soles.
I'd begun to reach for them on a regular basis and had even started wearing them as an 'everyday' shoe, treating them like you would a pair of trainers. I even wore them for a trip to London where I knew I'd be covering a lot of distance on foot and pounding a lot of pavements and they were great. I really haven't got a major criticism of the Havoc Mid, for me, they do exactly what I want, considering I'm not happy or comfortable using standard approach shoes. Hang on, one thing, being an old fart, I do think I'd have preferred a different colour; they come in brown/black, grey/yellow and red/black and guess which colour the review pair were, yes, the red/black (see photos), a bit bright for me. But if that's all that's wrong then that's just nitpicking and guess what, I'm still going to carry on wearing them, they're that good.
Tech Spec:
Mid-shaft hiking boot, Gore-Tex for waterproof, breathable protection, *Cradle Technology centres the heel for stability and comfort, while the midshaft height offers ankle support. Faced with a waterproof, breathable Gore-Tex membrane, this hiking boot has a technical outsole for lightweight protection over rocky terrain. Premium EVA footbed with gel heel and forefoot cushioning provides supreme comfort.
Sizes: 7–12, 13, 14
GTX Extended Comfort range waterproof, breathable membrane
Full grain leather to toe mudguard
Welded synthetic breathable midfoot
Protective rubber toe cap
Northotic Pro+ premium EVA footbed with gel heel and Ortholite forefoot cushioning pads and TPU Cradle support
TPU and EVA cradle heel cushioning and stability technology
Combination compression molded EVA and injected PU midsole
TPU Snake Plate forefoot protection
Exclusive Vibram rubber outsole
*Cradle Technology
The Cradle is biomechanically engineered to bring impact control for stability and cushioning and protect your feet. Heels and ankles are supported all the way to reduce impacts and guarantee comfort.
For more information go to www.thenorthface.co.uk