Tried & Tested Reviews
Scarpa Zen Pro Approach Shoes
SRP £125
by Stewart Moody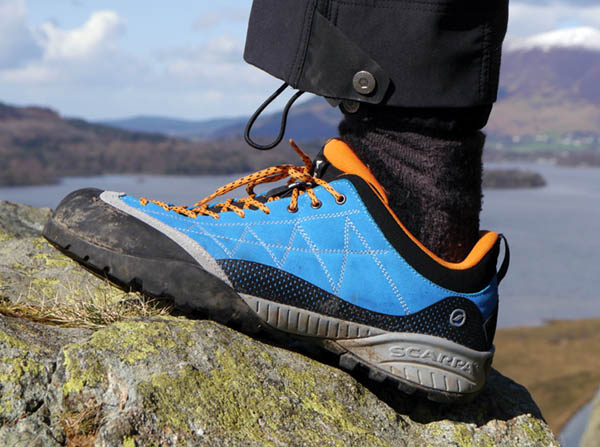 In this day and age outdoor clothing ranges are mind-bogglingly broad and the feet are especially well catered for. Where once there was only the humble walking boot, there are now shoes for every conceivable discipline of mountain pursuit and some that fit somewhere in between. Ten years ago approach shoes were almost unheard of, since then the technology and design behind them has increased exponentially and so too has the types of terrain on which people use them. Approach shoes now occupy a huge amount of retail space in your local gear shop, blurring the boundaries between hill-walking trainer and technical rock shoe. Scarpa's Zen Pro places itself near the top end of this offering.
My pair are electric blue and look great (they also come in charcoal grey which hides the dirt better). They are the first pair of sticky rubber approach shoes I've owned. It might seem obvious, but I'd encourage you to consider what it is that you will be 'approaching' before deciding whether to purchase the Zen Pro or not. I come from the breed who thought approach shoes were bulky Gore-Tex trainers most often used to approach the tent from the toilet block across a muddy camp site, or for a half day low level walk. Were this the case I'd say the Zen Pro might not be the most appropriate footwear for you. If, on the other hand, you want something for climbing easy routes at the crag, or for longer multi-pitch routes (where you don't want the pleasure of the day ruined by the discomfort of your rock shoes), these are definitely worth looking at.
Lets' start at the base. The Vibram sole combines traditional lugs with a smooth climbing zone at the toe end. The lugs give the shoe a good degree of traction and aren't so deep and clustered that mud gets trapped within them. The climbing zone gives confidence when smearing or edging; I wore them for a spot of easy bouldering at Tremadog and felt a lot of trust in my foot placements on slabby terrain. The sticky rubber really is excellent and I'll always insist on it in future. Only time will tell how durable the rubber is. Last time I checked, after seven weeks of serious abuse, it looked mostly unblemished apart from a very small amount of wear on the toe edge, but I think that's quite acceptable.
There is a toe rand and it's big. That's great if you like those sorts of climbs where you have to jam your foot into a crack. Could it be too effective? Having just left my belay whilst leading a route at Shepherd's Crag, I delicately twisted my foot into a crack but couldn't get it back out. After much cussing and straining I had to ask my second to help me dislodge it. I'm not sure what that says about my climbing ability ("Erm, you couldn't just whack the base of my heel with your fist could you Tom?"), but I think it speaks volumes about the quality of the rubber Scarpa use in its manufacturing process and the traction it generates.
I mentioned Gore-Tex a moment ago. The Zen Pro's don't incorporate Gore-Tex. I'm going to refrain from using the word 'but' here, because I don't see the absence of Gore-Tex as a negative. Let's be honest, most of us complain about the amount our feet sweat in waterproof approach shoes, it's not pleasant. What the Zen Pro does have is a water resistant suede upper and I'm pleased to say my feet don't sweat very much in them, but are they watertight? Well, I wouldn't want to do any serious bog-hopping in them, but I've squelched my way through various fields and never had wet feet.
The base of the shoes is a little hard, I'm used to something a little softer with more cushioning for shock absorption. But words like 'soft' and 'cushion' aren't synonymous with sensitivity. It's sensitivity that you want on a route, that's when you want your approach shoes to feel more like rock boots than trainers, so it's a compromise I'm happy to make. On very steep downhill slopes I found that the foot beds could slide forward a little, which is a bit annoying, but the shoes do give good stopping power. On the plus side the beds are removable which is handy if you want to air them out or replace them. The laces are a bit thin for my liking, I'd like a little more to grab on to, but I'm sure there's a reason for this and it's a minor quibble.
The weight of footwear is important to me. My passion is multi-pitch mountain routes, a discipline to which these shoes are well-suited. When gear shopping I hunt around to save a few ounces on karabiners, and then (try to) select what bits of my rack to leave in the car boot to travel light. If this sounds familiar to you, then I hope you'll agree that we should consider the weight of our footwear too. "Wow, they're quite heavy," was my girlfriend's first comment when I handed the Zen Pros to her. At the end of the day though the weight is par for the course, the Zen Pros aren't dissimilar to their competitors. So for the verdict, the Zen Pros have some big plusses that far outweigh the few quibbles that I've highlighted. At £125 they are premium product, but if used for the job for which they are designed they're worth considering.
For more information visit www.scarpa.co.uk/approach/zen-pro