Tried & Tested Reviews
Rab Xenon X Hoodie
SRP £130
by Ben Bransby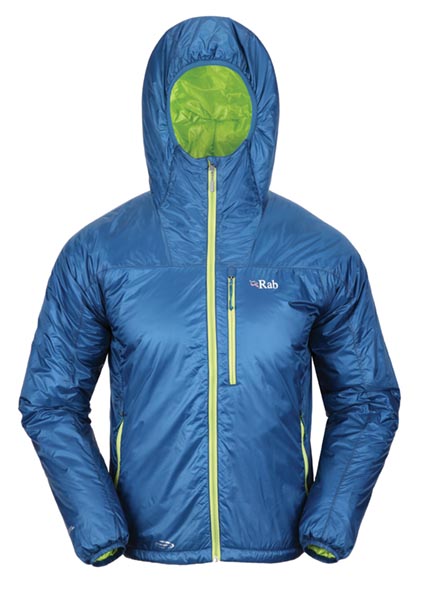 I remember when fleece became 'in', this was back in the 80s, and as much as it was viewed as a technical layer it seemed that you wore your fleece mostly going to the pub (or school in my case). It was also the same era that lycra was 'in' and the combination of luminous leopard print Lycra and bright fleece made climbers fairly easy to spot. I still have the odd fleece knocking about – especially the closer fitting mid layer – but for me another type of jacket has taken over the role of the traditional fleece.
I first got a synthetic-filled mid layer for going to Patagonia in 2000, I wore it nearly the whole trip and depending on the temperature and activity level it would be anything from my outer layer to being hidden under a waterproof shell and down jacket. It came in a combo of black and peach and when worn on visits to the bars and combined with my old school trouser and shirt (we had to fly via the US and after struggling with border control in the past I had dressed smart) I really stood out from the other climbers...
The Rab Xenon used in this test arrived just in time for a trip to the Alps and I was immediately impressed with how light and simply designed it is. It has a Pertex Quantum face fabric – so light it is almost see through and is filled with Primaloft One, two hand warmer pockets and a chest pocket, which doubles up as a stuff sack and a neat fitting hood make up the package. The Rab web site states it is ideal for Alpine belays but for winter Alpine climbing I was using it as a mid layer with a much beefier belay jacket. Compared to the traditional fleece I felt the Xenon gave more warmth for the weight and also if used as a shell gave greater wind protection. I had two small gripes with the jacket: for me, when used during the high activity part of the day – say leading a steep pitch, I would find myself sweating more than I hoped, in an ideal world I could have vented more or removed layers but during multi-pitch climbing I like to avoid stopping and fiddling with clothing too much and where large quantities of snow are involved prefer not to open big holes in my shell and hence fill myself full of snow, I think the Pertex shell is less breathable than an old school fleece. I also found that during technical climbing the jacket had a tendency to ride up out of my harness (or possibly due to all the ice screws we were carrying my harness was sliding down off my jackets) this led to a bunching of fabric around my tummy, a slightly cold draught and paranoia that I might drop my spare gloves (when seconding I stuff my lightweight lead gloves down my top to dry out and wear a fatter pair).
Having used the jacket as an outer layer back home it has been excellent – cold days out on the grit with the wind whipping across the edges and I have worn the jacket whilst climbing, the fit is close enough and the jacket light enough that I don't feel hampered whilst climbing and without the multitude of layers in the Alps there was less riding up out of my harness – although for a technical jacket I would prefer not to have hand warmer pockets and an even nicer fit under the harness. The Pertex outer looks flimsy but has survived wriggling up grit chimneys so far.
Where I have worn the jacket most, like the fleeces of the past, is in a casual situation and it is lovely to chuck something on which is warm, light and windproof. Like my luminous fleeces and peach jacket from Patagonia the Xenon does have a slightly quirky look: the combination of the shiny and see through Pertex (apparently the new Xenon X has a more matt finish) and a rather interesting green meant as understated as I felt in Chamonix I felt rather conspicuous on the school playground, at least the other parents can recognize me as a climber...
For more information visit rab.equipment/uk/xenon-x-jacket