Mountain Meals
The house is tidy, the wine on the table, the guests about to arrive, and the meals sitting smugly in their vacuum-sealed bags. Not a situation one normally expects to find at a dinner party, but then this gathering of friends and peers has a slightly different agenda from our usual social get-togethers. Generously supplied by Outdoors Grub Ltd and some of the manufacturers themselves, this freeze-dried banquet set out to test the biggest names in adventure nourishment and find out just how good these 'mountain meals' really are.
Weight
When the first batch of dinners came through the post, I was surprised at just how light they all seemed to be and, with an average weight of
115/120g,
it's clear even the most hardcore 'fast and light-ers' are not going to be raising objections on the kg front
. The
lightest single portion main meal was Mountain House's 'Potato and Salmon in Dill Sauce' (110g), while the heaviest (but also one of the tastiest) meal was MX3 'Chicken Colombo and Rice' (150g)
. Size-wise, most of the packets were quite petite, although the Backpackers Pantry was notably larger, but designed as a meal for two.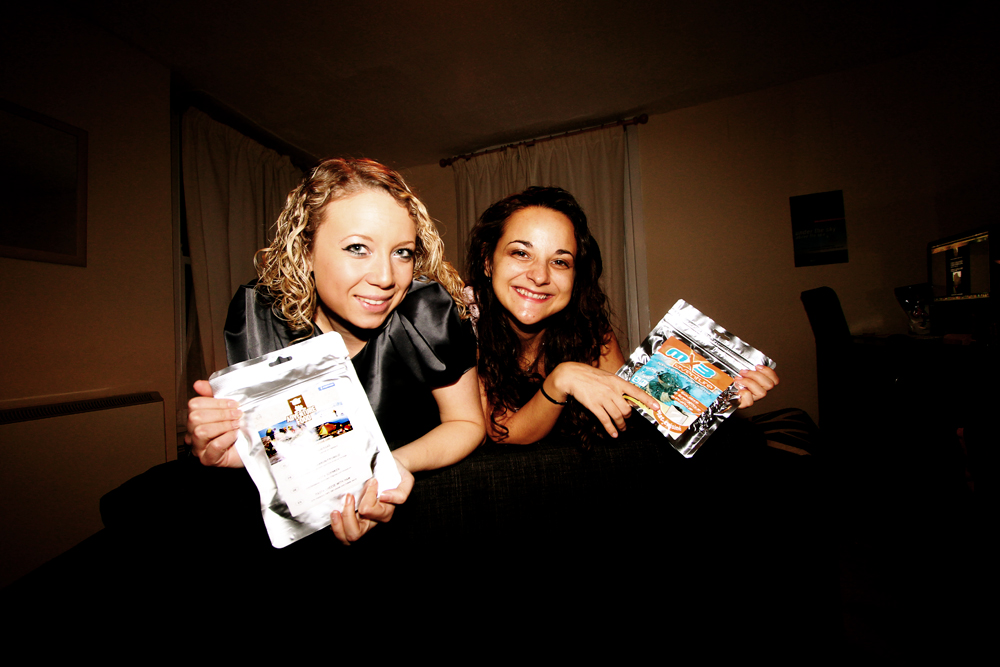 Katherine and Khrissy with their selected dinners
Preparation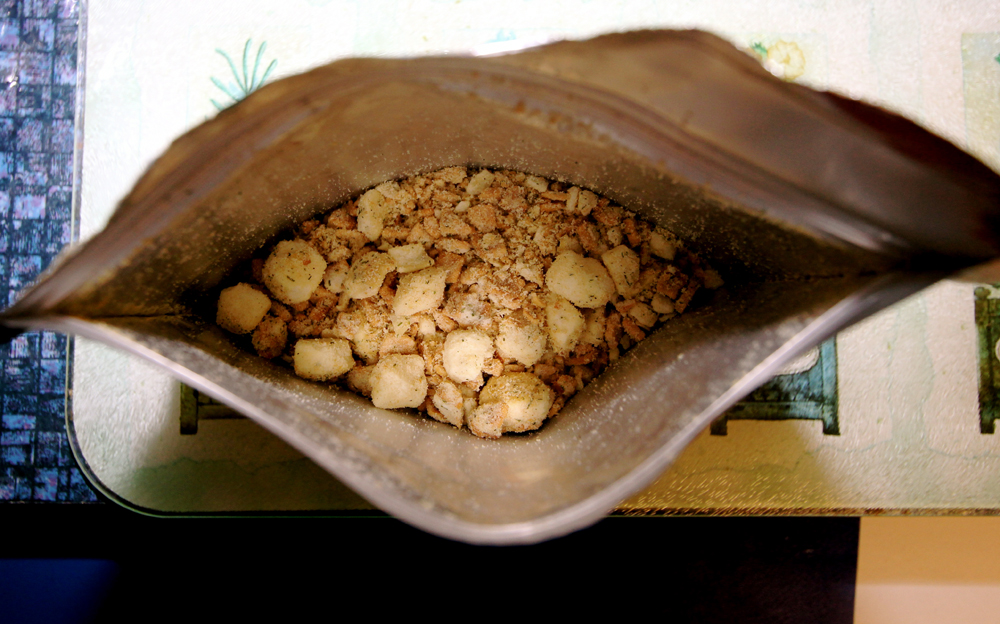 So the guests have arrived and it's time to get cooking. All the meals are very simple in this respect: just add water. However, some were more straightforward than others. MX3 was the chef's favourite, as it had a nice bright red fill-line inside the packet to top it up to the required level. Adventure Food, and Real Turmat had a fill line, but it took us a while to find it as it was subtly positioned on the outside of the packet. Kudrati, Travellunch and Mountain House required adding a specific volume of water to the packets, which you'd probably have to work out using a 500ml/1 litre water bottle out on the hill. Backpacker's Pantry gave the measurement in cups, which is useful if you have a cup in the hills, not so much if you don't.
Photo: Mountain House's Potato and Salmon in Dill source before 'cooking'
In addition, Adventure Food and Mountain House products require that you removed an 'oxygen absorber' before filling the pouch with water: if the bag has been shaken up a touch beforehand then you have to rummage around inside to find it and more often than not emerge with a hand coated in powder, which was a bit messy. Every bag was then sealed with their own in-built zip (with the exception of a Travellunch desert which didn't have a seal and so had to be folded over) and left to 'cook' for an average of 8 to 10 minutes. Now onto the tasting!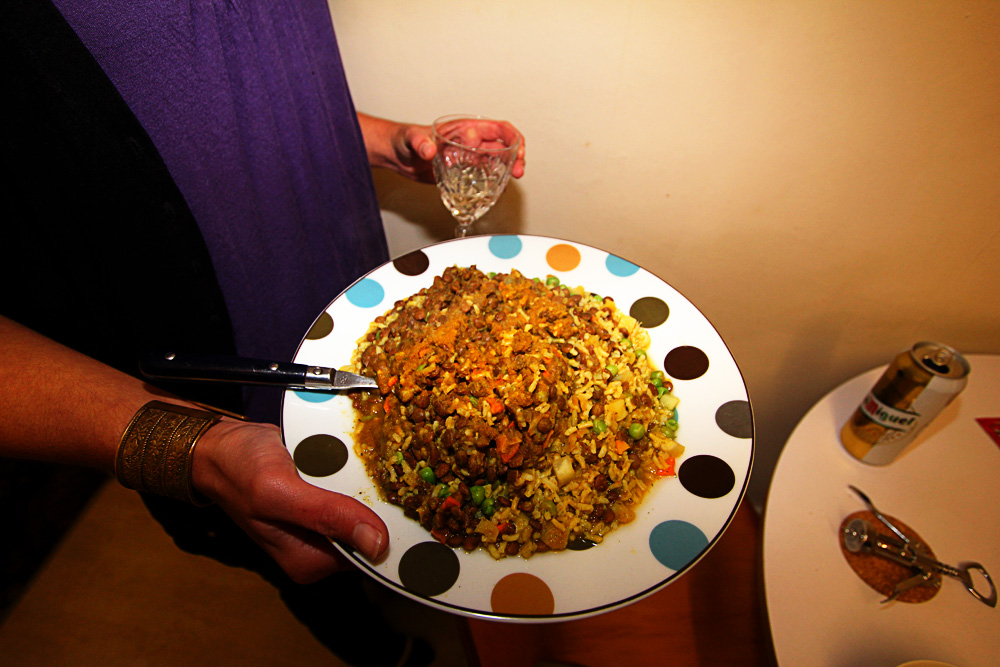 Backpacker's Pantry - Katmandu Curry
Tasting
First it has to be reiterated that the tasting of the food was in all inevitability influenced by the context of the dinner-party environment, and I'm sure feelings would vary if we all were sat huddled down for dinner in a rain-plastered tent on the side of some forgotten hill instead. Here are the guests' opinions on their mountain suppers:
Main Meals
Real Turmat - Beef and Potato Casserole
Emily: "Yummy" 8/10

Adventure Food - Beef Goulash
Iain: "Not the prettiest to look at, but tasty nonetheless" 7/10

MX3 Adventure – Red Curry Noodle & Shrimp
Khrissy: "A pretty good meal for camping food" 8/10

Mountain House – Potato and Salmon in Dill Sauce
Jamie: "The cooking process went a touch wrong with too much water added and I was left with what looked like the least appetising dish of the night. Not redeemed by the taste either." 5/10

Adventure Food - Pasta Cheese with Ham
Katherine: "Looked nice, tasted good, got a bit gaggy after a while. The oxygen absorber was hard to find and I completely failed to spot the fill-line!"

Backpacker's Pantry – Katmandu Curry
Kristy: "Salty, not the nicest to look at!" 3/10
Joana: "Very salty. Didn't cook properly. Tasted ok. Didn't look too exciting." Overall 5/10

Kudrati Naturally - Onion Tomato Curry Base
Jamie: "The only packet that is served as soon as the water is added to it (no cooking time). However it is only a base, not an entire meal, so you'll have to cook up some rice or naan to go with it. Excellent flavours, spicy and sweet. Absolutely delicious in fact: one of the best meals of the night!" 9/10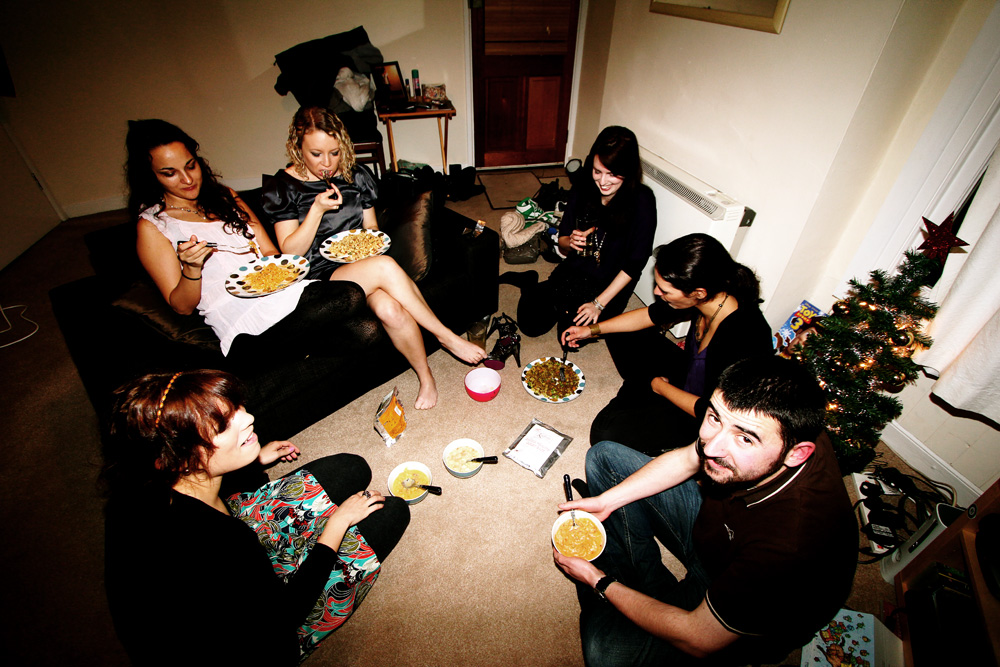 Deserts
Mountain House – Custard with Apple
Emily: "Really good! My favourite." 9/10

Mountain House – Smooth Oatmeal with Raspberries
Khrissy: "A touch stodgy but nice nonetheless" 7/10

Travellunch – Rice Pudding with Apples and Cinnamon
Katherine: "It didn't have a seal, and consequently didn't quite cook properly as the rice was still hard" 6/10

Adventure Food - Expedition Breakfast (with a bit of sugar)
Jamie: "Loved it, would quite happily eat it for every meal" 10/10
Generally the meals fell into two camps: those that looked unappetising but were actually quite tasty, and those that looked appealing but tasted a bit samey after a number of mouthfuls. However, considering that they were complete meals that have gone under the intensive freeze-drying process, they weren't really that bad. Indeed thinking back to my last expedition to Kyrgyzstan, I would have readily digested all of them (with the exception of the
Potato and Salmon in Dill Sauce one,
which really didn't agree with me) without any second complaint.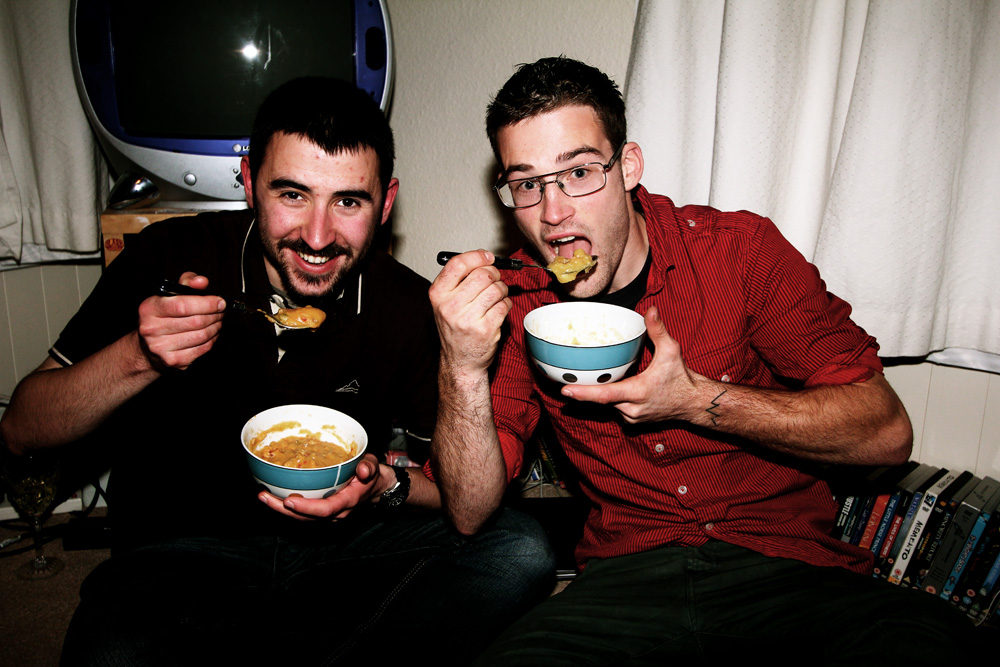 Iain and the author posing with Adventure Food's Goulash and Real Turmat's Beef and Potato Casserole
Conclusion
I suppose the biggest concern of many people out there would be the price. Most packet meals average a price range of around £4-£5 (the Drytech Real Turmat meals are more expensive at around £8.50 per packet, but were the personal favourite of the night). Those with a cheaper mentality of living, students/climbing bums etc. probably wouldn't want to be splashing out that amount of cash on their stomachs. If however, you have the money and wish to retain a semblance of luxury eating whilst also still enjoying the full isolation and adventure of the outdoor lifestyle, then any of these would see you in good stead: just go with whichever meal sounds most appetising to you!