Tried & Tested Reviews
Grivel Marmolada 28 Rucksack
By Mark Reeves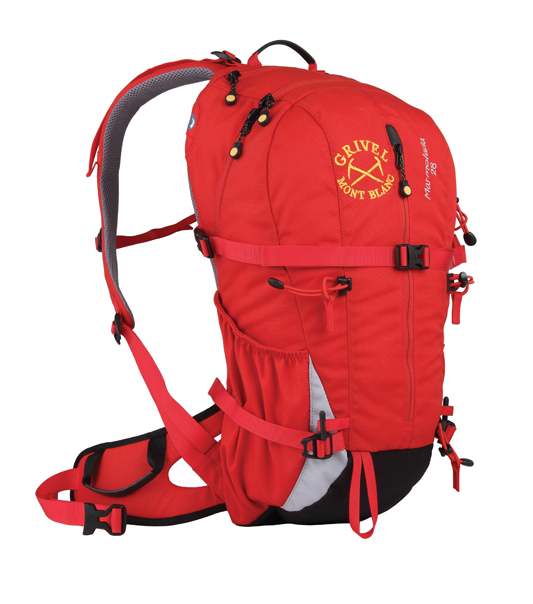 This is a new rucksack from Grivel, on first acquaintance the bag is well-built, well-designed and rather stylish in bold red. The rucksack is extremely comfortable to wear and for a small 'sack has a good padded waist belt that for me is a key component to a comfy bag. It is the length of the 'sack that helps make it comfortable as it means the waist belt actually comes into play on your hips, rather than on other small 'sacks where the waist belt may be almost as high as Simon Cowle's or your granddad's waistline. A chest strap helps add additional stability to the 'sack when in use and it has all sorts of other features, which I shall try to cover throughout the review.
This bag is essentially designed for sport climbing, bouldering and Euro-cragging, but will work anywhere you need a limited amount of climbing hardware (harness, helmet, rock shoes and some quickdraws) and carry your rope in a separate bag, making it just at home at the indoor climbing wall. Limited to this equipment there is still room for some warm clothes or lightweight waterproof clothing, a small first aid kit, some lunch and some water. If you own a bladder type hydration system there is a dedicated compartment into which it will fit and a hole for the hose. It also has three small compartments for things like phone, keys, guidebook, snacks and other documents.
The climbing-focused design has several features that help make this a versatile bag. The first being the volume in the top of the main compartment that provides ample space for a helmet. It also has a gear loop on the left side for racking up a few quickdraws if you decide to wear it as a climbing 'sack on longer multi-pitch routes, although you can still access those on your harness when wearing the 'sack. It is here that the 'sack's stability really shows through and the compression straps on the sides allow you to reduce the volume. The result is a rucksack that feels part of you when you climb. The addition of a strong attachment loop at the top also makes it easy to clip to belays if switching leads.
This bag would also be great for a lightweight daypack when you are out walking, scrambling or around a city or university campus. Its size whilst limiting for some applications, such as carrying a full UK trad rack plus ropes, make it ideal for many more. Especially if you want to make the statement of 'I am a climber', whilst conquering Mount Cappuccino, the next calculus class or walking into Malham. From my limited experience babysitting it would also fit all the baby wipes, nappies, spare clothing and nibbles that any climbing parent would need when venturing out with their offspring for an impromptu picnic in the park.
The bag retails at £65, although you may find a better price than this. As for value for money, it compares very favourably with many of its competitors in terms of 'sacks of a similar size. Grivel do make larger bags that might be better suited to trad climbing like the Lavaredo 35L and the Tofane 45L, however, for Euro-cragging trips, sport climbing, bouldering or a separate bag for going to the wall this bag is a great buy.
Tech Spec
Grivel Marmolada 28
Volume: 28L
Back length: 47cm
Weight: 730 g
Material: light Ecofabric
Back: padded ergonomic adaptable
Hipbelt: wrapping aired hipbelt with a side pocket on the right and a ring for the accessories on the left
Shoulder straps: foam padded ergonomic with butterfly system, with a mesh on the front, simple sliding weight distribution system, adjustable chest strap
Accessories: stretch side pockets, additional front pocket, reinforced straps, compression straps, top compression straps to reduce the volume, dedicated interior pocket for the hydration system
Colour: Red
SRP: £65