Gear Review
Lightweight Hardshells
By Bruce Goodlad and Kate Scott
Hard shell reviews are usually an autumn feature when we look at garments for Scottish winter climbing and some icefall climbing on the Continent but we can get bad weather at any time of the year in the mountains and we don't always want to be carrying a full weight garment when we don't need it.
Fabric technology and design has allowed manufacturers to make waterproofs lighter and lighter, when a three-layer product used to weigh 700-800g there are now many under 500g and some at almost 350g which was unthinkable a few years back. In the UK we are always looking at maximizing our climbing opportunities due to variable weather so you may have to spend a few wet days scrambling while waiting for the weather to be good enough to get on the high crags so a lightweight waterproof is the ideal solution.
In the Alps we don't set off in the weather that we would go out in in the UK hills but we may need to walk to a hut in the rain to be ready for the good conditions the next day and we always need to be ready in case the forecast is wrong or our route takes a bit longer than we had hoped. There are jackets at all weights that can fit the bill and there are some incredible weight savings to be made by choosing any of the garments in the review.
When thinking about design I am looking for many of the same features in a full winter hardshell: good cut, useful pockets and a great hood. The hood is something everyone needs to do some work on, on a cold day it's not like I will have a helmet on a bare head and just pull the hood up. The hood should have the capacity for you to put a hat on, then a helmet, then another hood over the helmet with the hard shell hood on top. Most of these garments only just do this, it isn't just the helmet that needs to be part of the design, when you are layered up there needs to be enough space round the neck to accommodate those layers, again we could do with some work in this area.
I really wanted to feature matching jackets and pants in the review as, in my experience, a good waterproof pant is every bit as difficult to design and makes a hug difference to comfort on the hill when the weather gets difficult. When talking to the manufacturers we only managed to get two to contribute samples so that is all that is in the review. They don't look as sexy in the pictures but they make a massive difference on the hill.
Black Diamond Liquid Point Jacket
415g RRP: £200
Gore-Tex Paclite used to be my go-to for a lighter weight hardshell, its packability along with its weight and protection made it an obvious choice but with Gore Pro jackets on the market that are actually lighter and using a softer, more breathable, backing I had to ask the question, is there still a place for Gore-Tex Paclite. The Liquid Pro was a great jacket on which to test the theory. Let's start with the design, my go-to is always to see if the hood is actually helmet compatible and it is. The hood is really well-designed and worked with a helmet and two other hoods on top. The movement when climbing was good, the simple wrist closures worked and the pit zips allowed for extra venting. Where the jacket did fall down for me was the excess of fabric over the front. Maybe all American climbers have pot bellies as this is the design feature that seemed to be included. I am not the slimmest of chaps but the strange bulge meant I could not see my harness cleanly and it just felt a bit odd. Another feature I felt was bit odd was the positioning of the pockets, there are two hand warmer style pockets that were great for going to the pub but were obscured by a harness so it gave a very mixed message about the garment, there is also an interior zip pocket and fleece lining on the neck and chin area. So back to my question, the final weight of any jacket is a combination of the features and the fabric, the heavier and more robust the face fabric is, the more durable the garment but the heavier it will be. Black Diamond have used a robust feeling fabric which is where I think a lot of the weight has come from. If we pack the Haglöfs, Arc'teryx and Black Diamond jackets they all pack in the same space but one is Pro and one is Paclite so I am either missing something or Gore have designed itself out of the market by letting Black Diamond use Paclite with this level of face fabric. While the Liquid Point has some great features I would look at a Pro jacket for a similar weight or go for something that is genuinely light.
Arc'teryx Alpha AR Jacket and Beta AR Pants
Jacket 385g RRP: £460, Pants 535g RRP: £300
When you buy the AR jacket and pants combination from Arc'teryx, make sure you choose a colour scheme you are going to be happy to be wearing for the next decade, because you are going to use this outfit a lot and it's not likely to wear out anytime soon. The AR jacket using Gore Tex Pro is a piece designed by climbers for climbers where every feature has been specifically selected only if it is necessary and only if it is relevant in the context of being halfway up a mountain, harnessed up and being harassed by the weather. This means strong waterproof zips, pockets where you can get to them and no nonsense wrist closures. But don't be looking for extra pockets, snow skirts, fuzzy face warmers etc. The shell is surprisingly light and yet feels totally bombproof. The fit is generous with plenty of room for insulation layers and allows for completely free movement which means you will forget you are wearing it when climbing. Removable foam inserts in the hem are designed to prevent the jacket riding up and out of your harness, however, in my experience the ample jacket length and unrestricted shoulder fit makes these seem unnecessary. To top it off is an adjustable hood perfectly formed to fit over any helmet, woolly hat combo, finished off with a high zip to block out the elements.
The AR Pants also use Gore Tex Pro and make a perfect match with this jacket, again providing only those features selected and designed to make sense to climbers, when actually climbing. For example, a very simple waist adjustment system that does away with bulky buckles, adjustable belts etc that would interfere with the harness fit. Long waterproof zips that allow for easy donning and ventilation and yet don't extend to the waist where again they would interfere with harness fit. These trousers feel even more robust than the jacket with durability taking precedence over being light weight. These are the sort of pants you will put on in the morning and leave on rather than carrying in your bag on the off chance. My initial concerns about restriction of climbing movement proved unfounded with clever anatomical design meaning that yet again once moving you forget that you are wearing a bombproof shell pant that can handle everything the elements can throw at you. Plus the little design features such as the simple hidden internal poppers at the leg bottoms are a sign that the designers really do appreciate how every little element matters and can be perfected. One novel feature that had me initially scratching my head are the removable elasticated internal leg wraps. Located inside the pants' legs at calf height, when used, these cinch the trousers at that point where crampons typically catch, potentially saving the agony of puncturing these beautiful items and worse tripping up somewhere very appropriate.
If you are looking for a long term, no compromise outfit to take on any climbing adventure the AR Jacket and Pants will not let you down. Just look away when handing over your credit card and take heart in the fact you probably won't be needing to buy replacements before your retirement.
Rab Flashpoint Jacket
177g RRP: £200
Using Rab's own Flashpoint three-layer fabric they have come up with an incredibly light but surprisingly featured jacket. It is not fair to make direct comparisons with a three-layer Gore product as it won't be as robust but if you view it alongside other garments of similar weight then this is really worth a look. As always let's start with the hood, it works fine with a helmet but is a bit tight when worn with a couple of other hoods as well and it has a simple elastic adjuster.
The cut is nice to climb in, the features are minimal but that's why it is so light, the cuff has a simple Velcro closure, almost a bit minimal and there is a good chest pocket that could have been a bit deeper to hold a full size map. Having said that a few tweaks would have improved the Flashpoint I still think that it is a fantastic jacket for Alpine climbing where you will be wearing a softshell most of the time but need an extra layer of protection in your bag in case the weather turns.
Berghaus Hydroshell Hybrid Jacket
536g RRP: £200
The Hydroshell Hybrid is at the heavy end of the review but has some interesting features and a really great hood. The jacket is constructed from Berghaus's own fabric Hydroshell using two different weights for durability. The Hydroshell has a soft feel to it which makes for a very comfortable jacket to wear all day, the cut is great to climb in and the hood gives a fantastic cocoon of comfort. My only comment would be that a little more space would be nice round the neck while wearing multiple layers.
There is a nicely hidden volume adjuster and draw cord round the face. There is a chest pocket, this is a bit small to fit a map, the two hand pockets are mesh lined for venting, like the ME jacket I didn't like this feature as it lets moisture into the body. There are two venting zips at the sides which unlike full pit zips are pretty easy to use with a pack on but don't give so much venting this is always going to be a balance. Wrist adjustment is via a Velcro closure and there is a simple waist drawcord.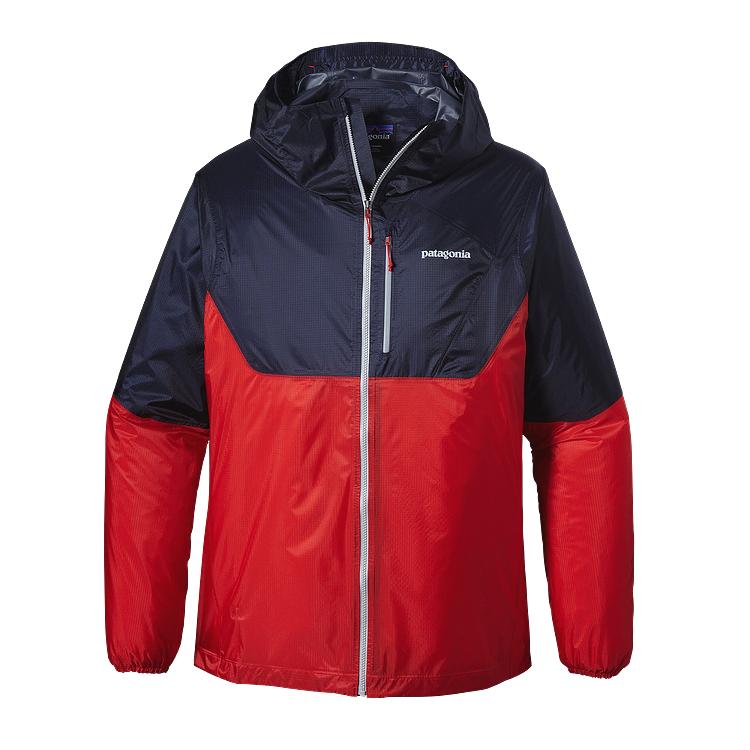 Patagonia Alpine Houdini
187g RRP: £150
This is definitely in the lightweight stuff-it-in-your-bag category, with a hydrostatic head of 10,000mm water column this only just fits into the hardshell category and wouldn't keep you dry in a day of torrential rain. That's not what it's designed for, fold the Houdini into its chest pocket and clip onto you harness and you have some perfect protection in case you get caught out on a big multi-pitch route. In the big mountains stuff it in your 'sack for when the wind picks up or the afternoon storm arrives a bit earlier than you expected. Features are simple as you would expect for this weight. The hood is okay and will keep the worst off but is not as good as some of the heavier jackets. Wrist closure is a simple elastic and a single pull hem completes the design. While the weight is very similar to the Rab Flashpoint, the Flashpoint is more weatherproof but the Houdini is way more packable so works fantastically for Alpine rock.
Mountain Equipment Firefox Jacket and Pants
Jacket 365g RRP: £250, Pants 259g RRP: £140
Active Shell is Gore's most breathable fabric, the Firefox is the only garment in the review that uses it. I'm sure you are asking if it really is more breathable, in the lab I'm sure it is but on the hill it is a bit more anecdotal. I have sweated in every variation of Gore-Tex over the years and I can definitely say that Active Shell is the most breathable fabric they have produced. With Active Shell there is a pay off in durability but ME have used a face fabric that is pretty durable with a more durable face on the shoulders and arms, it probably wouldn't stand up to lots of granite chimneys the same as a Pro Shell garment but if that's the plan get a Pro Shell. Let's look at the Firefox, the hood is pretty good but could be a little bit bigger to accommodate another hood between it and a helmet. With just a helmet on it is great. The cut is pretty good but like so many jackets there is a bit of extra fabric at the front but this isn't too bad. The one feature I wasn't very keen on is the mesh lined pockets and while this does increase the breathability of the garment it does let water into the body if you use the pockets in the rain. The combination of pit zips and active shell is more than breathable enough to deal with even the sweatiest conditions. Other features include differential cut on the wrists with Velcro closures, the differential cut is longer on the top of the wrist that works really well. I really liked the Firefox, the breathability of the Active Shell and simple features make for a great Alpine jacket.
The Pants, again using Gore Active Shell, are the perfect match to the jacket, while a lightweight jacket can spend a lot of time in the pack a pair of pants can spend even longer but they need to work when you want them. The Firefox Pant does this admirably, the cut does not have sophistication of the Arc'teryx pants but they are almost half the weight and are very compressible. The waist is simple elastication, there are almost full length side zips that allow for easy on and venting, the ankle has a simple partial elastication that allows for varying boot sizes. The pants are also Active Shell so great breathability. The Firefox is a great set for this summer's Alpine adventures.
Jottnar Hymir Smock
330g RRP: £230
The best way to make lightweight kit is to keep the design simple and functional, Jottnar have done this in spades with the Hymir smock. A slim athletic fit keeps fabric to the minimum but the cut allows complete freedom of movement. The low cut at the rear keeps the tail warm and the smock in your harness. The long zip at the front makes the smock easy to put on with or without a helmet and the hood gives great protection with a helmet on.
The one pocket is a big chest pocket that is actually big enough to fit an OS map, everyone else take note. The sleeves are closed by rubberized cut-out Velcro tabs that work well and the wrist area has a differential cut, the waist drawcord is easy to use one-handed. If you haven't used Neo Shell it is a Polartec product that is almost as breathable as Gore Pro but is more breathable, it has a nice soft feel and is a good alternative to Gore products and feels softer but in the heaviest rain didn't keep me as dry.
Haglöfs Herakles Jacket
455g RRP: £420
The Spitz jacket from Haglöfs was one of my favorite mountaineering and climbing jackets of all time (it's back for winter 16-17) the Herakles in Gore Pro with CKNIT felt like streamlined version of the Spitz. Features are cut to a minimum to save weight but not lose any performance. The body and arms have an 'athletic cut' which means that there is not the big flap of fabric at the front that stops you from seeing the kit on your harness. A differential cut at the rear keeps the back warm and stops the jacket from pulling out of a harness. The construction of the Herakles is fantastic to look at with really narrow neat taping, which allows for increased breathability and a softer feel. The backing on the fabric uses Gore's CKNIT which increases breathability and comfort while reducing bulk. The hood is the best I have seen from Haglöfs fitting neatly over a helmet, the elasticated volume adjuster is a neat solution as it leaves no loops of elastic for slings or an axe to catch on. The adjustments at the front are contained so you won't get whipped by them in a wind. Pocketing is kept to two Napoleon pockets which easily hold a map or guidebook. There is one internal mesh pocket which could have been a bit bigger to make it easier to put in anything larger than liner gloves. The wrist closure is Velcro but has a degree of elastication which makes it really easy to use with gloves. A set of pit zips completes the best hardshell I have seen from Haglöfs for a while.
Mammut Segnas HS Jacket
529g RRP: £275
This Gore Active Shell jacket from Mammut has a clean simple design with great breathability for working hard in the mountains. The cut is nice to climb in though I found it a bit on the short side but I might have been at the limit size wise, the sleeves are pretty snug especially if you want to layer up underneath. The hood is pretty good and can be adjusted at the front and rear.
There are two pockets that are positioned really well above a harness or waist belt, these pockets have mesh lining for venting but as mentioned earlier this allows in moisture. I felt these were unnecessary with the pit zips and Active Shell fabric. There are Velcro closures at the wrist and a slight differential cut completes a nice solid jacket at the heavy end of the lightweight category.