Edelrid Boa rope
by Gus Hudgins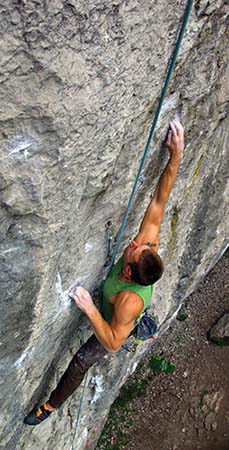 I've reviewed quite a few different products over the years, but when asked to do a rope review I was definitely reluctant. I've recently had a bit of a torrid time with my own rope purchases involving ropes that have worn through at the ends in a single session and at least two incidents where I've been left hanging from a rope that has been stripped to the core, which is not a very nice experience.
As such, durability is obviously a key factor in me selecting a rope these days and, in theory, the thicker the rope the more durable. I politely declined the offer of testing a super thin 8.6mm single rope, and a 6.9mm half rope and by a process of elimination ended up with a 70m Edelrid Boa to put through its paces.
I've never owned an Edelrid rope before, but was really interested to try one, as it always seemed to be the rope that other people at the crag had and, on the occasions I would get to climb on them, I was always impressed, even with older ropes that still seemed to wear and perform really well. At 9.8mm, the Edelrid Boa probably represents the optimum diameter for me personally, I've mainly used it whilst sport climbing with the odd trad route thrown in for a fair few months now and am pleased to report that it has lived up to its reputation for durability and I've not had to chop the ends yet where I've been sitting on bolts working routes. As mentioned, I'm pretty heavy on ropes so I think this speaks volumes.
Edelrid use a technology on their ropes that they call 'Thermo Shield' which is a thermal stabilizing process that gives the ropes a really nice feel when handling, a main benefit of this is that it can't wash out like some treatments, which explains why this rope, and also older versions of the same rope that I've used, still retain good handling characteristics. When new, the one I tested was quite slick, but performed well in a Gri-gri 2 and, in particular, was easy to use and pay out while using basic belaying technique (i.e. Using the gri gri in the same way as a standard belay device, which is the safest way) it still handles well after several months and definitely hasn't developed the 'furry' or 'dry' characteristics that I've experienced with other ropes.
The combination of durability and handling definitely mean that this is a 'do it all' workhorse rope and the only time I've experienced any noticeable drag is on particularly long or wandering routes (think 30/40m Kalymnos stamina fests or the classic long routes on the left-hand side of Raven Tor). Definitely nothing that couldn't be sorted by a few longer quickdraws and a small price to pay for the reassurance that a slightly thicker rope gives. Speaking of price, a 70m Boa weighs in at around £145 and I've definitely paid a lot more for ropes with which I've been less impressed.
As you'd expect, the middle is marked by a clear, permanent black marker and one final point of interest is that Edelrid ropes are 'Bluesign approved' which is an environmental standard for textile manufacturing. Whilst this doesn't mean that the ropes are environmentally neutral (they are made of nylon after all) it is an important step to making production as clean as is currently possible and is an important step that more and more outdoor brands are taking.
So to summarise, I'm not going to name names here regarding the bad experiences that I've had with ropes, but suffice to say I've got my 'Yes' and my 'No' camps. After testing the Boa 9.8mm, Edelrid are definitely a 'Yes' and as such I'd even consider checking out one of their more specialist, skinnier options like the Corbie 8.6mm as a specialist tool for long, pumpy on-sights or redpoints.
Technical Details
Weight (g/m): 62
Sheath Proportion (%): 40
Number of Falls: 6
Impact of Force (kN): 8.8
Dynamic Elongation (%): 32
Static Elongation(%): 9.3
Sheath Slippage (mm): 0
SRP: £140
For more details go to Edelrid by clicking here