Pete Robins
Interviewed by Ben Bransby
Photography by David Simmonite
Thirty three year old Pete Robins is someone who has mastered all types of rock-climbing in the UK, having been brought up on the gritstone edges of the Peak District he has always had the technical and mental ability to deal with the bold arêtes and slabs associated with these areas. During the same youthful years climbing he also developed the skills for the traditional climbing in the UK – from mountain crags to sea cliffs, from long serious routes on Cloggy to technical nightmares on the limestone. He really came of age as a climber when he moved to North Wales in 1999 and emerged as one of the leading bold trad climbers of his generation – hard new routes and cutting edge repeats on the local crags and on visits back to the Peak many hard on-sights and solos. A passion for climbing any rock going has led to exploration around all of the UK – regular trips to the Scottish Highlands and Islands are some of his fondest memories. In recent years Pete reinvented himself as a top sport climber and boulderer, something few people have managed with such success. As well as repeating the majority of the hard sport climbs and boulders in North Wales he has developed many of his own such as Isles of Wonder 8B and Diamond Dogs F8c+. I caught up with Pete at his home (shared with his wife, Rach, and dog Spike) in North Wales.
You were born in Sheffield to parents who were in the climbing 'scene', when did you start climbing and what was it that got you keen to start?
Just before I was born my mum and dad moved to Sheffield for the climbing, and I would go out most weekends with my dad on the grit. Although my parents split up when I was young, they were both still involved with the Ceunant Club and I spent lots of time coming over to Wales. I started getting properly keen when I was 10 and started leading when 11.
During your early years climbing you hung out and climbed with some of the great gritstone climbers of the 70s/80s, who were these guys, what was it like climbing with them and what effect did they have on your climbing?
Well I did most of my early climbing with my dad climbing classic trad routes – I could burn my dad off when I was 14 although he upped his game to E5 so we were neck and neck for a while. My dad and I climbed a lot with Graham Parkes who perhaps encouraged me to try harder routes and later on when I was about 16 my mum was going out with Nicky Stokes, the youngest of three strong brothers that climbed on the grit in the 70s. Through Nick I met and climbed a lot with John Allen, Steve Bancroft, Martin Veale, Dominic Lee, Paul Mitchell – people like that. John was having a late career mini comeback and took me under his wing, we climbed his back catalogue of forgotten projects on gritstone esoterica. I agreed to research Curbar for a new guide so we'd do lots of first ascents there as well – I suppose John got me hooked on climbing first ascents. It was great climbing with your idol; he was probably 20 stone but could still piss 6c on grit, quite alarming actually seeing such a fat man get up such hard things – made me realise how important technique and footwork are. He had a great eye for a line and I suppose it taught me a different way to look at a crag – looking for gaps between the routes rather than the routes.
What were your highlight routes from this period?
I remember one Tuesday after school, aged 15, on-sighting London Wall – that was really good. Cockblock was my first proper E5, I took one 8.5mm rope, two runners and climbed it in about 30 seconds. It was a big confidence boost, so suddenly there were hundreds of E5s to do so I spent the next few years doing lots of the classics. More technical 6c/7a routes like Silk and Shirley's Shining Temple stand out – I started to get stronger, my first headpoint was White Lines when 17 and things like Messiah, Slab and Crack… I headpointed a few E6s and E7s and realised it was stupid and easy like this, it was a far greater challenge to try to on-sight them and I did a few on-sight such as Committed, Slip and Slide, White Water, Three Blind Mice, Slackers… then moved to Wales.
What was it like leading trad routes from so young? Were you aware of the risks involved and how did your parents feel about it?
It was ace! Getting scared was cool, getting pumped was exhilarating, and falling off just fuelled the fire even more. It was a bit of a learning curve though. I once nearly decked out, with my dad, when he fell off the last move of a route at Burbage, and we found out that my belay was just a bit too far to the left. I once fell the full height of Burbage South, whilst peering over the top edge. I was on my own, and I just rolled down the hill and walked away. I fell off once and ripped out a cam and hit the ground so hard that I followed through. Very painful and messy. So I suppose I became aware of the risks, after things happened, and there wasn't a lot my parents could do about it.
You were involved in a serious road accident in your teens which injured your left arm, how badly injured was it? How long did it take you to recover and how does it affect your climbing now?
My dad and I were going to Wales for the weekend and we had a car crash; the car flipped onto the roof and crushed my arm – my dad did well to get me out seconds before it blew up – it was like in a movie. I thought maybe we'd be climbing by Sunday; my dad informed me we wouldn't. My elbow was shattered in loads of places and the radius and ulna were also broken in a few places – it was hanging off and only held on by the nerves - muscle and skin ripped off. About a month later it was fixed enough to leave hospital with a load of screws and plates, muscle and skin grafts and about 30% movement in my elbow and about 45 degree rotation in the wrist, but the nerves were still not mended and it was paralysed radially – I could grip but not release. To get round this I had a contraption with finger slings on elastic attached to a plastic glove. About six months later with a lot of physio I could eat and dress myself and get rid of the claw, I was back climbing soon after and within a year back to where I was before – E4/5. I was told I would not climb again. Quite lucky considering if it had happened five years earlier they would have amputated.
I still only have 60 degree movement in my wrist and can't fully straighten or bend my arm. It is weaker on certain moves, especially pinches. Generally I have learnt to adapt pretty well and don't really notice it. Once I was trying Deliverance at Stanage and just tickling the jug and falling off. I heard two guys behind me, who were falling off the same move, saying: "Is he taking the piss, why doesn't he just straighten his arm?" I explained to them. I got 35 grand in compensation for it; I bought a small house in Llanberis, which doesn't feel like a bad deal to me. Would I rather have the house or arm? I don't know, the house has set me up well but in 20 years time when I have chronic arthritis I might change my mind.
You moved to Llanberis in 1999 to attend Bangor university, it seemed like there was a really vibrant trad scene in North Wales at the time, and your house was the centre of it, you made the most of the climbing on offer and the accompanying partying yet still managed to come out of uni with a First, how did you manage to balance everything? Was getting a decent degree something you felt was important?
I moved in with my mum and Llanberis and instantly felt like home. I absolutely love it here which is why I have stayed over 12 years. It is funny feeling so at home in a completely different country – I have not learnt a single word of Welsh and I don't really know what to make of that. I am not really fitting in in Wales but in a strange, mainly English, sub culture but it works. Yes there was a good scene in Llanberis. No one sport climbed, I hooked up a regular partnership with Will Perrin, both climbing the same grade and Will was always free and keen. It was a little competitive but it seemed to work for us and was also really good fun. My mum died in 2001 and I inherited her house. I was studying for my exams when she died and I suppose life wasn't good then so I channelled all my energy into my degree – I wasn't actually climbing as much at the time, don't know if it was my mum's death which caused this or the studying. Mum was a high achiever and she taught me the value of getting a good education. Anything that I try I like to try hard so I wouldn't have been happy with a climber's degree. The next five years in Llanberis, with not much to do but climb, party and hang out with cool people, was great when I look back at it. Caff came down from the Lakes, Patch and Ding Dong were always around, as were Mark Reeves, Noel Craine, and Ug to name a few more.
Many of your peers have chosen to find work in the climbing industry/make money from sponsorship yet you have always been very academic and chosen a career in your degree subject, were you never tempted to become a full time climber?
I was disappointed by how little I knew about Maths having got a First Class degree in it so I thought the only solution was to do a Phd and then I might know something. I was never tempted by hard work on an ab rope after a few small access jobs – not for me. If I had got better and stronger sooner I may have been tempted to try and make a living out of climbing. I didn't realise that was an option until I was in my mid 20s, probably a good thing as now I have a good job and interests outside climbing.
You always had great technique [one of Pete's nicknames is 'Golden Heels'] but during those first years in Llanberis you were still relatively weak and lacking in stamina, was this something you tried to work on or was training not of interest to you?
For a long time I was unfit, I was quite strong but I knew I could climb a lot harder but for some reason never got fit. I have never trained stamina I have only ever got fit through climbing more. I find training too boring so it took me longer to get fit and strong. My wife, Rachael, says my diet was terrible before I met her. I was always conscious that it was perceived by people that when I started ticking all these hard Parisella's problems they were all amazed and said 'wow what a jump in grade' but I knew long before then I could climb that hard it was just about getting fitter. I am still not fit, I only climb things which take me two minutes or under. I had a breakthrough in the spring of 2007 when I did Master's Edge ground-up – I had not climbed that hard for a few years and I wasn't very fit but that kickstarted by desire to try hard again.
What is it that is so good about on-sight climbing?
You've only got one chance (Leo said it in Onsight and it is true) You never have that same apprehension and confidence that you get on the first go, an innate challenge to set off on-sight and get to the top but it is also really hard. You climb so much worse on-sight (unless really talented at it) but in a way for me I got to a level where I had worked out the game. I was on-sighting a lot so I was kind of reading the rock and placing runners well and was on-sighting E7 so then it just comes down to how far you'll push it. After I had risked my life a few times (a few times to many perhaps) I thought maybe it was time to rethink. What on-sighting doesn't give you the opportunity to do is push your body to the physical limit, which I love.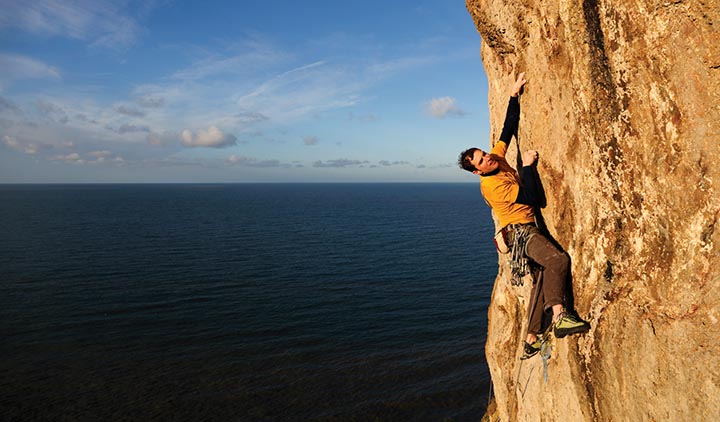 Pete Robins makes the most of winter sun to climb Nimitz (E5) on the walls of Craig y Don on Little Orme near Llandudno. Photo: David Simmonite
Between 2007 and 2009 you had a resurgence of on-sight/ground-up climbing on the grit, doing or trying End of the Affair, The Promise, Parthian Shot and Gravediggers (in The Pass).
Being fitter and stronger from sport and bouldering on the Orme I was able to push to E8 and 9 ground-up which was pretty cool and exciting although there often comes a grey area between a ground-up and a redpoint and the traditional side of it is out of the window – all the gear in, 90% of moves known and it is almost a sport climb. Having said that having the fitness to romp up E6s easily was really good.
You have shifted focus away from trad climbing but what do you think of the current trad scene?
If there were more good trad projects to do in north Wales, I'd definitely trad climb more. If I had more time, I'd travel more. It's a shame really that we're running out. The scene still seems to be vibrant though, which is really great, even though it's quite a small group of people doing the hard stuff. The weather plays such a key role in the trad scene. For the past few years, not much has been going on in North Wales, because it's been shit weather, but this year has been cracking and look what happened – Calum climbed The Indian Face, Caff has continued to spearhead the trad scene in the UK I think, he might actually have been operating in his own league this year. Imagine if there were five Caffs all competing against each other for the next new thing, maybe a few would kill themselves off and the others would on-sight E10.
Although you still do hard trad you have changed focus to hard sport and bouldering in the last five years, was this a gradual shift or was there a particular incident or reason for this?
I needed a change; going to the same old crags was getting boring, plucking off esoterica. Plus, pushing ethical standards on hard trad was getting confusing – was I on-sighting, headpointing or top-roping? The game just didn't seem to fit with me comfortably. People headpointing big numbers and actually believing they were that good at climbing is annoying. So the best solution was to just focus on something different, and have a go at all the truly amazing hard sport routes in North Wales. Routes that you've got to get really stuck into to get up. There are no grey areas in sport climbing to hide behind; if it gets a hard grade, it means it's a hard route. A complete change but very welcome and I'm still loving it.
As one of the best trad climbers in the UK how was it when you were much less impressive as a sport climber and did this drive you to make the rapid improvement that you have? I guess you have always had the technical ability so was it simply a case of gaining the extra strength and fitness?
Yeah, it massively frustrated me how weak and unfit I was. I could on-sight E7 but fall off F7a. I was so embarrassed climbing with you, Ben, and Dave Birkett in places like South Africa, I just knew I could sport climb hard if I tried. A mixture of getting bored with the local trad crags and bad weather drove me to the Ormes, and I didn't realise how much fun I would find it to be. It's a funny thing, too, because once you've invested so much time and energy in getting stronger, it's hard to let the drug go. I liked the transformation too much. It didn't take much effort to improve really, once I told myself it's actually okay to go sport climbing and I didn't have to do bold trad routes. In the end, I was doing lots of trad for the wrong egotistical reasons. So once it became routine to drive down the A55 each week, it was easy – I don't have to decide where to go or what to climb or who to climb with – it's always the same. I went from F8a+ to F8c+ in one season. I get a fantastic amount of pleasure out of the small incremental steps of progression on a climb, rather than just getting bored with the same moves. For me, the moves are completely different every time, and the longer it takes, and the more the pressure creeps in, the more interesting it becomes.
You say 'I was doing lots of trad for the wrong egotistical reasons' what do you mean by that?
Well it stopped being about the process and the experience, and more about the outcome and the response. Not always, but sometimes. It's a funny one really; I like doing new routes – thinking of something that no one else has thought about, and I like climbing hard, both things that generate publicity. And a splash of publicity and praise feels great, but too much makes me cringe and embarrassed. It would be interesting if I had more pressure to publicise from my sponsors. As it is, I've thankfully been left completely pressure-free to do what the hell I want – no blogs, reports, photo-deals. This is because I've not tried to make a living out of sponsorship, and I don't ask for much from the companies in return. I think this is the way sponsors should act. There are so many examples of climbers' agendas changing for the worse, as a result of sponsorship pressure to publicise.
You have repeated most of the hard sport and trad routes in North Wales, what do you think of the great climbers who have paved the way, created the history of the climbing in Wales? What routes/climbers really stand out to you from the previous generations (both Wales and UK)?
Well I've not repeated most of the hard trad Ben, plenty still to do. I'm so grateful to the generations before us, putting so much energy into developing crags and doing new routes, and I'm also glad they left a few gaps. George Smith stands out in North Wales – he's set the trend at almost every crag during the 80s and 90s. I don't follow all his ethics though; particularly I'm very against pegs – anywhere. It's a bit of an elephant in the room really, and will become more so as second generations of pegs start getting bashed in. Is anybody really thinking about the sustainability of trad climbing? Johnny Dawes's trad and slate routes were the hardest and best for years and are absolutely essential to Welsh climbing. On the point of Johnny, how lucky we are to have had such an innovative and creative activist right at the centre of our sport for the most important period in its history. Good effort Johnny, and I'm sure you're right, nobody will ever quite realise how much better you are than them. Stevie Haston, Andy Pollitt, and Steve Mayers have also invested decades of their life to ferreting around on untrodden Welsh turf. The list goes on: John Redhead, Dave Lyon, Martin Crook, Pat Littlejohn, Glenda Huxter, Simon Panton to name a few. I also think Wales received a massive international boost when Jerry Moffatt and Ben Moon devoted so much of their skin. Liquid Ambar was the hardest route in the world when Jerry did it, and they both brought world leading levels of power to this small deprived corner of Britain. Ondra still hasn't been here yet though, which is very disappointing.
The peg issue is something I also feel strongly about, what do you see as the solution – just leave the pegs to slowly decay and potentially 'lose' some routes? A concerted effort to eliminate pegs from existing routes? A record of 'first peg-free ascents'?
Well, in reality, we're probably only talking about a few hundred routes that are unclimbable now (or in the next decade), because of rotting pegs. You could ask whether it's better for these routes if (a) the pegs are replaced by someone keen enough to repeat the route, (b) stainless steel pegs are carefully placed, or (c) just wait until Caff on-sights them. Option (a) means that the old rusty pegs will probably remain and new ones bashed in next to them. This will mean whacking metal at the crag with a hammer, altering the rock (not too dissimilar to drilling), and creating a dirty rusty streak running a metre down the crag. I don't think this is a good option, for the sake of another decade of sporadic interest, before the process starts again. Option (c) means that a few bold folk come along once every decade and climb the routes. Absolutely fine in a way, and perhaps the best way to go if possible. But for some routes, they'll always be too bold without the pegs, and no features or too ugly with new pegs bashed in, so they are either forgotten to history, or we could allow option (b). This is already happening; selected activists are drilling holes and gluing in stainless steel 'pegs'. Most people won't realise they are not hammered in traditionally. This is obviously a very dicey area. Trad climbing is way cool, and bold routes are the coolest, so this type of solution has to be done, route-by-route, and by experienced locals and with local approval. But in some cases, this could be a sustainable approach to climbing management.
You and your wife, Rachael, are very settled in North Wales. Are you finding that you are getting bored with the local climbing? What keeps you motivated going back to the same crags? Making that 45 minutes along the A55 back to the Orme?
New routes keep me motivated. They dried up, to some extent, in the mountains, which is why I'm so keen on the Ormes. I just love it there, being by the sea, good mates, amazing cliffs, routes, and moves. Hard moves. Driving home with the sun setting and exhausted arms, late into the summer evening, ahh, it's heaven. When the newies dry up though, I'm stuffed. I might actually have to travel…
Pete is sponsored DMM, Evolv and prAna
This article first appeared in Climber March 2014