Over the Moon - Yangshuo in China
Wednesday 8th January 2020
By Gareth Parry
With thanks to Thorsten Henn/www.henn-photography.com for the photography.
Introduction
Yangshuo is the most well-known and popular climbing destination in China. A climbing holiday there will provide an amazing and varied travel experience, especially if you have the time to visit the recently established and more remote Getu Valley. Yangshuo is situated on the banks of the Li River and is a stunning part of the world.
The area and town is a very popular destination for Chinese tourists and a backpacker's Mecca so the facilities in town are second to none. Backpackers began going there in the early 1980s. Climbers arrived in the early 1990s after Todd Skinner had seen images from President Nixon's visit in 1972. Skinner added the first routes to the famous Moon Hill and popular Banyan Tree crags. Routes like Over The Moon (F7b+) and Red Dragon (F8a+) have stood the test of time and are, if you are at that level, a must-do. As the town has become more popular over the years it has expanded to cater for the package tourists and it now stands as one of the most popular domestic holiday destinations in China. With hostels and hotels ranging from 35 Yuan (£3.50) to over 9,000 Yuan (£1,000) per night there is obviously going to be something there for everyone from the dirtbag long term traveller to the rich and famous Chinese millionaire.
The stunning scenery is especially famous for its limestone karst towers which dominate the skyline and surround Yangshuo town itself. They cover an area of over 5,000 sq km and as you can imagine climbers have really only just scratched the surface. Its imagery is featured on the 20 Yuan note, thousands of traditional Chinese paintings and its stories in classic Chinese poetry.
Climbing and travelling in China and Yangshuo is, without doubt, one of the best climbing trips I have ever been on, there is a lifetime of climbing there, the trip has a safe but adventurous feeling about it and culturally is quite mind-blowing. Choose the more off the beaten track restaurants rather than the usual euro style eateries. Street vendors that will cook up some of the best stir fry ever for under a pound and the Muslim noodles restaurant is a must.
The climbing in Yangshuo is sport climbing and has something for everyone from F4 to F9a meaning it is a climbing destination for all. I went really to follow in the footsteps of Todd Skinner and Neil Gresham, both of whom had established the classic routes on Moon Hill. Neil's Lunar Tick is truly a world-class F8a. Last year there were some access problems as Moon Hill is set within a park. The new owners stopped climbing and removed the first couple of bolts from most of the routes. Access now seems to be a little better with maybe only restrictions on the weekend. I would say don't jump the wall as this will only cause more access problems in the future. The ticket on the gate is only £1.50. Take a long clipstick or a good climber.
The Crags
There are going on for 30 sectors but some of the best crags are:
Lei Pi Shan
Shade after 11 am, grade mix F5 to F8c+. Although
roadside the noise of the traffic quickly dissipates as you marvel at the humongous piece of limestone, constantly getting steeper as you progress up its 50m. The climbing is mainly crimps rather than the jug fest of Moon Hill. Technical classic such as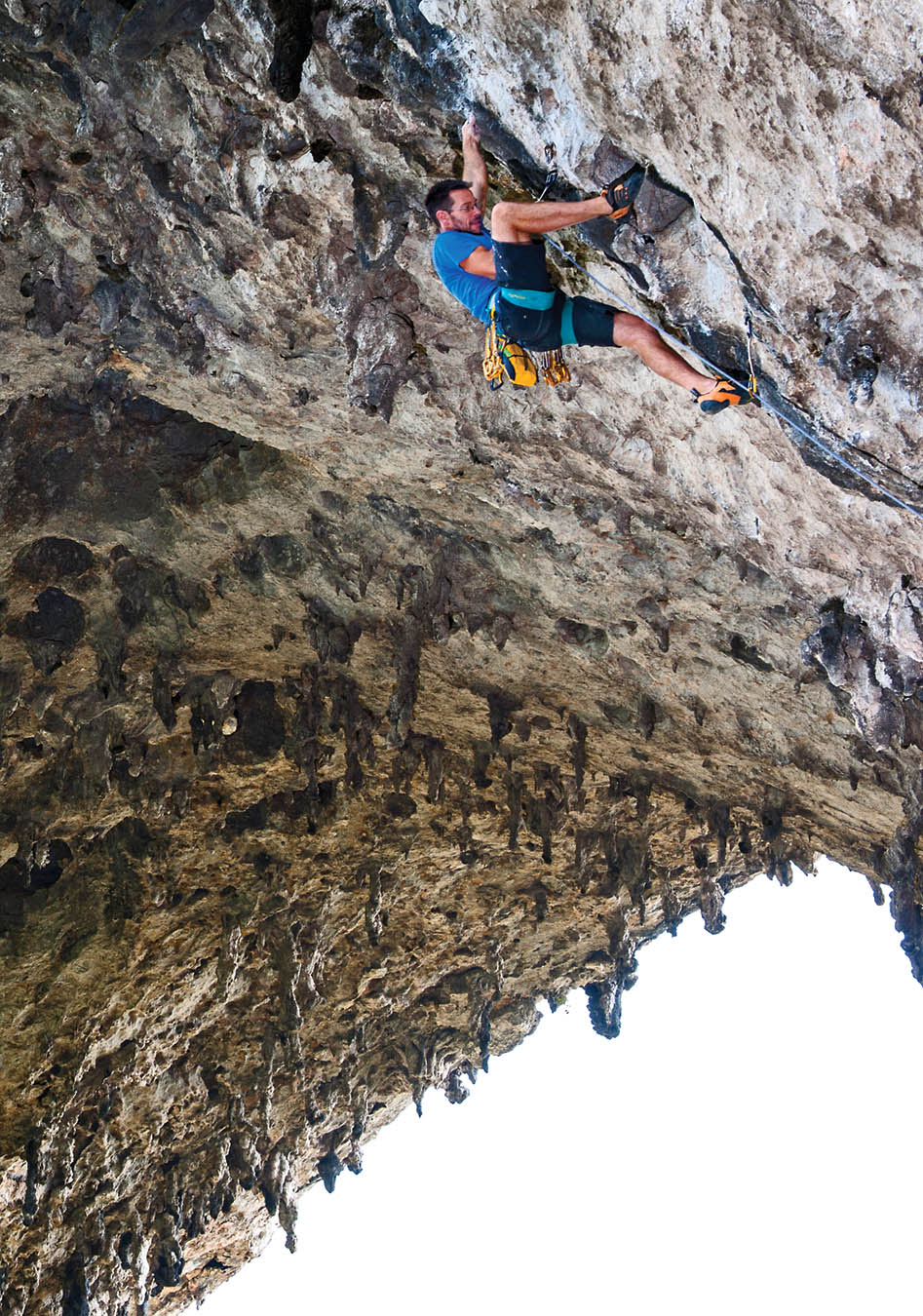 Singularity (F7b) and the more dynamic Single Life (F8a) are superb. If you want to really get the most, keep going. Everything has an extension to the top. Starting at F7b+ up to F8c+ the climbing on the upper walls is amazing. The extension to Single Life, Lightning is as good as F8b gets.
Moon Hill
Shade all day, grade mix F6b to F8b+. Moon Hill is undoubtedly the reason to go to Yangshou. It is one of the most impressive features for sport climbing on the planet, without a doubt. classic routes are pretty much each and every one. Over The Moon (F7b+) not only describes the line but also the feeling when climbing it. Lunar Tick (F8a) is a modern classic from our very own Neil Gresham. It embraces the majority of the arch and has you spending a lot of time in upside-down land.
Riverside
Shade all day, grade mix F4 to F8b+. Another roadside crag with a great view of the river, Riverside again has a great set of routes. There are many classics in the low F7s with Plutoid (F6c+) being a great tech fest. Get it right it's steady away, get it wrong it feels more like F7a. Flaming Hornets at F7b+ is another classic with big moves and big holds complete with a cheeky finish that makes for some super photos if you can get your mate to jumar up a rope. Beer Will Taste Good (F8b) is super cool, very hard climbing leads to steep powerful moves on good holds until the crux moves arrive followed by a very cool vertical section to land you in the F7a+ upper section. Try not fall here, although it has been done.
Swiss Cheese
Afternoon shade, grade mix F4 to F7c+. The pockets there give the crag its name. Pockets from normal to just huge abound making the climbing fun with plenty of great rests to take in the views. Again, plenty for parties with varying levels of ability with around 10 quality routes under F6a. The Travelling Alan at F6b+ is definitely worth seeking out. In fact, this goes for most of the routes to be honest.
Wine Bottle
Shade all day, grade mix F4 to F7a. This crag is a must for a climber operating in the F6s. A great selection of routes with plenty of stepping stones through the grades for those wishing to push their on-sight leading limit. It even has a handy topo at the base of the crag.
White Mountain
Sun until 4 pm, grade mix up to F8c+. White Mountain is home to some of the hardest routes in Yangshuo and includes the amazing Chris Sharma F8c+ of Spicy Noodle.
The Egg
Lots of shade and sun, grade mix F5 to F7b+. The Egg is a great tower to climb on. Bolted routes for its whole circumference mean that you can chase the shade or the sun all day depending on the temps. It is a great crag for climbers operating in the F6s with lots to go at. Eggstreme Eggsposure (F6a+) is class just for the route name alone and you can also find a few multi-pitch routes for those who like to get high.
How to get there
As Yangshuo is in Southern China you have two options of international airport to fly to; Beijing in China or Hong Kong. We chose Hong Kong as the climbing and city are worth checking out. Tung Lun Island for the climbing and the Wooloomooloo Sky Bar are a must. From HK you take the MTR to the border and cross on foot either at Lok Ma Chau or Lo Wu. Lo Wu is the larger of the two and usually faster to cross. From the other side take the underground to Shenzen North where a new high-speed train (400 kph) can be taken to Guillin. If you fly to Beijing you can take an internal flight to Guillin or by bus depending on your budget. From Guillin a 60-minute bus or a leisurely six-hour boat ride takes you to Yangshuo.
When
September through to March. September can be warm and best conditions are December and January. Temperature-wise it is a little cooler but there can be more rain. A time to avoid is the National Holiday, Golden Week, it seems like the whole of China is there and the town goes into gridlock.
Getting around
There are a number of options to get about. None of the crags are really within walking distance. The cheapest option is to rent a pedal bike, next up would be a moped, if you are there for longer you can easily buy a moped. Many climbers will tend to share taxis, eight in a van will make for a cheap, comfortable and safe… ish day out. The roads in China are an amazing and sometimes heart-stopping experience, with a little confidence though you realise that by some miracle everyone misses each other.
Visa
Make sure you get your visa sorted early, don't leave it to the last minute. If you are British you will need a 30-day tourist visa.
Accommodation
If you are a first-timer I would book into The Climbers' Inn, a cheap and cheerful hostel that is run by the wonderful Lilly, for climbers. All the info you will ever need can be found there. It is also a great place to meet other people and hook up for lifts, belays or beers. Book a few days there then you can scope out other options that might have softer beds. We also stayed at the Abond Inn, a hotel run by the Chinese powerhouse, Abond, he also has a bar in town, Rock Abond with a climbing wall, ever fancied training with a few beers in a bar at 11 pm at night? Well, you can there. Another option is The Riverside Inn. This is where many of the visiting Chinese climbers will stay. It is run by August; you can email her on anna071019@126.com. Again she is a wealth of information. All the accommodations I have mentioned are climbers and speak English. If you are staying for longer than a month it might be worth looking into renting an apartment.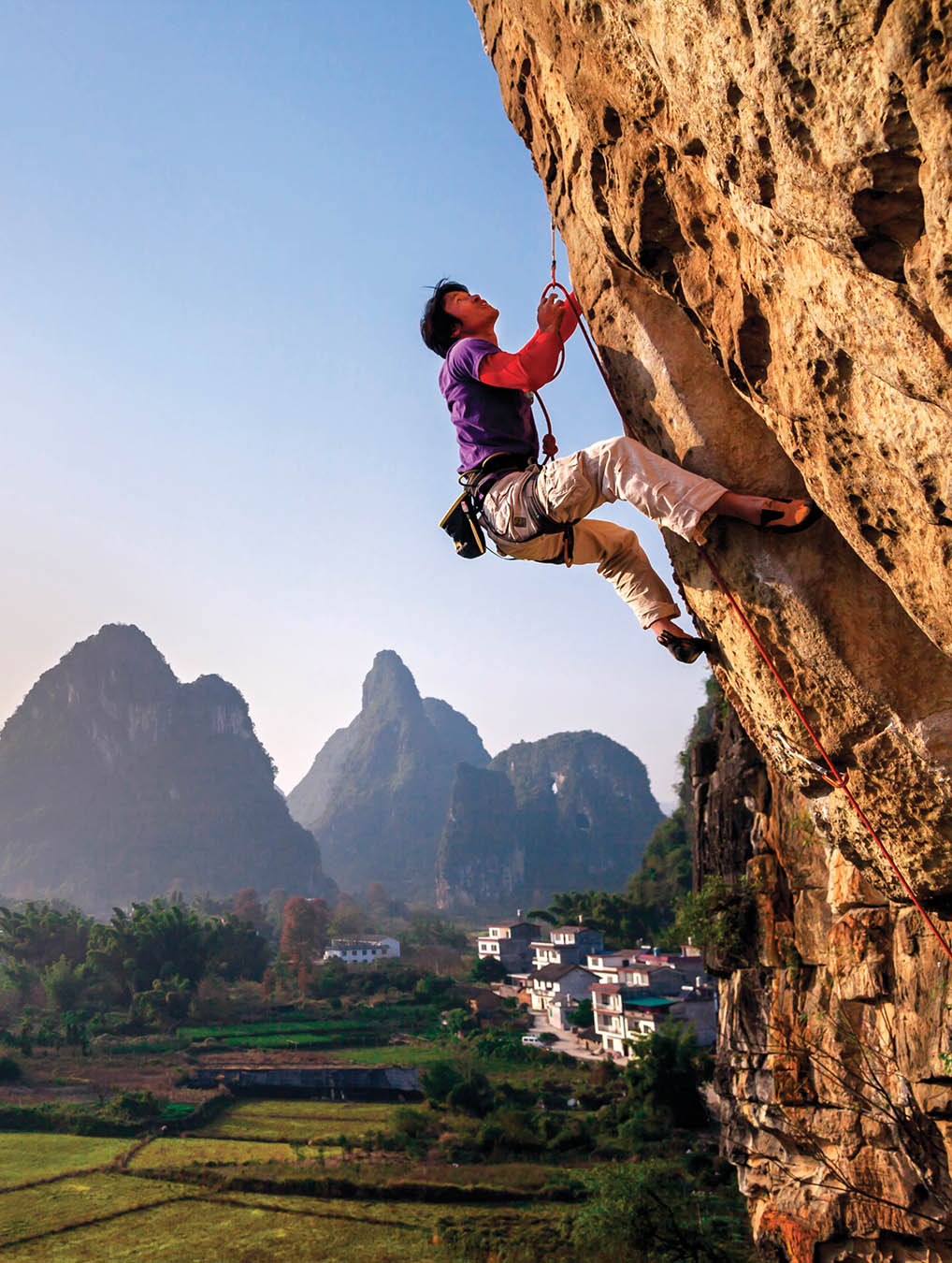 Bars
The Rusty Bolt is the place that the climbers hang out. A nice little bar that is a bike rental shop in the day. From there plans for climbing are made or further nighttime adventures. You will not be short on choice for, bars, music bars, karaoke, clubs and rooftop parties.
Guidebook
Yangshuo Rock - A China Climbing Guide, the 2016 guide from Andrew Hedesh, is the most complete and up-to-date modern guide with detailed maps and photo topos. Click here for details of the guide.
Don't miss
West Street area
West Street in Yangshuo is a must-see, you will either love it or hate it. Trading in West Street dates back to over 1,400 years ago, it was the original food street. Today it is a booming shopping street, a fun place to spend time just walking and taking in the sights and sounds. Karaoke Bars, dancing bars shops restaurants, western bars, music bars and hundreds of trinket shops all surround this street and will cater for everyone tastes. For breakfast, Minority serves up a good start for the day. In the evening you can't beat Muslim Noodles (ask at the Climbers' Inn for directions) and if you fancy a beer and possibly a boogie head to either Bad Panda or Mojo Bar for a late night, just make sure your next day is a rest day.
River Boat
Take the time to have a trip down the river on a bamboo raft. Plenty of opportunities for some great photos.
Cormorant fishing
Yangshuo is famous for the images of its cormorant fishermen. Take a nighttime trip to see the very traditional method of fishing up close.