Murray's Route, Dow Crag, Lake District - UK Classics
Keith Sharples revisits Murray's Route, one of the great classic routes of the Lake District.
We were only five minutes into the walk to Dow but I figured I was five minutes behind already. Sure, I was hauling more than they were; a full climbing rack AND a fully laden photo bag, but that still didn't explain why my approach shoes felt like diving boots. Glancing back over their shoulders, they notice I'm dying on my feet and wait for me to catch up. "Give us some of your kit" they say. I might have protested had I the breath, but I hadn't, so I didn't. My ego was in tatters, even more so when, even with a lighter load, I fell behind again. It looked like it was going to be a tough day.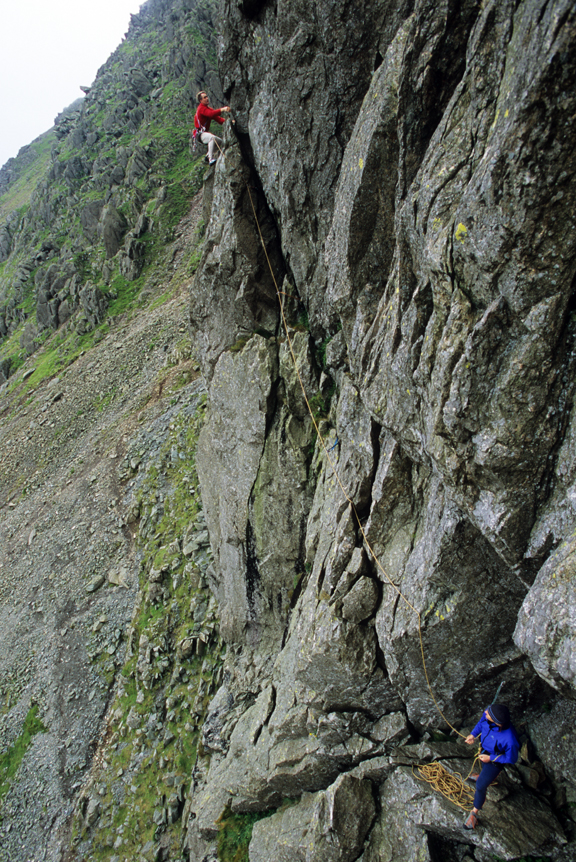 The rest of the walk-in went in a blur; I arrived at the rescue box beneath the crag last, of course. As I stumbled along into Dow the memory of my first visit – thirty-odd years before – flooded back into my mind's eye. Dow is no small crag and, proudly positioned as it is overlooking Goat's Water due west of Coniston Old Man, it's very definitely a mountain crag. Murray's Route was our intended target that day all those years before; two young 'uns we were, looking to cut our teeth on a chunk of classic rock. If I recall, we had just switched from hawser rope to a kernmantel and we had every modern bit of kit known to man: a MOAC, a Baby MOAC, a Clog as well as a handful of slings. You can laugh but we were well-equipped. Murray's looked intimidating but we manned-up and duly dispatched said route without incident – at least that was my recollection.
At that rescue box at the base of Dow I was rescued from my own personal world of pain. I made a mental note to carry less for my next walk-in or else get fitter. Having arrived ahead of me they were all geared up and ready to rumble. Not that they had a lot of gear because they'd done Murray's before and only recently as part of their Lakes Classic Rock Round.
Time for some detail I guess. They, my speedy heroes, were Nick Wharton and Brian Davison a pair of well-known (Lakes) locals. They were good climbers for sure, but they were both as fit as the proverbial butcher's dog too. Alongside their climbing credentials, Nick and Brian were also fell runners of some pedigree each having completed the infamous Bob Graham Round in the past. The Lakes Classic Rock Round was Nick and Brian's latest venture combining both climbing and fell running. In simple terms, the Classic Rock Round involved a circumnavigation of all 14 Lakes routes in the book, Classic Rock, in a day, running between the respective routes and crags and then climbing each of the routes in turn. They had climbed sans harnesses using but a single rope and a handful of nuts and slings for protection. They were definitely more Le Mans than F1 for sure but after my torturous walk-in I felt I was well south of a would-be Mini Cooper – somewhere down around a Morris Minor.
So now you know the company I was in, perhaps a little detail about Dow Crag and Murray's Route might not be amiss? Dow lies at a shade over 600m, is of high-quality rhyolite from the Borrowdale Volcanic group and despite all my protestations is reckoned to be a mere one hour walk-in via the Coniston approach. An east-facing crag, Dow gets the morning sun, more of which later, and has a fine collection of routes across the grades, albeit none in the highest grades of today. The crag is split into five buttresses, each of which has an alpha moniker: 'A' through to 'E'. Murray's Route, a 74m (250 ft if you prefer) Severe, takes a rising right-to-left line up B Buttress finishing at the so-called Easy Terrace, a large rake separating A and B Buttresses.
My heroes run the first two pitches together. Most climbers, especially those that are but new to the business, will want to savour the experience and stay with the guidebook pitching plan. The hanging slab on the first pitch is recognised as being crucial. None of that last pitch crux stuff on Murray's; it's tough from the get-go and go you must, but back to my heroes on their belay in the back of the prominent cave (Abraham's Cave) in the middle of the crag. Their arrival at Abraham's coincides with that of a hail shower of considerable proportions. Nick and Brian didn't seem unhappy to avail themselves of the shelter Abraham's afforded. Envious of the shelter of the cave I, however, was stranded hanging off a single ab rope high above and in the full wintery blast of the easterly that was bringing the hail. Hail wasn't quite what I had in mind when I'd signed up Nick and Brian for this photoshoot – nor was hail what I had catered for in my (apparently) modest attire.
After what seemed like an age, the hail departed and the action resumed with Nick romping up the glorious flake crack of the third pitch. At one point even the sun poked its head out, though it must have thought better of it as it was soon away again leaving us all the colder. Nick wasn't troubled by this pitch in the slightest though, there are those that will find it a little out-there as overhangs abound in this area of B Buttress. Beyond the third, more chimneys, V-grooves and corners lie in wait and then finally Easy Terrace high up and on the left. All that remains is to slither back down Easy Terrace and gaze in wonder at the steep smooth walls of Upper B Buttress (home to some Extreme Rock action) whilst heading back to a well-earned snack (you did make a snack didn't you?) down at the rescue box. Those looking for more action might consider a further venture onto Murray's Direct (VS) whilst those satisfied or time-pressed will head for home with one of the great English mountain routes under their belt.