The Climber's Voice - Easter Weekend: A Pass Challenge
James McHaffie gives us a personal account of how he completed the 'King of the Pass' challenge.
Driving up and down the Llanberis Pass to and from work at the end of March I got slightly more excited each day as Central Icefall Direct's top icicle slowly began to touch down. I've lived in Wales for 10 years and in the two winters it formed in 2009/10 I was unfortunately away getting messages from friends about how great it was. A plan was hatched with Jim McCormac to do try it on the Easter Sunday. Rumour was also spreading that Pete Robins was going for the 'Man of the Pass Challenge'. This challenge was thought up by Neil Dyer some years ago involving climbing the ice routes, Cascade, the boulder problem, Jerry's Roof and Right Wall on the Gromlech, all in a day. In January two years ago Neil Dyer made a fantastic effort, having climbed Cascade and Jerry's Roof in foul conditions Neil scampered most of the way up Right Wall only to find verglas and snow on a ledge leading to a big fall.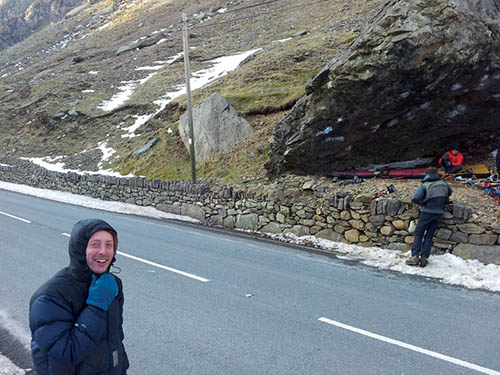 I met up with Pete in the Beacon climbing wall and quizzed him on whether he was going for it. It turned out he was not and it was just Jon Ratcliff and Co on a wind up. I asked him if he fancied joining us but he said he had better things to do. Neither myself nor Jim had climbed Central Icefall Direct and with clear skies forecast it seemed perfect conditions to try a Pass challenge similar to the one Dyer had thought up. Gareth Ashton having been disappointed to have missed Neil's effort the two years prior was keen to come out and get some footage along with Neil Dyer himself.
At some point prior to setting off it was decided that the ante could be upped to a 'King of the Pass Challenge' which would mean climbing Lord of the Flies in place of Right Wall although both are about equal in their historical nature, Lord is a bit more direct. Each climb is held in high esteem, being in Cold Climbs, Extreme Rock and Boulder Britain (thought Niall would like his book being mentioned along those other two).
The three climbs
Central Icefall Direct (V) was first climbed in 1979 by Mick Fowler, Phil Thomas and Chris Griffith. The icicle on the top pitch never touched down when they did it which would make it feel a bold outing. This formed in 2009 and 2010 but hadn't formed since about 2001 from then I think. It's a rare prize.
Lord of the Flies (E6 6a) was also first climbed in 1979 by Ron Fawcett who was filmed on the ascent and offers some classic footage. Apparently the huge wobbly block at the top was trundled prior to the ascent. The first part is serious and many people manage to get pumped enough and fall off very high up.
Jerry's Roof (Font 7c) first climbed by Moffatt in 1989, apparently shown to him by another famous climber. It feels more like a short sport climb and has a hard deadpoint and swing for the crux, unless you are flexible. It's one of the best and most popular hard boulder problems in the Pass, and indeed Britain.
On the day...
Being a Bank Holiday weekend we expected a crowd to be at the base of Central Icefall Direct when we arrived but we were delighted to be first on the scene. The night before two friends and Pass/world climbing pioneers, Tim Emmett and Neil Gresham had climbed three of the best ice routes in Wales starting on the Devil's Appendix in Ogwen and walking over to Craig y Rhaeadr to climb Central Icefall Direct and Cascade finishing at 4am in the morning and taking less than 10 hours overall. I was a little disappointed that the top icicle still had lots of Damoclean icicles and a text from Tim saying watch out for the top pitch saying 'it's fragile' wasn't great for the morning nerves. Another friend Gareth arrived and made a swift solo of Cascade and when myself and Jim arrived beneath the top pitch, three more friends: Jon 'the Hobbit' Ratcliff, Andy Scott and Tim Badcock were perched at the first belay. I told them it would be like being in a war zone to be where they were and they said to do whatever I had to. Shouting "Ice" a great deal it was Andy Scott's whoops which let me know they were enjoying dodging the pieces and were still, thankfully, okay.
After cleaning the bit to gain the icicle I pulled above and noticed the inch wide horizontal fracture Tim had warned about. The route had three fantastic ice pitches and Jim and I were made up. We got to the base at 11.20 and a handful of locals along with Mick Lovatt had arrived, unbelievably quiet, but we weren't complaining. At the Cromlech boulders Clare Carlsen was a total star and brought our team a breakfast butty each before we headed up to the Gromlech.
Arriving at the base with Jim I was disappointed to see big wet streaks down the top of the Lord of the Flies and an ice chandelier which looked like it could go and if it did could knock off the leader or injure the belayer. Dyer appeared and being a legend pronounced he would boot the chandelier off and get some shots from above. Tim Emmett (the ever stoked furnace) and Sophie arrived along with 'Fluff' and Adam Wainwright making the atmosphere pretty sociable. The first three quarters of Lord were dry so I thought to do that and finish up the top of Right Wall but reaching the girdle ledge I asked Neil if the top looked climbable, he gave the green light and a few goppy moves later, with some yells of encouragement led to the top. It was the fourth time I'd led Lord of the Flies and to be honest it felt as good as the first time. Climbing it reminded me of Livesey's foresight, Fawcett's skill at climbing it in welly boots, Leo doing it by headtorch, Dave Thomas by soloing it and the first time I climbed it at the end of a great week in Wales in 1999 with Colin Downer and Wesley Hunter. During the week staying with Ken Thoms in Deiniolen we did loads of Welsh classics, The Cad, The Moon, Sexual Salami, Cardiac Arête, Silly Arête, Central Sadness, Comes the Dervish, Edge of Time and Weasels... and finished the week on Left Wall and Lord. It was one of the best weeks of climbing I'd had at the time and doing Lord was the cream topping of the week. Tim and Sophie bombed up Right Wall and Tim mentioned that he and Leo had done it in trainers with a crap belay on the girdle, I was both impressed and disturbed by their antics.
We piled down to Jerry's Roof with Neil mentioning it should be a formality but I wasn't as confident having woken in the morning with painful aching strap muscles and bingo wings from doing an E7 on the Lleyn called Harmony the day before. Jerry's is a problem I must have done around 200 times or more and could do a few laps quickly when fit. However, I've gone from warming down on Statement of Youth to having to redpoint it again in the course of a few months and ten goes later on Jerry's Roof things were not looking optimistic. Considering it was some poxy fun challenge for locals I felt a ridiculous amount of pressure to get up it knowing I wouldn't be trying the trilogy again nor would conditions necessarily come together to allow it. After a 15-minute rest I managed to drag my sorry self up it feeling considerably relieved. Jon Ratcliff and Andy Scott had come down from Central Icefall Direct to lend moral support for the final push. Tim Emmett came down and having not done Jerry's for years got it done super quick. A burger fest at The Heights bar with most of the people who had been out was a great finish to a day incorporating some of the great types of climbing in Pass. Thanks to Jim, Gaz, Dyer, Clare, Hobbit, Andy Scott, Tim, Sophie and everyone else for making it an ace day.
Two days after this Neil Gresham arrived back in North Wales to do the Pass Challenge keen to make the most of the incredible conditions. Tim Emmett also drove down from Scotland keen to do it before heading back to Canada. After a close call with both of them near to doing it the same day, which involved some screamers off the top of a very wet Lord of the Flies, Tim had to head off. The following day Neil accompanied by Robin Thomas went for it and having had success on Jerry's, Lord of the Flies and just topped out on Central Icefall Direct they heard a huge roar. On returning to the base they discovered that the top two pitches had collapsed, ensuring plenty of 'what ifs' would be going round in the pub celebrations and also that the challenge was unlikely to be done again this season. Thanks to Neil Gresham and Robin for thinking it was worth repeating so fast.
This article first apperaed in the Climber's Voice section of Climber magazine.