Ben Nevis - 12 of the winter best
Thursday 17th October 2019
Tim Neill highlights his personal favourites from the abundance of brilliant winter routes that festoon Britain's highest mountain.
It's hard to draw on only 12 routes on the best winter mountain in Scotland when probably every route is a gem. The experience you have will always be an individual one depending on the weather, the conditions and the friends with whom you climb them. I could tell you about nearly 150 different winter routes (some I've enjoyed dozens of times) but here are some belters to get your teeth into...
Moonwalk (IV 3)
If you walk that little bit farther a treat on the Little Brenva Face awaits more often than not. A little sun is nice (it helps the ice along early season) and can add an extra dimension to this wild snowy, corner of the Ben; Alpine.
North East Buttress (IV 4)
The classic mid grade tour de force. Throw in any of the Minus Gullies if they're in as an alternative start for a full value climb; long.
Tower Ridge (IV 3)
Tower Ridge is hard to beat, whether you're at your limit or a seasoned gnarler this climb transcends whatever grade you think it is; magical.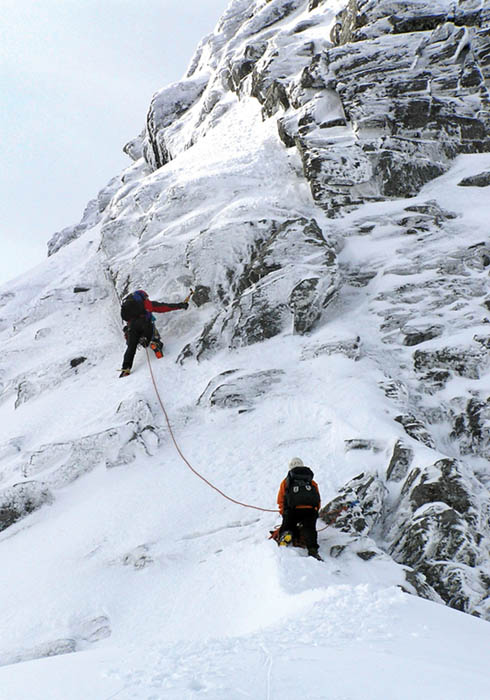 Photo: Climbing the Little Tower of Tower Ridge (IV 3) in well banked-out conditions. Giles Trusell
Orion Face (V 5)
Without being too specific, any route up this face is a privilege to climb whether it's the original or linking a more direct start with one of the out there 'Space' finishes; run-out.
Point Five Gully (V 5)
Everyone who climbs ice has heard of this and for good reason. This was my first route at Grade V when I was a youngster and a 20-minute solo last winter, both perfect days I'll remember for ever; king line.
Point Blank (VII 6)
A lot of the great characters of Ben Nevis thin ice-climbing have played a part in putting anyone off repeating this climb (as well as the conditions required). So many attempts for the first and subsequent ascents, peg-popping lobs, cutting crimps for 'binman' gloves and all that stuff of legends. Iain Small, who'd made the second ascent, wanted to know if it had been terrifying on ours? The fear!
Smith's Route (V 5)
This is a route that you can do every season and maybe you should do… just to try and imagine being there in February 1960 cutting steps. All the variations are fabulously exposed; humbling.
Pinnacle Buttress Direct (V 5)
An underrated icy trip with continuously good climbing all the way to the Great Tower on the eponymous ridge. Take in the Recess or Cracked Slabs route onto the Great Tower for an extra star; variety.
Tower Face of the Comb (VI 6)
That man Smith again but this time in 1959. Ahead of its time in concept and difficulty, this has all the quality and techniques required of the modern day testpieces on the walls of Number 3 Gully but with a great mountaineering feel as you finish along the crest of the Comb itself; benchmark.
Green Gully (IV 3)
It hangs like a sentinel over the Ciste corrie always catching your eye. It's best enjoyed late in the day later in the season after the crowds have gone. Quick climbing, good belays and runners and just you and your pal; dependable.
Shield Direct (VII 7)
Maybe one day I'll climb this route if the conditions and opportunities all align. A true mixed climb, a stellar line and it looks nails, Mick Fowler never messes around; can't wait.
The Shroud (VII,6)
We watched it grow for weeks as we walked up the glen with clients set on more reliable climbs. The icicle had touched down (unlike the first ascent), we had a day off, we were on a roll and ahead of the other suitors for a second ascent… the most beautiful ice formation in Scotland maybe? Ephemeral.
Many thanks to Tim Neill for this article. If you want to know more about Tim and his guide services go to www.timneillguiding.com