10 Low Grade Scottish Winter classics
A rundown of the top ten Scottish winter classics by Sam Leach
Summit Gully (I), Stob Coire Nam Beith, Glencoe
Summit Gully is a real one-star wonder. It's not exactly off the beaten track, but it's bronze medal puts it at the edge of the limelight, which reduces the crowds. Local mountaineering instructor Mike Pescod is a fan: "Summit Gully is a great climb, a long way to get up a beautifully rugged coire." The route finishes right slap bang on the summit, making it a satisfying mountaineering day out and certainly one of the best ways to reach the top of Bidean Nam Bian. The climbing is pleasantly varied with a great atmosphere: sections of more enclosed gully climbing open out into wider slopes at times, and there is even a bit of bifurcation navigation to be done in the middle. Finishing the route with a walk over the summits of Bidean Nam Bian and Stob Coire nan Lochan is a great way to appreciate the mountains of Glencoe.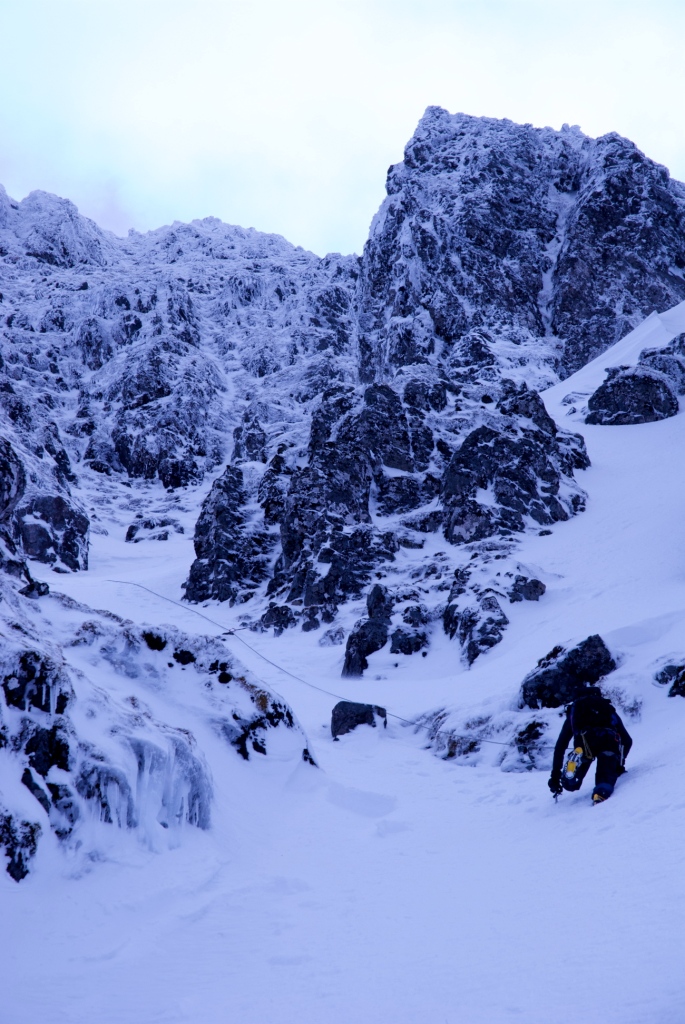 Summit Gully. Photo: Sam Leach
Raeburn's Gully (I)
Creag Meagaidh
Coire Ardair is one of the most impressive pieces of mountain scenery in Scotland. As you come around the kink in the glen, the looming cliffs come into view, overhanging the foreboding, dark waters of Lochan a' Choire. Raeburn's Gully is a deep, diagonal slash through the cliffs behind the Lochan, amputating Bellevue Buttress from Pinnacle Buttress. First climbed by Harold Raeburn, one of the great pioneers of Scottish mountaineering, this route has become one of the classic easy gullies. It is a long and homogeneous gully climb and, like the many of the routes in Coire Ardair, it ends satisfyingly on the summit plateau of Creag Meagaidh. As with all mountain plateaus, Creag Meagaidh should be treated with respect, so ensure your map and compass skills are sharp!
Forcan Ridge (I/II), The Saddle, Northern Highlands
Sandy Patterson, a freelance mountaineering instructor based in Moray, extolls the virtues of this long and remote ridge traverse in the Northern Highlands: "This is a great route with a little bit of everything: climbing, traversing and abseiling. If you catch it in the right weather it is almost like being in the Alps!" You can pick your line to vary the difficulty - stick to the crest for the higher grade, or skirt the difficulties at your whim. Patterson has never had company on the route, so if you are after a bit of seclusion, this could be the route for you. Its remoteness does have disadvantages, says Patterson: "There is no SportsScotland Avalanche Information Service (SAIS) forecast for this area at present so you have to use your own experience." Wait for a good freeze so you don't damage the turf or have to wade through powder all day.
Dorsal Arete (II), Stob Coire nan Lochan, Glencoe
Dorsal Arete lies at the very back of Coire nan Lochan in Glencoe and is a hugely popular route, "sometimes referred to as Dorsalgrad after the number of people you might find climbing it" says mountaineering instructor Mike Pescod. But don't let that put you off. Dorsal Arete is "a superb route" and "one to challenge a grade II leader. The hardest moves are quite technical for a grade II, but they are short-lived and very well protected." Don't expect to have it to yourself at a weekend, but if you ever do, you'll feel like the luckiest climber in Scotland! Take care after snow, as windslab can build up in Coire nan Lochan, making the approach dangerous.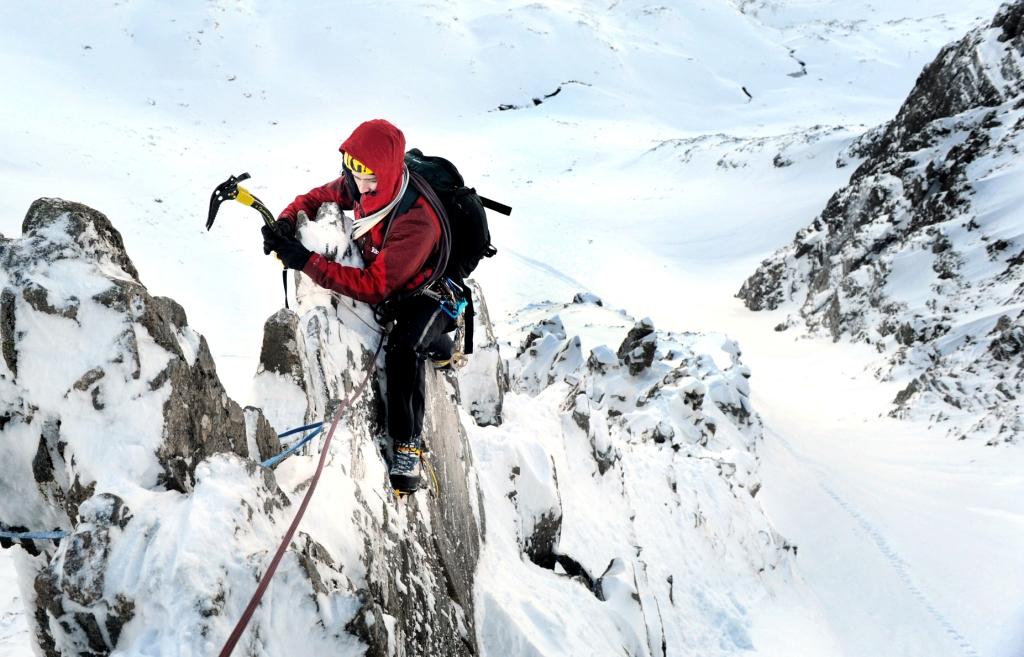 Dorsal Arete. Photo Sean Bell
Black Spout Left-Hand (II), Lochnagar
Lochnagar is a long drive around the mountains unless you are heading from the Aberdeen direction, but it's well worth it, says Andy Nisbet, SMC guidebook editor and local instructor: "It's where I learned to climb frozen turf or good neve, rock or mud and slime; it can throw anything at you. But you'll have a good day and should get something done." Black Spout Left-Hand branches off the deep cleft of Black Spout: "As soon as you enter the coire, it catches your eye. As you start [the route], Black Spout Wall looms over you. Turning left into the Branch, you don't quite know what to expect - a steep section or smoothed over, maybe a cornice, and finally the Crumbling Cranny pretending it's not steep."
Fiaciall Ridge (II), Stob Coire an t-Sneachda, Northern Cairngorms
The Northern Coires of Cairngorm are one of the most popular winter climbing areas in Scotland. The ski road takes you a satisfyingly long way up the mountain, and the coires offer a range of routes across the grade spectrum. Their altitude makes them reliable winter venues, with a selection of classic gullies and buttresses in the I-III grade range. But their northerly aspect and trademark strong winds count against them, often creating dangerous avalanche conditions after snow or storms. The Fiaciall ridge, which slices between Coire an Lochain and Coire an t-Sneachda, sheds snow and remains safe in most snow conditions. The ridge starts as a broad whale's back, before narrowing to a rocky crest for the final section to the plateau. The difficulties are easily avoided, and the temptation to skirt around to the right should be avoided for the best experience.
Fiacaill Ridge. Photo: Sam Leach
Left Twin (III), Aonach Mor
Left Twin is one of a variety of gullies in Coire an Lochan, and favourite route of Blair Fyffe, the local observer for the SAIS: "Left Twin is a good traditional icy gully. It forms readily and is resistant to thaw." Its approach is unusual for the Scottish Highlands, with the Nevis Range gondola taking a lot of the leg work out of the approach. "It is probably best to go to the summit plateau, then descend via easy gully to the crags," says Fyffe. The routes are quite short, but that can allow you to get in several in a day, and there are plenty to choose from. Coire an Lochan's altitude makes it a reliable venue. But Fyffe warns: "It is not a good option during a heavy thaw or during/after heavy snowfall. In these conditions, large cornices readily form, threatening routes, and there is often a high avalanche danger in the coire."
Left Twin. Photo: Rick Asher
South East Ridge and The Arete (III), The Cobbler, Southern Highlands
The Cobbler is a shapely, rocky peak at the head of Loch Long in the Arrochar Alps. For Mark Leyland, team leader of the Arrochar MRT, The Cobbler is his local hill and SE Ridge and The Arete is his favorite route up it within the grade boundary. "It is a classic mountaineering day out, taking you directly to the top of the Cobbler. Despite its proximity to Glasgow, it seldom has the crowds found in Glencoe or on the Ben." The routes link up to offer a varied day out, with turfy mixed climbing, an abseil and the famous 'threading the needle'. While climbable in most conditions, Mark warns of the "large amount of damage done to the soft mica schist" in poor snow conditions. The Cobbler is a relatively diminutive peak at 884m, so look out for "a low level freeze following a period of freeze thaw."
Penguin Gully (III 4), Beinn Dearg, Northern Highlands
"Beinn Dearg is one of my favourite mountain areas," says Sandy Patterson. "It feels remote but does not take too long to get into. It offers big impressive scenery that puts you in your place and reminds you who is in charge when you are in the mountains." Penguin Gully is a traditional Scottish gully climb that cuts up the west buttress of Beinn Dearg and offers a varied gully climbing with rock, ice and turf protection. This route is at the top of the grade boundary, but "the steep sections…are short-lived and so a great way to build up some experience and confidence for harder routes." If you are awaiting good conditions, Patterson's advice is to wait for freezing conditions in the day after a period of freeze-thaw. "It is a fairly reliable route from mid-January through to mid-March," he says.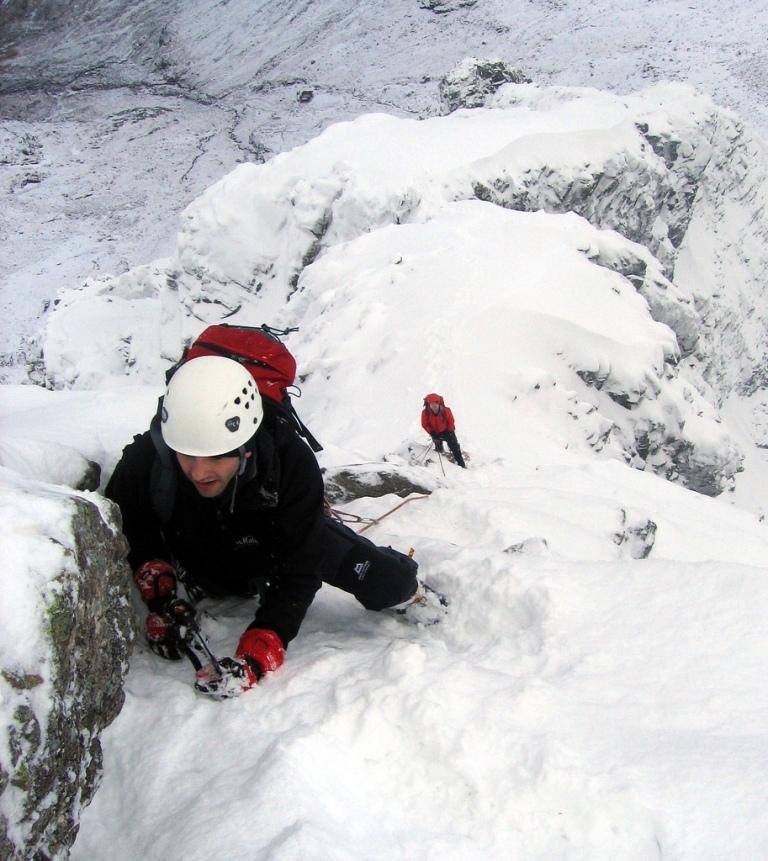 Tower Ridge. Photo: Mike Pescod
Tower Ridge (IV 3), Ben Nevis
Tower Ridge is a definite 'tick-list route' - long, beautiful and with a 'reputation'. It rears up from the valley floor, looming over the CIC hut. Dan Bailey waxes lyrical about it in his book Scotland's Mountain Ridges: "Tower Ridge has all the cachet and atmosphere of a truly classic climb. With an obvious line, superlative length and magnificent situations, it ranks among the grandest routes in Scotland." But its length, and notorious crux sections can make it a tough proposition for the grade III leader: "It needs to be taken seriously by even the most accomplished teams. Powder snow and verglas add considerably to the challenge, and benightments are common."
Info
Conditions
As soon as the first frost spreads its icy fingers over the windows, climbers eyes turn to the array of websites which provide clues in the search for good 'nick'. As well as established weather and condition sites, a large (and growing) number of blogs give reports on climbing conditions. Here are two websites to get you started.

The Mountain Weather Information Service is one of the best sites for mountain weather forecasts - detailed and precise. They also have links to some of the best blogs for condition reports.
www.mwis.org.uk

SportsScotland Avalanche Information Service (SAIS) is a vital tool in choosing your venue. They provide avalanche forecasts and reports for the most popular venues.
www.sais.gov.uk
Guidebooks
Scottish winter climbs are covered alongside rock routes in the Scottish Mountaineering Club's definitive guides, which are gradually being updated with excellent, modern versions. With the fickle nature of Scottish winter conditions, you really need the whole range of guidebooks to keep you covered wherever you are chasing conditions. For those that can't afford the price tag (or bookshelf space), the SMC produce the superb Scottish Winter Climbs, a selected volume covering the most popular and reliable areas across a good geographical spread. This book is ideal for the weekend raider and local alike, with clear topos, in depth route descriptions and an easy to follow unravelling of complex areas.