Fair Head - Northern Ireland's climbing gem
Photography and words by Mike Hutton/mikehuttonimages.com
The dramatic dolerite columns of rock on Northern Ireland's north coast lay claim to the biggest expanse of climbable rock in the British Isles. Mountains by the sea would be an appropriate description for the gigantic organ pipes of crystalline basalt that soar to 90m in places and stretching for over three miles. Like Skye's Kilt Rock on steroids, the only other place where this geology is encountered on such a grand scale is the Devil's Tower in the USA. The good news is that Fair Head is a fraction of the cost to get to and as impressive.
As you venture towards the cliff tops you may pass the man-made Iron Age island that sits in the middle of the fish-infested blue waters of Lough Na Cranagh. Soon a coastal path is reached and if you're lucky you may see wild goats scurrying amongst the boulders at the base of the gigantic cliffs where the Grey Man's Path runs. The views out to sea are scintillating and on a clear day Rathlin Island and even the Mull of Kintyre may be visible. On stormy days you may see nothing but a raging swell and dancing sea horses in the inky black ocean. When the wild weather hits Fair Head you will know about it. I remember hanging on an abseil rope taking photos of someone battling the wind on Rathlin Wall. I watched in terror as the wind blew my 12-stone body mass horizontally across the cliff trying to drag me up into space.
The main problem on the first visit was where to start. The list of quality routes is endless and although you may get a pretty good idea of the climbing style from the topos, what you don't realise is that there may be a further 50m of climbing when seen from the base. Hidden roofs, corners, overlaps and even entire pitches may be lurking and what difficulties these can present may be hidden from view. The best option is to prepare yourself for an adventure and arm yourself with plenty of gear.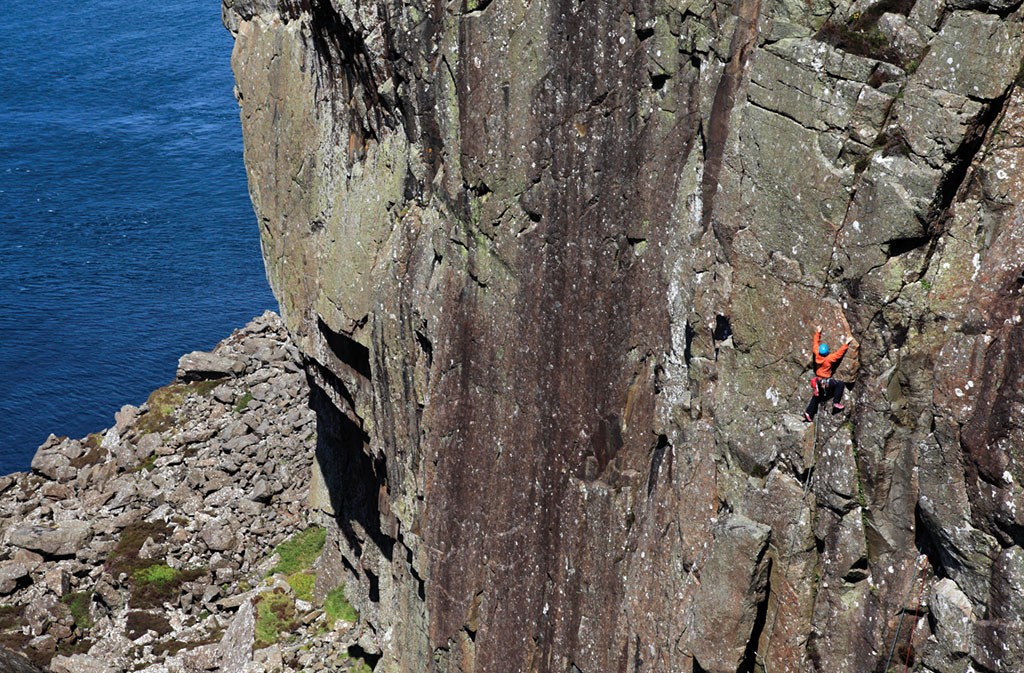 To stand at the cliff bottom and gaze up is an experience – parallel crack systems galore rise far into the sky. The converging lines are super aesthetic and geometrically a delight to photograph. In some areas these cracks are a mere six feet apart offering countless opportunities for bridging and placing protection on both sides. In other sectors there are vast expanses of blankness between the cracks and corners. The lines require a steady head and progress can only be made on razor-sharp edges and tiny side-pulls. Often the walls are devoid of any real gear apart from the odd skyhook or an imaginary micro-cam but, thanks to good friction, a certain confidence may (or not) spur you on as you do the monster of all run-outs. Whilst these lines are best left to the most talented climbers, mere mortals can enjoy the delights of never-ending jamming with gear galore. In fact, the only thing stopping you placing more gear may be the weight of your harness!
Fair Head isn't all about 90m multi-pitch epics and if you're fortunate enough to discover the delights of The Prow this may be the best introduction to the area. Dozens of regularly stacked crystalline columns are home to a wealth of quality single pitch cracks, corners and grooves in the VS to E3 grade range, many of which exceed 40m. With a delightful westerly aspect and easy walk to the base, it's a fine place for honing your crack climbing skills before you commit to the more challenging fare on Rathlin Wall. The sustained twin crack-line of Midnight Cruiser (E1 5b) and more technical Fireball (E1 5b) are as good as this style of climbing gets and the gear is literally on demand.
However, what sets this area apart from other sectors is that it has a couple of really good VS lines that offering a way to practise jamming in preparation for harder challenges. The Black Thief (VS 4b) and The Fence (VS 4c) are justifiably popular and highly recommended. The groove of The Embankment (E2) and the face climb of Marconi (E3) offer a welcome respite from the endless gear-gobbling cracks and a very different style.
If you're not ready for Rathlin Wall, the west-facing Farrangandoo is worth seeking out. Often dismissed in favour of grander offerings this is a place to escape the crowds and, although not boasting the same quantity of sustained cracks as The Prow, the very amenable lines of Pangur Ban (HVS 5a) and Crib Pad Crack (E1 5b) are some of the best of their grade at Fair Head and well worth it for these routes alone.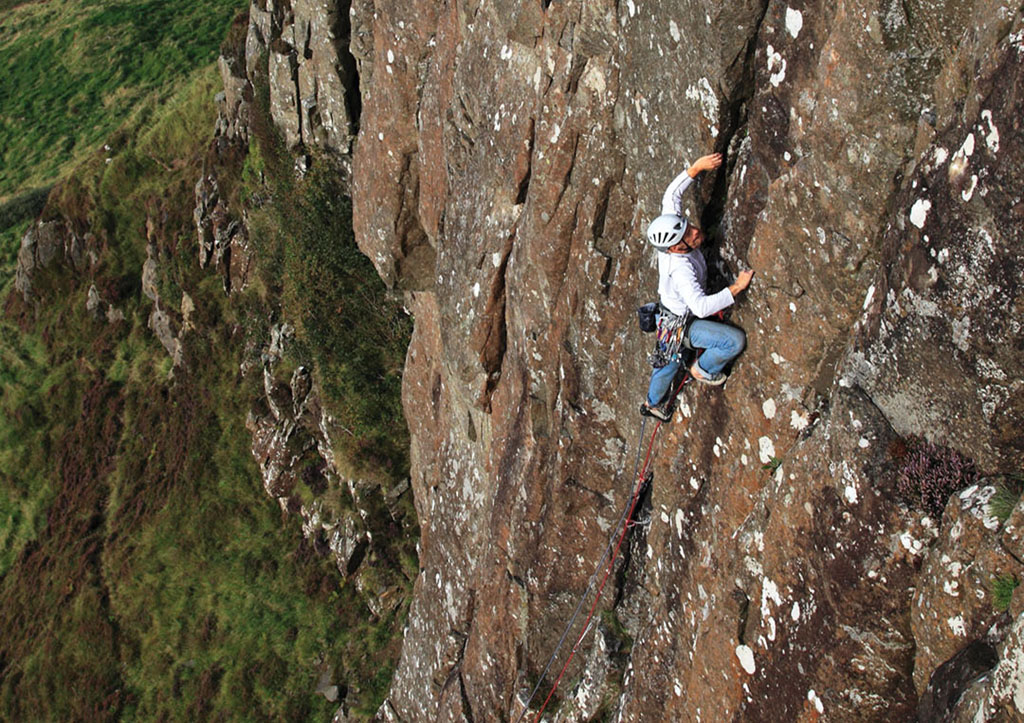 As you turn your back on the convenience of these introductory venues, the Ballycastle Descent Gully East routes are a taste that things are getting a little on the wild side. Apart from the sandbag, but well-positioned, two-pitch Girona (VS) there is little on offer below E1. Hell's Kitchen (HVS) is an exception and a fine introduction to the more intimidating multi-pitch climbing. The shady north-facing corner has a gloomy atmosphere and requires a full-on mixture of bridging and most certainly is not climbed solely by jamming. After pitch 1 you can't fail but notice the terrifying Hell's Kitchen Arête (E6 6a) that traverses to a wild position on the arête and climbs its left-hand side on just the bare minimum of edges until very bold moves lead to a steep finale. Most definitely not one for the faint-hearted.
From this point onwards you are venturing into the renowned Rathlin Wall area. This area is badass and boasts E numbers galore. It would be fair to say there isn't another area in Ireland that has such a high concentration of quality of routes at E4 and above as Rathlin Wall. Many of these climb the blank-looking, west-facing walls that glow in the late evening sun. Some climb the exposed arêtes and even intermittent cracks are found on the routes at E4 and above but generally they aren't pure gear gobbling cracks like those found on the easier routes.
I recall Pete Whittaker's account about his on-sight of Ricky Bell's notoriously bold wall climb Complete Scream (E7 6b). With the help of some Blu-tack Pete was able to get the skyhooks to stick to the rock better and even used gaffer tape to hold them in place. This all made good sense as in the end he minimised the risk and thankfully he never loaded the gear.
If the thought of skyhooks for protection terrifies you then you're best opting for Primal Scream (E5 6b) in the knowledge that you get to climb a less direct version of the same beautiful wall but with gear that might actually do something for you. Rathlin Wall is also home to the hardest protectable climb at Fair Head. Ricky Bell's Rathlin Effect (E8 6c) takes wall climbing to a new dimension with a very hard E7 leading into a very bold E7. The epic 60m pitch covers some improbable ground and even required three ropes on the first ascent.
The good news is there are some truly outstanding routes in the E2 category. The three-pitch line of Cuchulainn (E2) follows cracks that weave through a maze of intimidating overhangs. Conchubair (E2), Blind Pew (E2) and Equinox (E2) are some of the stand-out routes that climb the well-protected corner cracks rather than the blank walls but are best enjoyed on a long warm summer's day due to their shady aspect.
As you walk eastwards the ambience changes. You say goodbye to the sun-blessed westerly walls and need to adjust to the northerly and foreboding orientation. It's an intimidating place at the best of times but great for a true adventure. There you will find the lonely An Bealach Runda area with its distinctive array of hexagonal-shaped columns. It's rather like a kick-ass version of the Giant's Causeway but without the tourists. Dozens of these spooky pillars rise into the sky like architectural works of art. Not all are climbable and some are completely detached but it doesn't take long to realise the new routeing potential of this incredible venue. Martin Kocsis and Nick Colton were quick to discover this and make their mark, yet the area is still pretty untouched with endless possibilities. One of these huge detached pillars marks the start of An Bealach Runda (E1) – three big pitches of contrasting styles define what is more like a committing mountain route than a sea cliff.
I could go on about the many superlative climbs in this wild and unspoilt rugged coastal landscape and still not do the place justice. To this day the area continues to be developed by a small set of climbers and it's remarkable that the likes of Ricky Bell, Paul Swail, Andy Marshall, Geoff Somerville, Sean Villaneauva O'Driscoll, John McCune and Eddie Cooper are still discovering quality lines. In fact, in the last few years Ricky Bell put up Long Runs the Fox (E9 6c) on the very high, detached boulder at the Murlough Bay end of the crag. This is currently Fair Head's hardest route and sits amongst an amazing and increasingly popular boulder field.
Paul Swail and his friends should be praised for the excellent job they do in organising the annual Fair Head Climbing meet in June. People flock from all over Europe to share this special place with the local climbing community. Having participated in it, I can only say it has everything I like about climbing. Friendly people, no egos, great Guinness and a real feeling that people were there for an adventure.
Fact File
Getting There
For short trips, by far the cheapest option is to fly to Belfast from a UK airport and hire cars aren't expensive. For longer trips, it might make sense to sail to either Dublin or Belfast with P&O or Stena Line. If you sail to Dublin from Holyhead and do the longer drive you could visit the Mourne Mountains on the way.
Where to Stay and Eat
Farmer, Sean McBride, allows camping near his car park for a small amount. There is a fresh water tap and it's a lovely spot to stay. Sean has been a gem over the years allowing his facilities to be used for the annual Fair Head Climbing Meet. He's helped in the odd rescue too so please support him. Nearby Ballycastle has many hostels and hotels plus an array of lively pubs.
Gear
Some of the pitches can be a full rope length so twin 60m ropes and a double set of cams and wires are the minimum. Consider triple cams for some of the longer regular cracks. For the harder routes at E4 and above the lines tend to be up blank walls and arêtes and often gear is minimal and very specific. Skyhooks, RPs, micro-cams and local knowledge can be handy in these cases. A 100m static rope is very useful for abseiling direct to the routes and avoids the slippery ankle-breaking boulders at the base. Huge boulders along the clifftop provide the perfect anchors.
Guidebook
Fair Head Rock Climbing by Mountaineering Ireland is the best whilst David Flanagan's select guide Rock Climbing in Ireland offers a good selection of routes.