Catharsis
by Graham Hoey
Richard
In your reckless mind, you act as if you've got more lives. In your reckless eyes, you only have time, and your love of danger – to it you're no stranger.
In September 1976 I started a chemistry degree at Sheffield University. A no-brainer really, after having spent the previous three years climbing in the Peak there was only one place to go. As soon as I could I joined SCUM (Sheffield University Mountaineering Club) – the anagram reflecting the self-deprecation typical of a club full of hard climbers. Mark and I (my best friend and climbing partner) were sharing a room in Earnshaw Hall and I couldn't wait to hit the rock. The plans we had; the routes we were going to do, nothing could possibly stop us. Unfortunately, the best laid plans of mice and men… Mark discovered women and I was left without a regular climbing mate. There was, fortunately, another climber at Earnshaw – Richard. I'd seen him in the common room a few times, but I didn't know much about him, apart from the fact that he'd done L'Horla on Curbar. 'Remember Last Summer', the free poster from Crags magazine with the phrase emblazoned across it was pinned onto my wall and etched into my brain. It showed Ron (the 'God') Fawcett idly swinging free from the L'Horla jug unroped. I'd not done it, hadn't dared do it, even though I'd theoretically done harder routes and desperately wanted to do it; Richard had. From the moment I'd found out, some competitive instinct had made me avoid him. He might come to my room, see the poster, might ask me if I'd done it, didn't want to think he might be… better than me. Since arriving at the University I had suddenly developed a bit of an ego, a new and not unpleasant feeling. I had come from a working class area of Nottingham where egos were generally reserved for the local hard men or students from the posh end of the catchment area and being good at chemistry or climbing was something you kept quiet about. Unbeknownst to me, stories of my gritstone exploits and free ascents of commonly aided 'hard' routes in Wales had filtered through to some of the SCUM members and I had been genuinely surprised and flattered to have arrived with something of a reputation. I, therefore, believed that I was the best fresher to have joined SCUM. But Richard had done L'Horla and I had not.
With Mark off the scene, there was nothing for it but to ask Richard if he wanted to go climbing. I wandered over to him in the common room.
"Eh up" I said to him in my best Nottingham accent.
"Ow do" he replied in a deep Yorkshire drawl.
I bit the biscuit. "I hear you've done L'Horla, what was it like?"
His face lit up and he grinned slowly, a broad grin in a strong face surrounded by a mop of thick golden hair. Within minutes we were friends, instantly recognizing a shared love of climbing, of quiet mountains and pushing it out. It was inevitable that we would spend many days out together that first year soloing, often on Stanage Edge and often on isolated sections. We'd on-sight solo up to easy Extreme, not a bad grade 36 years ago, and normally within a few feet of each other such was our mutual confidence. I can still remember the blast, the scares when the one in front would throw a bit of a wobbler and the way we'd laugh ourselves stupid at one another's mistakes. I still remember those long, beautiful evenings when we'd just keep going while the grit turned orange as the last of the day's sun disappeared. Even now, when I smell the lichen on my hands and sense the pain of silk thin fingertips pulling down on the coarse dry rock I can recall those halcyon days.
In that August breeze of those forgotten trees; your time was set for leaving, come a colder season. In your reckless mind, you act as if you've got more lives.
But all this and the rock were not enough and Richard began to excel in hard winter mountaineering, a sport in which I had little ability or inclination. He quickly became an outstanding snow and ice climber, often soloing hard routes in the Welsh and Scottish mountains in poor conditions (once spending a week at the CIC Hut in Ben Nevis soloing the hard classics and surviving on a diet of bread and dripping sandwiches). It was inevitable that he would be drawn to the Greater Ranges, and so it was that he lost his life attempting an audacious line up one of the steepest walls of the Himalaya. Had he succeeded who knows what Richard would have gone on to achieve. In climbing, in life?
For a while after he died I saw him in my dreams; laughing and talking to me as if nothing had happened. I would awake disbelieving his death, feeling somehow that life and dreams had been reversed; wishing it so.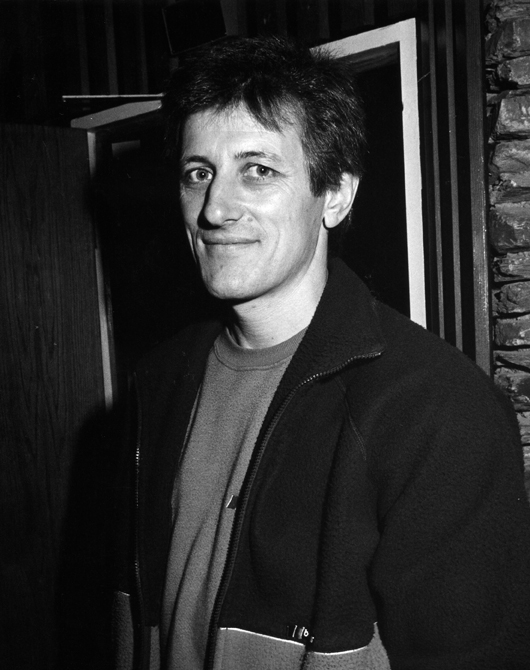 Paul
"Have you heard about Paul?"
"Paul who?"
hoping yet hopeless
deep down I knew
and
in that moment
I became a child
amongst
heather
grit
pain
pleasure
fear
the cracks
the crack
we shared
and
will share
no more
Paul Williams. Photo: Ian Smith
Simon
You were the chosen one, the pure eyes of Noah's dove. Choir boys and angels stole your lips and your halo.
Tuesday night was the best night of the week in winter. Leeds Wall, real ale and one or more curries at the best curry place in the North. The 'we' varied at first but for a long time the main protagonists were Geoff, Bob, Simon and me. Simon was the last to join the group. It was impossible not to like him from the moment you met him. A shock of curly fair hair framed probably the happiest face I have ever seen. His
enthusiasm for climbing seemed infinite. I'd got to know him when working on the 1981 Stanage guide and had instantly found a kindred spirit.
Geoff had a job and a car. The quality of the car varied somewhat and, as Geoff regularly changed it, we were never quite sure what was going to appear around the corner. One of his worst was an old Morris two-seater van complete for a while with an armchair in the back. The armchair was very comfy and, as it was not fixed in place, quite good fun as Geoff always went around corners at a considerable speed causing the chair to skid and bounce around like a ball in a pinball machine. Later, he went upmarket with a Ford Sierra and Simon loved to put a coin on top of the vertical cigarette lighter and press it down without telling Geoff. Less than a minute later there would be a loud click and the penny would shoot up in the air heading off in a random direction. This would both scare and annoy Geoff intently but amused us in the most infantile manner, no matter how many times Simon did it.
Leeds Wall was, in the late 1970s, the best wall in the country; some would say the only proper wall, as the others were just simple brick walls with bits sticking out. This had edges, slots, slopers, cracks, pinches etc, you name it, it had it (apart from a slab). Don Robinson had created within a relatively few small feet (certainly compared to modern walls) a training facility that would revolutionise climbing. It spawned some of the best climbers of the 70s and 80s and led to the development of modern climbing walls. Tuesday night was when some of the stars trained and it was an inspiration to see them climb. The Berzins brothers doing laps of the power circuits, Al Manson pulling down on brick edges (at the same time as standing on them), a young Tony Mitchell walking up the hardest problems with footwork that Rudolph Nureyev would have been proud of, Graham Desroy with hair (sorry Graham). Many of the problems were absolutely nails and you had to stick to the (well-kept secret) rules for a successful ascent. I eventually found out why the way I did a particular problem never counted; I didn't shout "Vam" as I popped for the top hold. A hard session on the wall would be followed by one at a pub called The Eagle (if my memory serves me correctly) at a time when the delights of hand-pumped real ale were very rare.
Afterwards we'd retire to The Corner Café, the aforementioned curry house. No table cloth, no knives and forks, just the best curries we'd ever tasted. It was while we were there on one occasion that Simon proudly showed us his 'new' digital watch… my digital watch as it turned out. The previous week I'd been on Stanage having a go at what became Shirley's Shining Temple. After ripping the best part of two finger nails off on a pebble I stuffed my bleeding fingers into chalk and retreated in disgust along the edge where I noticed an unclimbed wall. Spotting a possible consolation prize I took off my watch and climbed it. On arriving home I noticed I'd left my watch at the edge. This was not good, my favourite aunt had given it me and it was one of the first digital watches ever made and consequently an expensive one. Now it was wrapped around Simon's wrist.
"Eh, that's my watch" I challenged Simon.
"Nah" he grinned with confidence.
"You found it"
"Where?" he countered. Confidence fading, but still putting on a brave face.
"Stanage". His smile flickered at the edges.
"Where on Stanage?" Now desperate.
The coup de grace. "Just below Grime, I took it off before climbing a new route up the wall to its left"
It was all over, the smile vanished. "Bollocks," Simon said handing me the watch, and then, better was to come… "I've just lost a first ascent as well."
All the way back I kept asking him the time – he took it well.
The last time I spoke to Simon he was going off to the Alps that week. I remember telling him to take care, to keep off the snow and ice and stick to rock routes. A short while later, at the end of a beautiful day at Tremadog I met a friend outside
Eric's. He told me Simon had just died in the Alps – on the approach to the South Face of the Aiguille de Fou – a pure rock route.
I stand at the grave. Earlier, at his parents' house I've seen a picture of Simon – that shock of hair, that unmistakable smile, the piercing, sparkling eyes, the most beautiful-looking man I'd ever known. I look at the coffin, feeling the watch in my trouser pocket. I think about throwing it in.
I'm glad I didn't.
In your reckless mind, you act as if you've got more lives. In your reckless eyes, it's never too late for a chance to seize some final breath of freedom.
Simon Horrox. Photo: Terry Tullis