Brave New Costa Blanca
by Rich Mayfield
Background
I moved to Spain over 13 years ago, to work as a guide. I did well to live in my large green Land Rover for nearly five months, until a crazy woman convinced me to spend all my savings, take out a massive mortgage and start The Orange House. I had been visiting this area for many years, following in the footsteps of thousands of climbers before me. The Spanish started developing the area in the 50s, with routes on The Penon and in Calpe, but the area really took off in the 60s with classic trad lines on the Puig Campana. Murcia, Forada and Sella kicked off the trend for sport climbing. When the cheap package tours started to bring the tourists to Benidorm, the flights allowed other climbers from the rest of the world to take advantage of the great climate and rock. With almost perfect conditions from October to April, and crags as far north as Gandia and as far south as Murcia, you could climb there every day for years and still find routes to do and areas to explore. The first UK guidebook was published in 1990 by Chris Craggs. The Rockfax guides followed in 1996 and 98 and then 2001 and 05 and, finally, the largest dedicated guide to the area last year.
Things fall in and out of fashion. In the 80s it was all about the Lycra and slate. In the 90s it was all about training and France. In the Noughties, it was all about Spain, Sangria and cheap winter sun. But what of the Teens? Well, only time will tell. Some things have been relegated to the past like Lycra and training until you drop and injure yourself. Some things have moved on at a pace keeping up with the brave new world, like North Wales slate and training intelligently without injuring yourself. Spain is just as hot as it has always been and the new crags just keep coming. Here is a taster just in case you forgot how refreshing the Sangria is. I have included GPS co-ordinates so check it out on Google Earth.
Sella
Sella has come a long way in the last 10 years. Existing crags have grown both upwards and outwards, with the number of independent satellite crags increasing almost on a daily rate. The main crag at Sella has changed hands and climbing is now allowed above Section Final which has 25, mostly easier, new lines. Don't worry it is not climbed out yet, there's scope for a lot more easier lines in the F3 or F5 grade range. There is even a two-pitch, traditionally protected buttress, no bolts, tat or pitons here. Caballo Loca at Doggy Guantanamo is one of the best new lines and definitely not your usual Spanish fair. Dyno from the tree at the second bolt, not so easy as the tree moves, then super sequencey moves on a slab lead to a rest. But it is not over, a really thin move on the steeper rock, topped with a spicy but safe run-out to finish. When I was cleaning and bolting it I thought it was F7c-ish but when I led it I thought it was F7a-ish. It's not F6c or F8a so it must be a F7. All very English and guaranteed to stump the local enduro machines: 38 37 15N 0 13 45W
The Wildside is just as wild with almost 90 routes from F6c to F8c and many extensions so take an 80m rope. Access is still fragile, so please keep noise to a minimum and take all litter home: 38 37 08N 0 12 52W. The Morro Carlos Crag now has 25 routes, originally meant to be an easy crag, high on the mountainside overlooking the Rhino. There are easy routes there but the main fun is to be had a little higher up the grades at F6a and above: 38 37 46N 0 14 21W
What a stunning place; Bear Essentials (F6b) on the Bear Sector at Sella. Photo: David Simmonite
The Water Cave high above the village of Sella is a little bit of a scramble down and it is best to go with someone who knows how to get to it. I have rescued walkers and lost climbers from thereabouts, it is easy to get lost. Routes range from F6a to F8b with the best in the F6c to F8a range. This area only scratches the surface of the possible climbing above Sella: 38 37 21N 0 15 41W
Fallen Block Area is an area I have been meaning to explore for a long time. Mike Robertson and I first visited on Christmas Eve two years ago (Mikeys' birthday), I told him to pick a line, any line, I'll bolt it you lead it, Happy Birthday! Hippo bath day was the result, a F6b open groove. We found one other route there being a F6c arête but the potential of this area is mind-boggling: 38 37 20N 0 16 04W. There are other areas too but I've been sworn to secrecy, I could take you but it may involve the use of a blindfold.
Guadalest is the second most visited tourist destination in Spain, and fast becoming one of the best mid-grade crags in the area. La Diagonal on the Castillo is one of my favourites and the longest route which reaches the top. You could abseil off, but that would be boring. Instead an easy scramble will lead you into a roofless tower of the castle which appears to have no exit, because it is usually locked. Abseil off a large light fitting (usually equipped with tat) to access the upper reaches of the castle, non-climbers have to pay to access this area, so make like a tourist, take in the view and grab a coffee on the way out.
Ponoch
Not your usual bolt-clipping friendly holiday atmosphere here, oh no. This is as close to big wall ethics and tactics as you can get this side of Yosemite. The Ponoch is only hinted at in all the English written guides for the area, hence not that popular with the visiting climbers. But if you're into adventure climbing look no further, you have got it here. Tucked away in the shadow of the Puig Campana it is often overlooked, this a huge and steep crag which is just over half a kilometre high. Most of the routes have aid sections on them, some have been freed and get the 'Ae' grade (aid or escalar), but most have not. This crag is not about the moves; it is about the journey, getting to the top, getting through huge roofs, not running out of time or water. It is worth remembering that many of these routes are considered two-day climbs by the locals. There is a new local guide Ponotx (ISBN 978 845153696 2: 38 36 58N 0 09 53W)
Penon de Ifach
The Penon de Ifach, iconic of climbing on the Costa Blanca is slowly being retro-bolted. The old pitons and tat are being replaced with nice shiny 12mm stainless steel, making it feel a lot safer. A calm head and steady nerves are still required as some of these routes do have new gear but they are still not really sport climbs. Who said: "There is no adventure climbing on the Costa.": 38 38 13N 0 04 18W.
Ridges
The ridges never fail to amaze me, just when I start thinking, 'I've done all the worthwhile ones'. There really are too many to mention, the Rockfax MiniGuide covered the ones I do regularly, but this only touches the tip of the iceberg. Now I'm venturing a little further afield, almost an hour away from my base. Cresta de Benicadell lies just four kilometres southwest of the Salem crag. It is long, 1,400m of easy climbing (never harder than F4 or Hard Severe) and scrambling on very solid rock, hugely exposed in places and dramatic. Getting off is easy, just follow the well-marked paths. Check it out on Google Earth, less than one kilometre from the CV705 between Salem and Beniarres. Go grab yourself a Spanish mountain adventure, you will not be disappointed. This is listed as one of the hundred best routes on the Costa Blanca: 38 49 56N 0 24 25W.
Raco de Cortes
Another secret crag which I have been staring at for the last 20 years. Blatantly obvious from the N332 main road and A7 motorway heading south from Benidorm, this has three kilometres of climbable rock running along the crest of a large valley, with spectacular views over the Orxeta reservoir and dam. The walk-in is a mere 300m to the first crag. The routes at the far western end are short, powerful and much steeper than they look. You would be forgiven for thinking the warm-up is a F6c, with some very unique and strong lines on cracks, leaning walls and even a leaning tufa arête. This crag is largely untouched but could rival Sella in size. There are also rumours of bouldering in this valley, but you are best going to Albarracin for that: 38 32 39N 0 17 50W.
Into Deep Water
After Mike Robertson's DWS guide was published, PsicoBloc on the Costa Blanca has become very popular. I attempted to produce a MiniGuide but when I reached the 60th page realised that the area was way beyond MiniGuide coverage. The more easily accessed areas at Toix, Moraig and Ambolo are now mostly climbed out but the potential 300m further from these beaches is totally stunning. We have been new routeing from inflatable kayaks for the last few years. There is almost no tide in the Mediterranean which is good for DWS. But the sea could always surprise you, we were hit by a six-metre swell late this summer. The paddle back was epic, one wave almost toppling a two-man kayak end over end. During high seas a constant rip exits most of these areas, which means you are safe from being battered on the rocks but getting to shore is almost impossible without a boat. We have started linking long traverses together which are great adventures of varying commitment; some would be suicidal without a kayak to get you back when arms fail. Some of these new routes do feel very serious and a determined approach will pay dividends. I will keep producing mini-guides when I get around to it.
Curse ya fur breathin' ya slacked jawed idiot, is now a long term project one and a half kilometres north of Cala Moraig. It traverses the inside of a cave for 80m in upside-down land but is never more than 15m high, which is high enough when I snapped a hold off on the crux sequence, landing on my back from eight metres. So far we feel it is about F7c, but no one has been able to re-climb the crux with the broken hold. If you feel brave enough, give me a shout and I'll paddle you out there myself: 38 42 32N 0 09 58W is the parking for Cala Moraig and you will need a boat to get you out.
Factfile
Fly: Alicante is the closest airport or try flights to Murcia about 90 minutes to the south, or Valencia about two hours to the north. Try and travel outside of school holidays as the prize is significantly cheaper prices.
Car Hire: You will need to hire a car as most of these areas do not have public transport to them. Be careful, you will need a credit card, the same card you booked it with. If it is 'return full' then do so, they have been known to charge the cost of a small oil refinery to fill it for you. Most companies also have a minimum age of 25. Read the small print. You can get independent fully comprehensive car insurance from as little as £40 a year and this is well worth taking out and would save you money on just one week of renting. Be warned some dirt tracks have reputations for eating hire cars.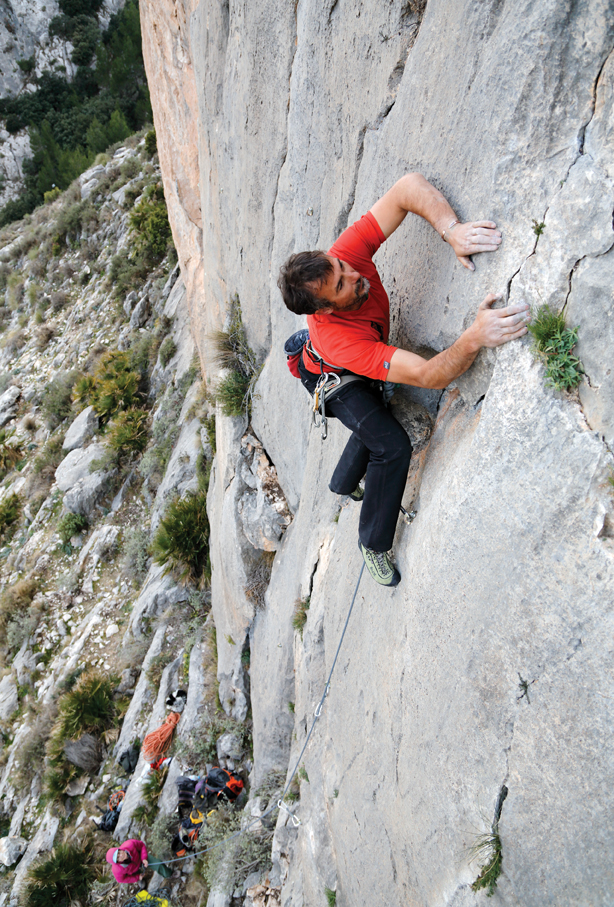 Accommodation: The Orange House, for camping, bunkrooms or posh rooms. The Sella Bunk House and camping will be open soon and is actually at the crag so no car is required with a transfer www.theorangehouse.co.uk
Camping: It is illegal to wild camp in Spain below the tree line. The Spanish forestry commission are very active and patrol the poplar areas regularly. So do the Guardia Civil who issue parking tickets if your car is outside the designated parking areas. If you are caught illegal camping the fines can be large.
Guidebooks: For the visiting climber there is really only one the Costa Blanca Rockfax. This is a selective guide which covers a vast area of over 20 independent local guides. Not all the areas I have bolted are in the latest Rockfax guidebook, but you can find more information on our website: www.theorangehouse.co.uk They are free of charge to download, but we do ask you to subscribe to access the password, as it allows us to explain how the bolt fund works and to allow you to receive updates, we add routes on a weekly basis after all. The other areas I mention are so recent that the Rockfax is out of date already.
Rich Mayfield climbing his own route Aunti Chris (F6a+) on Sector Derecho at Morro Carlos. Great climbing on fantastic grey limestone and a baffling crux to boot. Photo: David Simmonite