Around the Bloc: Stanage Apparent North
Climber's regular feature on the best bouldering venues
Having climbed there since the day dot, David Simmonite gives a quick tour of one of his favourite quieter gritstone venues with a charming array of fine problems.
An Introduction
I like Stanage a lot, in fact, I love Stanage. You see, I have an immense passion and appetite for climbing there. My fervour for climbing grew from my first serious climbing experience on the queen of grit, this sumptuous of all mistresses. Maybe you will read these words and wonder why I feel this way but surely you have one place above all that stirs similar feelings? This, the most talked about and most famous of gritstone edges has many facets, nooks and crannies along its length and all with an amazing wealth of classic routes and boulder problems.
Most, if not all of you will have heard of the boulderers' nirvana of The Plantation. Classics abound of undeniable quality but it suffers from its notoriety and popularity in terms of visitor numbers. I like this sometimes, especially when the banter is as good as the company. On the other hand, there are times when you want to get away from it and I often head to the far right-hand end of Stanage identified as Apparent North. Many people drive past this the most southerly part of the edge and some would say that's a good thing, keeping it from the madding crowds elsewhere on Stanage. But I'm more generous than that and think everyone should know about its class.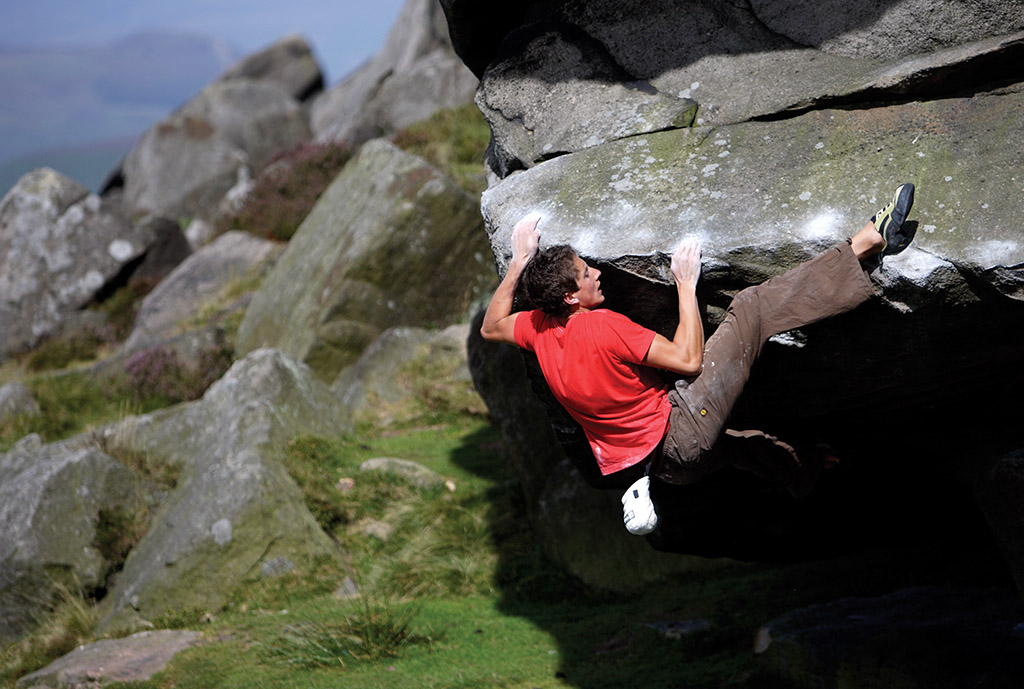 The Stats
First let's get the walk-in out of the way, a mammoth five minutes. If you can handle that the bouldering is based around short walls and buttresses spread out along a few hundred metres with two buttresses being much beefier, one gives the area its name and the other, The Cowper Stone, marks the right-hand end of the area. With nigh on a hundred problems on offer, the bouldering is for the most part in the easier grades of V0- to V3. Nevertheless, there is a superb collection of harder problems up to V8 including an all-time classic. The variation of styles is wide-ranging with strength-sapping open-handed traverses, fingery technical nightmares, enough rounded holds to keep most grit experts happy, jams ranging from fingers to off hands and some great slabs to delicately balance your way up. The landings are on the whole good and flat and the views are excellent. The close proximity to the road and the easy approach make it a good family venue too.
The Locals' Tour
I like everything that I can do and would love to do everything I can't, so I'd say it's all good, but to get you started here are a few favourites.
At the far left is The Snout (V2), a little tester in power and faith in friction with a particularly tough but excellent move from a sloping hold on the nose of the buttress. A thought-provoking finish to a very sloping top-out makes it feel much longer than it is and isn't helped by a block at the start of the problem that gives cause for concern. However, a spotter and a well-positioned pad helps, either that or slink off right if you don't fancy it.
A bit further right are two good 'uns at the opposite end of the spectrum, one of which is arguably the best low-grade problem on the whole edge. Locate the Huge Slab and after climbing the excellent problem The High Road (V0-) via the flake on the slab, starting with a mantel into the scoop, gird your loins and set about the traverse on the lip of the slab. A Case of Mistaken Identity (V8) is one of those problems I've still to crack despite repeated attempts. Heel hooks, slopers and a bucket of stamina are apparently the key. I've got to get a bigger bucket or perhaps a better sequence and who knows, one day I may just surprise myself. And it's easier in cold conditions by the way.
I know it's a bit self-indulgent but I'll include My Crazy Head because I did the first ascent many years ago. Given V3 it climbs the left side of an arête up and left of the imposing Apparent North Buttress by means of a subtle, balancey and surprisingly technical sequence on sloping holds and, even if I say so myself, it's rather good. You can also climb it entirely on the right at a much easier V1.
Hamper's Hang is a superb traverse along the base of Apparent North Buttress and the inclined shelf is the classic tick of the venue. There are different schools of thought on the best way to tackle the crux on this, heel hooks and other technical nonsense or the basic, footless, brutish way. I opted for the footless way when I managed to pull an ascent out of the bag having spent far too long trying to be a technician. Graded at V7 for a left-to-right ascent it's a touch easier in the opposite direction but that's not cricket.
Heading rightwards and around the corner to the Grand Theft Buttress is another of my favourites; Zorro tackles a delicious cracked wall. I climbed this V1 very early in my climbing career thinking it looked really easy. Even though it has (thankfully) great positive holds it turned out to be steeper and more testing than first appearances.
Over towards The Cowper Stone is a squat little problem fittingly called Crimpy Roof (V4). The clue's in the name with a particularly powerful sequence through the roof to gain crimps before a desperate pull to a juggy flake. I've seen one or two hotshots underestimate this one and end up on their backside.
And then there's The Cowper Stone, rounded gritstone abounds - get on Head Spin (V3) to see what I mean. I could talk about many more problems but that should give you all a varied selection to start with, so don't drive past next time. Go explore and enjoy.
Fact File
Guidebooks
The definitive BMC Stanage guide contains extensive coverage for this area. It's also well-covered in the Peak District Bouldering guide published by Vertebrate Publishing and more recently in Peak Bouldering by Rockfax.
Accommodation, Pubs and Supplies
There's a campsite at North Lees conveniently located below the edge and a few minutes' drive from Hathersage (Telephone 01433 650838). If you don't have transport you can walk from here to Apparent North in half an hour or so. For other accommodation try www.peakdistrictonline.co.uk or contact the Bakewell Tourist Information Centre (Telephone 01629 813227). Hathersage is the closest place for supplies with a petrol station, food shops and pubs; The Little John does good and reasonably priced food, though all of the pubs in the area serve decent fodder. There are a number of outdoor shops but the best for climbing gear is Outside plus there's a café above the shop.