Zangerl and Larcher climb Odyssee in-a-day
Friday 18th September 2020
Earlier this week Barbara Zangerl and Jacopo Larcher finally completed their Eiger mission climbing Odyssee in-a-day.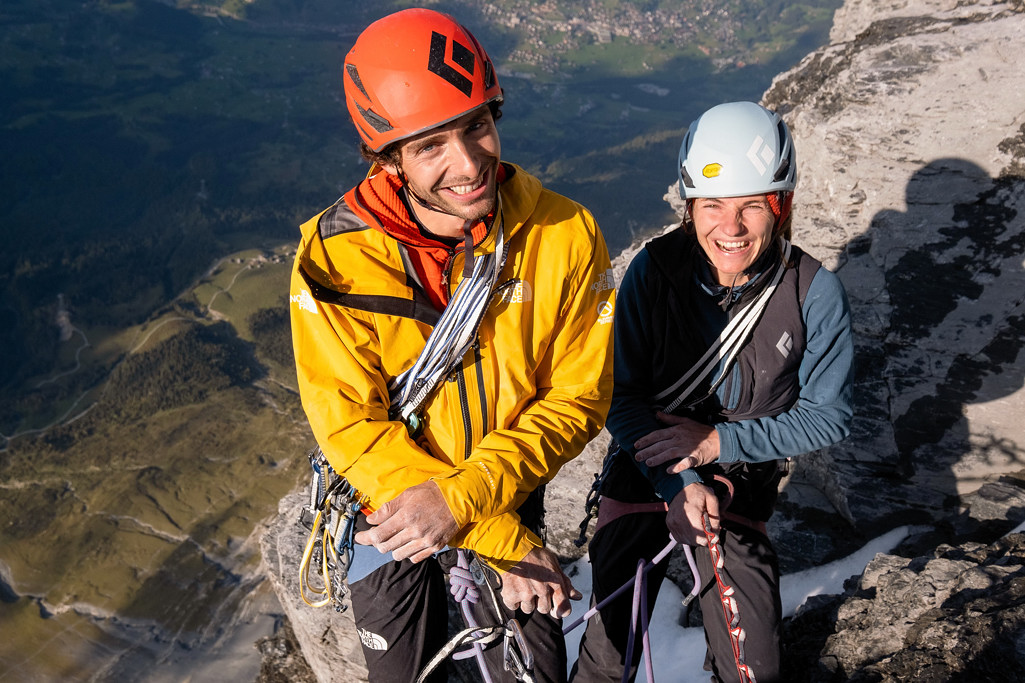 Odyssee, said to be the hardest big wall free-climb on the North Face of the Eiger, was first established in 2015 by Roger Schaeli, Simon Gietl and Robert Jasper. It comprises 33 pitches with difficulties up to F8a+ and a total length of 1400m. When Zangerl and Larcher reached the top on Monday, September 14th it was their second ascent of the route, having previously climbed it back in 2018, taking four days.
Babsi gives the background to their 2018 ascent: "In 2018 we tried Odyssee ground-up the first time. The goal was to climb as far as we can and try to redpoint the route. We packed all the stuff we would need for sleeping on the wall a few days, we were not sure how long it would take us to reach the top and if we could even make it, as we didn't know anything about the difficulties of the route. When we reached the top at midday on day 4, we couldn't have been happier. Being in the sun up there with the Jungfrau in the background -what a view and what an intense experience on the Eiger."
However, once Zangerl and Larcher had topped-out they immediately started thinking about doing the route again and going for the fabled 'in-a-day' ascent.
Babsi again; "We knew that this would become a goal for us in the upcoming years. Until then, we had always climbed those big walls in a single push, we didn't care too much about the time. The most important thing to us was always to climb ground-up and climb everything free and redpoint. But, it was intriguing to us to see what was possible, if we cut out all of the heavy gear, left the haul bags at home and just focussed purely on the climbing. Trying to be as efficient as possible."
They returned to the Eiger in mid-August to start working on their 'in-a-day' ascent. Not content with doing an in-a-day ascent, the plan also included a film crew who were along to record the ascent.
Babsi outlines their plans; "The plan was to climb up the wall-checking out some details of the crux pitches and try to climb them fast. At the same time, we prepared the wall with some static lines for the filming crew, who followed us on our adventure. We put some chalk marks on the crux holds before we wanted to give it a proper try. We stayed a few days on the wall-waiting out the very bad weather. Three days we stayed in a cloud - climbing on very damp holds and freezing-cold conditions."
She continued; "Then we got rewarded with the best weather conditions. The wall dried up completely. I never saw the wall in such good conditions. There was not a single wet hold. It felt like a different game - for a few days, at least. The only thing was that we were pretty late in finishing our preparations and missed our moment to go for the send before the weather changed again. It started to snow; half a metre of fresh snow on top of the Eiger."
That amount of snow is a bit for than an inconvenience; it was potentially a game-changer as Babsi explained; "That could have been the end of our journey. Did it make sense to spend any more motivation on this objective when we knew the dry conditions are probably gone for the whole season? We tried to remain positive and decided, if a good window arrived, we would have one last shot."
'Fortune favours the brave' as the saying goes and the team got exactly what they had patiently waited for a weather window. It was back on again; "Then the moment arrived, the conditions seemed to be as good as we were going to get, at this stage. We climbed fast, we felt pretty solid on the hardest part of the wall. No falls before we reached the spicy part shortly before the Czech bivi 2. Then, we heard the water dripping from above. Four completely wet pitches from 6c+-7c. We fought very hard—and it took us some time to get over those challenging pitches. It was a lot of luck that we made it through. You basically can slip off at any moment on this wet part of the wall. "We've made it!", we thought to ourselves. Pitch after pitch we got more and more optimistic. The upper part of the wall went down pretty fast. We were just 3 pitches away from the top, with only 16 hours elapsed."
Then the wheels fell off the wagon as Babsi explains; "Suddenly, the whole day flipped 180 degrees and became, probably, the most challenging climbing day we have ever had. The Eiger can be very pretty, like the climbing in Rätikon but within a very short time it can change dramatically and then you experience how serious the North face can really be! It started to hail and rain cats and dogs, as I was in the middle of the second to last pitch. I got soaking wet - with no possible way to reach the next belay and no way to climb down. (No fixed protection on this pitch) I had to improvise and found a good solution to get back to Jacopo. In this situation, we perfectly worked together as a team thanks to all the adventures we experienced together. The temperatures dropped to freezing cold and the water turned into ice. We rappelled 31 pitches in a waterfall."
Inevitably Zangerl and Larcher reflected on their adventure. Babsi explained their thinking; "When we reached the bivi and our warm sleeping bags (at 10 p.m.) we couldn't be any happier!! That was better than any top or any success or summit. Just glad we made it back. It didn't even matter that we had to bail at the second last pitch. We always learn from our experiences in the mountains! We had made a misjudgement and got into trouble. That drained a lot of energy and motivation. "Maybe, we should really give up now". As we were descending, we thought that maybe we should just be happy with that performance and leave it how it was. This was the most challenging climbing experience I have had in my life. Did I want to repeat it?"
"But, as soon we reached the warm bivi we had already decided that we had to come back. So, we waited for another chance. The weather forecast promised us perfect weather without any chance of a thunderstorm. Fingers crossed."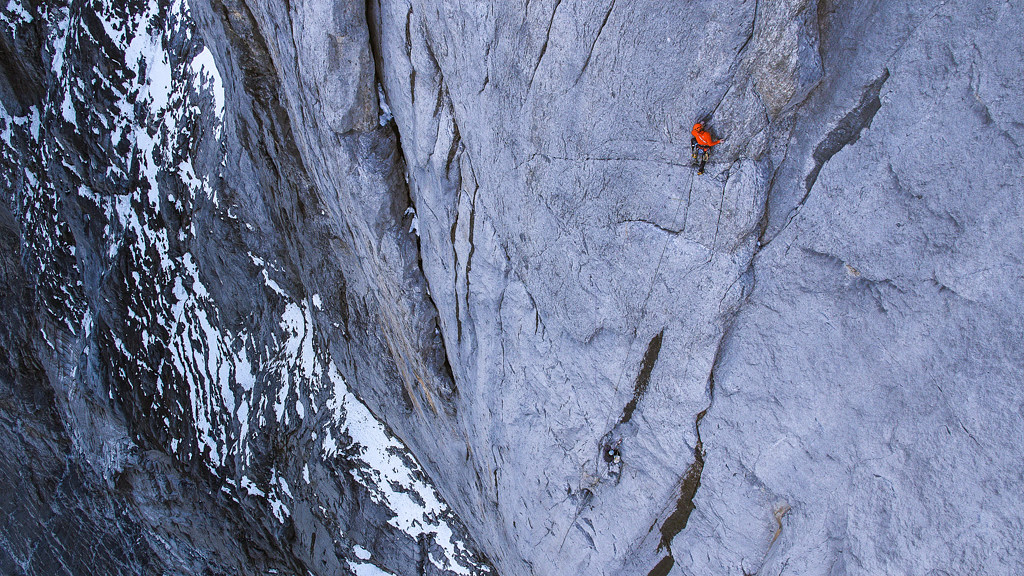 Finally, they got another 'last chance' and started out at 1:30 am on Monday, September 14th. Babsi explains how their final attempt unfolded; "We climbed the first half of the route in the dark. The spicy part of the wall was still very wet… but at least we didn't have to climb in a shower of water. We were 3 hours faster than ever before… and reached the Czech bivi at half past 7 in the morning. The psych was high and we were enjoying giving everything we had as climbed fast through the upper part of the wall.
Everything was in perfect conditions in the upper part and the weather looked great. We arrived at the last hard crux part of the wall. Jacopo didn't take any rest after the last steep F7c and directly led up the F8a pitch. He was pumped and fell! But as soon he got back to the last belay he started again and made it up to the next belay without falling. Soon, we reached the point where we had to bail last time.
I was pretty nervous on the F6b pitch where I had previously gotten in trouble, but this time the weather was still clear and it was easy to find the next anchor. Just two easy pitches before the top. 15 hours gone. It was Jacopo's turn to lead the wet gully, we took extra care and moved slowly on these last pitches. It was quite dangerous up there. The final part was partly covered in ice and you don't want to take a big fall up there.
At 5.30 PM, we both were standing on the top. We were elated! It was a really hard and demanding time to finally succeed on this mythical Eiger North Face. What an unforgettable adventure!! Our time at the end was exactly 16 hours."
It's a remarkable story of perseverance. Babsi and Jacopo's time is the fastest ever recorded on the route. Their adventure was captured on film and will feature in an upcoming film by Black Diamond.