Yuji Hirayama makes ascent of The Big Issue (E9 6c)
Monday 8th September 2014
Leading Japanese climber Yuji Hirayama from Tokyo has made a flawless ascent of The Big Issue at Bosherston Head in Pembroke placing the gear on lead.
This route was first climbed by John Dunne back in 1996 after the line of bolts placed by Pete Oxley were removed and given the grade of E9 6c. John had a couple of stuck wires on his ascent plus a short (and now very dubious) peg, but placed the rest of the protection on his ground breaking lead. The route has been repeated by Steve McClure in the same style as John plus has had ascents by Adrian Berry and Gaz Parry with all the gear pre-placed, making it more of a 'sport style' ascent.
After acclimatizing to the climbing in Pembroke, with ascents of classics such as Pleasure Dome, The Onion Eaters (both E3) and White Heat (E5) and From a Distance (E7), he focused on this impressive and very steep wall, working the route in the evenings (the Range was closed during the day for military training) and making a clean lead of the route late on Sunday evening.
What makes Yuji's ascent unique is that he placed all of the protection on lead, the stuck wires have gone and only the dubious peg remains but you really would not want to fall on it. Felt to be F8a+ Yuji wouldn't be drawn on the grade of the route climbed in this fashion other than, 'it felt hard' before heading off to celebrate with a beer.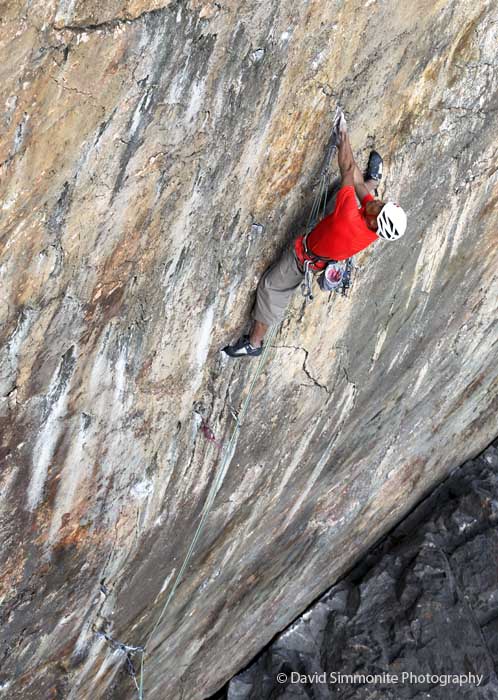 If you haven't heard of Yuji Hirayama this super fit 45-year old has been climbing at a top level for over 20 years now and was a regular competition climber winning two World Cup events; made the first ascent of the F9a+ Flat Mountain at Futagoyama, near Tokyo; became the first person ever to on-sight an F8c with an ascent of White Zombie in the Baltzola Cave, Spain and set a speed record for climbing The Nose on El Capitan and climbed the mega routes Salathe and El Nino in Yosemite, USA. Climber interviewed Yuji back in 2012.
He's in the UK with James Pearson and Caroline Ciavaldini on a mini road trip to sample the delights of trad climbing and the next stop was Nesscliffe.
We'll have more from Yuji about the route and his experiences on UK trad in a forthcoming issue of Climber magazine plus on the website.
Yuji Hirayama on the lower section during his clean ascent of The Big Issue (E9 6c). Photography: © David Simmonite