Yuji Hirayama and Sachi Amma just back from Mt Kinabalu on Borneo
June 3rd, 2015
Climbing legend Yuji Hirayama and World Cup champion Sachi Amma recently returned from an exciting trip to Mt Kinabalu on the island of Borneo.
Kinabalu on Borneo. Photo Eddie Gianelloni
Climbers the world over dream of finding and climbing super impressive routes in amazing locations; the report we've just had suggest that Hirayama and Amma have just returned from that mythical place having had a three week trip there.
Scooping out lines on Kinabalu. Photo Eddie Gianelloni
Yuji and Sachi's trip was organised by Mountain Torq in Malaysia. Mt Kinabalu is high above the Borneo jungle on a granite plateau at c. 4,000 metres. Yuji Hirayama had been to the area previously in 2014 during which he'd done a number of routes including bolting a super project - dubbed Jerung - which he speculates is going to be 5.16. The weather during their three week trip was mostly sunny but they also had seven days of rain which limited operations.
The principal objective of the trip was to try the super-project, Jerung, although they also hoped to put up new routes and to repeat existing routes as well.
The impressive 'shark's fin' on Kinabalu. Photo Eddie Gianelloni
Yuji Hirayama explains the background to Jerung; "Jerung is on very steep 100m face on St Andrew peak. We named the route Jerung last year because It's looks like Big Shark. Jerung means man eating shark in the local tongue. So we call this new project Jerung. When I was bolting the route last year I noticed there was previous visits on the peripheral faces, because it's very good looking peak. When I finished bolting I realized that this would not be for me, but more about younger generation like Sachi. Hirayama tells us about Sachi's progress on the project; "Sachi spent 4 or 5 days with rainy condition on Jerung. And he worked out 2/3 of the moves. He said that these moves are already more difficult than 5.15c. So I can only imagine what the rest of the route would be...5.16? Now he knows the route more and he knows how to work out how to get it done."
Sachi also put up two new routes – the first he's ever done – on South Peak; Orion and Union both weighing in at 5.12b/F7b as well as making second ascents of Excalibur 5.14c/F8c+ and Tinipi 5.15a/F9a+. Tinipi was first done by Yuji Hirayama last year and he believes it is "my most beautiful line I have developed." Hirayama also developed some new routes this year doing Osonongkono (5.12b/F7b) on Ugly Sister Peak which he says means 'looking good'. This route is about 80m 1st pitch 5.12b, 2nd pitch beautiful 5.11d. Hirayama also freed the 50m first pitch of Jerung at 5.14a/F8b+ and repeated Two Steps Process 5.13d/F8b. TSP was bolted by Daniel Woods.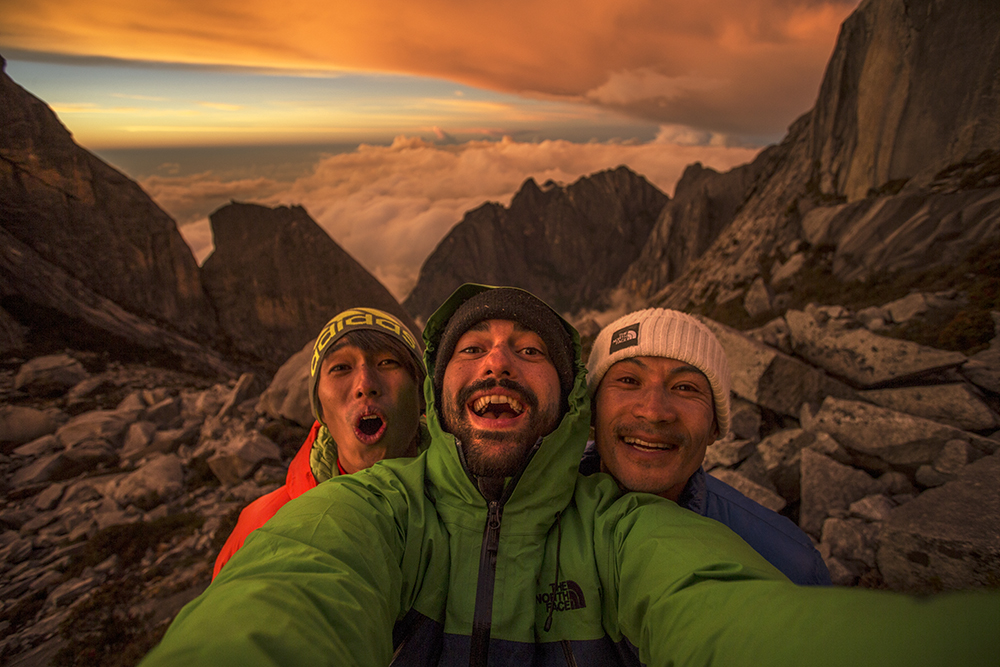 Hirayama, Amma and Gianelloni. Photo Eddie Gianelloni
Both Hirayama and Sachi Amma hope to return next year. Hirayama is looking to 'finish' (by which we think he means extend?) Tinipi and Amma will return to try Jerung. He's clearly smitten by the project saying; "Jerung is definitely next level. I checked until half way up. And already around 5.15c, I guess. After that there are 3 more hard sections. I can not imagine to climb it at this point in my life, but I want to try again."
CLIMBER would like to thank Eddie Gianelloni for the report and the stunning images. To see more of Eddie's work click through here…