Youth speed merchants crowned at Arco in IFSC Speed World Youth Championships
Monday 7th September 2015
Sept 7th; 2015
The IFSC World Youth Speed Championship at Arco saw a raft of impressive performances from rising new stars.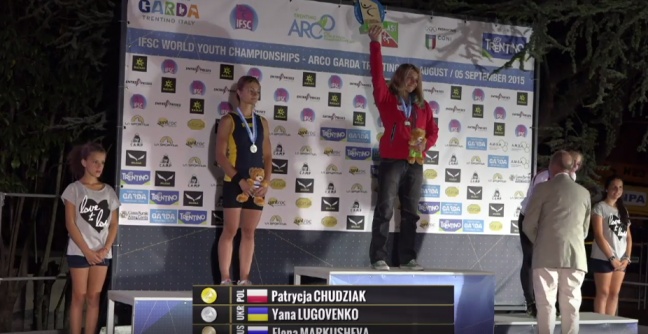 Female Junior podium from the IFSC World Youth Speed Championship. Photo IFSC
As usual, climbers from the established speed climbing nations such as Russia and the Ukraine performed well. However, capitalising on their 'home' advantage, Italian climbers took a gold and bronze podium. The visitor's though weren't to be outdone in every event and climbers from USA, France, Iran and Poland also took podium places.
Whilst speed climbing hasn't really hit 'big' here in the UK there were some GBR competitors flying the fly of the UK in the form of Alex Bosi and Alex Waterhouse who finished 24th and 30th respectively in the male Junior stream.
As with the other comps, the events were split into three categories in each of the male and female streams; Juniors (Under 20), Youth A (Under 18) and Youth B (Under 16).
The top places are listed below.
Female Juniors
1st Patrycja Chudziak (Pol)
2nd Yana Lugovenko (Ukr)
3rd Elena Markusheva (Rus)
Female Youth A
1st Elma Fleuret (Fra)
2nd Ekaterina Barashchuk (Rus)
3rd Elizaveta Ivanova (Rus)
Female Youth B
1st Elisabetta Dallabrida (Ita)
2nd Karina Gareeva (Rus)
3rd Elena Krasovskaia (Rus)
Male Juniors
1st Georgy Artamonov (Rus)
2nd John Brosler (USA)
3rd Maksim Diachkov (Rus)
Male Youth A
1st Kostiantyn Pavlenko (Ukr)
2nd Mehdi Alipoursshena (Iri)
3rd Lev Rudatskiy (Rus)
Male Youth B
1st Petr Zemliakov (Rus)
2nd Timur Yamaliev (Rus)
3rd Leonardo Sandrin (Ita)
For a full listing of the results click through here to go to the IFSC website.