World Cup Bouldering: Salt Lake City 1
Natalia Grossman and Adam Ondra took gold over the weekend in the first of two Boulder World Cups in Salt Lake City, USA.
With less than 70 days to go before the Olympic games in Tokyo, the two back-to-back IFSC WC Bouldering events in Salt Lake City were always going to be early awaited and hotly contested events. Although the starting line-up contained several male and female Olympians many weren't in SLC; covid restriction and other commitments keeping many away. Perhaps the most noticeably absentees were Janja Garnbret, Akiyo Noguchi and Tomao Narasaki. Garnbret's absence however did mean that someone other than her was going to pick up the gold in a women's World Cup event for the first time in a long while!
Understandably the USA fielded a full team; so too did Germany, France, Israel and Japan. Team GB were also well represented with no less than 11 athletes including Olympian, Shauna Coxsey. Crucially for Coxsey, the SLC event was the first WC bouldering she'd done in some time; sadly, she's been plagued with injuries recently and has had a number of surgical procedures since her last appearance on the WC mats. SLC was therefore both a welcome and a testing return to competitions for her. Whilst it was also a welcome return to WC action for Nathan Phillips, Billy Ridal, Molly Thompson-Smith and Emily Phillips, also on the team and in action at WC level for the first time were Holly Toothill, Maximillian Milne and Alex Waterhouse; all very strong young competitors. Matt Cousins, Jen Wood and Hannah Slaney were also back in Team GB colours as well.
Qualification
Friday's qualifiers saw high scoring rounds in both the women's and men's events. Miho Nonaka, the stand-out climber in the women's stream, was the only climber to top all five problems taking just seven attempts to do so. The next six climbers hot on Nonaka's heels all finished with four tops; no less than three of the six places going to Team USA with Natalia Grossman, Brooke Raboutou and Sienna Kopf taking the honours. Remarkably, the next 17 climbers all finished with three tops each. From Team GB's perspective we had two climbers in their midst; Holly Toothill and Jen Wood. Sadly Jen Wood finished in joint 21st so just missed the cut for the semi's which was especially cruel. Holly Toothill's efforts however meant she finished in 14th and hence progressed to the semi's; a very strong result for a first-ever World Cup. Sadly, however, Shauna Coxsey's return to WC bouldering wasn't what she wanted and she only managed a single top and finished in 36th place. Coxsey, who isn't on the starting list for the second of the two SLC events next weekend, will no doubt be working with her team in an attempt to redress the balance ahead of Tokyo. Emily Phillips finished in 28th, Molly Thompson-Smith in 37th and Hannah Slaney in 44th.
Over in the men's event, two climbers, Yoshiyuki Ogata and Adam Ondra topped all five qualification problems; Ogata taking two fewer attempts to do so than Ondra so he narrowly finished in first place. The next 17 climbers all topped four problems although the young (17-year-old) Frenchman, Mejdi Schalck, climbing in his second-ever WC clearly posted his intent when he finished in joint 3rd with Rei Sugimoto! Four Team GB climbers, Matt Cousins (23rd), Billy Ridal (25th), Nathan Phillips (28th) and Alex Waterhouse (34th) all had three tops each whilst Maximillian Milne finished in 42nd with 1 top. Surprisingly, two more big-name Olympians, Nathaniel Coleman and Sean McColl, also both missed the semi's finishing in 21st and 33rd respectively.
Semi-Finals
As usual, the semi-final round was much harder and the number of tops much reduced especially in the men's. Natalia Grossman, Brooke Raboutou and Johanna Farber finished in the top three places in the women's with the final slots going to Jessica Pilz, Miho Nonaka and Oriane Bertone. Having finished in 18th in the qualification Kokoro Fujii topped the men's semis having scooped up three tops in the process. Adam Ondra once again finished in 2nd place and Gregor Vezonik in third. Jakob Schubet, Anze Peharc and Mejdi Schalck made up the remaining final places.
Women's Finals
The women's final was an all-out high octane round from the get-go. The first two blocs, a steep slab and a powerful wall, were both flashed by Natalia Grossman and Brooke Raboutou. Impressively both using their feet to great effect; Grossman confidently standing on a dual texture hold whilst Raboutou repeated her semi-final trick and seeming screwed her shoe end into a screw hole!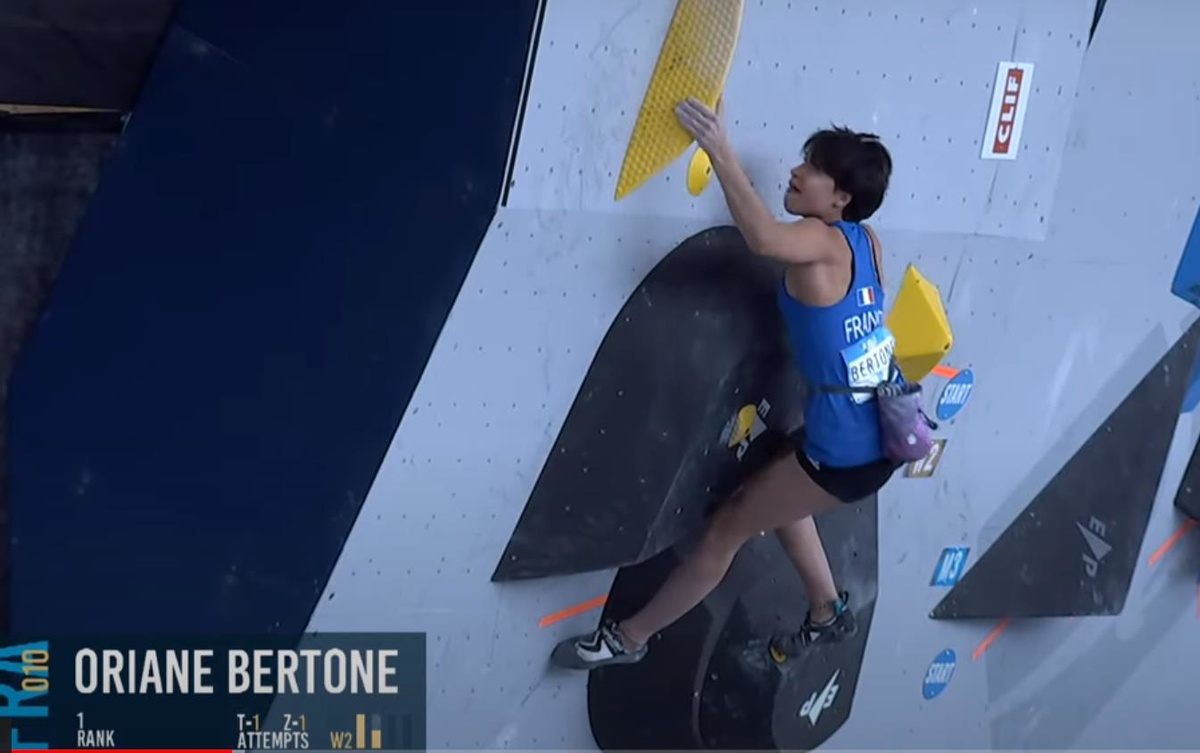 Oriane Bertone and Miho Nonaka were only a whiskey behind however both getting W1 on their 2nd attempts and both flashing W2. Jessica Pilz and Johanna Farber both picked up one top apiece from the first two blocs and although climbing well were simply outclassed. At the halfway stage Grossman led from Raboutou, Nonaka and Berton; all had two tops each in either 2 or 3 attempts.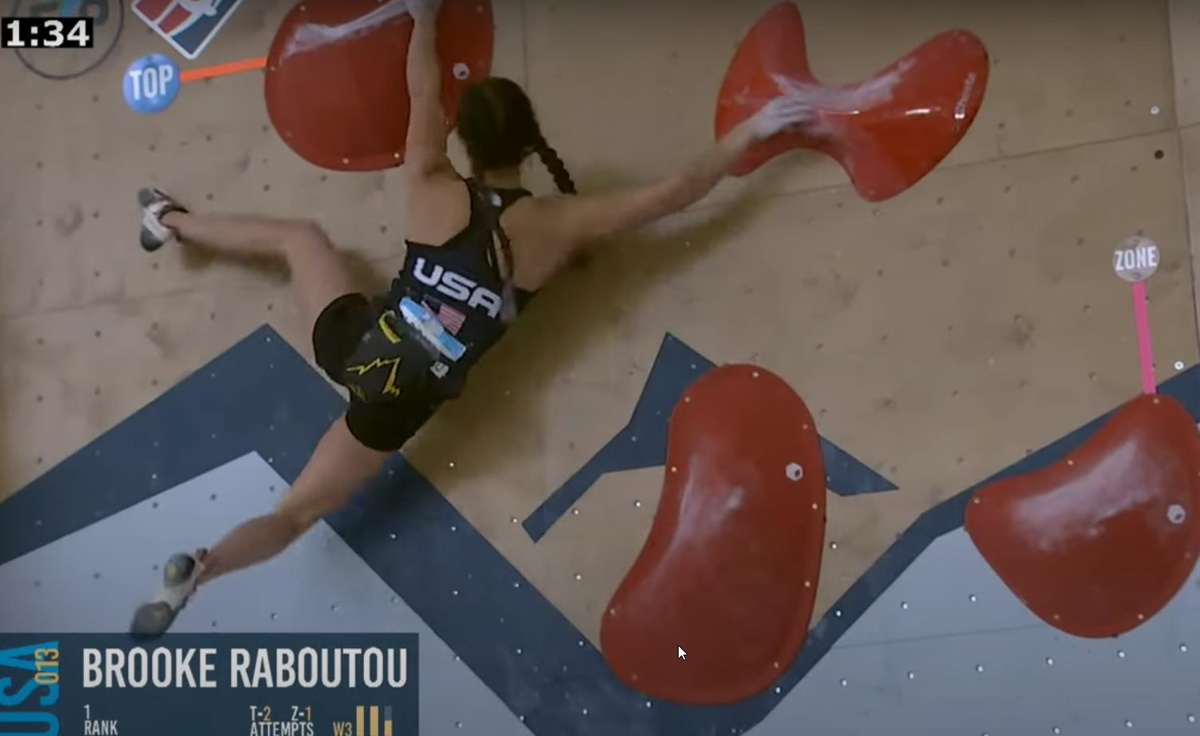 W3, a steep slab with massive but poor volumes, proved to be a decisive bloc. All but Miho Nonaka collected the zone for their efforts but first Raboutou and then Grossman topped out. Raboutou topped quicker than Grossman so took the lead going onto the final problem.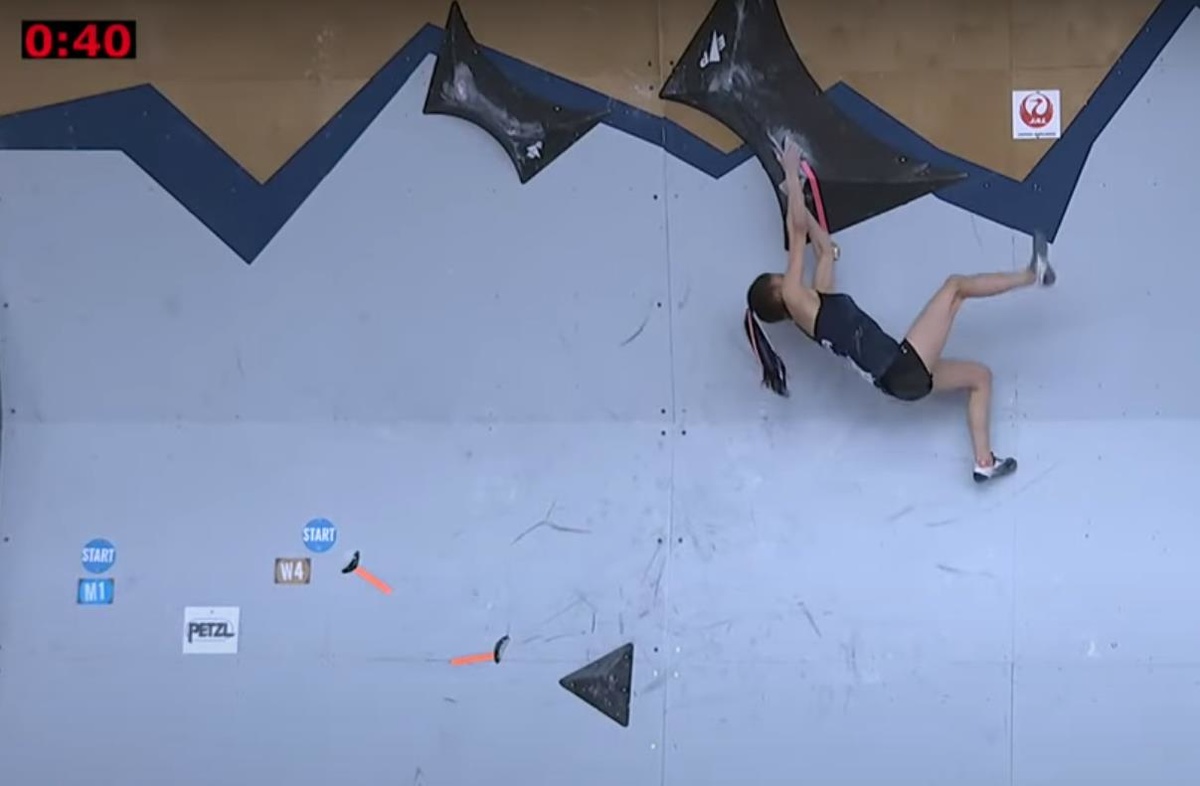 W4 involved a powerful jump to a high edge followed by some tricky final moves. Oriane Bertone cracked the jump using a two-legged approach and picked up a top in just four attempts - it was to prove crucial for her. Climbing next Miho Nonaka also topped W4. In one of the most intense finals for some time the two USA climbers, Grossman and Raboutou needed tops and quickly to maintain their leading positions. Both however found the jump to the crucial hold very difficult; Raboutou didn't top and only as the clock was running down that Grossman finally latched the jump and then pressed on to take the top. Cranking the scores it was obvious that W4 has been crucial for the podium places; Raboutou had slipped down from first into third, Bertone had bumped up into second and Grossman had taken the top spot! It had been an incredible and thrilling round where climbing ability as well as physical and mental strength all proved crucial; remarkably, the three young women collectively made for one of the youngest ever podiums in a WC. Although Garnbret and Nogouchi were absent, the younger climbers had seized their moment and posted their calling cards. When we look back on this event in the future it maybe that this event is seen as the start of the changing of the guard in the women's game!
Men's Final
M1 kicked off the men's final with a steep wall involving a parkour opening sequence leading to an off-balance layback finish. Immediately it split the field and, although Adam Ondra and Kokoro Fujii both topped, Anze Peharc excelled nailing M1 in just two attempts. Schalck managed to get the zone but both Schubert and Vezonik struggled with the parkour moves and neither managed to get established on the zone.
M2, the total opposite of M1 requiring slow and precise climbing on poor holds, saw no fewer than three flashes from Adam Ondra, Medji Schalck and Jakob Schubert and two tops from Gregor Vezonik and Kokoro Fujii. Both Schalck and Ondra showed great composure and flexibility during their flashes. At the halfway stage, Ondra and Fujii were pulling away with two tops each - Ondra especially looking especially composed and determined.
M3, like W3 in the women's event, proved decisive; both Medji Schalk and Jakob Schubert got it on their 2nd attempts but Adam Ondra's flash meant that he consolidated his position at the top of the leader board. Anyone who has seen the video of Ondra climbing Silence in Flatanger will know that he is very comfortable with climbing inverted and impressively he immediately opted for this approach flashing the problem convincingly. Schalck and Schubert's 2nd go top of M3 meant that they were in 2nd and 3rd respectively going into the final bloc.
M4 kicked off with a long and dramatic dyno to a series of powerful pinch volumes to a tricky finish. Climbing first, Schalck duly flashed it with a flow and confidence that is typical of a young climber hitting an absolute sweat spot; his celebrations afterwards clearly showed his great joy at having finished his first-ever WC final with another flash. Schubert also flashed M4 which meant that Ondra had to top it too to take the victory. Climbing in a very calculated and non-rushed manner Ondra delighted the SLC with a flash to secure his victory. Medji Schalck, on only his second ever WC bouldering event, took a very well deserved 2nd place to take his first WC medal. In third place was Jakob Schubert's; his all-time WC medal collection now standing at 68 medals across all disciplines!
Ondra's back-to-back victories, the first time this had been achieved on the men's circuit over the last four years, shows his laser focus ahead of Tokyo. After the remarkable women's final, the men's event proved to be equally electric and next weekend we all get to do it again!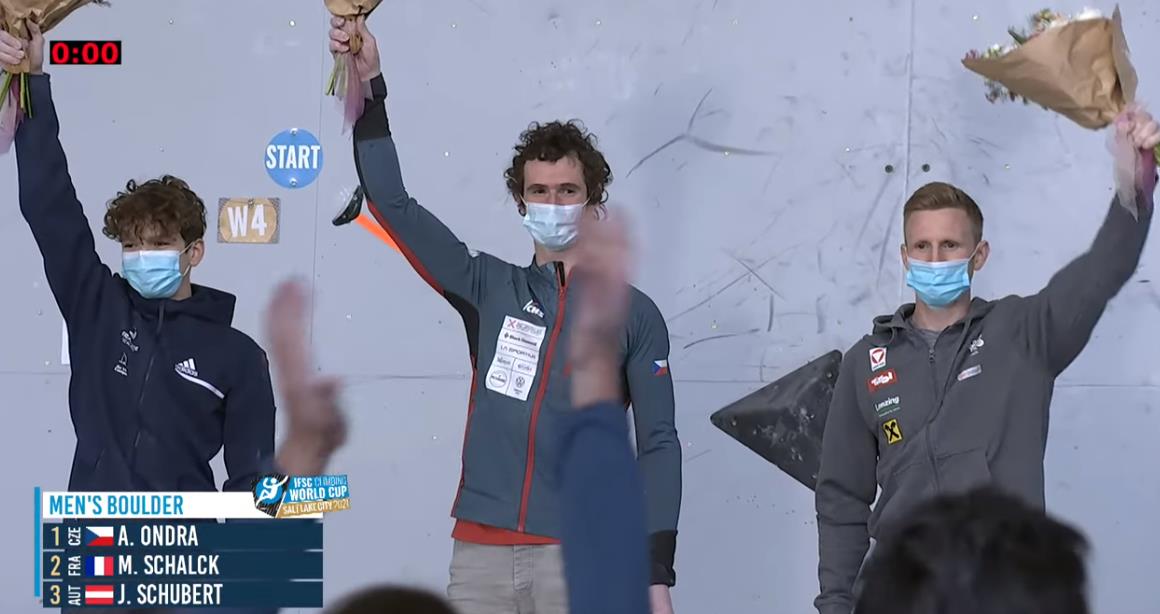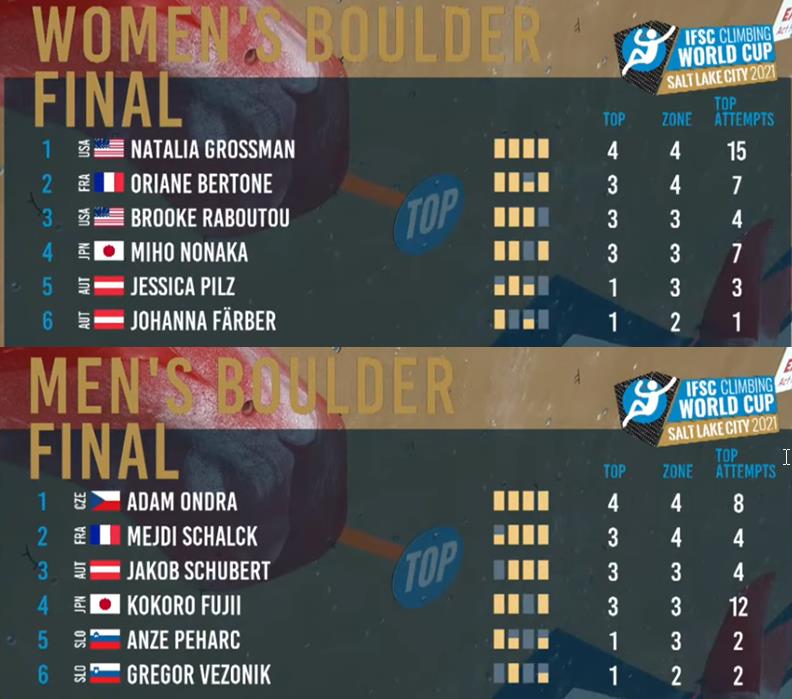 Watch the Salt Lake City Finals below…