World Championships finished and McArthur takes bronze
Friday 24th September 2021
The 2021 World Championships in Moscow have concluded with GB athlete Hamish McArthur taking bronze in Lead in his first senior World Championships!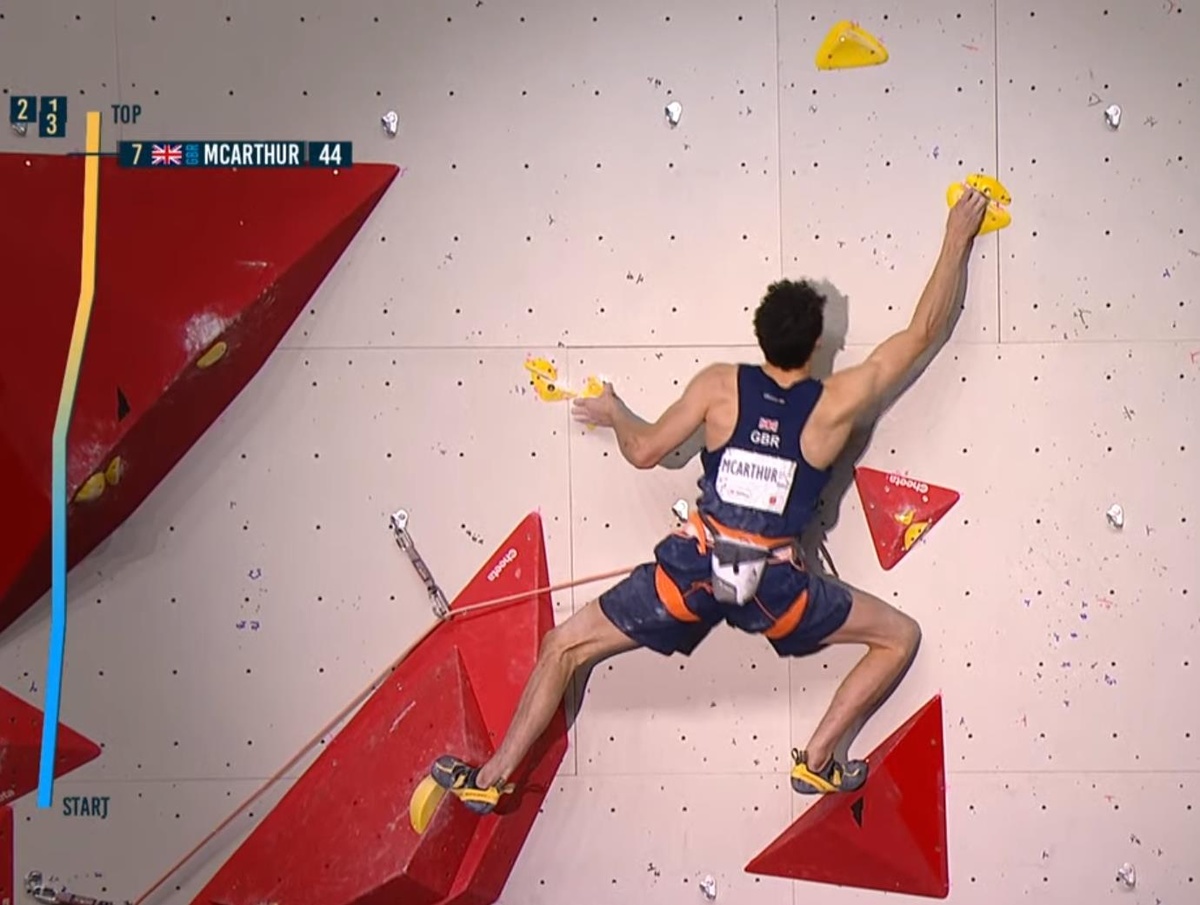 The gruelling week-long competition in Moscow has concluded in which climbers competed for individual World Championship titles in Speed, Boulder and Lead. Whilst a number of the Olympians such as Alberto Gines Lopez, Adam Ondra, Alex Megos, Janja Garnbret and Miho Nonaka didn't contest the Moscow Championships Team GB athletes where there in force and put in some great performances all week.
The star of the squad was undoubtedly Hamish McArthur who came away with a bronze in Lead in his first every senior World Championships. Following his double golds earlier in the summer at the Youth World Championships, McArthur dived in at the deep end of the pool and clearly signalled his intent to the world's leading climbers that he means business! Whichever way you look at it, beating the likes of Stefano Ghisolfi and coming within an ace of actually winning, McArthur's performance was utterly stellar!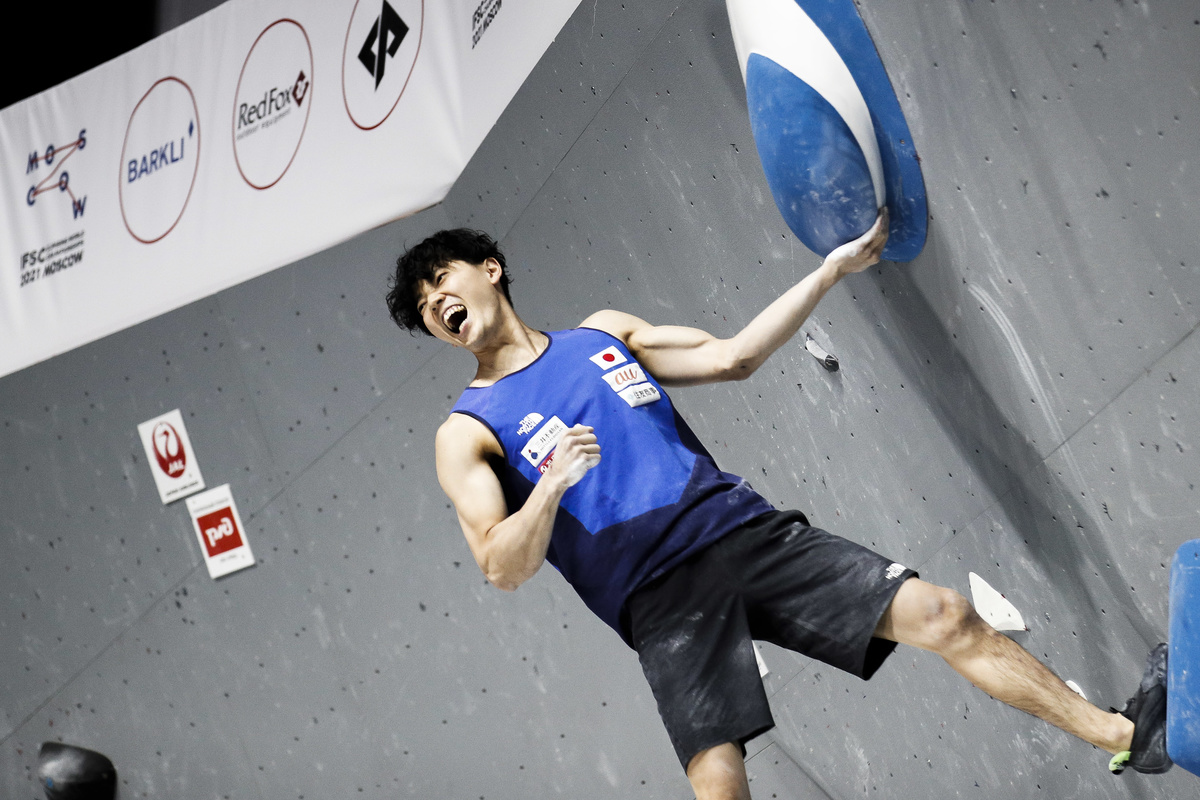 Men's Boulder World Championship
Although Olympian climbers were limited in the men's Boulder Championship the fierce competition was evident right from the qualification round. Pre-event favourite and defending champion, Tomoa Narasaki, was edged out by his team mate Kokoro Fujii in the qualification round; Fujii finishing with tops on all five blocs. Team GB's five athletes posted some great results; Hamish McArthur finishing in 8th on three tops along with Nathan Phillips (10th) and Billy Ridal (14th) and all made it through to the semi's. Whilst Alex Waterhouse and Maximillian Milne finished in 31st and 39th respectively their results need to be viewed in context to other strong boulderers such has Jakob Schubert, Simon Lorenzi and Jongwon Chon who finished in 27th, 33rd and 49th respectively.
Tomoa Narasaki fought back in the semis to finish top whilst Hamish McArthur finished in 7th and just missed the cut for the finals; Billy Ridal and Nathan Philips finished in 14th and 18th respectively.
The finals were all about Kokoro Fujii however; he stormed back with a super impressive performance flashing two blocs and topping all four blocs. Having won seven World Cup Bouldering medals in the past, this was Fujii's first World Championship victory. Tomoa Narasaki finished in 2nd and Manuel Cornu in 3rd.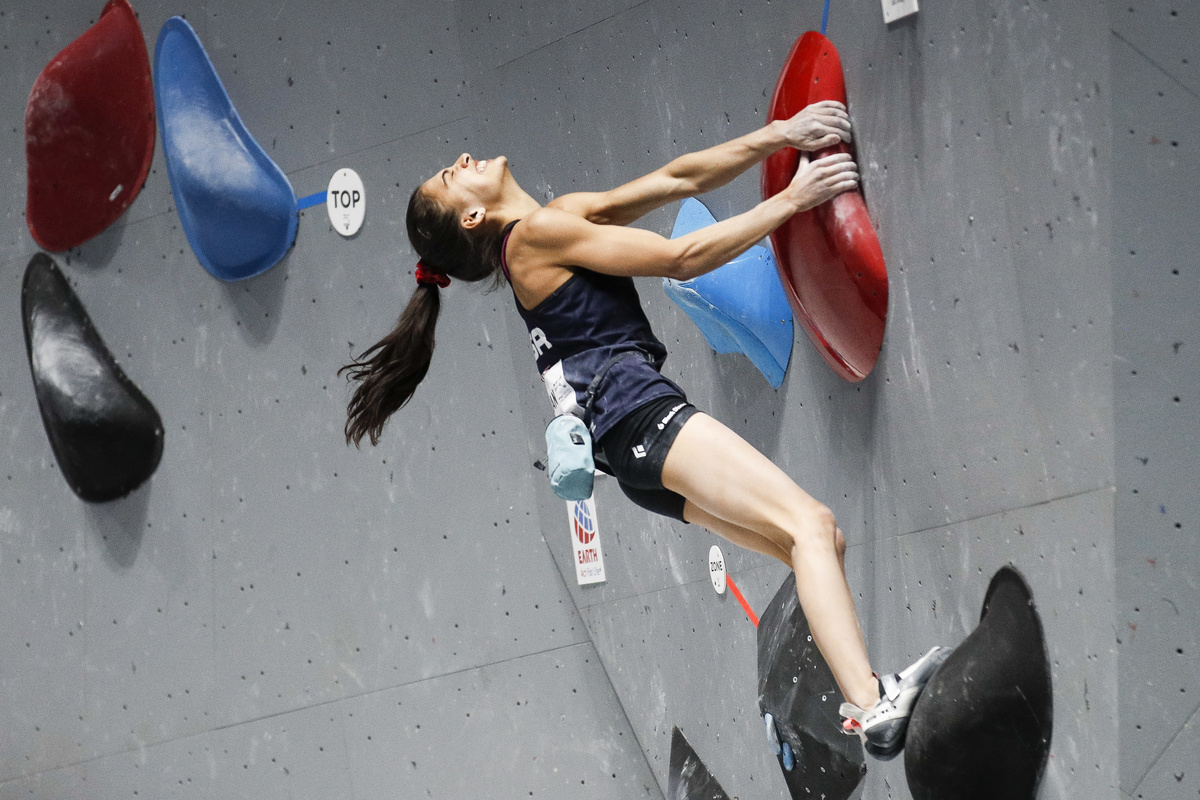 Women's Boulder World Championship
With the dominant force of Janja Garnbret absent from the starting line-up, the way seemed open for others to step-up and shine and so it was that both Brooke Raboutou and Victoriia Meshkova both finished with five tops; Natalie Grossman was however within the trailing pack with four tops. Team GB athletes were also out in force but it was Holly Toothill who finished in 21st that got within an ace of progressing into the semi's only to just miss out. Jen Wood finished in 34th, Molly Thompson-Smith in 40th and Tara Hayes in 48th; again though, consider the level of the competition which saw Orion Bertone finish in 41st!
As is often the case fortunes switched around in the semis and Natalie Grossman finished in first place narrowly ahead of Camilla Moroni.
Natalie Grossman has become another dominant force this year having made the podium in every World Cup Boulder event in the year even beating Janja Garnbret on one occasion. And so it hardly came as a shock in the finals to see Grossman in such magnificent form. When she flashed three out of the four blocs and topped all four her win was well-deserved; she took home her first World Championship gold, impressively it was her first such competition too. Camilla Moroni took 2nd place and Stasa Gejo 3rd.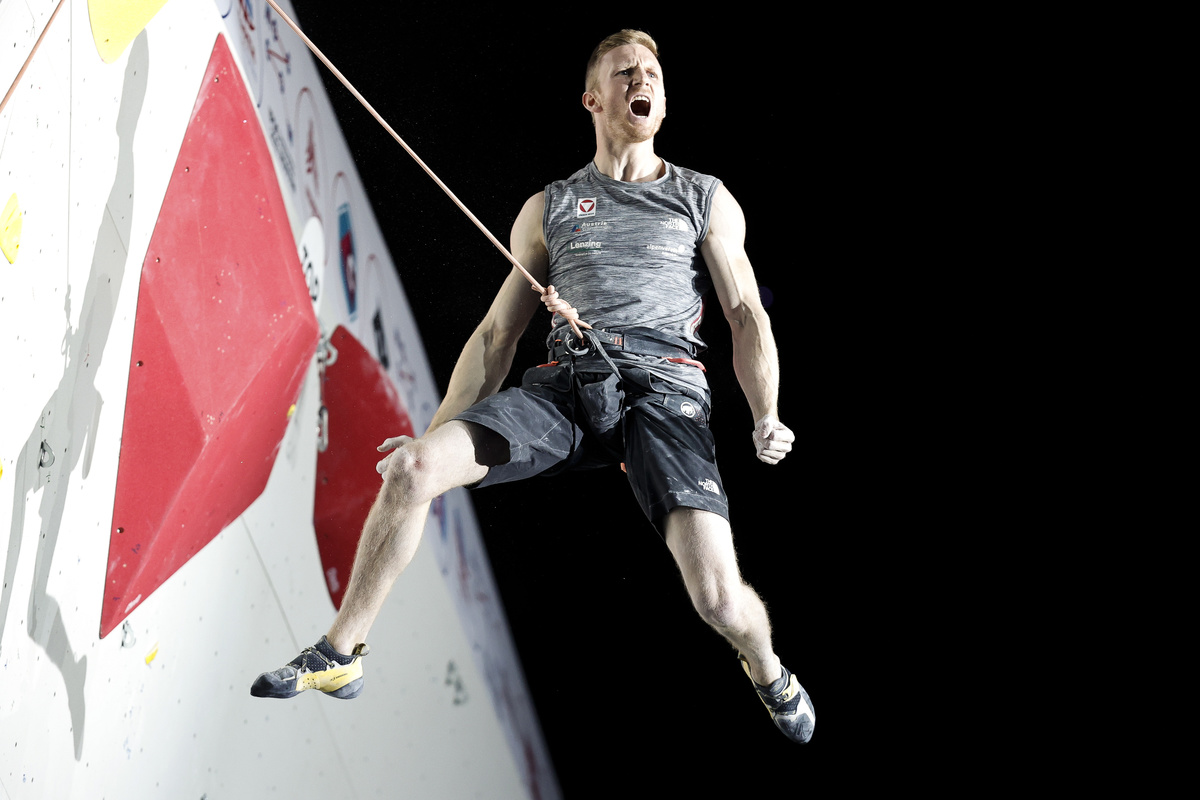 Men's Lead World Championship
Without a doubt, this was the most enthralling competition of the week from a British perspective and the action started early doors and continued to the very end. Of the five British males competing Hamish McArthur posted a brilliant pair of results in the qualification round to finish in 2nd place behind Tomoa Naraski but ahead of Jakob Schubert. Also qualifying for the semi's alongside McArthur was Will Bosi and Billy Ridal; they finished in 21st and 25th respectively. Jim Pope and Maximillian Milne finished in 35th and 38th in the c. 100 athlete field.
Hamish McArthur utterly aced the semi-finals finishing in 1st place with the only top. Will Bosi and Billy Ridal finished semi's in 11th and 26th respectively.
It's fair to say that the men's final was eagerly awaited and that anticipation couldn't have been any higher. The 2021 World Cup Overall winner, Stefano Ghisolfi, looked a bit off the pace and dropped the ball fairly early on his final run. The bulk of the finalists however all made it through to the headwall where some devilishly thin crimpy moves needed to be tackled before the final jump move to the big finishing hold. Sebastian Halenke stunned the crowd with a no-hands crouching rest on the uppermost volume; sadly though he didn't make much headway on the crimps however. Tomoa Narasaki and Martin Stranik both got a shade higher before falling but it was Luka Potocar who scored the first top of the route. Jakob Schubert has a habit of turning on the gas for the big occasions and he topped too so went ahead of Potocar on count-back.
When Hamish McArthur came out to climb last of all; the whole Championship was on a knife edge. Holding it together McArthur climbed well albeit got a bit tangled up on the final volumes. Nevertheless, he made it through to the crimps and launched for the final jug. It would have been utterly glorious had Hamish latched the finishing hold, as it was he missed it and so finished in 3rd with a bronze medal behind Potocar (silver) and Schubert (gold). It was an astonishing run for the young Brit - without doubt, one of the best ever performances in a senior men's World Championship event by any Brit; the future must surely be very bright indeed for Hamish McArthur!
Women's Lead World Championship
From the get-go the competition was – as expected – super high in the women's Championship with the young guns like Chaehyun Seo, Natalie Grossman, Laura Rogora and Brooke Raboutou all hungry to finish the season on a high with a win.
Qualification saw a number of tops but when the dust had settled, Chaehyun Seo finished in 1st with Natalie Grossman and Laura Rogora in 2nd and 3rd respectively. The pressure continued into the semi's and with all three women topping the order of the top three remained the same thanks to countback. Molly Thompson Smith, the sole Team GB climber, put down a determined and focused performance in the semi's too, ultimately she fell just a couple of moves down from all be the highest placed climbers. Sadly, Molly narrowly missed a place in the finals finishing the semi's in a very respectable 11th.
The women's final, like the men's earlier, saw a cluster of climbers all getting very high and finishing in a tightly-packed bunch. Both Natalie Grossman and Laura Rogora fell off at the same point but Chaehyun Seo's absolute faultless performance saw her came away with the only top to take the win and the gold. Grossman finished in 2nd with the silver and Rogora in 3rd with the bronze.
Watch the men's boulder finals below…
Watch the women's boulder finals below…
Watch the lead finals below…