Women's Climbing Symposium 2019 Report
Saturday 21st December 2019
Report by Rebecca Ting
The 9th annual Women's Climbing Symposium took place at the Depot, Birmingham on Saturday 7th December 2019. With excellent public transport links and an all-female management team, this was the perfect venue for WCS's mission: Connect, Develop, Inspire.
300 participants and 50 staff/volunteers had travelled from across the UK and seven different countries to join the event. (Nb. WCS is extremely conscious of its carbon footprint and there was a careful balance of pedal power, public transport, car-pooling and carbon offsetting behind all of this travel!)
The Depot Birmingham provided a great venue. Photo: David Simmonite
The headliners this year were Emma Twyford and Nina Caprez. Emma started the day with energy and purpose, tackling the challenge of balancing work with her climbing goals while still having time for family, friends, gin and cake. Though she would describe herself as an uncomfortable speaker, she absolutely isn't! Natural, honest and with a good helping of banter, Emma reminds us of one of the reasons we love climbing – you can climb really hard and still be a normal, approachable person.
Nina's stunning slide deck takes us through multipitch adventures in the Alps and her recent collaboration with Lynn Hill, explaining how her climbing experience has shifted from a process into a "wonderful dance" that focuses on "the here and now". Apart from being hugely accomplished, Nina is funny and direct, and gives a mainland European angle into women's cultural experiences in climbing.
Two very different speakers with two very different styles, but what is striking is the emphasis they both put on the relationships, partnerships and communities that have defined their climbing journeys. And for all of us watching, it is simultaneously humbling and inspiring to be caught up in that - 350 women sharing moments of emotion, pain and laughter as part of a rich collective experience.
Between the headline and plenary sessions, the focus switches to giving each attendee the tools to improve and expand their individual climbing. Participants pick their own pathway through the day, attending two of twelve coached workshops and choosing from eight focus talks.
Highlights from the talks programme included Abbie Robinson, women's B2 World Champion, treating us to a frank (and hilarious) insight into the world of paraclimbing, and Rebecca Williams, who led a challenging session on equipping yourself with the psychological tools to manage fear of falling.
In response to requests from the WCS community, this year's topics also explored the nitty gritty of some of the barriers for women in our sport, including an open discussion on climbing and the menstrual cycle, post-birth core exercises and how to pee in full winter mountaineering gear.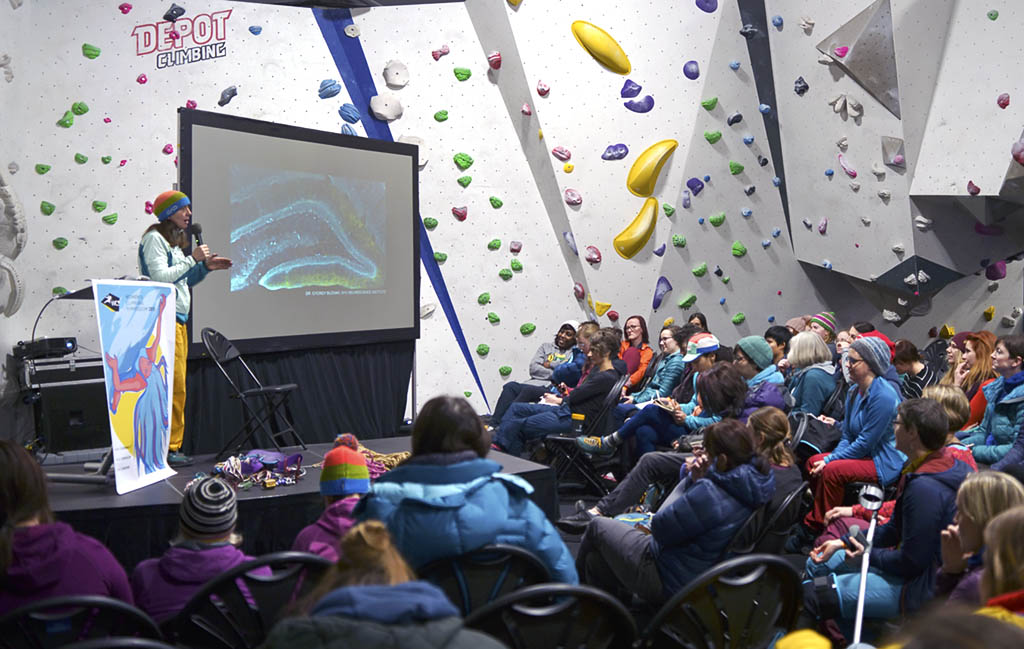 Sam Leary delivers her workshop. Photo: David Simmonite
Workshops ranged from old favourites – slopers and volumes, dynamic climbing and head game are always at the top of the list of things to do – to some new sessions, combining veteran WCS coaches with new talent. Depot local Daisy Vale (Inside Edge Physiotherapy) delivered an incredibly popular Body Maintenance class, while the excuse of being in the same month as Christmas allowed Rock Tots founder Rachel Briggs to crack out her full Santa's sack of tricks in an extremely challenging, but fun, core session including games, balloons and elf costumes.
Every WCS is a long, long day and it is always a balancing act to create space in the programme for attendees to connect and climb together while packing in as many opportunities for development and inspiration as possible. Treats this year included a prusik party with the team from Leading Edge, prizes and signings, and a special screening of David Pett's award-winning The Big Bang, which chronicles Emma Twyford's journey to becoming Britain's first woman to climb F9a sport.
In the final plenary of the day, a panel of Shauna Coxey, Hazel Findlay, Emma Twyford and Nina Caprez discussed the future of women's climbing and answered questions from the audience.
"Obviously I knew when we started WCS nine years ago that climbing would be an Olympic sport in 2020" jokes Shauna at the end, "soit was totally intentional that we will be celebrating our tenth anniversary in the same year!"
A chance to grab a photo with Shauna Coxsey plus a signed poster. Photo: David Simmonite
All joking aside, WCS has come a long way in nine years, and each and every year it is humbling to see the diverse, psyched and supportive community of women that comes together to share experiences. Watch this space for exciting plans for next year and click here for more about WCS..
The 2019 Women's Climbing Symposium was sponsored by: Depot Birmingham, Adidas Terrex, Five Ten, Hydroflask, The BMC, Alpkit, UKC, Clif Bar, Lowe Alpine, Friction Labs, ClimbSkin, Beastmaker, Core Climbing, 3rd Rock, Lyofood. And in partnership with: Leading Edge, Mossy Earth, The Alpkit Foundation, Women in Mountain Training, Inside Edge Physiotherapy, This Girl Can.
Lianne in flight during the dyno workshop. Photo; David Simmonite
A participant climbing through the roof at the Depot during the steep climbing workshop. Photo: David Simmonite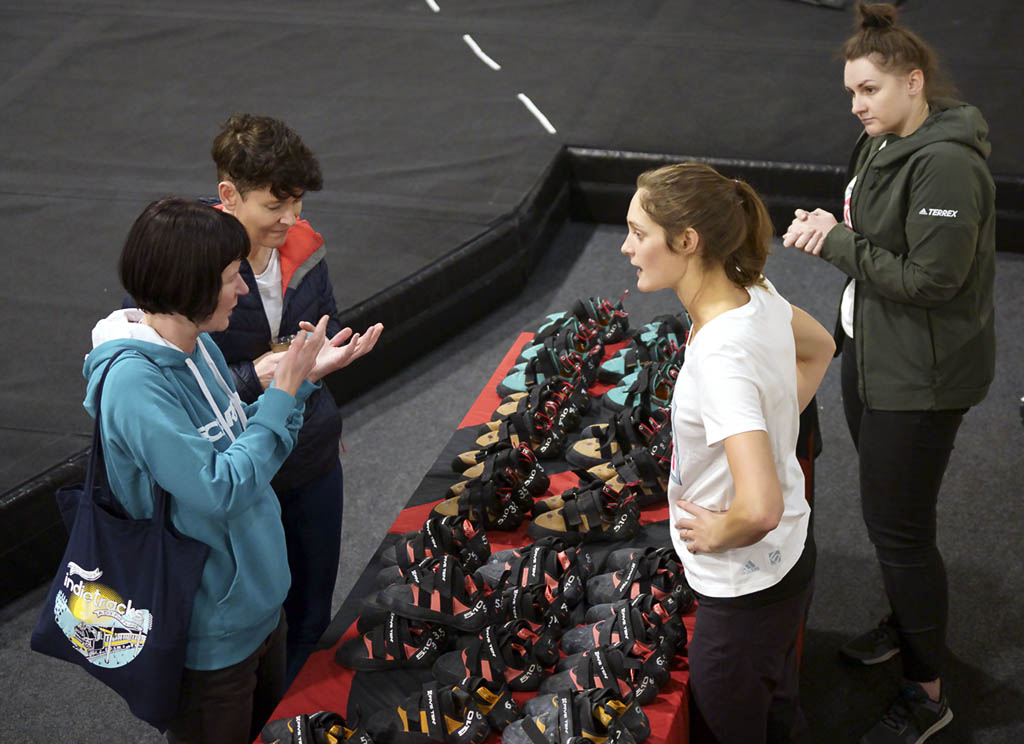 Kate Whittaker was on hand to give advice on climbing shoes and a chance to try them. Photo: David Simmonite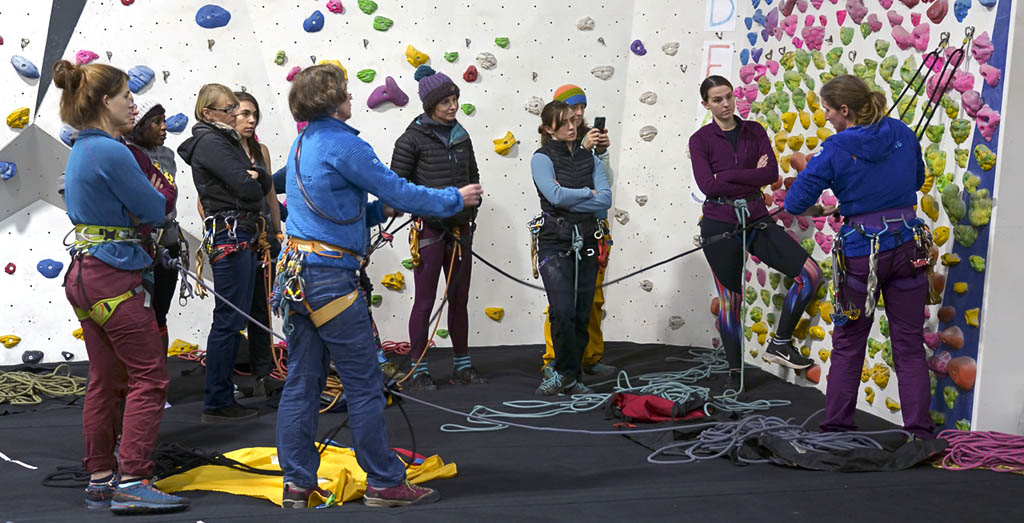 There was a chance to pick up tips about ropework in one corner of the Depot. Photo: David Simmonite