Win a Greenland 'Big Wall' trip with Julbo
March 24th; 2016
French eyewear specialist Julbo is offering a space on a Greenland big-wall expedition in a new competition.
The Julbo Vertical Session will team one lucky winner with pro climber and guide Christophe Dumarest, in a trip heading for Fox Jaw Cirque in Greenland this August.
Fox Jaw Cirque. Photo Robert Durran
Entries are open now, with a deadline of 5 May. Entrants need to submit a one-minute video, which Julbo says "Demonstrates you're up to the task; be creative and original and show us that you're equally happy hanging off a face, as facing the camera."
Registration and entry is via julbo.com/en/quizz/vertical-session where you'll also need to answer questions about your climbing experience and personality. Five people will be shortlisted for a test day in Chamonix on 23 May, with the winner being chosen by the end of the day. Selection requirements include mountaineering experience, especially trad crack climbing, good physical condition (able to carry a 30kg rucksack), personality, being a good team player, communication skills, a valid passport and of course availability on the Vertical Session dates of 1-30 August.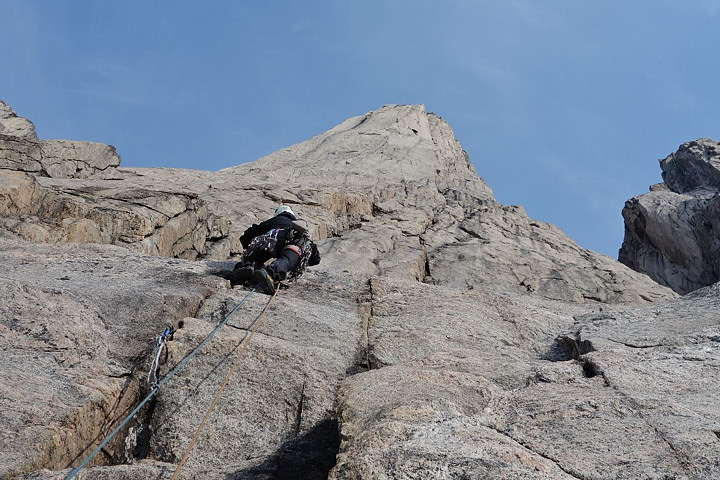 Fox Jaw Cirque climbing. Photo Robert Durran
Julbo has been creating its Sessions since 2011, until now for ski, bike, running and sailing, but this is the first Vertical Session for climbers. The format is always the same; one amateur, one pro and a dream destination. There's always a short film made from the Session itself, so you'll need to feel comfortable in front of the camera.
The expedition itself heads for Greenland on 1 August with the intention of putting up at least one new route in the Fox Jaw Cirque area. After flying to Kulusuk in eastern Greenland via ReykjaviÌk in Iceland, the team will board a boat to sail to Tasiilaq Fjord where it will start the approach walk. Fox Jaw Cirque is an array of spires lying immediately south of the Trillingerne peaks, not far from the head of the fjord. The first known routes in the cirque were climbed in 1998 by Americans Dave Briggs and Mike Libecki; since then there has been steady development, but the area still holds much potential with many unclimbed lines of up to 700m.
Expedition leader Christophe Dumarest was part of the French national mountaineering teams during the 2000s and at the same time started putting up major alpine routes, often in partnership with Patrick Gabarrou. Since then he has climbed on expeditions across Peru, Norway, Alaska, Tibet and Patagonia.